Tuesday and I did decide to get out this morning. She helped by getting me up way earlier than I wanted to, but it worked out as we were at the first sale before it started. Me, Tuesday and about thirty farmers. Oops, guess it wasn't the great sale I was hoping for. I only snagged a couple of things at it: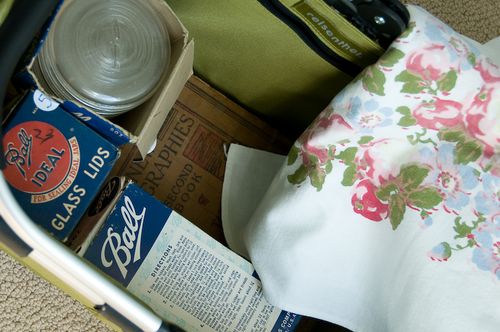 Jar lids and an old geography book (to cut apart). The linen is from another stop. I only had the one sale's address so I decided Tuesday and should go trolling – where you just drive through neighborhoods you like to shop and see if any signs are out. I set the GPS in our car to go home and took detours when ever I saw a sign. The rest of this stuff is from an estate sale that I found signs for, but had not been in the paper: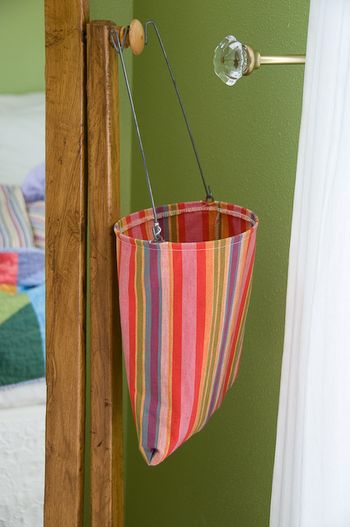 Full of a brand new (old) pack of clothespins. I love how it stays open. I think I'm going to use it in the craft or sewing area.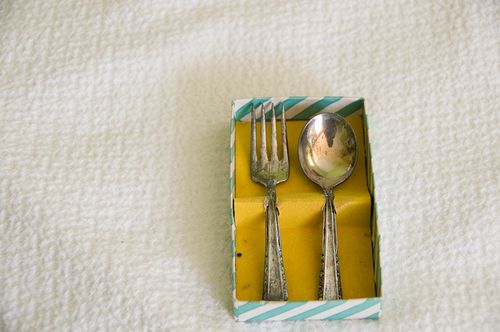 Another mini fork and spoon for Tuesday since she likes her other set so well.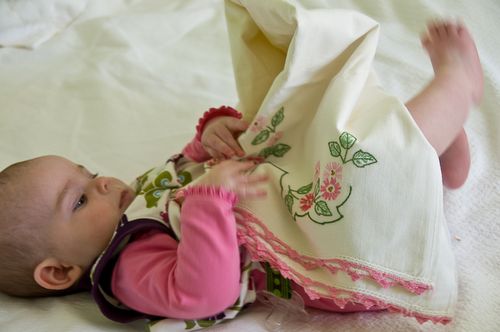 Some embroidered pillowcases, I'm thinking a little dress for Tuesday from these. Not a lot of stuff, but enough to make the adventure seem worth it. And taking Tuesday wasn't bad at all. I put her in the Baby Hawk and had the basket for my stuff. Maybe when she gets a good reach on her it will be tricky. I did do a lot of drivebys because I wanted it to be worth it to get her out of the car seat and strapped onto me.
After thrifting we decided to stay out a little later because Bj had business calls and we had painters at our house, so we ate lunch with Sciarrino at her work. It was nice to stay out. And even nicer to come home to this: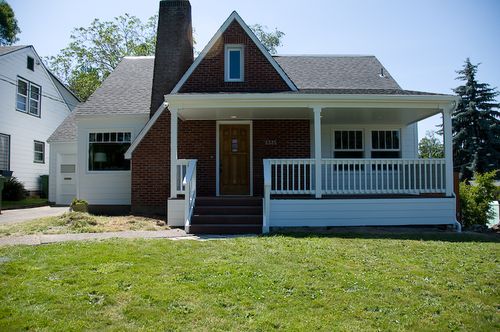 Second times a charm on the painting.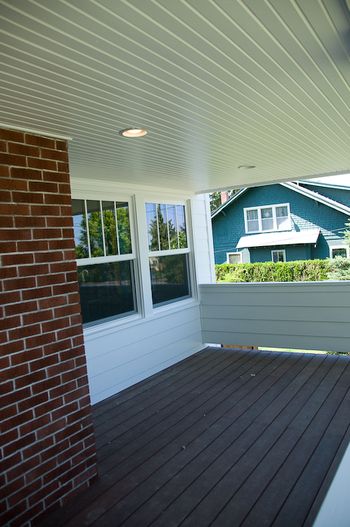 We need gutters and some major clean up (the deck has lots of over spray, as do the windows) and we'll be done. There are a few things to be touched up, and we need our gas line that is going to the kitchen. But the light is at the end of the tunnel. I can just picture myself sitting on the porch. I want to track down an outdoor rug. We snagged some furniture from my dad's goodwill pile, a bench that was a Christmas present from my mom, and I have a plan to do a big pile of pillows. I'm trying to talk Bj into a baby gate for the front so we can sit out here (more afraid of neighborhood animals running up to us than anything). And I want to do some old windows hanging by chain in the space there where you can see the neighbor's house (that's two doors down, but since the guy in between went a tree hacking, we can see them really well). The yards a mess, in front and back. But we have plans for that. I think we just need to take a break from reno for a while. Of course I still have projects:


Flor carpet tiles. I mis calculated the first time I ordered, so the edges have been unfinished for a month.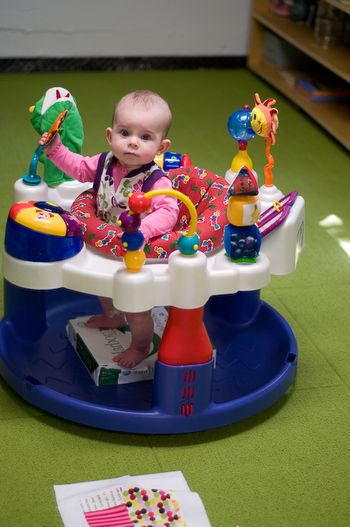 Trying to make it baby friendly (on my side at least). You can also see in that picture light coming in. When we took off the back deck we got so much light flooded to the lower level (some might call it a basement), it's awesome. The other thing in that photo? The corner of the crib bumper – must finish this weekend!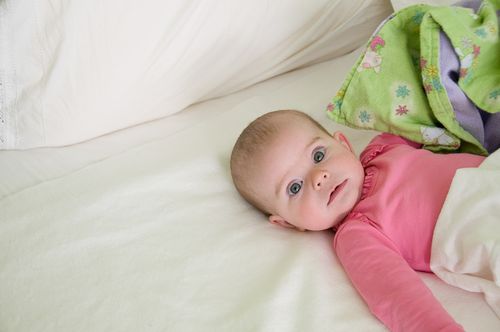 It's hard when this little girl wants you to nap with her, who could say no to that face?