Bj and I have been having fun putting Tuesday to sleep lately. You read that correctly, FUN. We've instituted family quiet time up in her room before bed and she loves it. I love it. Bj loves it. We play with little bells, a xylophone, and other favorite toys. We also read her at least one story. We added a fun new feature called "not nursing her to sleep." It doesn't always go as planned:

Oh man we were laughing so hard. She just starts trying to suck my face off, my shirt, arm, or anything else she can get her mouth on.
Last night I tried a completely different approach: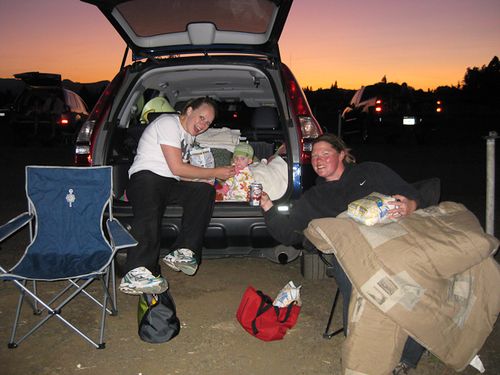 Popcorn, Diet Dr. Pepper and a movie! Well, not so much with the tasty treats, but the good friends and movie part. I took Tuesday for a girl's night at the drive in. I love our local drive in, and when Sciarrino invited me to go I figured "what's the worse that could happen?" I also had the thought that I might not otherwise get to see Harry Potter and the Half Blood Prince for a very very long time. So we loaded her up, lots of toys and other baby goodies and headed to Dallas. She fell asleep before the movie even really started. I wore my nursing pillow and sat in the back of the CRV. After I nursed her (and nursed her and nursed her). I just kept her on my lap where she slept. The only time she got upset was on the way home, she did not like being in her carseat after a nice mama lap siesta. As an added bonus to a late night at the drive in we slept in until 9:45, um, SCORE!