I used to get together with my little sister, Emilie, once a week – until I had Tuesday. It was too hard for me to get to Emilie's school on time and pick her up with a not so fond of the car baby in the backseat. Plus I never knew what Tuesday would be doing at any one time of the day (hmm I still don't!), so I couldn't plan things. Well I figured it was about time to remedy that and invited her to hang out with Tuesday and I for the day today. Did I mention she got her license so she drove over here? Makes it a lot easier. I'm always doing projects with Emilie, usually of the scrapbooking variety, but I decided the girl has got to learn to sew, and the lady who sold me my machine said it was easy to teach with because it can be set to so very very slow (She was so right, it worked great for this. Plus who doesn't love that scissors button?).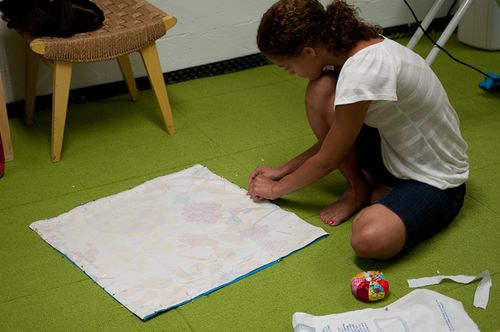 I had Emilie do everything: pick any fabric she wanted, iron it, square it up and cut the pieces with a rotary cutter, pin and sew. She did so great! She even had to do a little algebra to figure out how big each back piece should be if we wanted a 12 inch overlap (which I've since learned is a bit too much). X + X + 12 = 24.5 FUN FUN FUN! What? I had to throw a little extra learning in there 🙂 She figured out how much yardage she needed. She was so careful and steady. She chose to do a really big 24 x 24 pillow cover and she kept the speed pretty slow and never really let herself wonder, very straight seams. I was so proud.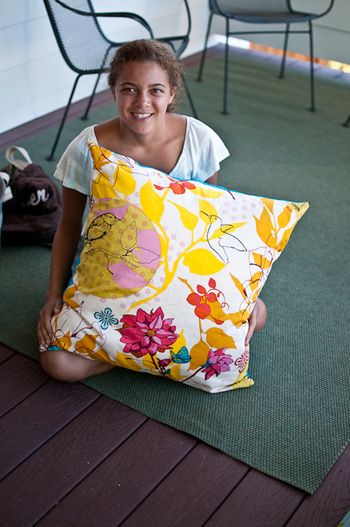 My first sewing project was not quite so classy. I always wanted to get ahead of myself, and tried to sew barbie clothes, among other things. Children should not sew Barbie clothes, they are tough! Check out the hemming: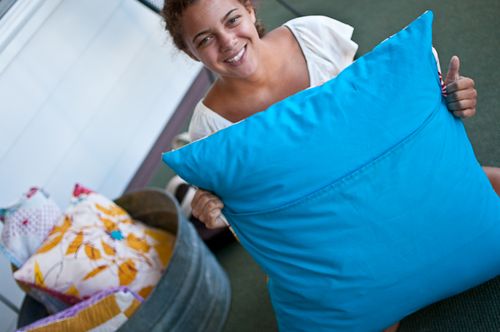 Ah I think I've just made a new little sewing friend, yes!