I debated posting this, but I've tried to resolve it with the company and I don't want anyone's baby hurting themselves on this clothing. My mom got me this adorable jumper at a local kids shop here called Meringue Boutique, the only cute little boutique in town, unfortunately.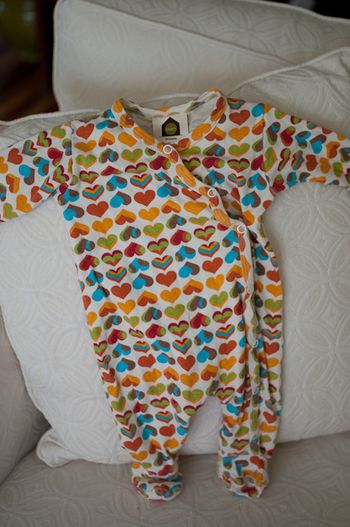 The jumper is still listed on the retailers site (though my mom bought it in the shop, in December I believe, and I brought the snaps to their attention months ago). The brand is Barn Los Angeles by Mad Sky Kids. The problem has to do with the snaps, which if I'm making out the tiny writing on them looks to be a brand called GRIPPER. I don't know if it is the snaps that are too tight, or the fabric that is too flimsy, or the sewing that is bad, but after only a few wears I got this: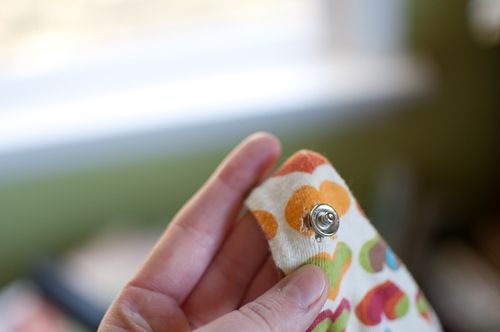 The snap is almost completely off of the fabric, with only a little tug it would be, or what I'm afraid of is a little bite by miss Tuesday. These jumpers, or heart footies, go up to size 12 months at least and a 12 month old could definitely manipulate the snaps into their mouth. I looked through to see if I had a picture of Tuesday in the outfit, and I don't, which tells you how many times I put her in it, maybe four times, MAX. This isn't a "cheap" product, but cheaply made, and I see people reselling their Barn stuff on eBay as couture baby clothes. I went to the shop where my mom got this, Meringue Boutique and they would not exchange. They did call Barn, and they would not take it back. The company they sell through: Sandbox Couture says this about their return policy: "Sandbox Couture will not for any reason exchange products that were damaged during wear. Many of our products are not intended for rough play or to be pulled and streched. If damage occurs that looks to have been the result of this, a refund or exchange will not be issued and product will be returned." That is absurd. This is a baby garment, babies move around, and this is a knit material, to say it can't be stretched is well, impossible. I would recommend against buying anything by this brand, the parent company, or the e commerce site. And I will not shop at Meringue any more, not only were they not very helpful but they are still selling this defective product after I brought it to their attention, which is very troubling. 
Sorry for the downer of the post, but I hope if people looking up this brand come across it they won't get one of these jumpers. I would feel terrible if a baby choked on one of these snaps and I never said anything. 
Fun, project centered post and a give away up next!