I was trying to come up with a fun pillow for Tuesday's room to go on the glider, and was going to do a pieced block like the bumper, but then I thought, why not make something Tuesday will really love right now? So I came up with this: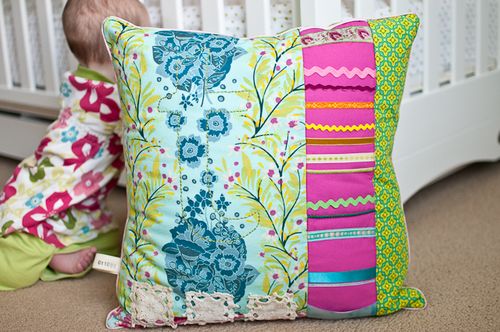 An 18 inch pillow cover (envelope back), that she can tug, taste and explore.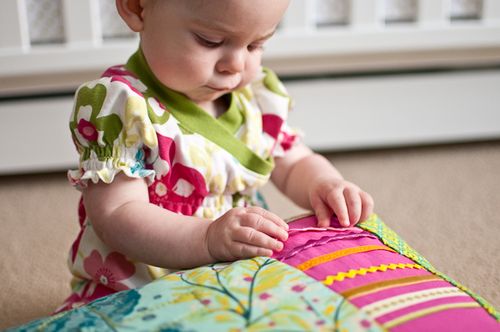 So far it's been a big hit. The ribbon is triple attached, because of how I made the pillow, at each end, but the middle is left free for little hands to pick at.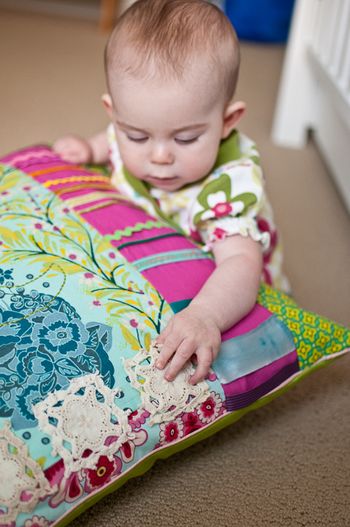 I tacked down some doily things cut from a panel I found at an estate sale, she loves stuff like this.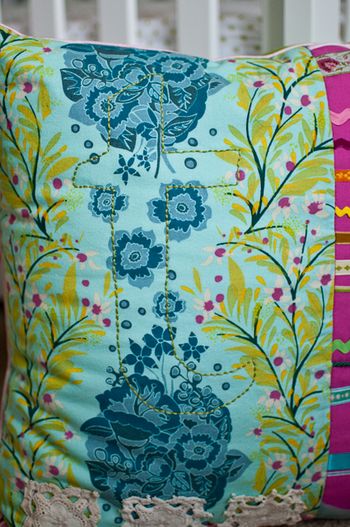 Then I printed out a big letter t and hand embroidered it on (using all six strands of floss so it was thick). I think my favorite part though might be the edges: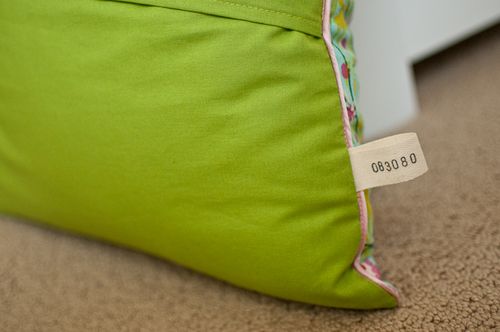 I used a silk piping, and finally came up with a cool "made by mom" label. I am using some new to the ribbon jar twill that is just the perfect size for this (3/4"). I took a date stamp and stamped (with StazOn ink) my birth date on one side,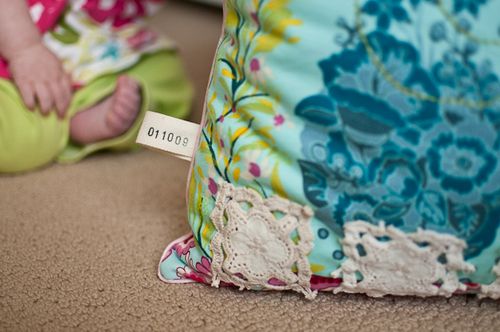 And Tuesday's on the other. I am totally using this idea for everything! I love having a label, the numbers look fun, like a series, but have a secret meaning. So my number will always be the same, but the other will be different based on who I'm giving it to. And maybe if I don't have anyone in mind I could do the day I made the item. If you want to make cool tab labels check out the twill, it's cheap and I'm already thinking of other things I can stamp. I didn't put this process through the full battery of tests, but I did try to scrub the numbers off and they seem to be on there pretty good. 
*edited to add: Dianne emailed to say heat setting the StazOn works great, just use a hot iron, no steam, and paper between the iron and ink if you want. 
Now for the giveaway.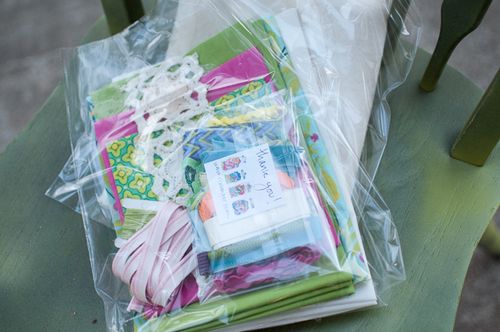 I made up a little kit for you to make your own pillow case (you'll need the 18" pillow form, or you can just use the goodies for other projects if you like). Included are all the fabrics, three little doily things, lots of ribbons, including the piping and twill, embroidery floss, warm & natural batting, and I'll even print off a big letter of your choice if you like for the tracing (I made mine in Illustrator, size 1296 font, the biggest the program lets you go). I'm not going to sell these kits on the Ribbon Jar, though all the ribbon and trim is available on my site, I just thought this would be fun for you dear readers. If you'd like it please comment by Tuesday, August 25, noon pacific, and good luck!