I love my newest finished knit for Tutu. I brought it as vacation knitting to Alaska and it was just the perfect thing, so easy. Also I got extra knitting time spending time in a car. And since it is still light enough to knit at eleven o'clock at night there that helped a lot!
It's knit in the round (after the opening you see there at the top right) and is so quick and easy. I made this in the 6 month size, but longer I think, as Tuesday is quite skinny. I'm planning on this being a dress for the fall, and then more of tunic/top for the spring. It's big on her now: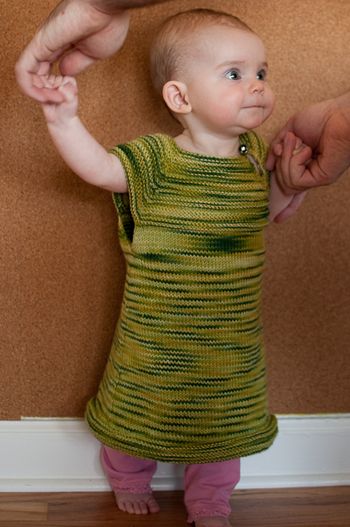 Hmm, maybe if I made it again I would figure out how to make smaller arm holes too. I'm not that great at pattern modification. I did finally do my own crochet edging.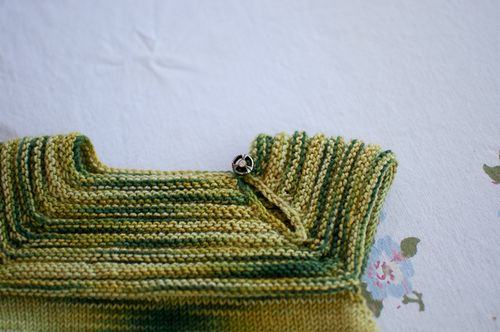 Just around the opening and for the button hole, but still! My mother-in-law was here and gave me a little refresher. But she held the yarn differently than Paula showed me, so I'm going to have to figure out what works for me, I'm still really awkward with the hook. I love garter stitch, and purl ridges have that same springy feel and look: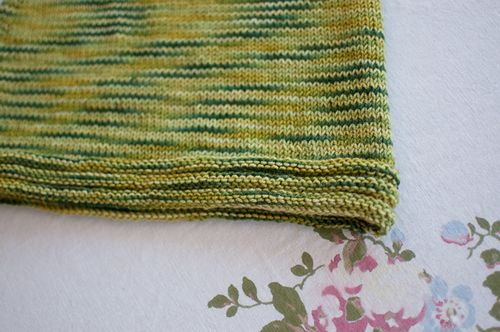 One of my favorite easy most mindless (in a good way) knits ever.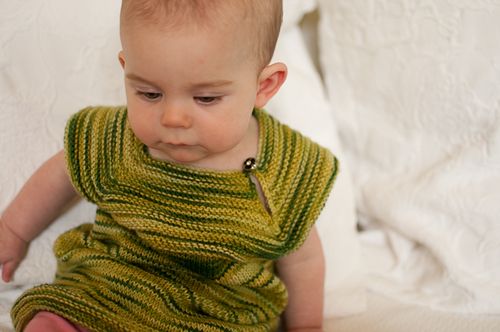 It has the added bonus of taking exactly one skein of Medium Weight Socks That Rock. I am freaking out because I have a lot of skeins of this yarn, and many are only one per colorway. This was fine when a whole sweater took only one skein, but that is not going to be the case this winter! I'm going to have to figure out color-work, or do some striping, or something.  Or I might just make a dozen of these. Here's the Ravelry link, but I don't have pictures up yet. My flickr uploader isn't working and I'm too tired to try and fix it.