I was able to upload more pictures to my ravelry page for the knit in the last post. While there I posted an updated picture of my thrive sweater: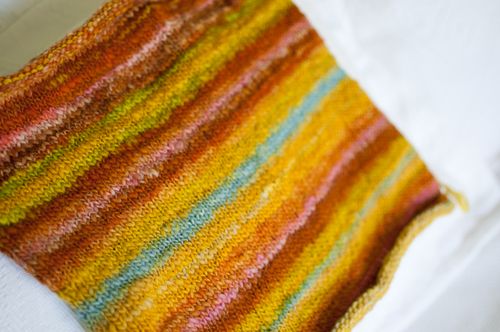 From these handspun singles. I am loving the progress, and it should be ready to go for a nice comfy pullover this fall. 
I get the feeling some people think I'm clever in the knitting department, and I don't really think I am. I do knit quickly, and can read a pattern well, but I rarely deviate from them. When my gauge is off I usually just cheat and go up or down a size, bad Amber. I've recently answered some emails from beginner knitters, and Carmen commenting on the advice I gave her reminded me that I should post here what I've told others. 
*Side note: I've been meaning to say that I now answer comments in the comments section. I changed it to be like a big thread, I like it and I hope you do too! So please feel free to ask me anything and I'll chat with you down there.
The main questions I get are, "What baby or easy projects to do you recommend?" and, "What knitting books do you recommend?" 
First of all I do not recommend that you start with a scarf. If you must do a little stockinette (see my thrive example above, one side is all knit, the other all purl), do a little dish cloth. It will be a lot quicker, and if you make mistakes you still have something you will use. First things first go, quick, run, and sign up for Ravlery. I link to it a lot because that is where I organize all my knitting. It is a totally free site with lots of great features, like pattern searches (and links to free patterns), yarn indexes, and places to organize your stash (if you are so inclined). Plus forums where lovely knitters will answer your questions likity split.
Now that you've done that I can direct you to some of those quick and easy patterns I love so much. I don't think many of you will be surprised with my favorite beginner pattern: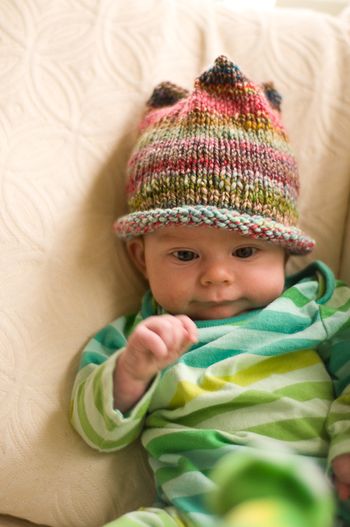 The tri-peak hat is a crowd pleaser (and a free download(, and you can make it in any type of yarn. I've done it in very light fingering sock yarn to bulky handspun, and it always looks great. No decreases, no purling. Not that those things are hard, but it's nice to have a go to gift hat to show off new knitting skills. Use Ravely's wonderful search engine (you can specify a pattern be free if you like) to find more great projects. Here is one I want to try and get done for Tuesday this winter. 
As far as knitting books go you can see all of them I have on my Ravlery library page. I have a lot of books, they are great inspiration and I have made lots of things out of them. But if you are just starting out save yourself the headache and get the Vogue Knitting Book first. This will take the mystery out of a SSK, and help you read all the wonderful patterns in other books. There are no patterns for finished garments in this book, though if you read through the whole thing and did swatches you could probably make one. I used this a lot in the beginning (my mom had an older version, if you find one at a used bookstore pick it up, a few things have changed, but it should still be relevant), and I use it a lot now. 
I was just going to do a super quick post about the hourglass sweater progress, but I could talk about knitting for hours! Any other questions? Maybe why am I talking about knitting in the heat of summer? Ask away!