Wow, thanks for all the great links and comments. I wish I had more time to explore them this season, but I will have to save some for next season. When I woke up this morning half of the plums I had cleaned were already splitting in their over ripe state. I panicked and went with the easiest thing I could find: a little water in the pan, get it boiling, stick in the plums and cook for 5-10 minutes. Then skin (the skins just pulled right off – and they kind of are like fruit leather, yum, I ate a lot), pit and puree.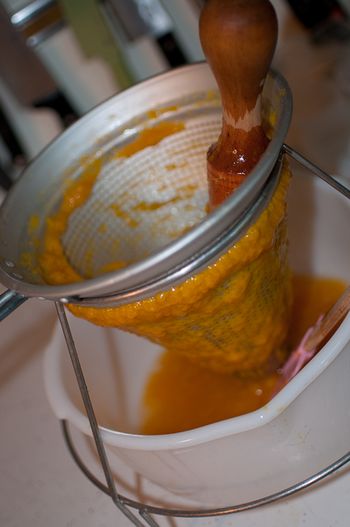 I got a lot, it was great. I also saved the juice from the pan, it seemed too good to waste. Ideas on what to do with this part? I'm a little afraid to use it too generously, I mean isn't plum juice basically prune juice? And doesn't that, well, you know. 
My friend's mom emailed me with her process and she uses one of these juice cooker things, intriguing, I might have to get one for next year (well, I'll definitely add it to my look for while thrifting list). I think the puree is a bit strong for Tuesday so I'll add it to banana and my homemade rice cereal for now. We (Emilie and I) gave her a little straight up, her reaction was pretty funny.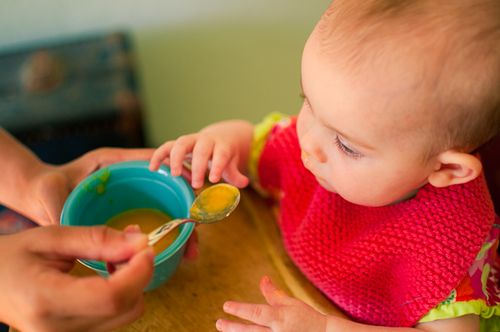 I also had to take care of another baby feeding issue. Miss Slippery Pants slides all around the old wooden high chair we use. She's skinny and can slip right under. Of course I never leave her alone in it, but I knew Bj would be working late tonight and I wouldn't have the extra hand to help me steady her. I came up with a strap contraption I think works pretty well.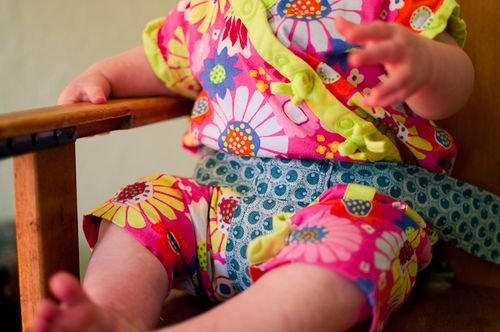 I needed it to fit now and later, and to be sturdy and easy to clean. I used a four inch strip of cotton fabric cut on the bias (how many times am I going to cut the ends wrong to join and make a long strip? I always forget the right way to do this on the first try – you lay them perpendicular, and sew on the diagonal). I folded the edges towards the middle and then backed it with some sturdy grosgrain, sewing it all together on the edges: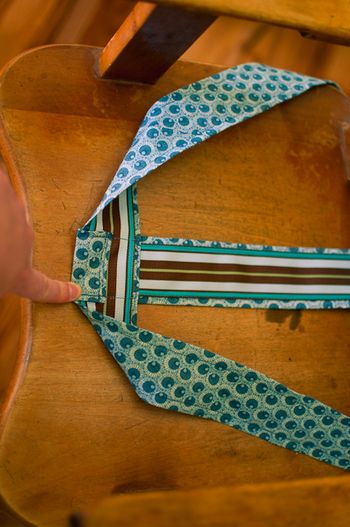 I love grosgrain, it's the work horse of ribbons. I made a loop out of the piece that goes under the crotch and put a double seam in to have a place for the ties to cross in the back:
I'll either pull those stitches out to lengthen or use the next loop when she grows. After ends are crossed pull snug and tie: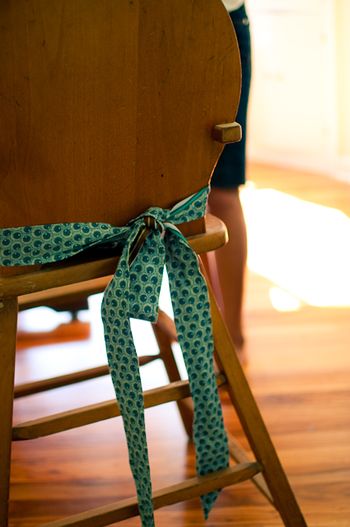 It's no 5-point harness, but if you are sitting with baby I think it will do the trick nicely. Plus when we take the tray off and pull her right up to the table it will still work to keep her from slipping. I know she likes it because before tonight she was gripping the arms of the chair while we fed her, you know, basically hanging on for her life.