Carmen and I always pine that we can not craft together as we live so far apart. She has sent me things she's made and I've made her things and sent them, so I know she is being crafty. Just not with me, boo! While I was at her house she showed me this awesome outfit she made Chloe out of one of her husband's old tee shirts. Of course I snatched it up and said, "I must squeeze Tuesday into this so I can blog about it!"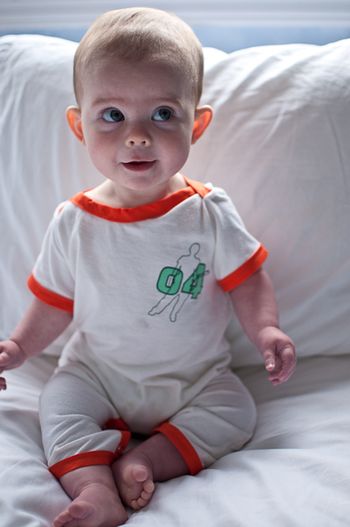 Is this not adorable?!?! It is a concert tee so check out the back: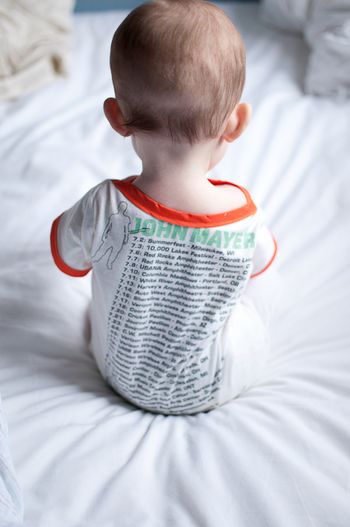 The pattern is McCall's 8574 Um, I had Carmen tell me, and wrote it down and everything but now it is lost, boo. Carmen please comment with the pattern number when you get a chance! Carmen made me a couple of these out of plain knit (what the pattern calls for) and then she must have taken a genius pill because she came up with this! Or maybe that's what happens when you're in Alaska and you don't have the crafty resources. Anyway she's clever and I love this.
In completely unrelated news I need plum advice! I went to hang up Tutu's diapers and realized that we have a plum tree! I had forgotten about it when it was being crammed out of our yard by a cedar that we had cut down earlier this year (two were growing too close together with the plum and they were all going to die, I don't take tree cutting lightly). We all went out and picked a bunch tonight. I cleaned them, and now they are sitting on my counter: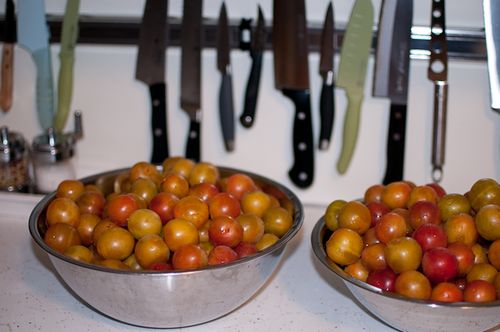 only I put tea towels over them. I don't even know how to store them, I just took my best guess. I'm not sure what these type are either, but they are freaking awesome and taste like candy. I want to try and make some baby food for Tutu and freeze it, maybe a plum jam, or a plum sauce on a pork chop (mmm). Ideas, advice? I wish I would have figured this out earlier, they are ripe like, yesterday. And some are bruised, as you can see, from tossing them into the bowls (there are not a lot of low branches). Please give me some advice ASAP! I will send you big kisses!