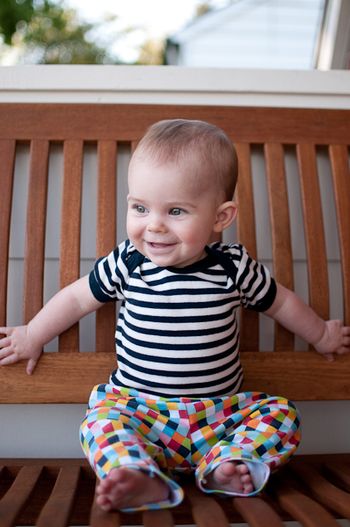 Little Miss Sparkle Pants turned eight months old a few days ago. So unbelievable to me. Again I find that she is growing and changing more than I can keep up with. Or barely take a picture of: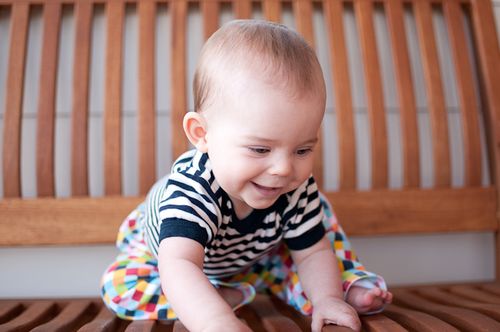 And to my sweet little Tuesday Lee, I'm sorry I have not filled out your baby book!!! I'm going to write you a note here instead. 
You are getting so big and strong. You had a temperature around 7.5 months so we took you to the doctor and you weighed 13.5 pounds (that's still not as heavy as your great grandpa when he was born!). I think that this makes you big, but really you are still quite a wee little thing. I think your temp was due to teething, as your gums seem to bother you a lot! I can see the teeth just under there, but they have been that way for weeks, poor thing.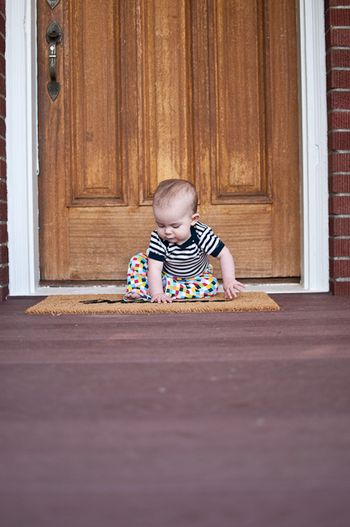 And because you are so skinny I continue to put you in onsies like this one, from your friend Beachwood. It is a size 1-3 months, and you only need a crotch snap extender to fit in it still. But some of your pants are 12 month size (I think a lot of that has to do with your cute cloth diaper butt though!). People remark about your seriousness, but you can also be quite loud and funny. I think you just really love studying every little thing you can find: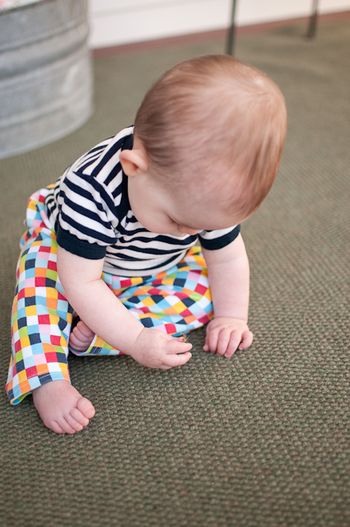 This morning I couldn't figure out what you were concentrating on and it was one of my hairs you picked up off the floor! I didn't think babies could see that well, maybe you have super good vision. I hope so, I don't like wearing my glasses and don't wish that for you! You finally took to eating solids this month and so far I have made them all for you. You'll try anything, even if you don't like it (I figure you don't like something when you eat it and then shutter). So far your favorite thing has been butternut squash, from what I can tell. You also enjoy pear, summer squash, sweet potato, plum, banana, yam, and applesauce. You are not as fond of cereals, carrots or zucchini. I gave you a tiny piece of zucchini bread about the size of my pinkie nail. You some how smashed it into thirty pieces, each time picking one up and further destroying it, but never putting it in your mouth. I just started giving you two meals a day, which you seem to enjoy. I think part of the fun for you is sitting at the table with us while we eat. I also love our dinners and so enjoy the conversation and family time.  I was afraid when I was pregnant (and the dining room was storage) that we would have a hard time getting away from eating so many meals in front of the TV, since we don't let you watch it, but it hasn't been a problem.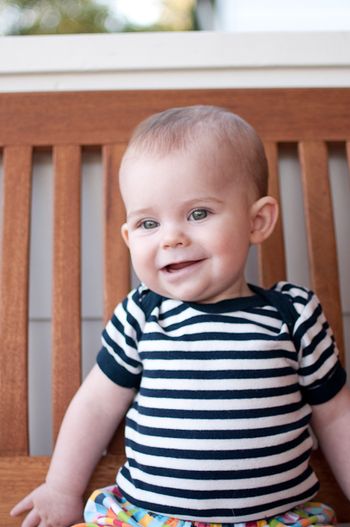 Since I am with you all day I can read you pretty well. I know when you are going to have a breakdown, or when you are really tired (usually related), but have still not figure out how to get you to nap much to prevent this. I don't nurse you to sleep any more, but in the middle of the night you do cry out for me, and you can take a good long time to eat and go back to sleep. This makes mama pretty tired and I haven't really figure out what we are going to do about that. A couple weeks ago you started going potty in the toilet when I notice you have to go and I set you on it. It's not all the time, but enough that it makes me very happy, and you too – you will not be in a dirty diaper long before you start to seriously complain.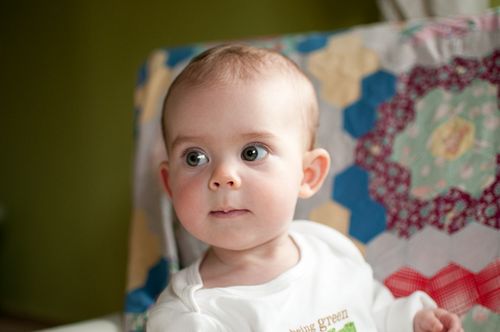 Perhaps my favorite development has been your ability to say mama. At first I didn't think you knew that was me, but now I think you do. When ever you say it I say, "mama's right here" and that makes you smile. Also totally adorable? Your ability to give a little princess wave. 
And one more late breaking development. As I was filling out the eight month questionnaire the doctor sent home you kept grabbing it and I exclaimed that you had a long reach. I realized as I moved back that you were in fact doing a sort of army crawl to get to me. I backed up several feet and sure enough you could get to me! Papa has installed baby gates (that you can climb), and our floors are constantly being cleaned to keep you from getting something you shouldn't. 
I love you with all my heart baby girl!