So Tuesday is on the full on two meals a day schedule. I should say two meals not at the breast, she still takes plenty of those. The little Wednesday market downtown is only going until the end of October, and the month seems to be flying by so I figured I should stock up on some yumminess for my little lady while I can still get it fresh and local. I bundled her up and headed downtown: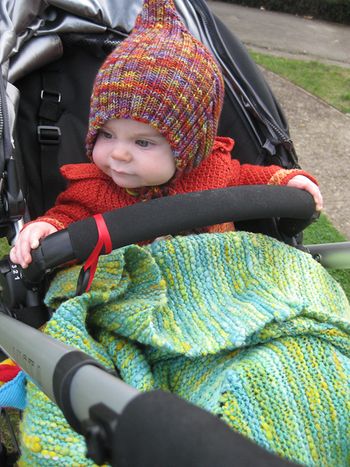 Attack of the handknits. Oh wait it got better with the addition of a handknit bib!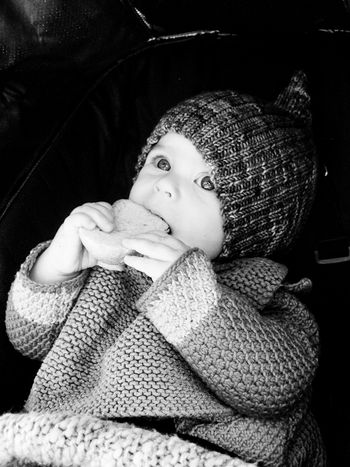 A little side note, while she does have lots of knit things and is growing slowly, she still is growing. I need to get my butt in gear and get a few more sweaters, hats and blankets in her closet before winter. I'm spinning for another stroller blanket right now. 
We got lots of yumminess: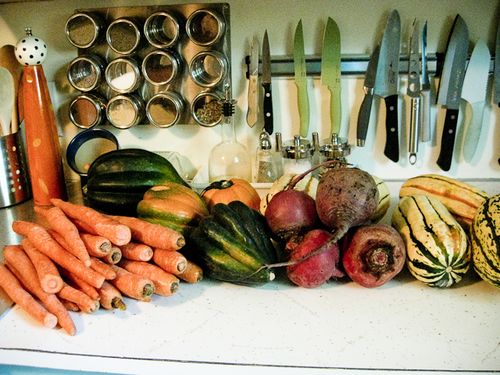 Luckily my mom met us down there so she took my haul back to the house for me. Not everything would fit under the stroller since we were shedding those clothes and blankets as the day heated up – fall weather can be so confusing! Also we had some heavy and strange sized stuff. Anyone know what these are?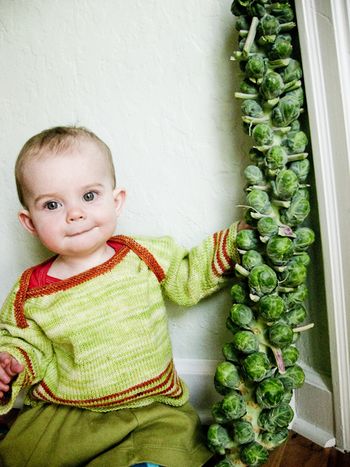 It took Bj a minute, he hadn't seen them in this state before. No I didn't make them into baby food for Tuesday. But I did everything else (and the kitchen is in such a disaster state to prove it), minus the acorn squash, which I didn't get to: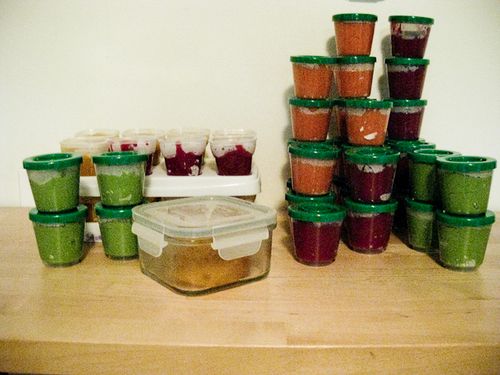 Excuse the pictures, they are all kind of wonky as I was using the point and shoot, but not the flash. I take my camera's high ISO settings for granted sometimes! That's peas, carrots, delicata squash, and beets. I got out the food processor for all but the squash (I use my food mill for that) and it worked great. I now have at least 150 servings of baby food in the freezer. I just keep reusing the containers by popping out the food cubes and putting those into labeled freezer bags. I think I want to do some pears, and maybe some more squash since Tuesday loves it, then I think I'll mostly be done. I'll just freeze extra portions of whatever we make with our meals. I'm hoping she'll be able to do some finger foods soon anyway. I have to try some of the tips you left on my last baby food post. I think I can start to do some mixed stuff soon too.