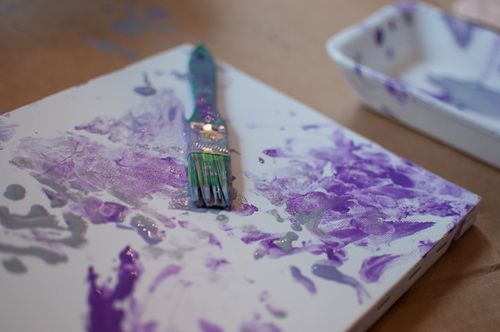 Oh my friends I have been having such a bad case of mama guilt! Feeling like I'm not doing enough with Tuesday just "being" with her and going about our day to day. I feel like she (and other babies we know her age) is going through this crazy development period. Everyday I see that she knows more and tries more things. Today she took her first steps from one thing (baby gate) to another (high chair) with out any prompting. Usually we're baiting her with something. But she did it just to get from one place to another, because it's a very short (three step) distance and she figured it would be faster than getting down and crawling. I almost can't believe she can figure it out. But of course I think she's the smartest… oh wait no I don't. I think she's the most darling perfect little thing, but I have been comparing her to other babies which I shouldn't do, but I think it's just a natural thing. Especially when it's your first baby and you just don't know what comes next.
You probably realize that I read lots of blogs and have many friends with babies the same age. Well it seemed to me that so many mamas were doing all kinds of "projects" with their babies. I could not figure out how this was possible since Tuesday puts everything into her mouth and her fine motor skills are so fantastic this includes grabbing ants racing across our floor (I swear we're clean) and stuffing them in her mouth! But when I saw Carmen painted with her little Chloe I could stand it no more and decided I must try a project with my Sparkle Pants. You may have seen the photo of the day. It did not go as planned.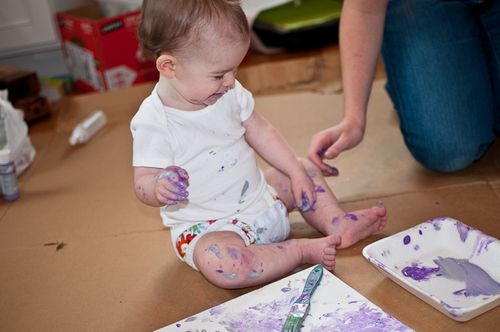 "Haha, you want me to do what mom?" Note – yes she has paint in her mouth. Carmen I didn't see that you had responded to me; tempura paint = genius. I used a water based supposedly non toxic acrylic. Not my hard core Goldens or anything, but still I was on her like white on rice and I still couldn't keep it out of her mouth (note to others – it did not come off this onsie).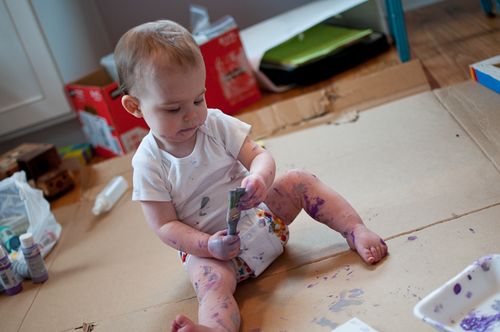 The whole thing lasted about five minutes and really she didn't do anything. I had to put her hand on the canvas. I felt like an abject failure! Let me reiterate – she only wanted it in her mouth! (I know Bj, "that's what she said.").
Once I took a step back, and after her first year check up showed she was indeed normal, I realized I have to just roll with the day. If we never get anything done then we never get anything done. That doesn't mean we're not DOING things, like watching the cars go by, clapping, playing with Lee Lee, pushing a shopping cart and bouncing while I pack order. It is easy to say I'm going to let go, then to actually let go…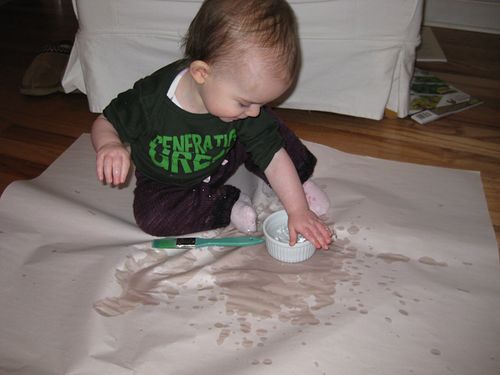 I tried it again with water a few days later. She loved the water, but didn't "get" the painting thing.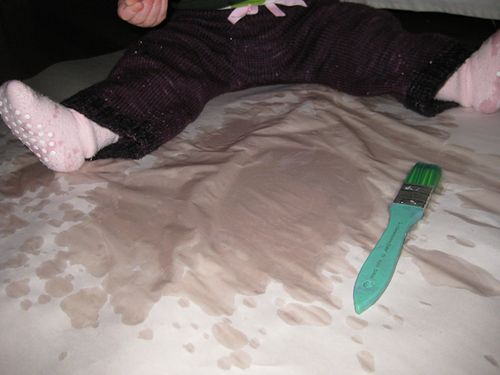 You know what? That's ok. We'll keep trying. If my baby doesn't like art it won't kill me (I tell myself). Speaking of creating the room is nearly complete. I did pick out knobs (see the dalies), and just can not stand to show you the room if it isn't totally done. They come on Friday, so look for a post on the craft den this weekend(ish).