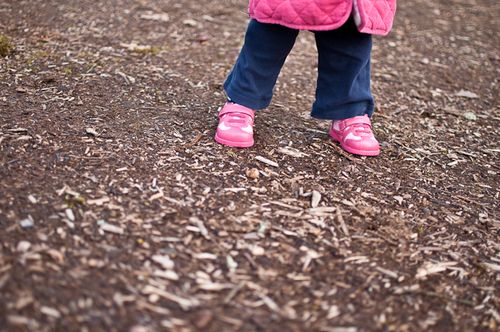 Until now I haven't paid much attention to baby shoes. I didn't start putting them on her until the fall when I felt like maybe her feet were cold. Besides they were so small that they always slipped off and I found them more annoying than helpful. She has recently started growing out of the smallest size. We had little silver pedipeds and some See Kai Run Smaller shoes that were so cute! I totally did not understand sizes so I just bought the smallest ones I found and figured they would fit her sometime. Well Diapers.com was having a sale so I figured I'd stock up. I got a 6-9 month size pair and then a size 3, and since I was confused I didn't realize: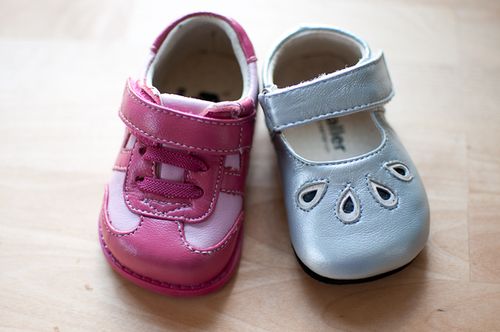 That's basically the same size. The silver are 6-9 month and soft soled. The pink are size 3 and have harder soles (if you click on those links I think my colors are much more true than their site).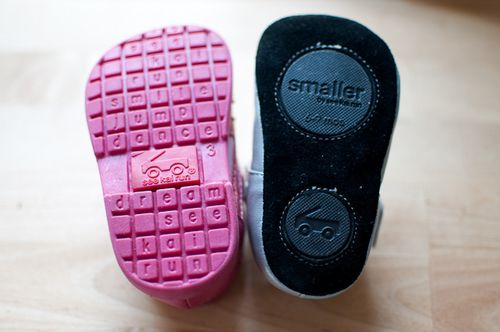 The soft soles are much easier for the new walker to get around in, but the thick soles are good for mud.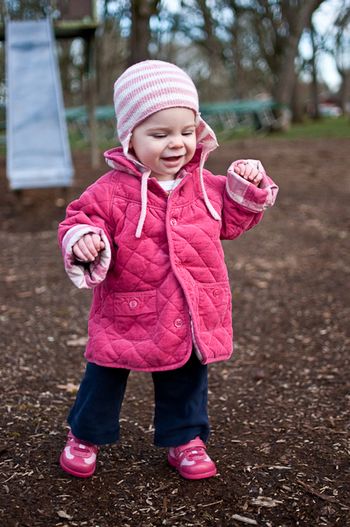 And soooo cute, if still a little big. I got both of these (and these for next winter) at Diapers.com. The site is pretty nice, you can combine coupons and get free fast shipping (I got mine the next day) on orders over $49 (automatic, no coupon). They didn't pay me to say this or anything, but if you want you can use the code: AMBE4210 and get $10 off your first order of $49 or more and I'll get a $5 credit – sweet (boo I guess that is just for diapers, but your first order you still get 10% off and free shipping anyway)!. I've just been impressed by their service, and cuteness level of their clothes. Ironically they don't have any cloth diaper stuff! Oh and if you do want to order by the 8th you can combine one of these: TOUCHDOWN ($7 off $100 or more) or FIELDGOAL ($3 off $60 or more), my referral coupon doesn't expire for 6 months I think. Here's a link to the sale page, happy shopping!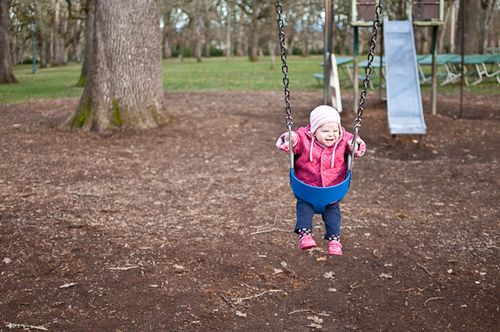 P.S. Bj did go and track down the other silver shoes we have so he could get them in the next size. He found them here.