Yesterday Sciarrino and I drove up to the first meeting of the Portland chapter of the Modern Quilt Guild. I didn't really know what to expect, having never been in a guild of any kind before. I was hoping that I would meet some like minded fabric lovers, and guess what I did!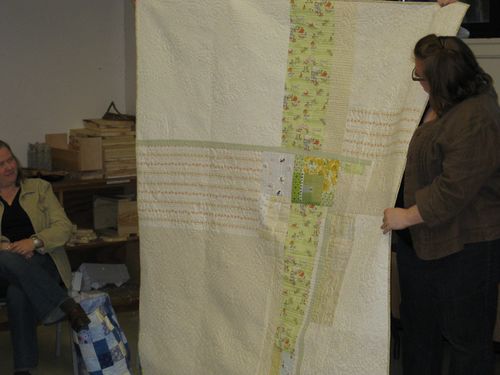 We did a show and tell, although I didn't bring anything. This quilt in particular got me thinking. I don't have any white on white fabric and very few light colored fabrics of any kind (hello Life In Color?). But I really loved this "low volume" idea. And the quilting was so so beautiful: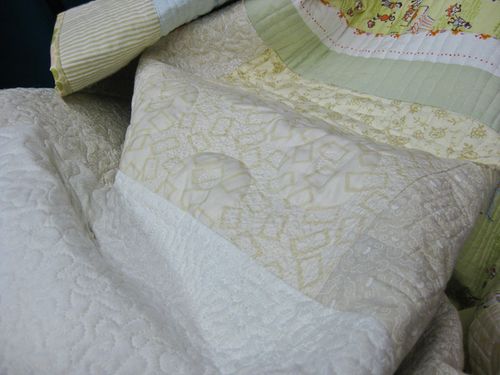 This picture just does not do it justice. The quilter is Rachel (aka 2ndAveStudio). I hope she brings this back in washed up because it looks like it is going to do some amazing things. If you have a guild in your area I would recommend going. Here is a link to the national blog that has a sidebar list of specific guilds – new ones are being started all the time!
In other sewing joining news I am going to join Sew Take a Hike's quilt as you go along (starts tomorrow). It sounds really interesting, and would be a good fit, I think, if you are a beginner or someone who doesn't normally quilt your own tops because you are only quilting smallish squares at a time. Check it out here.
I'm hoping one of you will want to join in as well. I have tons of awesome (I think) scraps, but practically nothing in the light colored/white background section, which you need for these quilts. If anyone has a lot of that type of scraps and wants to trade for a bag of colorful stuff let me know!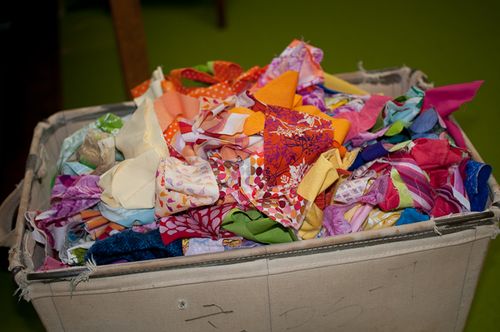 Here is my big bin of scraps to hopefully entice you. And Penny has a few pictures up of what the less bright scraps should look like on her post explaining the quilt along. So, anyone in?