I could also title this post My Friend and Next Door Neighbor Opened a YARN SHOP and I am The Luckiest Girl in The World, but I'm never really sure what letters to capitalize with a long title like that. So yes, my neighbor Tracy (who is also my friend but I have another friend named Tracy so I call her my neighbor Tracy) opened a yarn shop in town! Let's see I just googled it and it is 1.5 miles away by walking. Hello! Is this not awesome. Rhetorical, it is totally awesome. The only other yarn shop here (in Salem, Oregon in case you're wondering) closed last year. Yarn is one of the only things I hardly ever buy online (besides that Sundara craziness I hoarded while pregnant). I love feeling yarn, being inspired by the samples and books in a yarn shop, and talking with the shop workers and patrons. So ya, I'm psyched. I thought I blogged about it before but I can't seem to find any reference. I happened to check my stats the other day (which I never do) and it showed 40 people searching for yarn shops and getting to my blog in a week. I don't know how that happened or what they were searching for: shops in Salem, Oregon? Portland? The Willamette Valley? Online? Or just plain Awesome Yarn Shops (hehehe how's that for some keywords :), but they come here. Soon I'll have a little badge over there (if I knew how to make arrows one would be pointing to the right), but for now here is a link to her blog: Teaselwick Wools.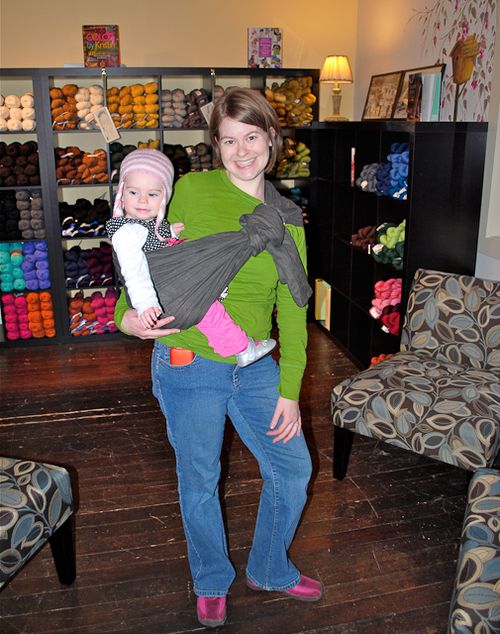 The first time I visited a month ago (see above – I was posing with a sling to show Ceara that they can be classy – Yes Emily I got the Sakura Bloom) I disgraced myself by having Tuesday wear this not handknit hat and you know what when I came back yesterday: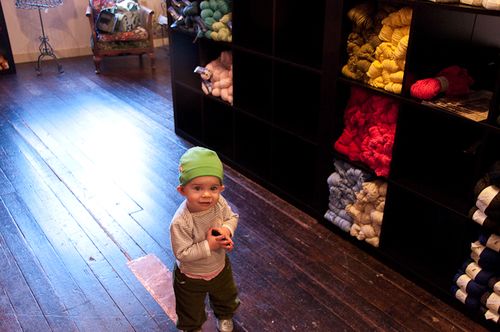 I freaking did it again! So that must mean I need more yarn. Plus St. Patrick's day all green yarn on sale. I am so there!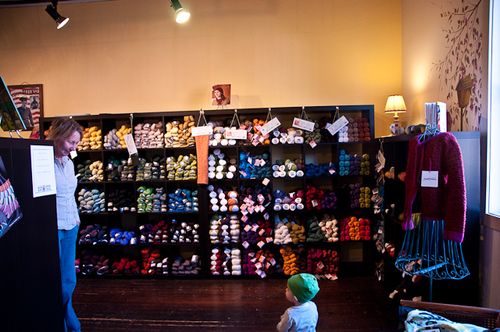 The shop is really filling up. Tracy has excellent taste, which is a good thing, but can have drawbacks, like me buying way too many books because she has tons of great ones that I haven't seen anywhere (I'm still loving this one that I made Ceara's hat from).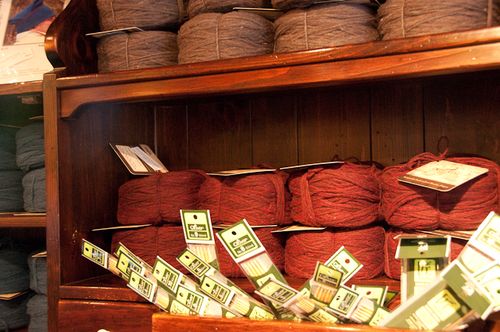 This is wool from Oregon – some kind of lovely unspun stuff that looks (and fills) so yummy! The shop is in an old Wool Mill (Mission Mill) so very fitting. Please check it out if you are in town and so inclined. 
Of course I had to congratulate Tracy on her new venture and when I saw this fabric I knew I wanted to sew her up something. So I made her a bag to carry knitting and stuff to and from her shop.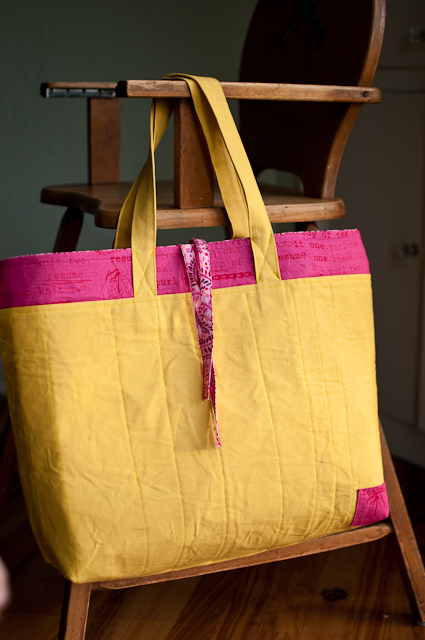 and the inside: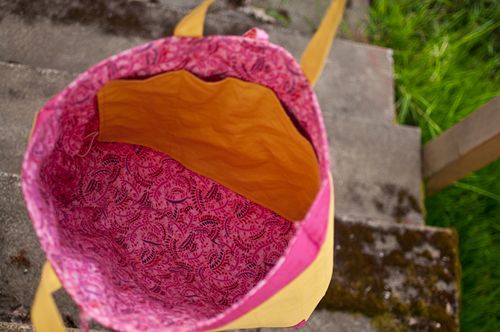 We were trying to get more pictures outside, but someone wasn't a fan: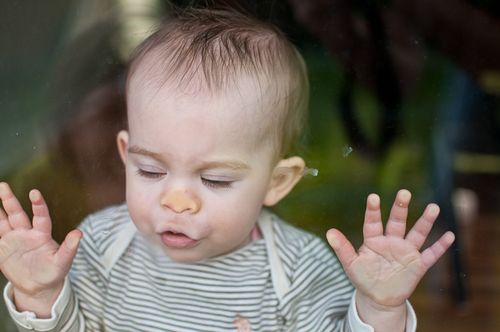 Imagine a better shot of the inside where I made a pocket with a contrasting lining and added one of my labels (my birthdate printed on this twill).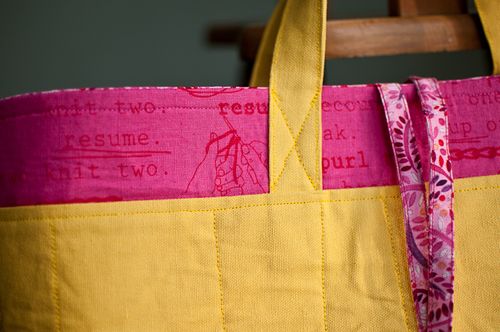 Up close of the fabric.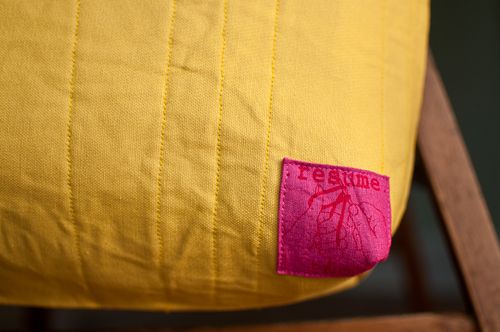 This was my first bag like this (I used this pattern – horrible cover art, I know, but the pattern is great) and I learned a lot. Like I should pre-read the whole pattern. I don't know how many times I have to be told this to get it into my head. It's a good idea with any project in any medium, and I still fail to do it. If I had I would have known to move this little patch further away from the edge of the outer panel so it wouldn't get caught in the corner. I gave Tracy a verbal lifetime repair coupon when I brought her the bag, so we'll see how soon I get it back. I think doing a few of these at once would be best, so you could press all at once, baste all at once, and sew all at once. 
Now I just need to start knitting all of this yummines: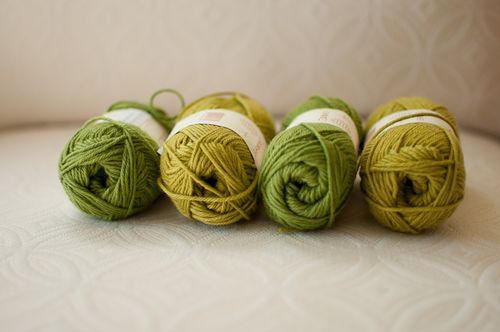 if I don't get distracted by this vintage barkcloth panel from Tracy's parent's house (she got it when her dad passed away – these were their curtains!!
):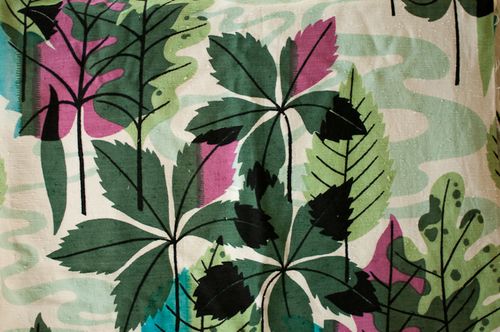 Like I've said before: project overload!!!