And once again I only have pictures of the aftermath, Sarah, how does that always happen to us? Sarah and I had a day planned out to scrapbook on Saturday, just the two of us, and it was so much fun. It turns out when I pull the chair out of the craft room you can fit a long folding table in here and two messy scrapbookers really well. I need to get better at taking pictures of my layouts (super fail) but here they are: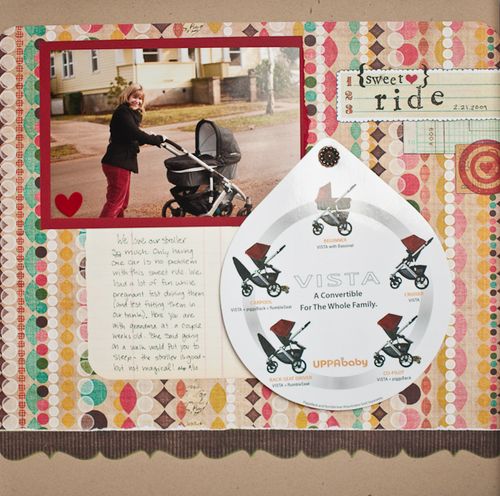 All of them might look a little wonky. I asked Stephanie how she took pictures of hers and she posted this link. I am doing that, but I think I still have a few things to work out.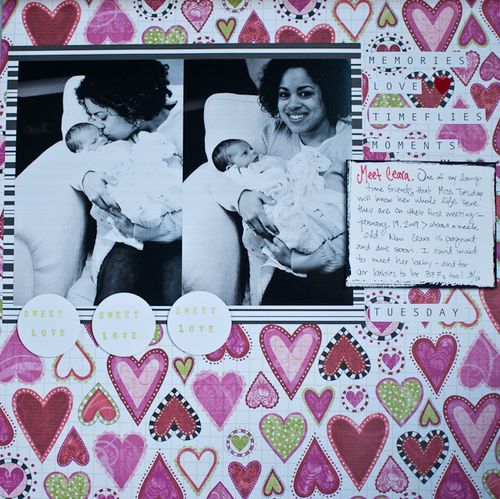 I know a whole sheet of patterned paper, what?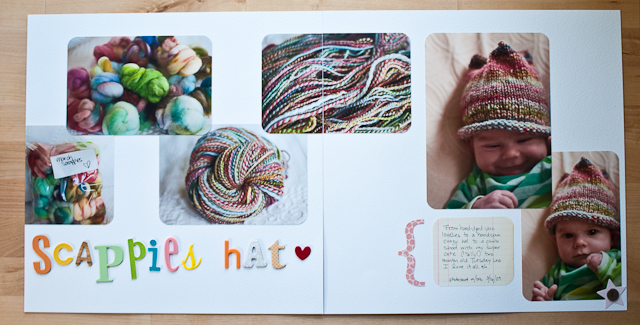 Two pager – yeah! I dug into Sarah's thicker collection: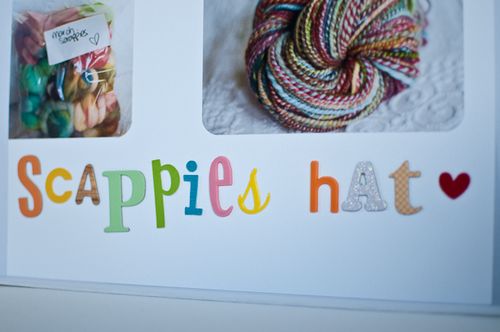 Speaking of scrappy hats, I finally got a picture of my quick moving daughter in her newest tri-peak (three months after I finished it):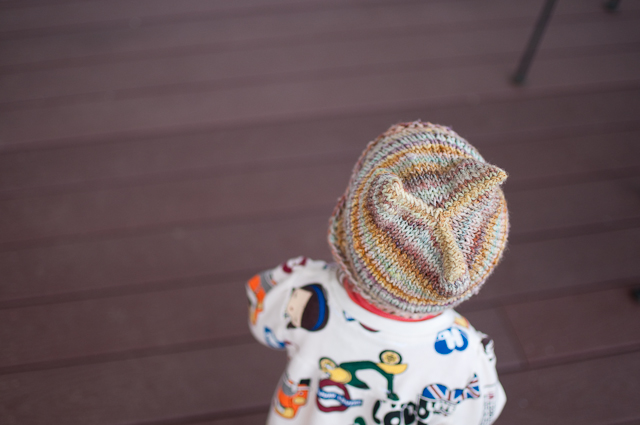 (more photos on my ravelry page)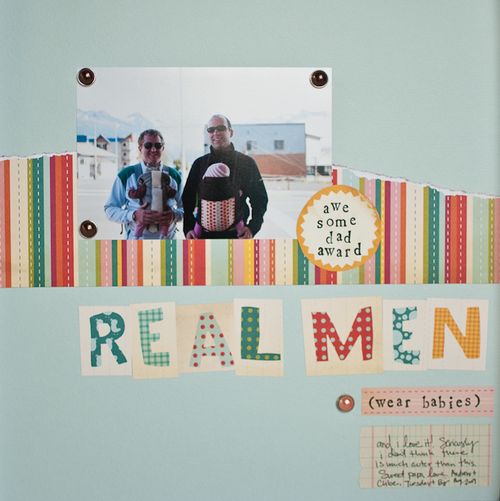 This layout and the next are not from Saturday but I never posted them. The other guy with Bj is Carmen's husband, aren't they cute?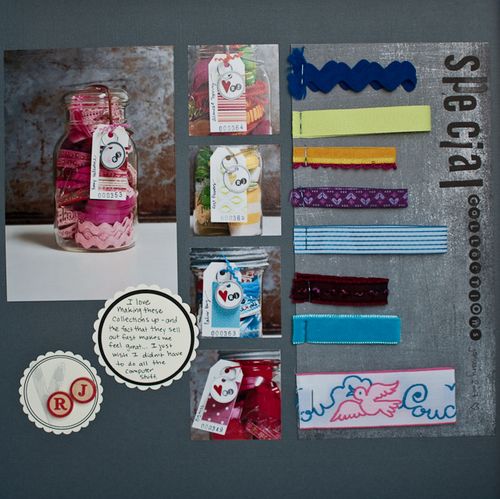 And one about the Ribbon Jar. While I was at my mom's a few weeks ago and the power was out I flipped through my three-up photo albums and put post-its with journaling on the photos I wanted to scrap. It made for quick, easy and fun scrapping this past week. Oh and I almost forgot this: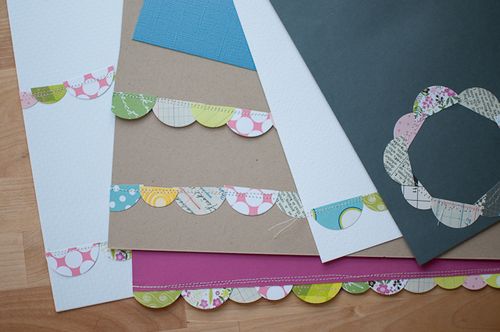 Sarah and I did some pre-scrapping based off of a Studio Calico idea. It was fun, and I can't wait to use these, although I think some will be part of Emily's prize for winning the guessing contest (the tree was 97), what do you think Emily?
The other thing I did this weekend was make a few changes on my blog. I am going to do pictures a little bigger (actual pictures, not scrapbooking layouts). I also added a fun link list on the sidebar that I plan to keep updated with little gems of the internet. I will change the title with the date updated so you can see if there are new links to check out (Amber Loves List). I added a copyright, which I have been meaning to do forever, but if you ever want to use an image just let me know. The last thing I did was add a link list called Lately on the Nightstand. It's an Amazon Affiliate link list. To be honest I'm not really sure exactly how it works (if you have to buy the item shown, or just place an order after clicking, I can't seem to figure it out). I've been linking to Amazon with my affiliate ID for over a year now and have made a whole $10.02, so you know, rolling in the big dough. 🙂 I don't see the list affecting the site at all, I really wanted to put it up because I think we read some interesting things, and having the pictures is nice. Making enough money off of it to pay for the blog itself would be great, but I don't see myself putting up adds or anything like that. Who knows though, for now this is enough and I hope it doesn't bug anyone. Now should I change my five year old banner? Hmm kind of sounds like a lot of work 🙂 Pro blogger over here, can you tell? 🙂