When ever I take on a new project I tend to get a vision pretty quickly of what I want. Which means pretty quickly I get sick of looking at the "before". Bj and I have had plans drawn up to tackle the last remaining bit of cottage work, and it's a big part—the yard. People our yard is not looking good. When I bought the house it looked like this in the front: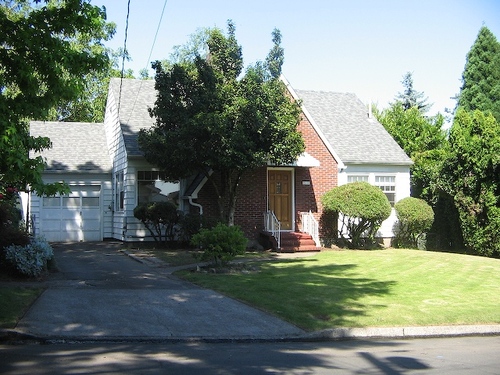 (you can see the whole place here—time warp!) Then I chopped everything down (yes, I was called  a tree hater). Now it looks like this (well, in September it did):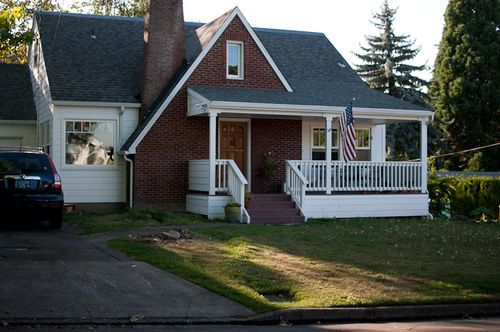 The tree had to come down, not just for the porch, but because the roots were growing into the foundation, I did not want to cut it. The bushes were old crusty things so those went… leaving a very bare front yard. One that, as you can see is mostly dandelions. But my friends, that is just to keep up appearances. The backyard is truly scary: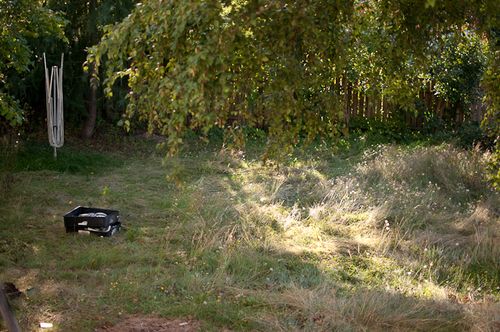 and: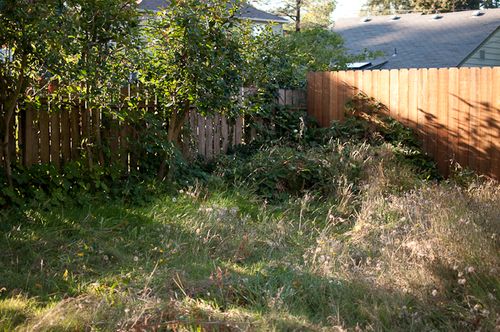 oh, it's going to get worse: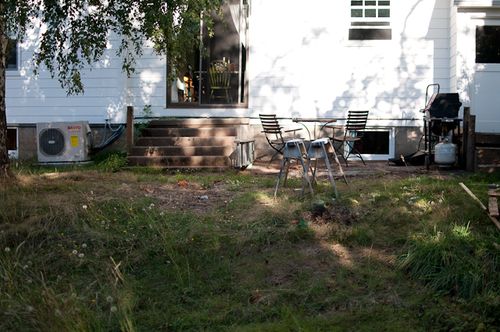 the ghetto shame of it all: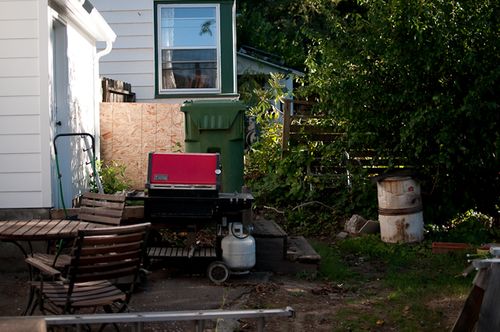 Yes there is garbage, and weeds, weeds, more weeds.
I took all these pictures last year hoping HGTV would come transform it, but no dice. Now that we have a plan in place I keep clicking my heels and hoping it will magically be done already. But everything in due course. Right now we are the pick pretty plants phase, which is fun, and a little overwhelming. I know what I want: cute, modern, country, cottage, good-smelling, veggie-producing, eco-friendly, semi-native, low-water, awesomeness. I just am not sure exactly what plants those are. So we've been walking around the neighborhood snapping pictures, going through my magazine tear out file and checking out books. I have a list going: lilacs, clematis, roses, alums, maybe a coral bark maple? I would LOVE to know some of your favorite plants. The landscape designer (yes, a professional. If there is one thing my professional interior designer mother has taught me, it's that a professional will think of about a million things you never will) Tina will let us know if the plants won't work in our area, or certain parts of our yard (like under our black walnut maple that I like, thank you very much). So please let me know. Oh and if you do want to go to my mother's blog, she's looking for help picking out a new tree—Tex are you out there?