Yuck, I got a cold! Boo hoo hoo especially because our dear friends are here form Alaska with their little cutie pie who is four months younger than Tuesday and I want to hang out! But in the interest of not sending them back up north sneezing and blowing their nose (and cursing my existence) I spent the day away and mainly in bed and on the couch (thanks to my mom and then a long nap by Tuesday—baby girl you rock so hard!). I've been wanting to scrapbook, and sew, and spin (oh check this out:


New Hello Yarn fiber, so tempting).
BUT I made myself rest, and watch TV. It's been a while. I watched Bones (Nooooooooooooooooooooo!!!!!!!!!!!!!), Ugly Betty (next week's the series finale, that creeped up on me!), and stumbled upon the para olympics. Restricted Vision Downhill OMG how amazing are these athletes?!?! I didn't tune into much of the able bodied Olympics, but this had me riveted. Of course I can't just sit there. It's not like I'm at death's door (and if I was, I think I'd want to get in as much knitting as possible, right?). So I knit. Rows of plain stockinette. Genius seamless pattern, and yummy yarn (rav link to my project page).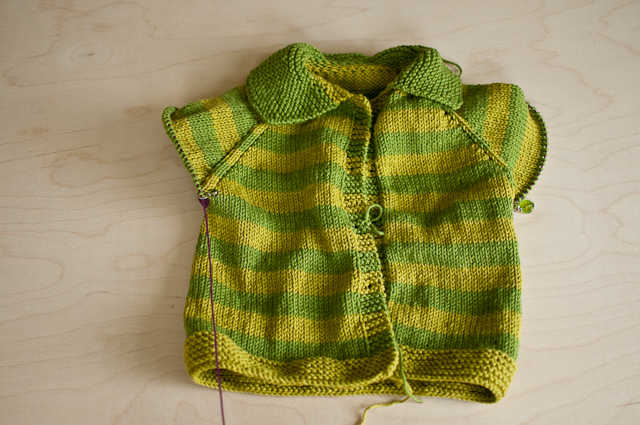 Just the sleeves to go now, but had to try it on Miss Sparkly Pants (or Miss not wearing any pants here!):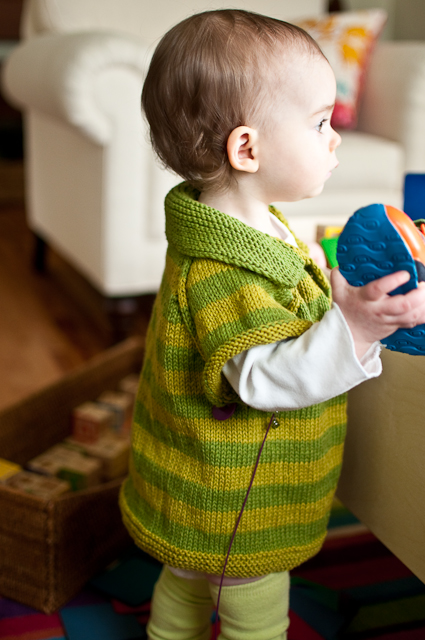 I love it. Did I mention it was seamless? I think I'm going to try and find these pewter buttons I know exist somewhere in this house gleaned from a much loved Gap sweater from High School.
Even though I knit the 6-12 month size and I knew it was going to run big, it ran even bigger than that and I think I'll need more yarn from my favorite shop. It will be hard not to grab a few more skeins in different colors and cast on immediately for a fall sweater for Tutu. Now that she is bigger I  must plan ahead! Did I mention I love this yarn?
So I did that and made some soup. Like from scratch. Those two things combined are making me feel much, much better. Now off to knit some more!