Oh I kept meaning to blog and then I was feeling all tired and blah. 
Guess what? Today I got my period, that two year break was NOT LONG ENOUGH. Boo.
But enough about that. Let's talk about something even more depressing, the future of our food! 🙂 Bj and I watched two documentaries this weekend: The Future of Food and Food Inc. (and then happened to read this). If you just watch one I would go with Food Inc, just for production value, but Future of Food delves into the Monsanto/GMO issue more. It's very interesting, and I admit I was really turing a blind eye to what I've been eating, know things were bad but eating it anyway. I took it more as a "bad for me" thing, and didn't really think about the earth/future generations. Even before I got pregnant we were trying to eat better, and I have slowly come around from my nearly 100% candy diet (I like candy way too much). But with summer close (so they say, you'd never know it if you came over to rainland) and the first CSA box picked up I'm getting into the kitchen and taking over! No more fast food, no more corn syrup, no more GMOs! Of course I don't think I'll be able to be perfect, just trying to do my best. And I'm not sure what do about that severe diet coke addiction….
Anyway I started my cooking off with an easy curry rice soup, and made a lot so I could freeze some portions for when I'm feeling overwhelmed and lazy. Last night I made some dough and today I baked this: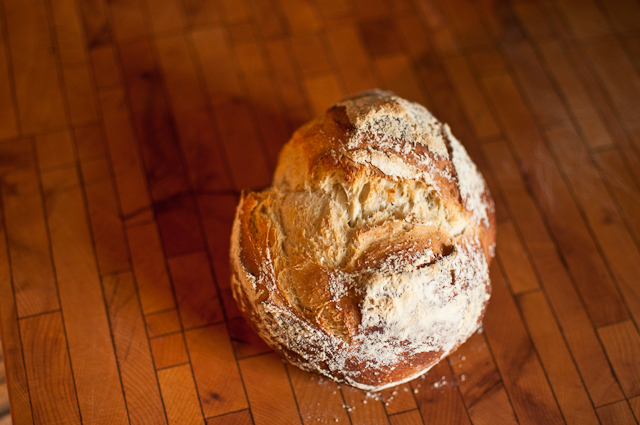 Oh yes, it is just as delicious as it looks. I am totally in love with my new book. And they are serious, 5 minutes a day really is all it takes! My mom asked me for the recipe, but I'm all, "It's a system mom, a system!" This is just the basic, you-must-learn-this-first bread, but there are so many yummy looking ones I can't wait to try. I had to make a little investment in the book, a pizza peel, and oven thermometer (we already had a stone and I'm using a big stockpot for storing dough for now), but besides that I think a loaf works out to be ridiculously cheap, like fifty cents. 
We also used up some of our produce from our CSA box. The bok choy and green garlic went into a simple vegetarian stir fry we did over rice for dinner.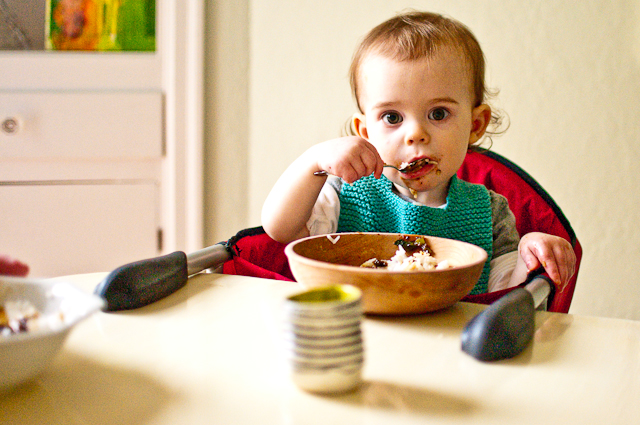 Tuesday was so excited about it she figured out how to use her spoon! She's been aiming at her mouth for a while, but at the last minute she'd tip it over and most would end up in her lap. Halfway through dinner she did get tired and started shoving things in with her left hand, maybe she'll be ambidextrous! 
 
Also: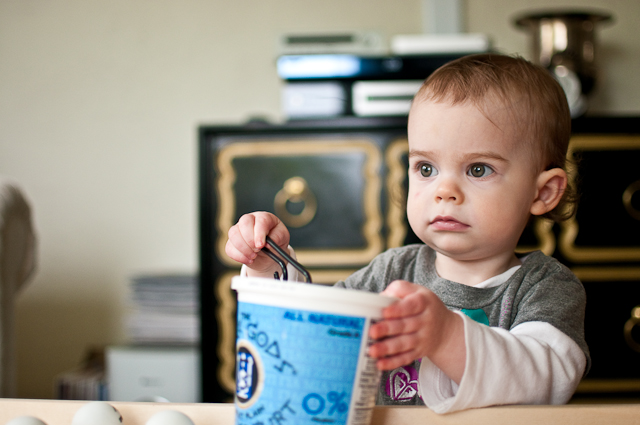 Playing, but being distracted by: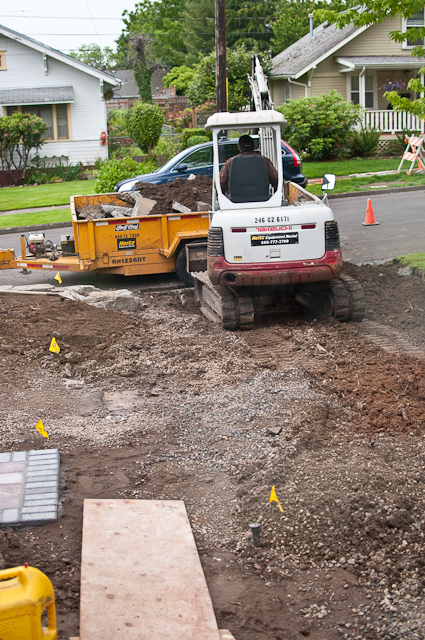 The big machine tearing up our driveway. We were going to have grass by this weekend, but did I mention the rain WON'T STOP?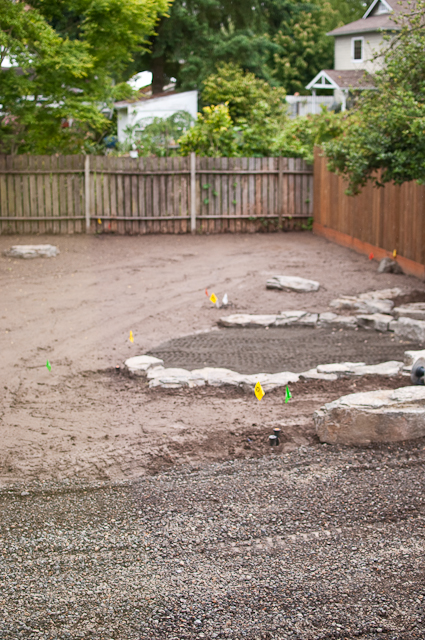 Our poor backyard looks so naked.
p.s. You may want to check out the picture of the day. Yesterday Tuesday and I got to watch a dance class… full of preschoolers.