I've made a bunch of layouts with my kit and I'm loving the quick scrapping.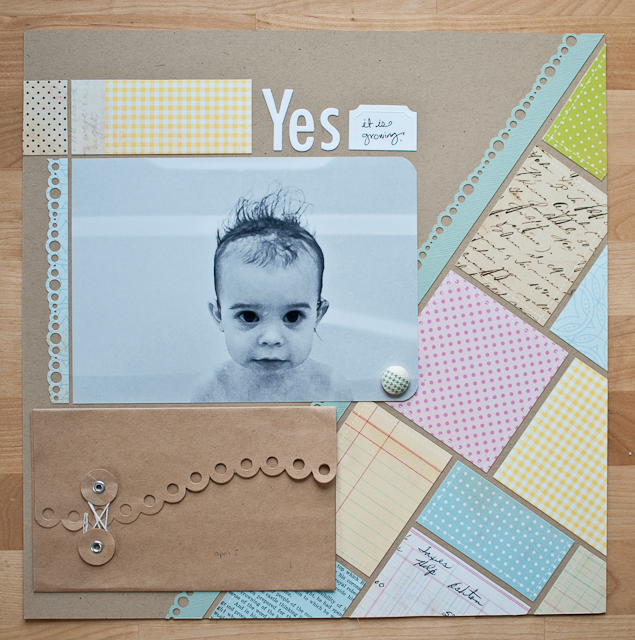 This was my warm up layout. Do you do this? Usually they end up being my least favorite. I had a super crazy bad warm up layout after a few months off of scrapping. It was so hilarious. I sent a picture of it to my scrappy friends and they got a good laugh. I don't fret too much though, I still stick it in the scrapbooks. This is not really that bad, I just feel like it needs something, ideas?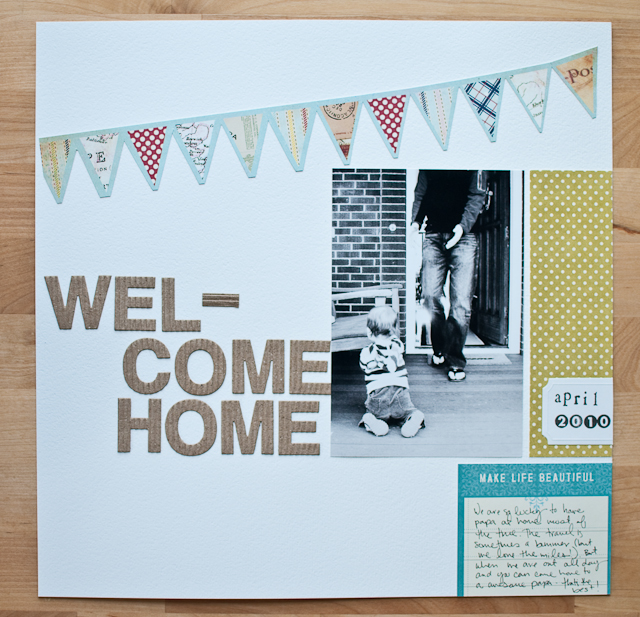 I decided just to leave the pictures of my layouts with the counter top in the background. Way easier than trying to get it straight on, is it distracting? If so I'll have to come up with some better way to take photos of them (I hate scanning and stitching). Anyway super simple layout, but I am loving the simple.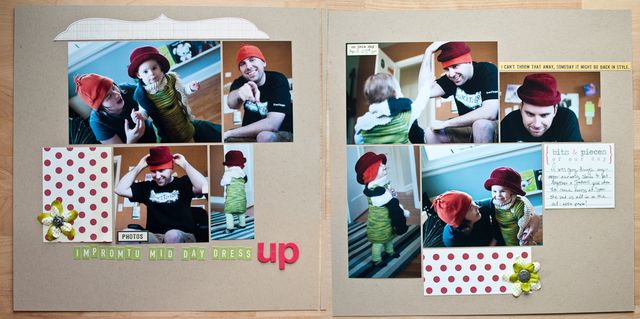 Wonky photo-merge but you get the idea. A two page layout, what?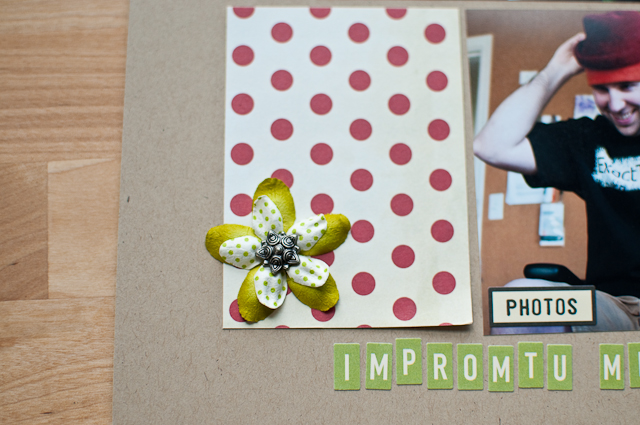 One of my all time favorite brads. I love brads so much.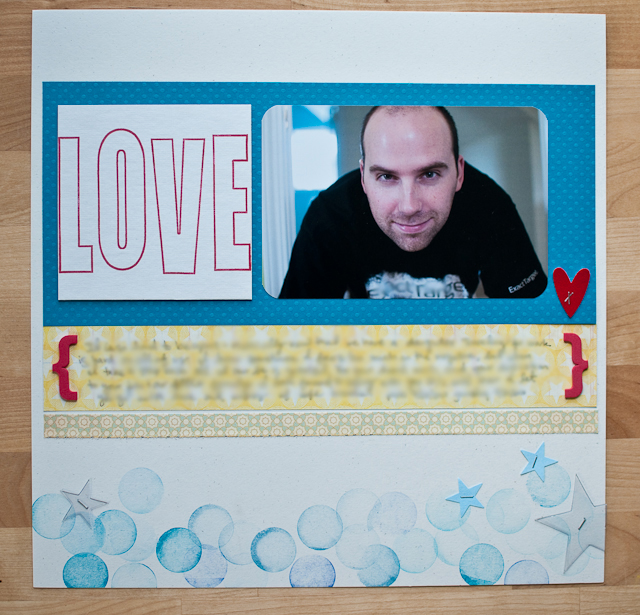 A mushy layout about Bj. I was testing all my old ink pads and saved the paper (I'm trying out new neutral colors of cardstock, this one is a recycled type with little flecks, I like it).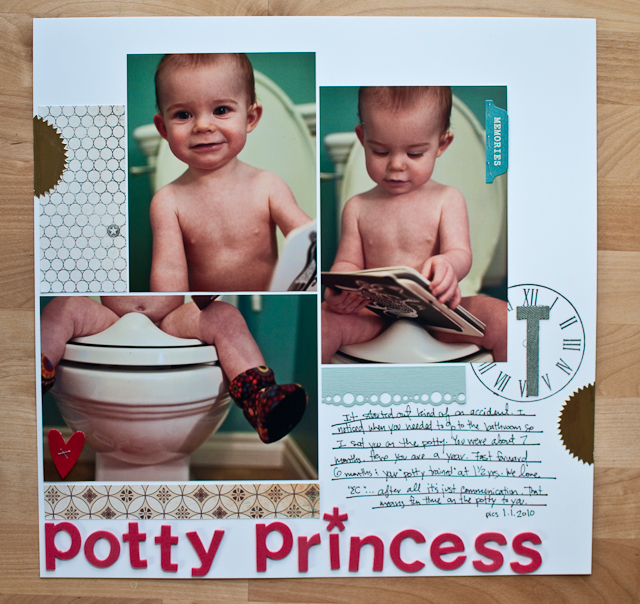 This was in January, can you believe it? Time flies…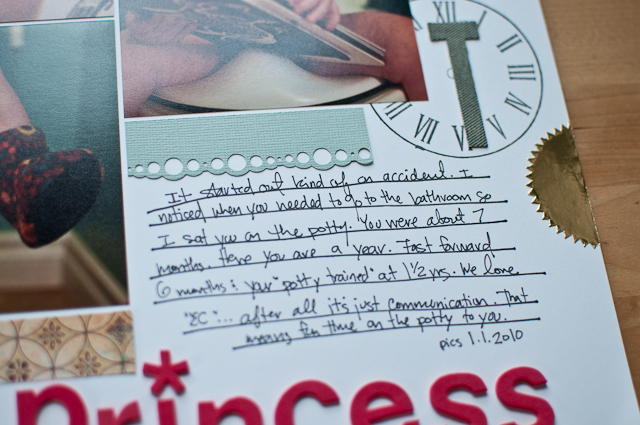 When Nora came to visit we went to Cooke Stationary and I got a box of these lick and stick notarial seals for fifty cents. Every time I go there I wonder where they get these crazy old supplies. Love them. I also love my new bubble boarder punch… a lot.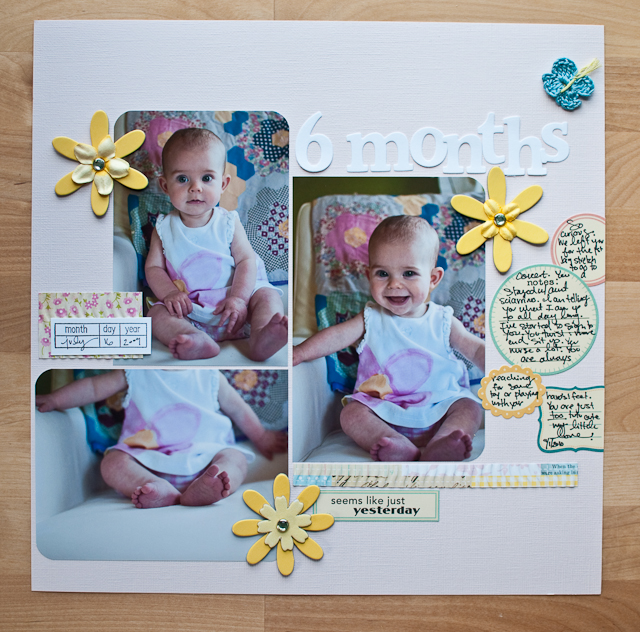 Last summer, the little baldy.


Went to the blog for journaling. Hey blog, you are so handy.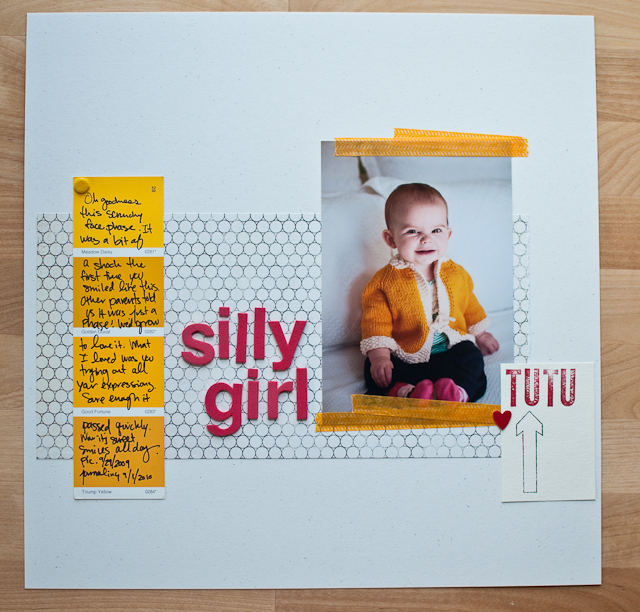 Any my last layout, my favorite so far. I had totally forgotten about this crazy weird face she was making for a while!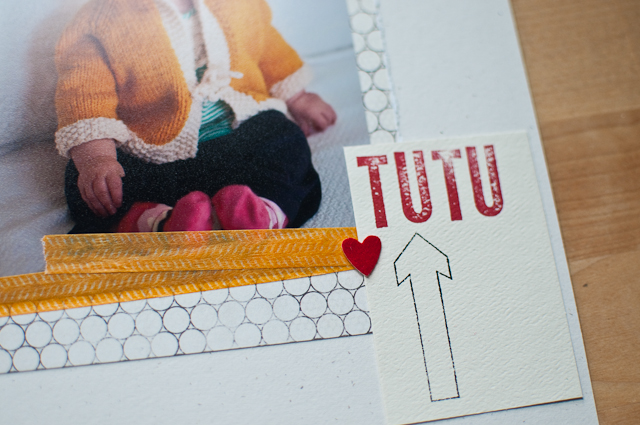 Sarah got me this awesome tape that I have lusting after for my birthday. A perfect touch for this simple layout.
So I posted them in the order I scrapped them. I find it interesting to see how I move through my pictures/stories and supplies. Because I am not using a ton of patterned paper right now I have lots more goodies to work with in the kit. So I'm going to use it for a bit longer. I'll let you know if I come up with anything else blogworthy.