I thought I would give a look into my process for one of my layouts. I've seen great examples of scrapbookers doing this. Nichol Magouirk is starting a weekly feature of her start to finish process, Marcy Penner did a post about the anatomy of one of her layouts, and most recently Christine Middlecamp just posted about her process. I thought each entry was so interesting; I liked seeing what motivated each scrapbooker and how their layout went from concept to completion. So here is my thought process on this layout.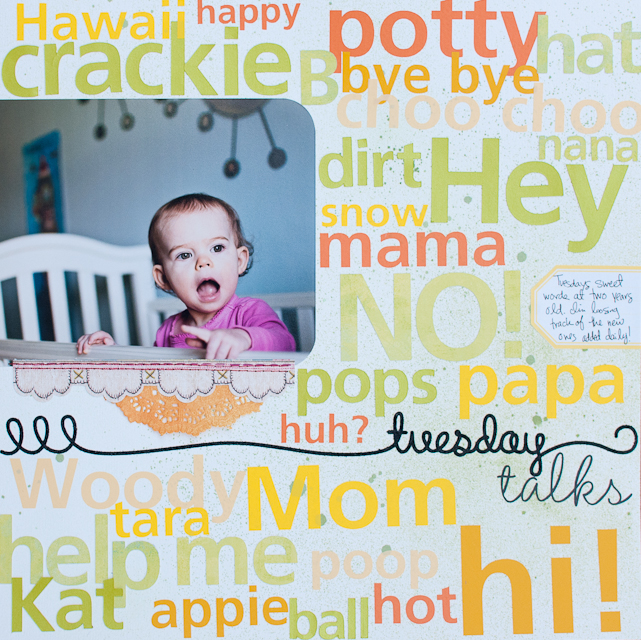 I realized tonight looking at this in low light that a digital scrapbooker could probably do this pretty quickly all digital, but I don't really work that way. I was thinking more in terms of layering paper elements. I pulled out a bunch of supplies and a picture of Tuesday talking.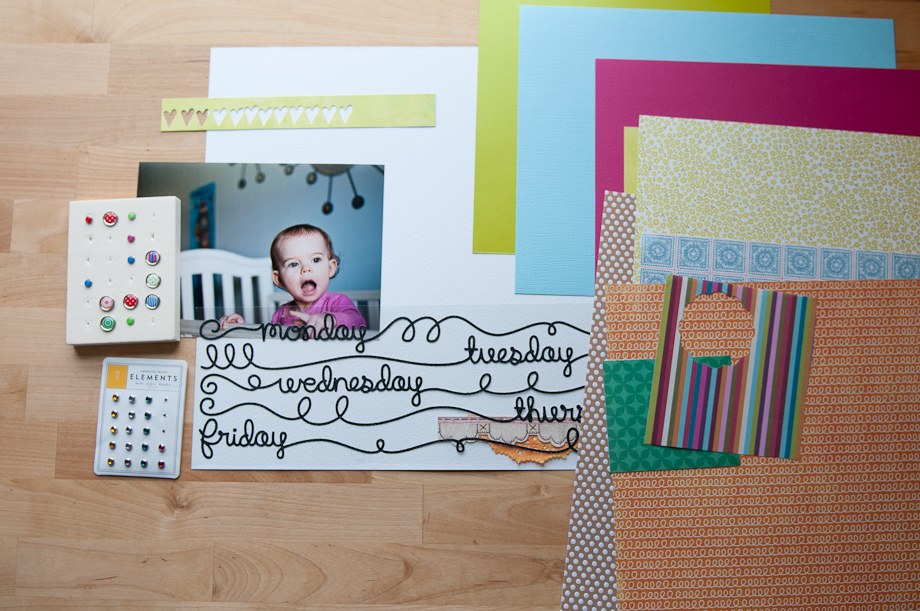 I almost always start with a kraft or white piece of cardstock so I can easily visualize the whole layout space. I started moving things around and opened up the Silhouette Studio software to type in the words I wanted to cut.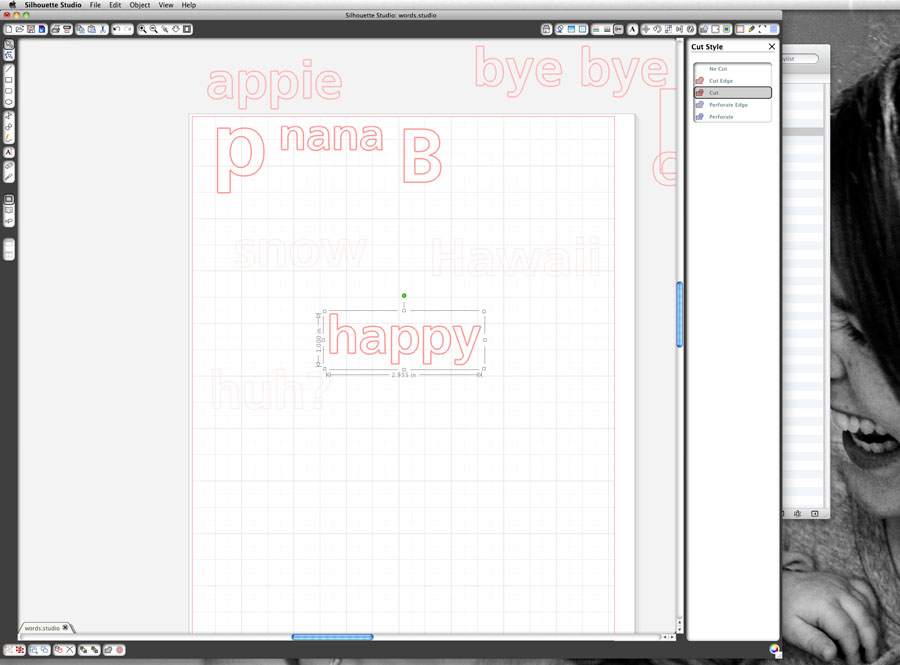 I find this software (that is free, you can download it even without a machine if you like. I did before I ordered mine to see how I liked it) easy to use. I like that you can put everything on the page that you want to cut, but only choose a few things to cut at once (that's what I'm showing above). That makes it easy to choose to cut a few things in one color and  a few things in another. The font I used is Frutiger LT Std. I had to buy it for my logo so I thought I'd utilize it for scrapbooking as well. I also used Amelie for "talks" I would have liked to find something closer to the ki tuesday sticker I like so much, but it works.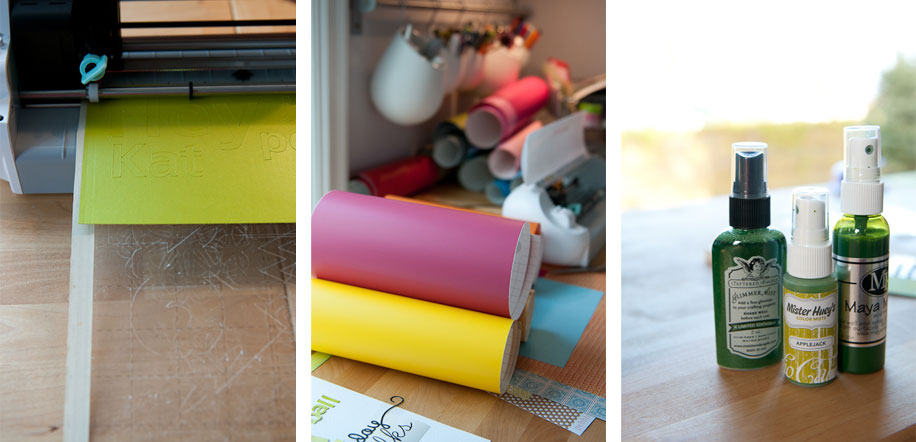 I started cutting out of cardstock, but knew I was going to use vinyl as well. I got a great deal at Expressions Vinyl. I think I used a 20% off coupon and got a whole bunch of colors, and transfer tape, which is necessary and I'll explain more about later. Cutting vinyl means no carrier sheet (like you can see in the first photo) is necessary. It cuts so precisely even the smallest shape can be cut. A woman in the Silhouette Yahoo group makes her own nail decals!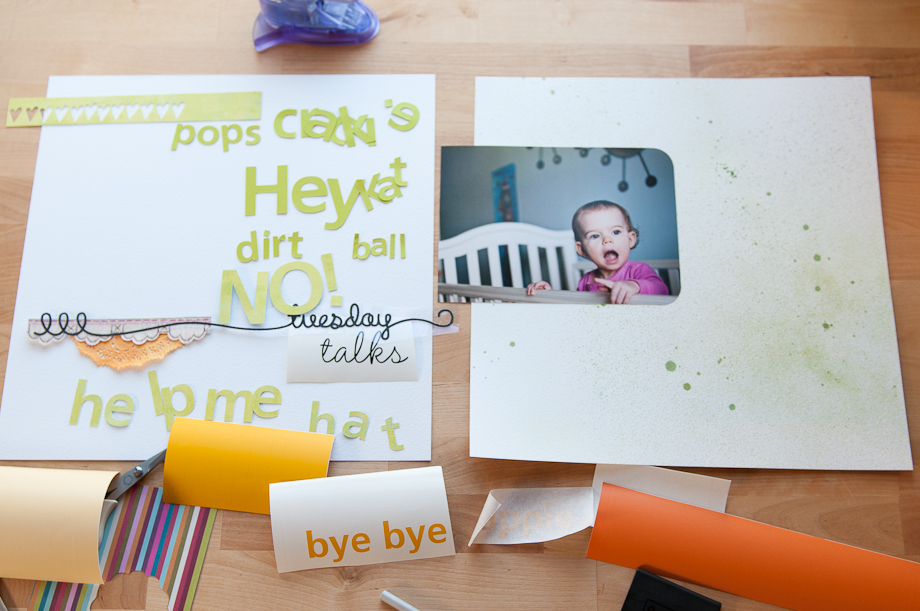 I decided to mist the background so it wasn't so stark. I have multiple sheets of this cardstock so I decided to leave words I had cut on a plain one and slowly move them over. I do this a lot.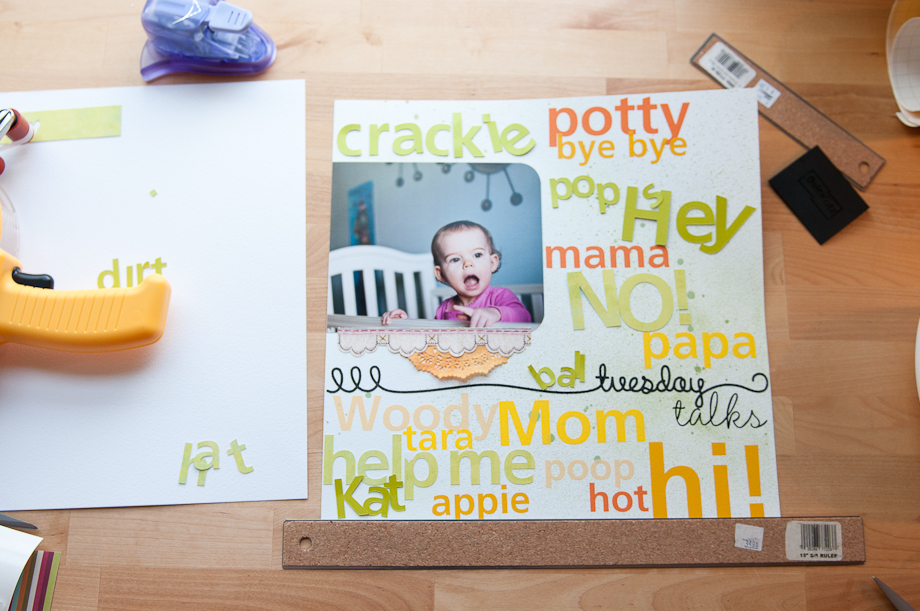 You can see at this point I've stuck some things down (and had a little mishap. The p on "help me" got torn by the transfer tape. Luckily with the Silhouette it's easy to cut another letter, even out of a scrap of paper). The cardstock/patterned paper letters just with glue, the vinyl is self adhesive so it's easy to stick down. Except if you don't use transfer tape it can be hard to get the spacing right.



Using transfer tape is easy. After cutting the vinyl I trim off the section that was cut. Then you have to "weed" it. The outside vinyl comes off really easily and I use a paper piercer to get the middle of letters off. Next peel the backing off the transfer tape and put the sticky side on to the word. After using a small scraper the tape should pull up with the letters stuck to it. Position this where you would like it rub it down (with the scraper around the letters, but not too hard, as I found out because it can rip paper) and then slowly pull back the tape.



I added stitching under the photo (this combo of elements was left over from another project) and a label with journaling.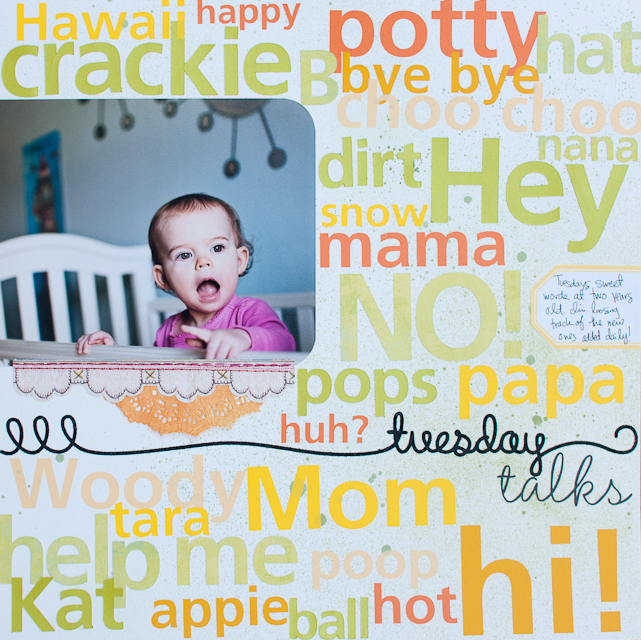 Done! She has been learning words crazy fast and I can't keep track of them any more. I'm really happy that I have this snapshot of her vocabulary at two. I'm make a few notes on the back about what some of the things mean (B is cold/blanket, crackie is cracker, Mom is my mom, appie is apple).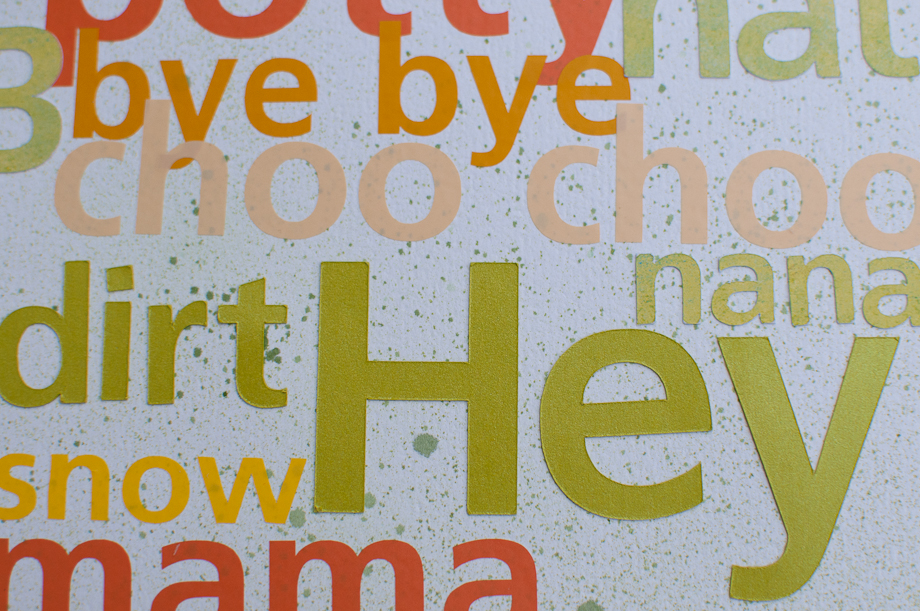 Like I said before I'm sure you could do something like this digitally (and if you have done a word collage like this please link to it in the comments, I'd love to see an example!) or even with stamps. I personally love the different textures. This is the best photo I could get of the really sparkly acid green cardstock I used (the light was fading fast). You can see the difference between that and the vinyl that is very thin, and light colors a bit translucent. I can see myself using vinyl in place of stickers/other die cuts because it is so easy and precise. Next I'm going to experiment with cutting the same word multiple times and layering the vinyl. Using transfer tape it should be easy and it wouldn't be as translucent.
Thank you for all the kind words about the site; I am so excited about it. Please remember to update your feeds, links and bookmarks. Thank you!