Do you have a basement? Do you want to carpet it? Please, PLEASE read this post and let me save you the hassle that was our weekend. OH MY GOODNESS! what a chore it was (and still is since it's not quite finished).
Just a little refresher: When I first moved in to this place we had to deconstruct the basement and put it back together (anchoring the house to the foundation piers, taking out walls, re-routing plumbing, etc.). Finishing it out was not in the budget. Neither was waterproofing it, but I had to do. They dug a big trench INSIDE my basement, all the way around. Took out the dirt and concrete they jack hammered up and replaced it with rock, perforated pipe, and more concrete on top. The only giveaway that I had it done are little ports in each corner so I can check on things, a giant sump pump with a back up battery, and the dimpled plastic you see sticking up around the edge.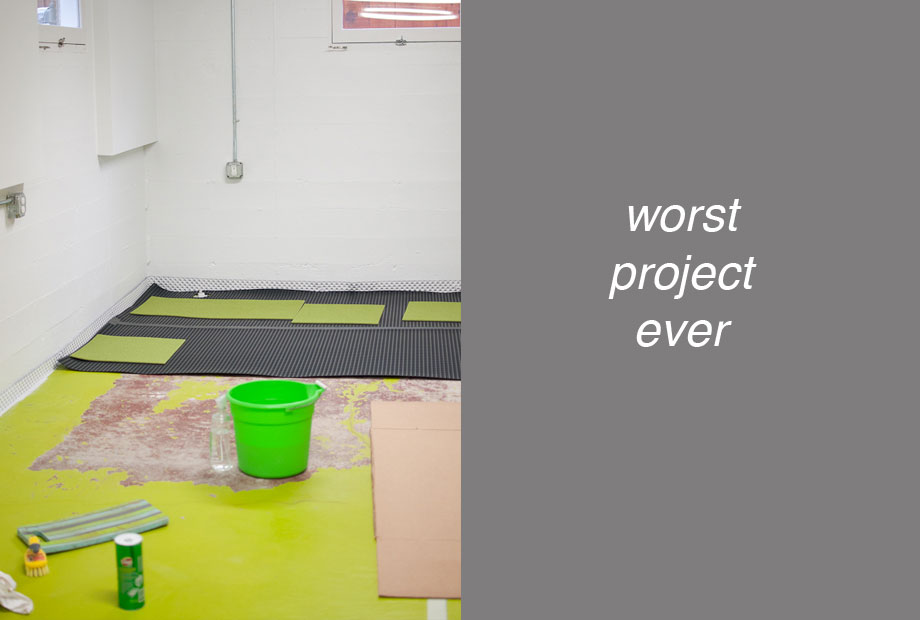 Since I couldn't afford anything else I decided just to paint the floor, with a special concrete primmer and paint. And I would have been totally find doing that. BUT later on when Tuesday started crawling I decided I needed carpet. I chose Flor tiles so I could do it myself. I put them directly on the painted concrete. I knew the backing of the tiles would react with the paint (it doesn't like rubber). But I figured, who cares if the paint gets messed up under the carpet? Well that just made our job harder this weekend. We had to pull up all the tiles (because it turns out when you put them on concrete even if it is sealed you can still get moisture issues) and they stuck to the paint. We had to scrap up any that was loose. Then we had to pick it off the tiles. And we had to scrub both with soapy water and then do a bleach treatment to make sure all the mold was dead.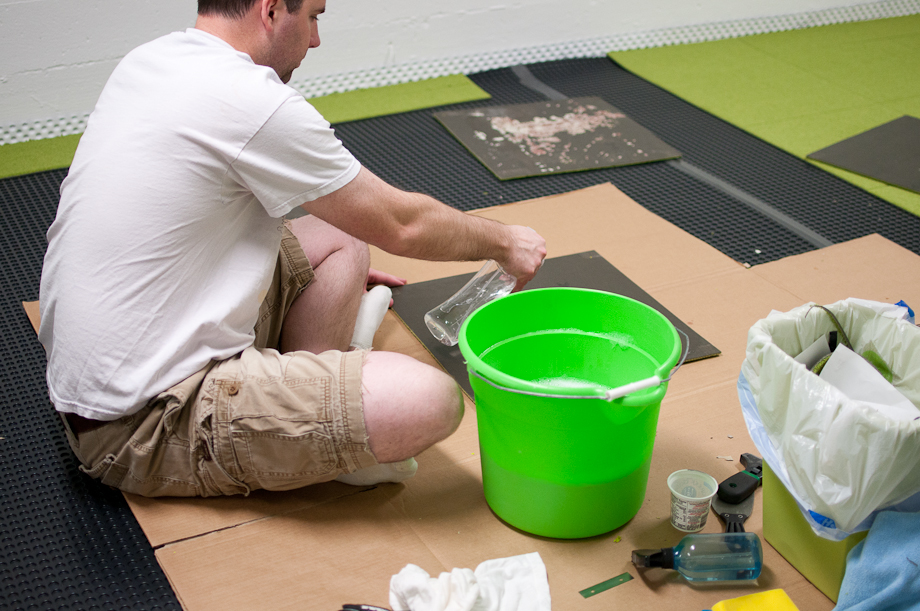 Bj and I were having one of those non-talking conversations where you are sure the other person is thinking the same thing as you; "I do not want to be doing this. How much longer do we have to do this. Can you believe we have to do this?" We are so bruised up and soar from crawling all over the basement.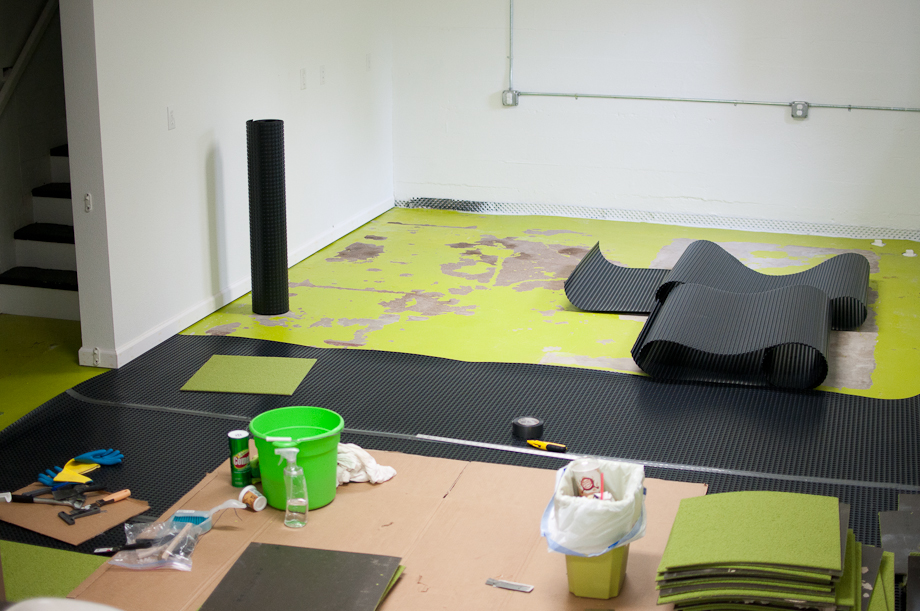 That black stuff is our solution. I found a local (Salem, Oregon) blog that specializes in home inspections. He talks about everything that can be wrong with old houses (moss on roof? check! basement water issues? check!). I contacted him and he told me about this product and who to be weary of in the area. So greatful for his help because even though this was a pain with all the tools (mostly paint scraper blades) and supplies we had to get  it cost us under $400 to fix. South Salem Plumbing sold us the material (Superseal) so we could put it in ourselves and save the instillation costs. Installing that stuff was the easy part anyway. The membrane is dimpled so air can still move around under the carpet allowing the tiny bit of moisture that comes through the concrete to dissipate.
Now I am just waiting on my Flor order (had to get more dots to hold the tiles together). I still would recommend this kind of flooring. If we had originally installed regular wall to wall carpet with a pad it would have all gone to the dump because you can't bleach the back of it and I would have been scared of mold. As you can see our mold issue was super minor, but we felt it would only get worse with time. Oh and an added bonus is this stuff keeping the floor warmer than before.
I am excited to get going on the fun stuff down there now. The house is a wreck with displaced basement piles everywhere. I didn't realize we used our basement so much!