Ok, I still have  a project for the back wall, but I want to share this side of the basement as it stands now: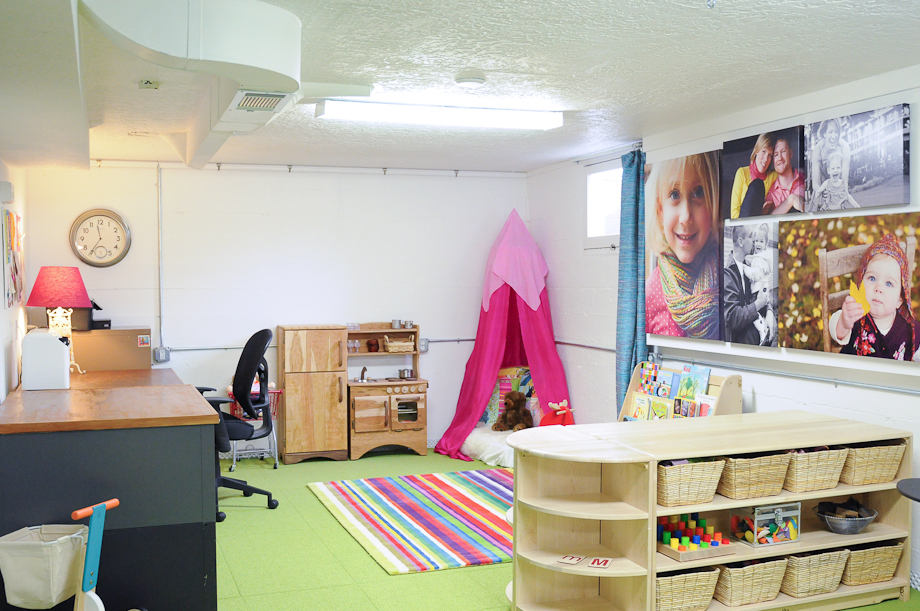 And here is the before: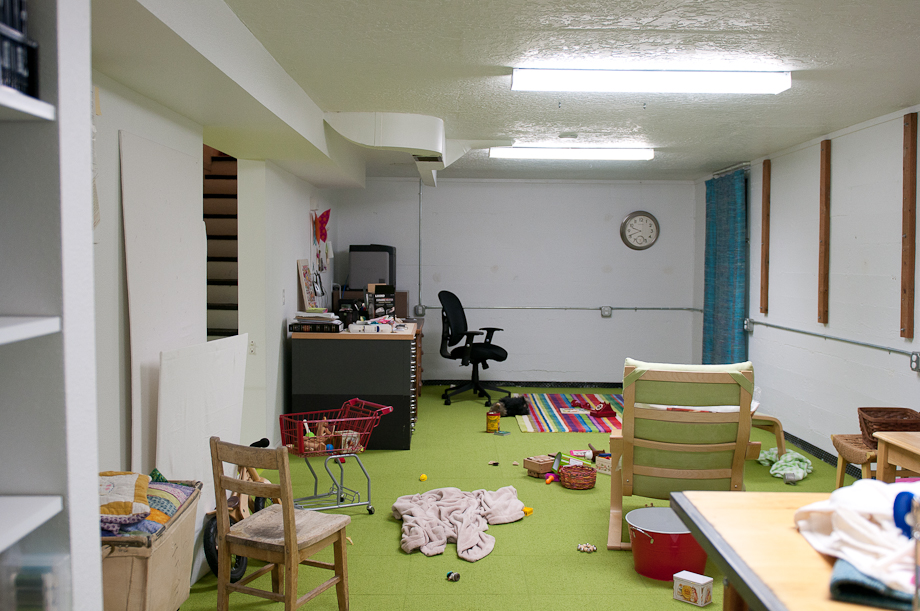 (from a little further back). If only you could see the sweat and tears in those flor tiles, they look exactly the same!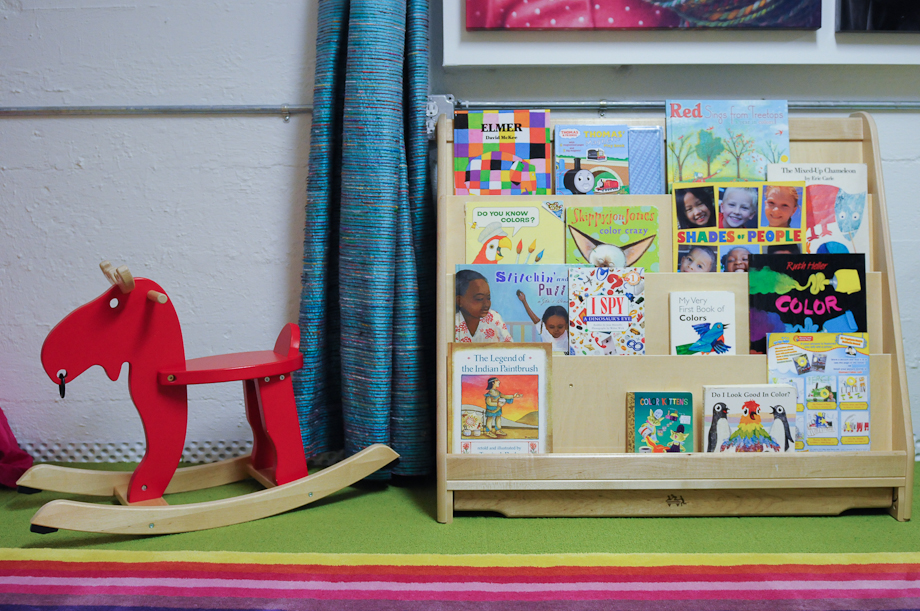 Because I am bringing clients down here I wanted to keep this space clean and open (I meet with clients on the other side). I also wanted something low to divide the space so I could still see Tuesday playing from the other side, where I also cut fabric and craft.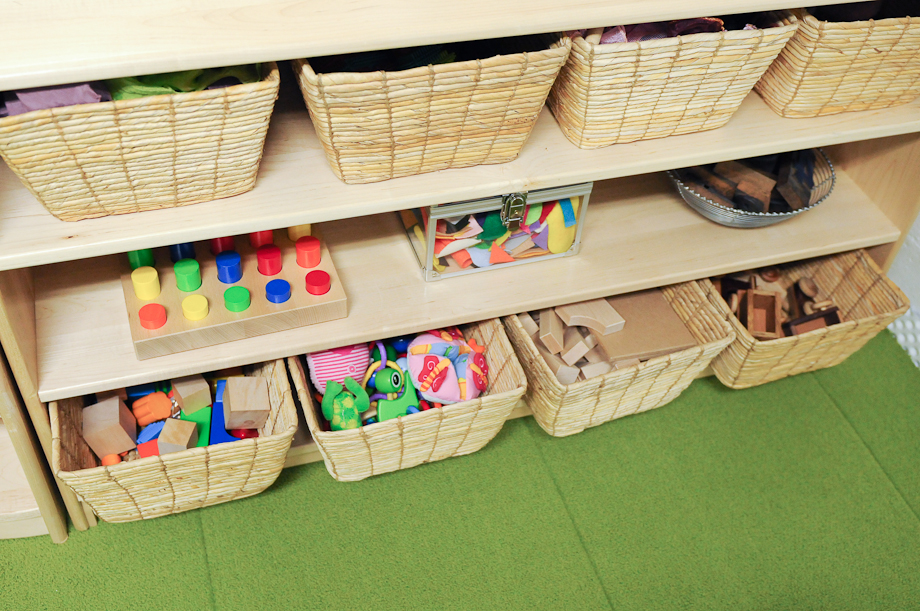 We decided to invest in some Community Playthings furniture and I love it! It's meant for pre-schools so I'm sure it can take whatever we dish out. On this side we have "fancy" blocks, baby toys (for our littlest friends), mini unit blocks, and a toy vehicles. Above that a puzzle, some felt scraps for a board, and old type letter. The top baskets have play silks, bristle blocks, and dress up stuff (she's not really that into it yet though).


This middle island is actually four units so I chose to have this side have larger openings. We have musical instruments (in a basket given to us by our favorite musicians!), a doggie from her aunt and uncle, some more puzzles (where did that blue bead go?!?!). The mini ironing board I scored at an estate sale and it's just a board meant for sleeves and stuff. Then some wooden food.


My friend Kristen's husband scored me these big drawers. My brother made me a top for Christmas and I stained it recently to match the desk (I still had the stain from refinishing that, I was surprised it lasted so long). They hold studio samples, framing supplies (I just frame my personal stuff myself), cardboard and big pieces of paper for art projects, and fat quarters of fabric.I'm sewing over here too, my laptop (for hooking to the projector) is hidden away unless I have clients. The lamp I've had stashed for a while (I feel like I should paint it?) and the Ikea lampshade is held on with sticky tack and wire. The only thing I'm not crazy about is the chair.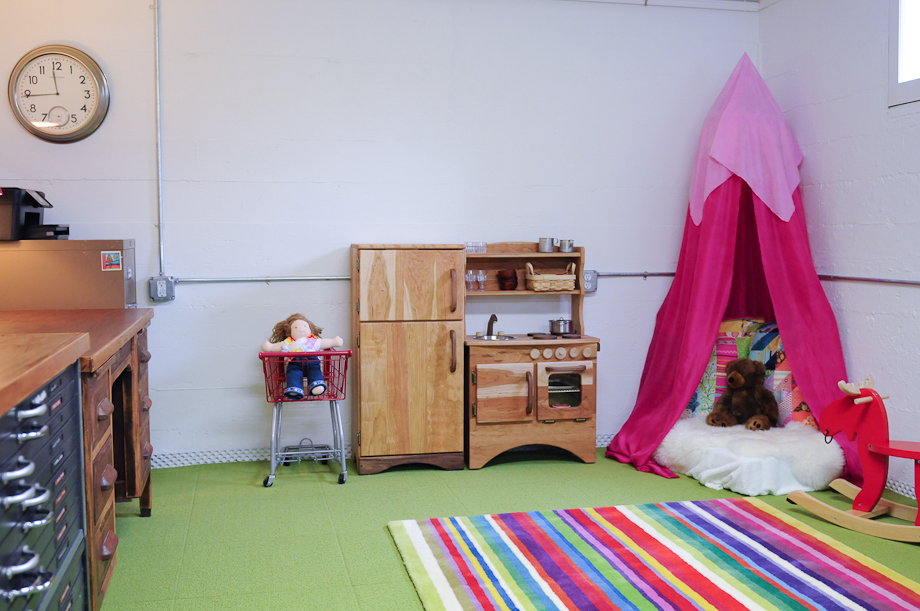 Tuesday is not the only one in love with this space. I love that I can have her friends over and we can be loud down here (it's tough when Bj has calls during the day to keep the volume at an appropriate level, you know how toddlers like to squeal with joy). The castle silk did get pulled down after the first time I put it up. Man tying fishing line is hard. Bj got some super tough stuff and did a tricky knot. He told me I could hang from it now, but I'm just going to take his word for it.
I want to say that I was super inspired by Meg from Sew Liberated. She recently did a playroom for her boys that you should really look at.
Sources:
-kitchen and fridge: Camden Rose from Palumba We relocated this from upstairs.
-shopping cart: garage sale find by my brother and Kat ($1!!) Her little friend in there is a Bamboletta named Apple (appie)
-for details on the silk see this post
-rug is from Ikea, as is the rocking moose (a shower gift from my Canadian friends) and baskets in the shelves
-my "office" area was all thrifted or gifts
-library book rack, and Montessori shelving from Community Playthings. This is also where we got our unit blocks (not pictured) and mini unit blocks.
I am so happy and thankful for this space. For space to display my work (the largest canvas in that grouping is a 30×40 and so awesome!). I'm thankful that I have a brother with great ideas, like the wooden top, and spray painting the dimpled plastic (what a difference). I love that Bj noticed the little things, like the fact that our one vent was all beat up and brown, and then went right out to fix it (even though it involved more tools and swearing than he thought it would). I'm thankful for friends that find me good deals and give me cool stuff. And friends and family who like to hang out with Tuesday while I repaint everything.
Basements rule.