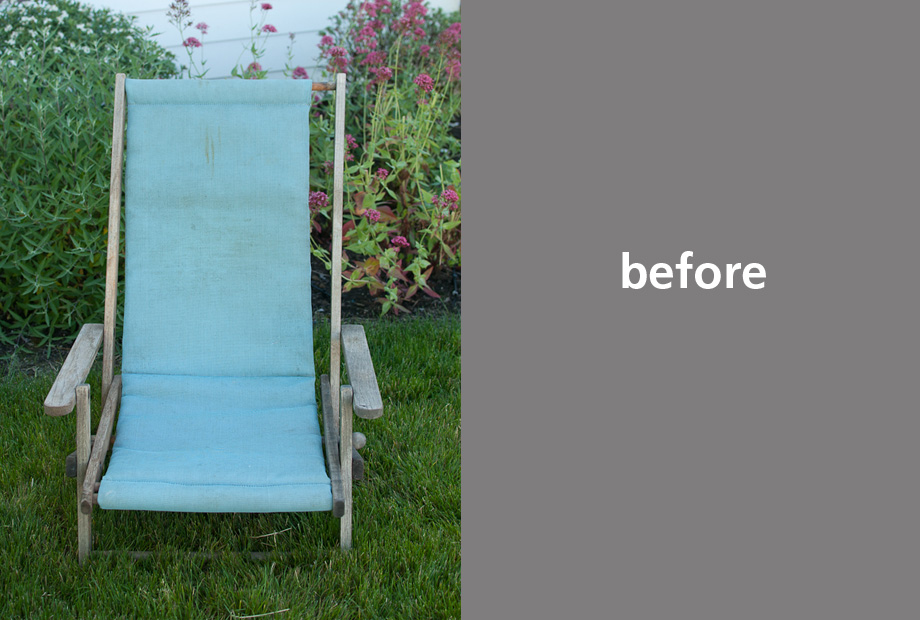 Despite annoying sewing machine setbacks that are making me want to pull my hair out (repair place, "well, we've never seen this before") I managed to sew a little something. Bj and I are getting ready to have our first ever garage sale and it turns out he doesn't find my collection of chairs-I-will-some-day-refinish as endearing as I do. His request was that I do something with them or put them in the sale. Since I bought the material to recover this um, years ago I figured I should get to it! I checked out a book from the library that went over how to take this type of outdoor lounger apart, but my (thrifted for a dollar) version was made with dowels and not easily deconstructed. So I decided on a slip-cover.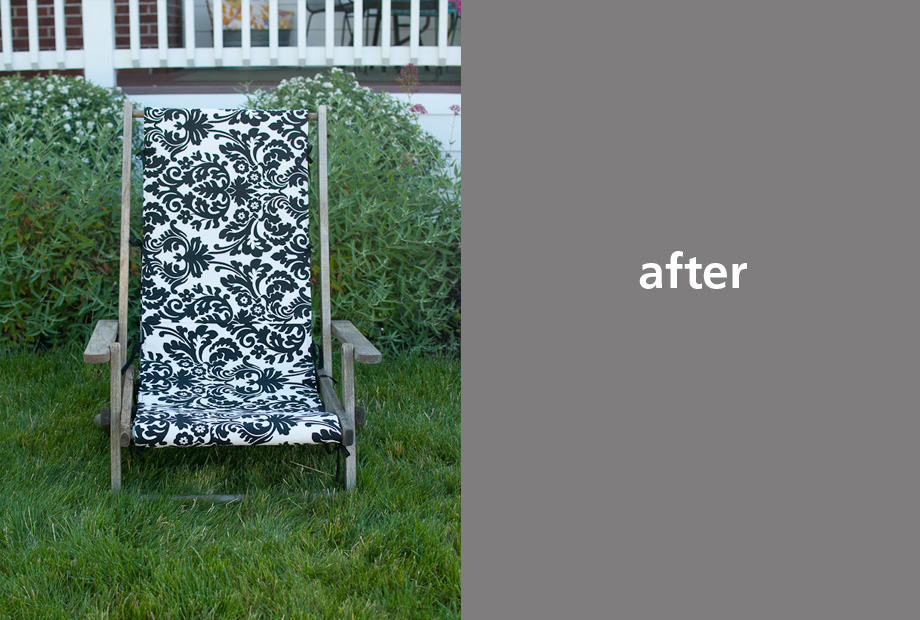 I was originally going to paint the wooden frame, but I really like the contrast with the fabric. And because we are letting all our other outdoor furniture weather like this I think it will fit in better.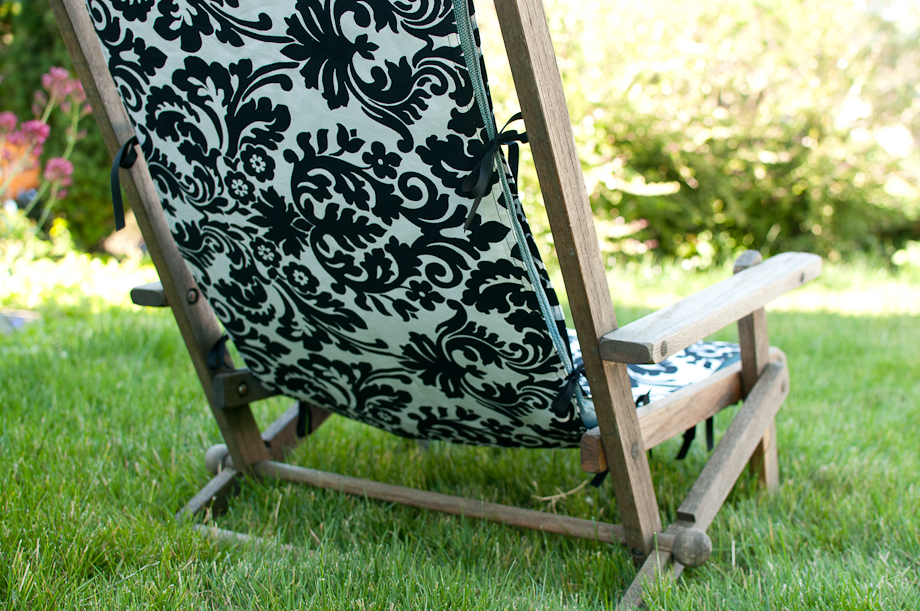 To make the cover I measured the width of the cushion and added an inch. Though I continually under-estimate my seam allowance it seems I have not yet learned my lesson and this was a close call. I recommend an inch and a half. The length of the fabric I needed was longer than the length of the fabric I had so I seamed two pieces together to make one long piece. Then I folded one edge over twice, hiding the raw edge. On the first long stitch I stuck in 10″ lengths of ribbon, then on the second pass (the edge/top stitching) I pulled the ribbon to the edge of the fabric so it would be sticking right out and make for clean ties. I used one of my favorite, most versatile ribbons, herringbone. It is probably the ribbon I most miss having in the house whenever I need it because it is good for everything. And for tying it can't be beat (the ties on Tuesday's 4th outfit were a new organic herringbone my mom is carrying). I didn't bother singeing the ends, as I usually do since this cover will not be on and off as often as say, a sunhat. I used the full eight yards I bought, I thought I would have loads of extra. Do not underestimate the ribbon you need for ties!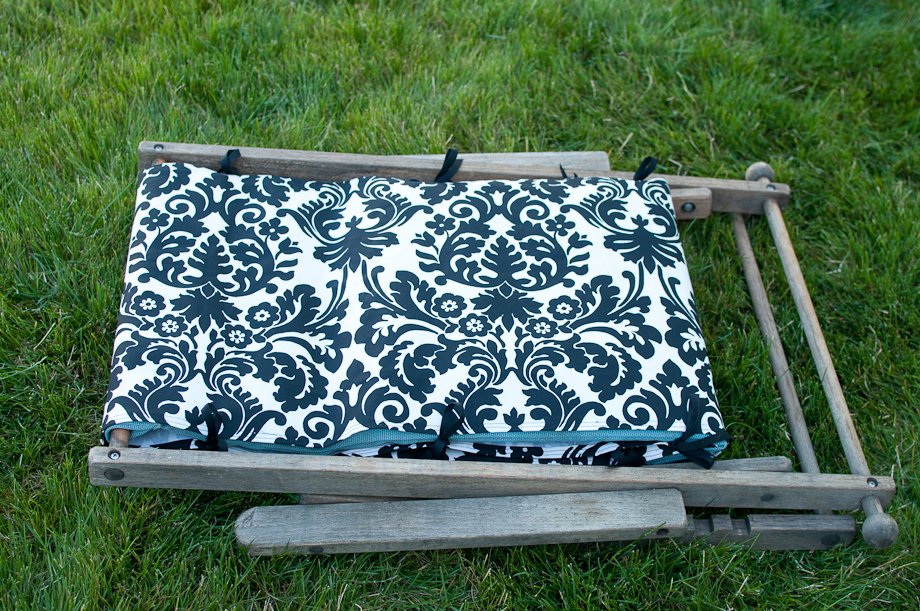 Once the ties were in place, and the edges hemmed I pinned where I wanted to finish the short sides. I tried ties, but a very wide (2″) piece of Velcro worked much better, and looked nicer. I happened to have it in my stash after I sent Bj to the store for me once for Velcro. He came back with all different types and asked shocked, "do you know how many types of Velcro there are?" The cover comes off easily, and if it happens to outlast the chair the fabric will be easy to reuse (good because it is regularly 15.99 a yard!).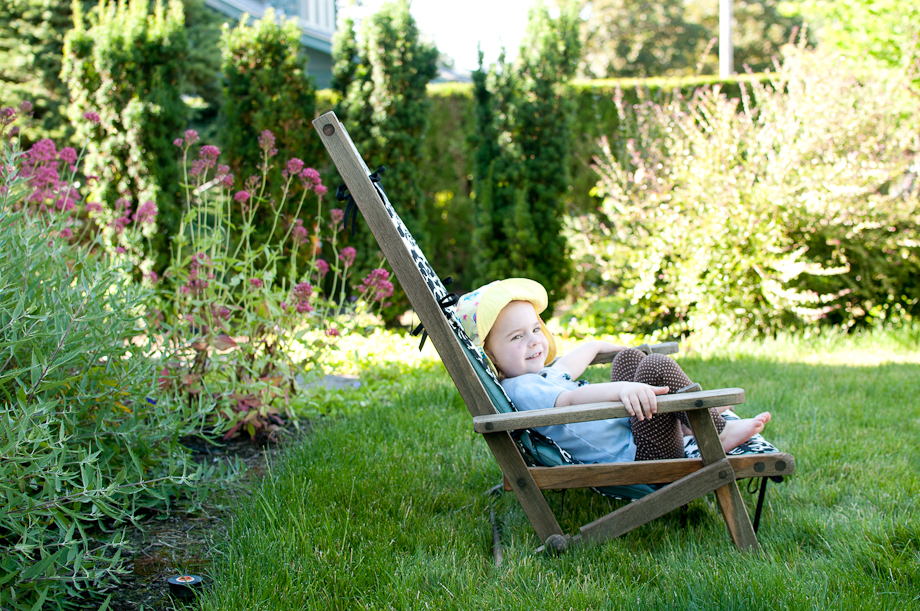 Besides having to take my machine in multiple times during this super simple project, it was a fast and easy sew. I think it will be great to have on hand for extra seating. Right now I have it on the front porch so I can enjoy it a bit.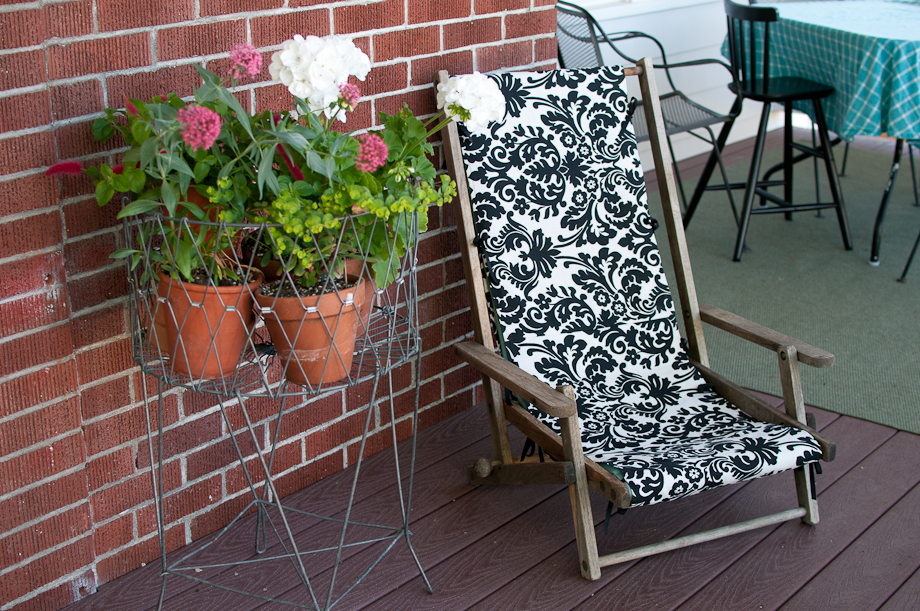 I'm happy to have this one off the list!