Back in May I saw a post on Sew Liberated that I took note of, like many of hers! It was of a darling little outdoor play kitchen. Then I got busy and kind of forgot about it when I saw a post by Em about their garden kitchen. I showed it to Bj and we knew Tuesday would just love one. I asked around and no one had an extra cupboard (or didn't want to give it to us for fear it ruin the look of our yard) so we went hunting for one. After a few garage sale drive-bys and thrift stores turned up empty Bj decided he wanted to build Tuesday one. So with 3 6′ 1 x 12 knotty pine boards, a 1 x 2 and a dented metal bowl the kitchen was born!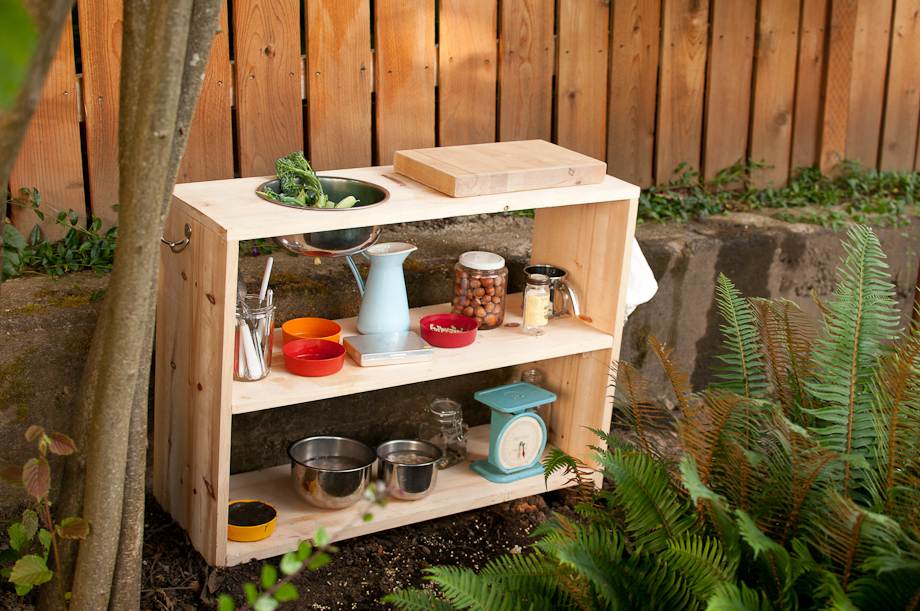 Tuesday was enamored with the white plastic handled silverware at the thrift store so I let her get a handful. The small metal bowls were stacked in the "sink" for $2.50, and the big hit is the mini floor sifter. All the other things I had; a little scale (bought a while ago for decoration off eBay), jars, plastic bowls, spice containers, pitcher (from Ikea in the plant section) and rags. Bj had the idea to cut a little piece of my left over butcher block countertop and make it into a cutting board.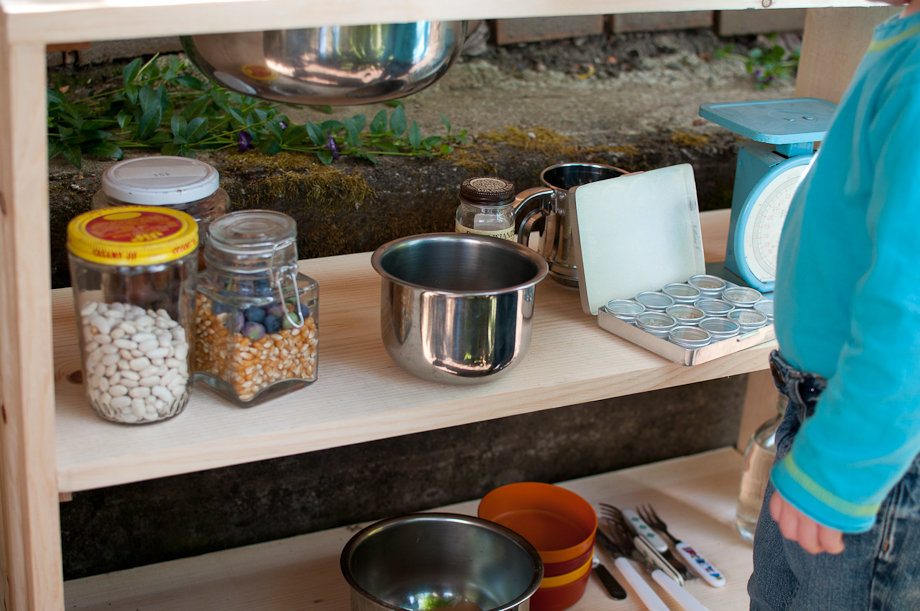 It's quite a well stocked little kitchen with beans, grains, and nuts from our real kitchen for her to play with. Here is her favorite creation of the day, candy soup!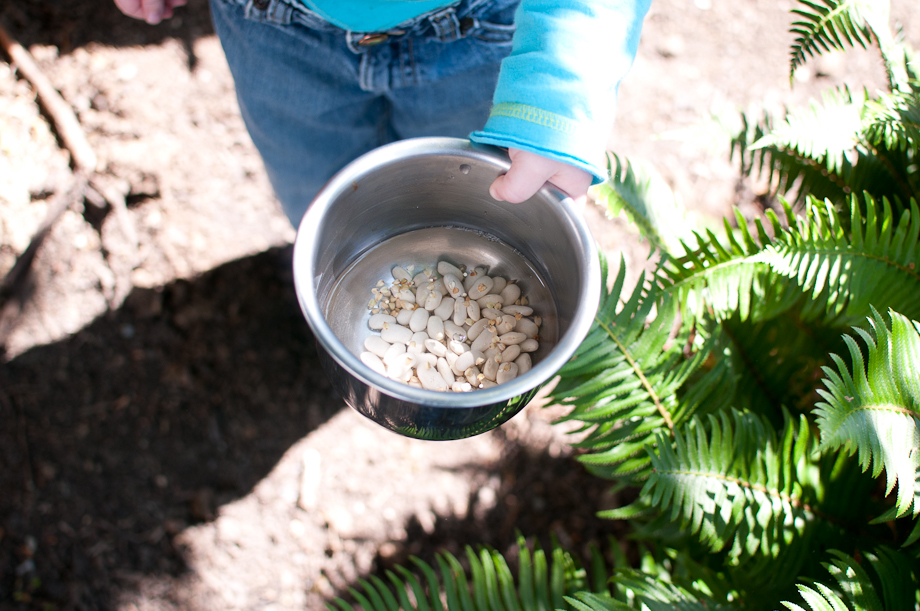 Mmm, tasty Tuesday! I would say she loves this kitchen but that would be an understatement. She is obsessed with it. Four hours a row of playing there? No problem.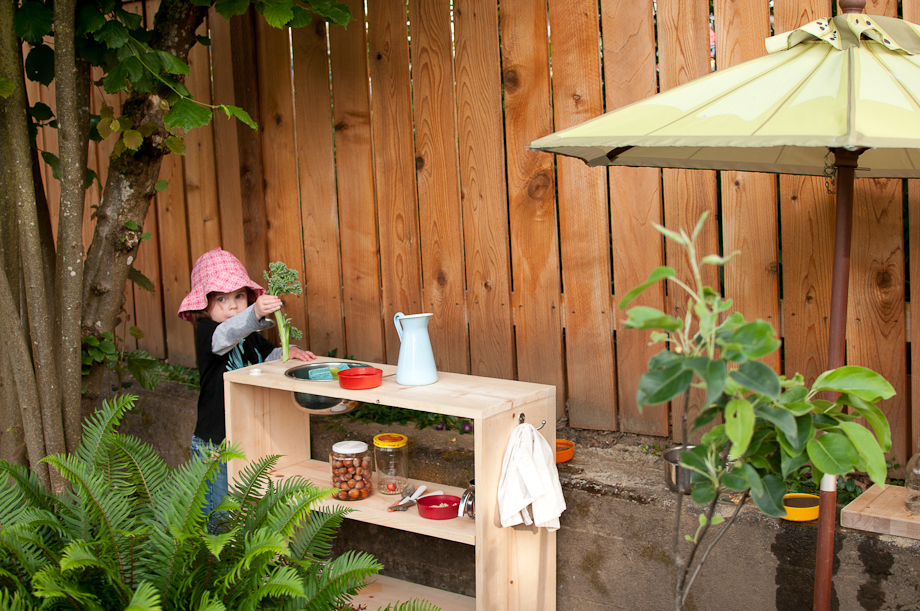 She just starts spreading out along our retaining wall. Bj moved over her little umbrella when it got bright in the late afternoon. Our neighbor heard us playing and came through our gate to bring fresh broccoli and peas from her garden. I have asked her if she wants to have friends over to play here and she has adamantly told me that she does NOT want to share the play kitchen. So we might have to work on that. Bj and I were left to tweaking the drip system, weeding and pruning as even we were not welcome to cook with her.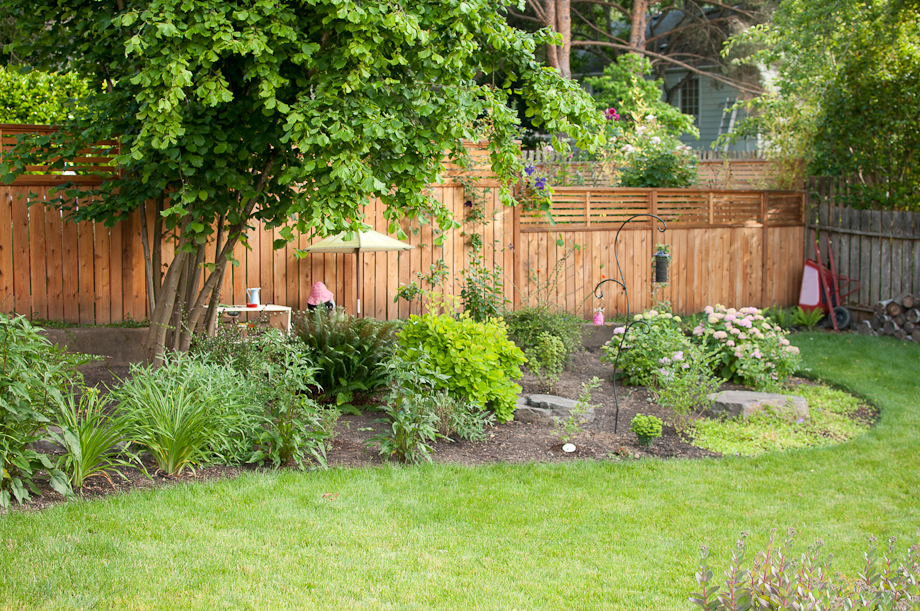 And while it will get weathered, as we're not going to paint or seal it, it is quite tucked away back here. Happy little sounds of our favorite cook coming from behind the bushes and big fern. I really must insist, like Meg, that if you have room to make one and little ones that would like it make one today! Messy outdoor fun is the best. And REAL water in a play kitchen is like gold to toddlers. Good luck, let me know if you want measurements!