While I was going through all those photos and organizing my storage binders I became obsessed with scrapbooking 2008. It was just a year of so much change, and excitement. The remodel, the pregnancy, grandpa, travels. I feel like I'm on the verge of forgetting it all. Of course 2008 was also the year of Sciarrino doing a ton of stuff for me, like sewing all these cloth wipes.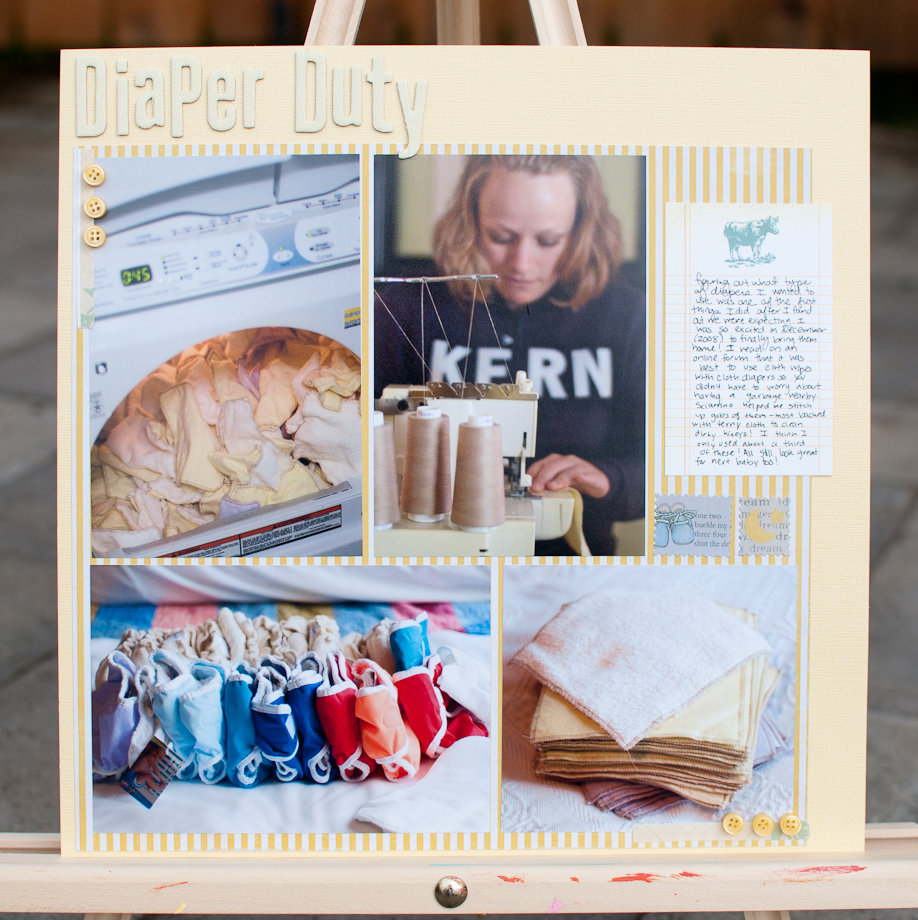 I certainly want to remember the craziness of thinking I'd need 300 wipes! Thank goodness I didn't 🙂 And the excitement of getting all the wee diapers ready to go. Sigh.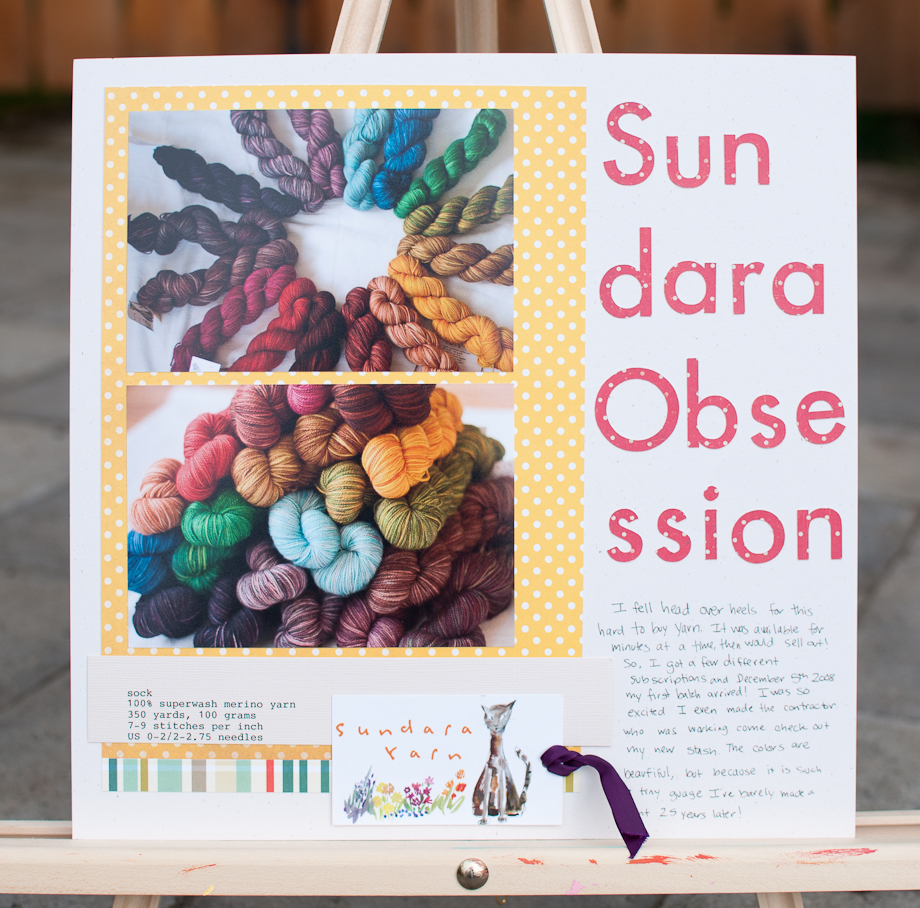 I love how so many pattern paper companies now put a little strip of coordinating paper on the bottom of a sheet. Cut your paper right and it's an instant embellishment, as I used it here. My obsession over Sundara yarn, oh man I still have so much of this stuff! It is beautiful though.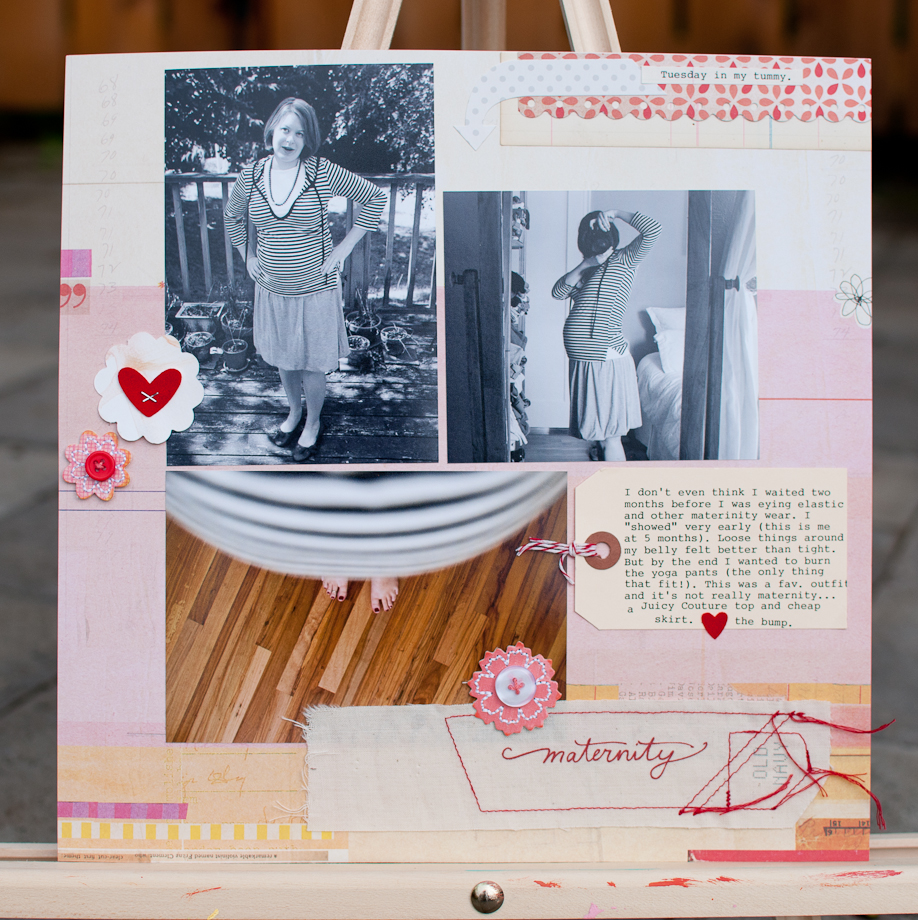 And this paper is really "cheating" (I say that because it reminds me of "cheater" fabrics for quilting). In addition to going through old photos I'm also going through random bits and bobs I've saved, like this stitched maternity tag, I love it. Sadly after this tag my electric typewriter started acting possessed. It won't type any letters I press, it randomly decides to type other things in their place (a=# for example). No idea how I managed to do that!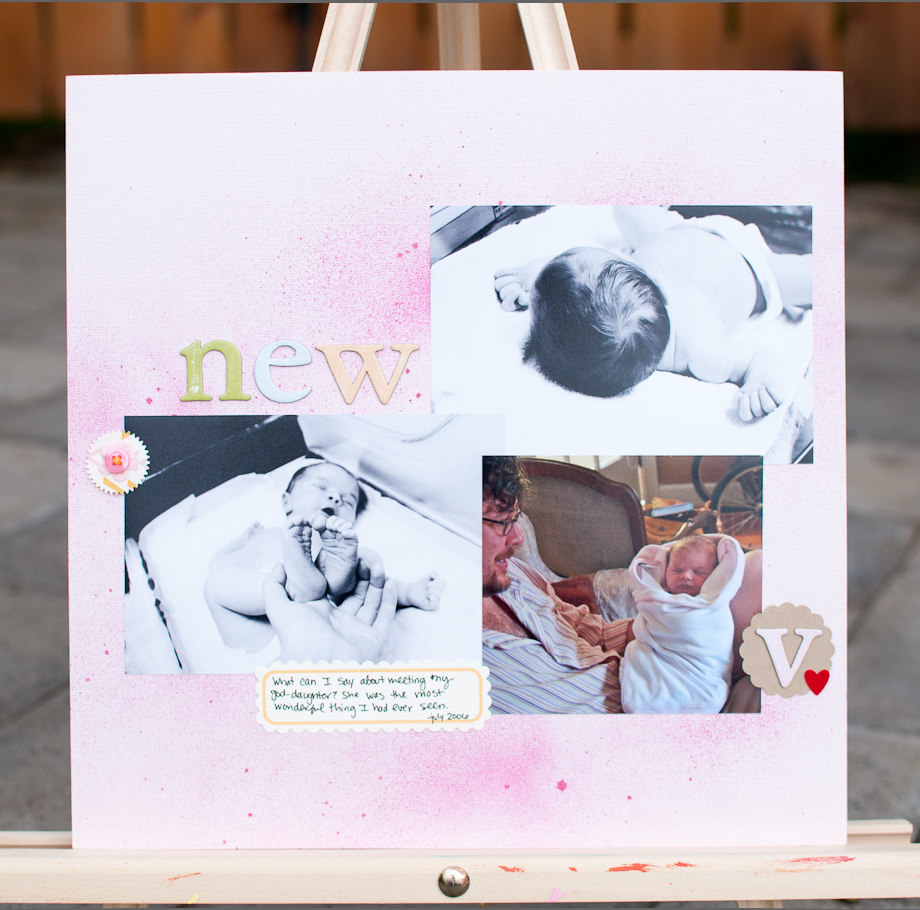 Not a lot of journaling, just remembering my sweet god-daughter as she was freshly born five years ago.
And now my favorite: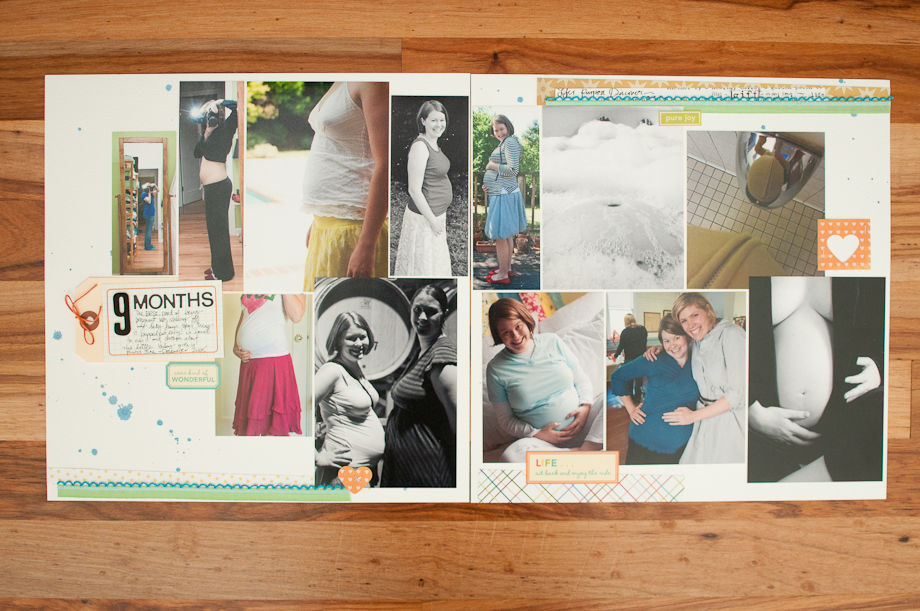 Oh how I love this layout. I really don't think I would have ever scrapbooked my pregnancy in this way unless I had printed all the photos for my system. I think this will be one of those layouts I love looking at (and hopefully Tuesday does too) a lot over the years.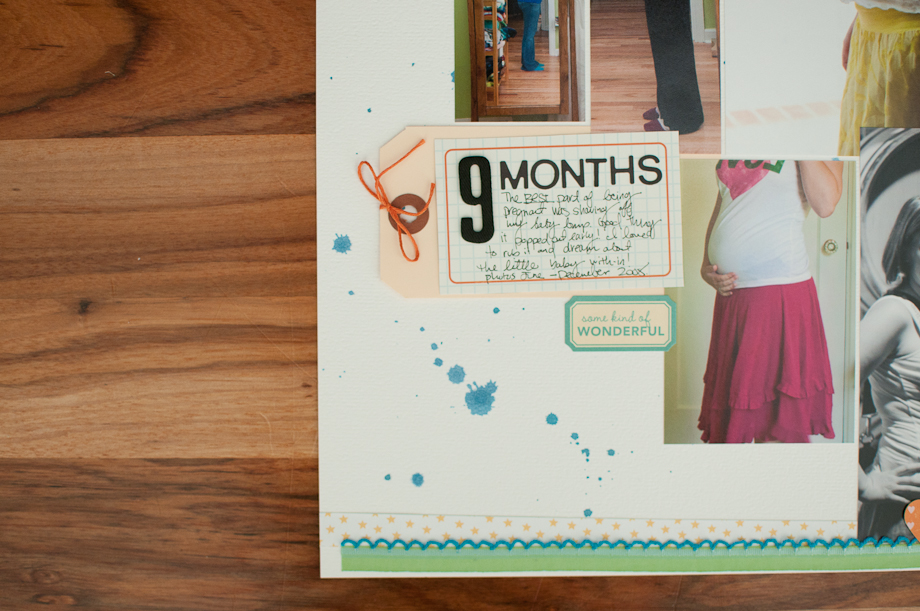 (obviously I was channeling my inner Marcy Penner) There are a ton of different colors (and black and white) and quality of photos going on here. But pulling it together with strips of paper, my FAVORITE trim from Ribbon Jar (comes in so many delicious colors), and glimmer mist splatters really worked I think. The thing I love the most though is that I used all these photos on one layout and told a great story. The story of nine months. In my previous line of thinking this might have turned into ELEVEN separate layouts. Or more likely, I would never have scrapbooked all of these photos. A few left over pregnancy photos I may scrapbook singly. Two made it into the category drawer about me, and one got tossed in Tuesday's bin. I am excited to try this new style again, and am going to look for more stories that lend themselves to this long term page approach.
So there you have it, a handful of the 16 from the last week. Since I've started this blog I've flitted about topics and go in and out of scrapbooking (and knitting, and spinning, beading and painting, home decor and garden projects). But you know, I think that's ok. I may feel a little overwhelmed about where I'm going to store all this stuff, but I'm never sorry about getting a story down. It's a great feeling and hopefully I've inspired one of you to take a look at your digital photo library or piles of prints and remember one too.