As I said, I'll share a little more Project Life. Thanks for all the kind words on the last post. I didn't make it really clear, but all the page protectors, and a lot of the little cards and things are from Becky Higgin's Project Life site. Clicking there will take you to all the products, which will take you through to Amazon to purchase was is currently in stock.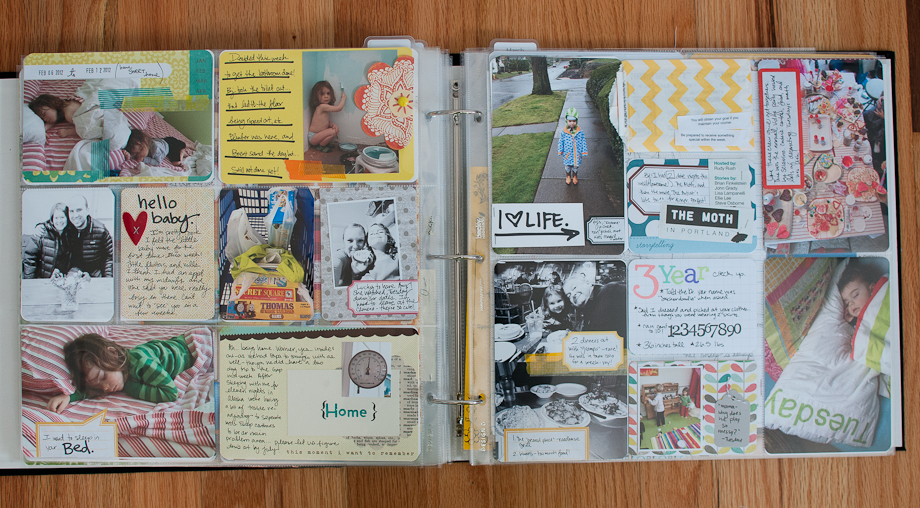 Here is a full spread. I think they are harder to see this way, but I wanted to show how my weeks usually play out page protector wise. Usually I use one A style and one D style (for vertical photos). I don't worry about the order of photos with in the week, so this works, since I do take a lot of vertical photos, and the A style is just too limiting for me.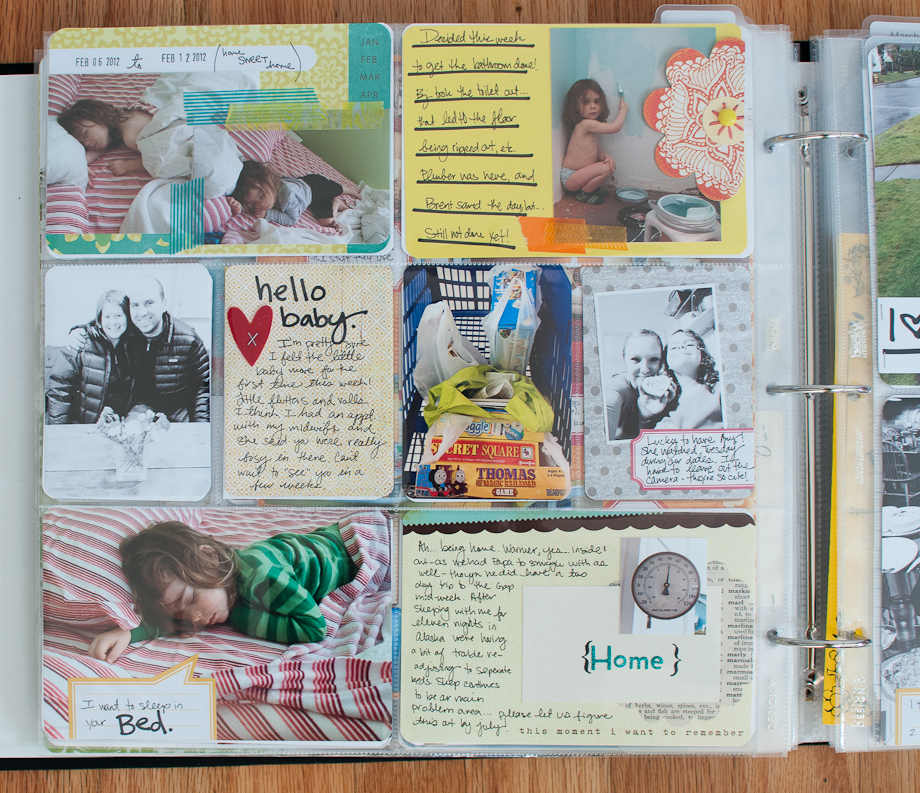 Bj has mentioned that I use a lot of sleeping Tuesday pictures. We've had a lot of Tuesday sleeping issues, so when she sleeps I sometimes can't help but take a picture. And in this case the striped sheets were a dead giveaway that she was not waking up in her own bed! I think all these photos save one are from my iPhone, it really is fantastic for this project. I don't usually use an app on them or anything. I do like that look, and will occasionally throw one in, but I know it will date this book badly if I go too far that direction. I make an  exception for black and white, it's a huge help to the really bad photos (bad lighting, fuzzy, etc.).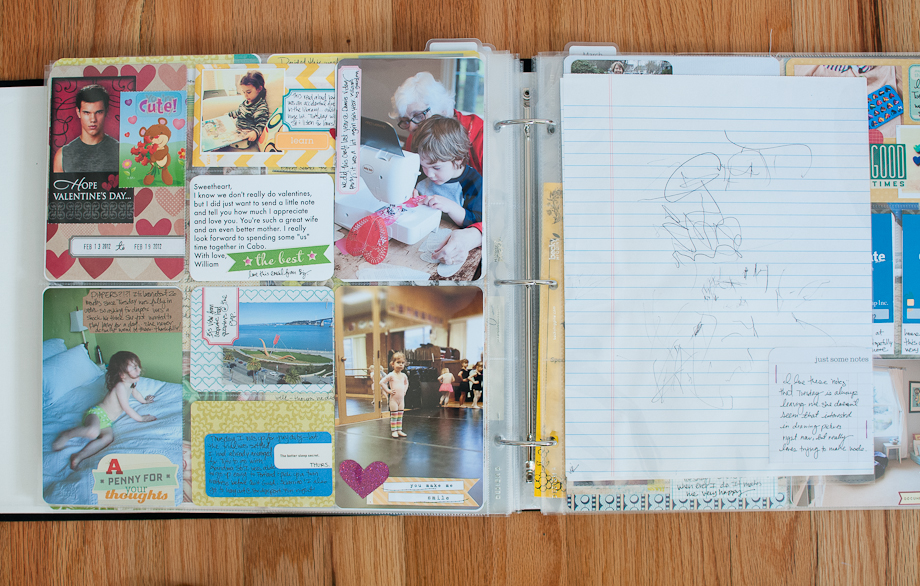 Here is an instance where I did use an app for a photo (the one of Tuesday at dance). I didn't want any focus on the other girls since I don't have their parent's permission to take their pictures.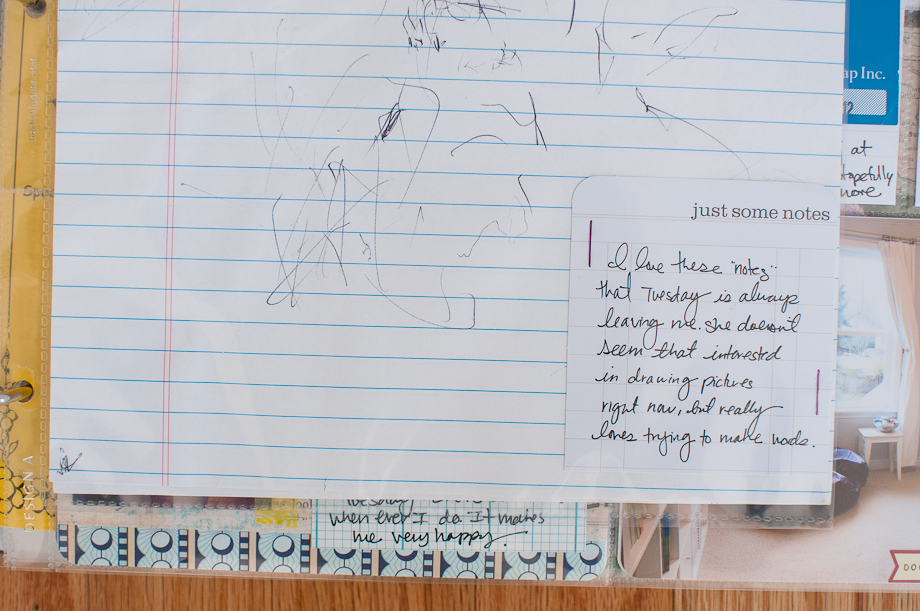 Thoughts on a note of Tuesday's.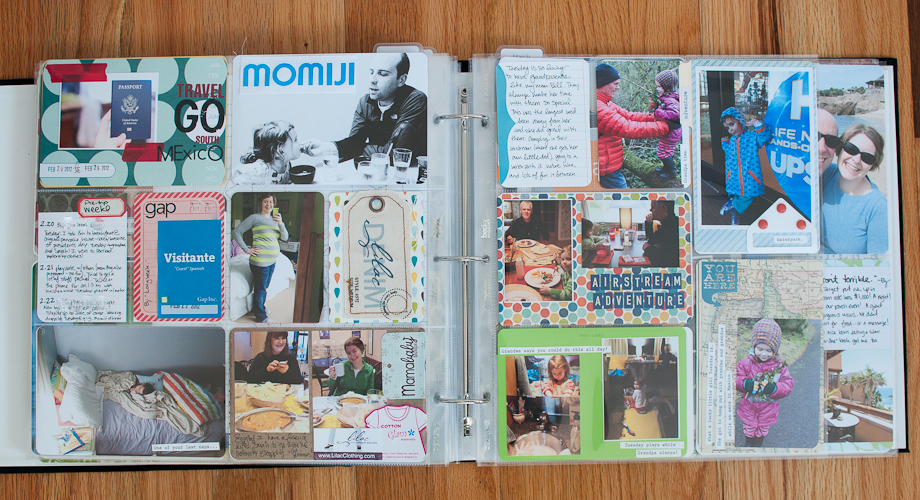 Again with splitting up travel from "regular" life. The G style insert in the middle documents what Tuesday was doing while we were apart, flipped open the back and the next full sized protector show what Bj and I were doing. I focused more on Bj and I (or at least gave it more space) for a couple of reasons. The book is in my perspective, and it's so rare we get so much time together I really wanted to celebrate it.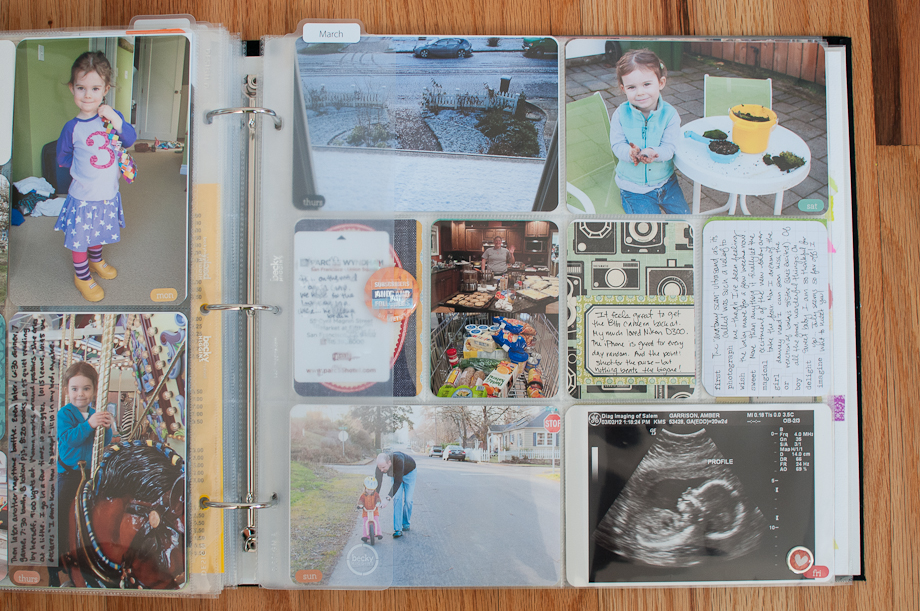 Hello little baby! I did just put in the actual ultrasound printout. I scanned them all in first, to have a permanent record incase something happens to the book (nooo!!!!!), and I like the authenticity of it in there. Oh those few sunny days; I sort of remember you…
I think this may be a good place to leave off. More next week?