It was time for another crew girl shower. We love to celebrate! And that doesn't just mean first babies 🙂 So to welcome Karen's baby boy (she had twin girls three years ago) I whipped up this fast and easy ribbon blanket. Even though I made a tutorial on this for Ribbon Jar a while ago, I figured it could use an updating so here it is.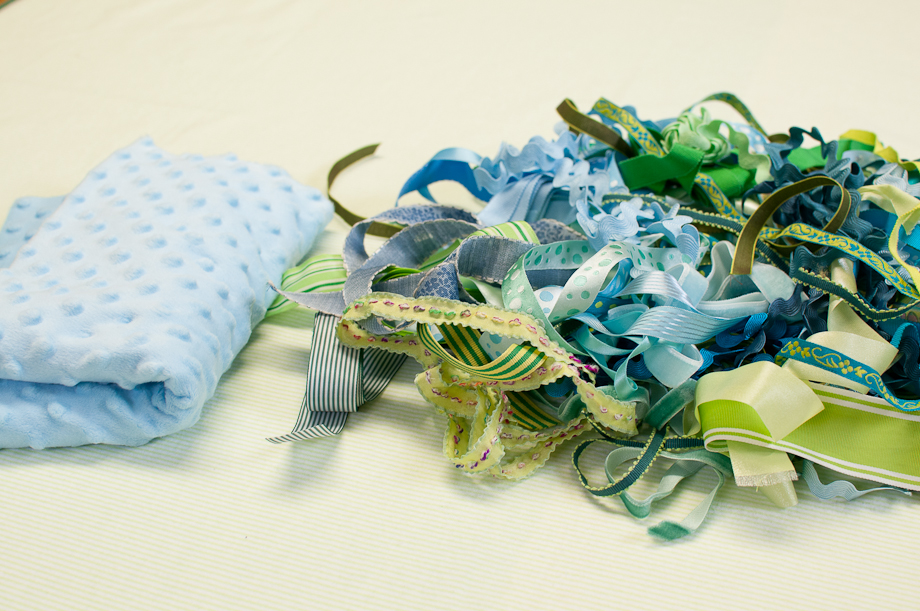 First step: gather the supplies. I usually use a minky type material for one side (a polyester fleece that is super soft and has an embossed design) and flannel on the other. Minky comes in a larger width than flannel so I get more than a yard of flannel to match up to a yard of minky. This makes a generous sized blanket great to grow with baby. It can be used to bundle, as a floor play mat, in strollers, and, if you're Tuesday, every night tucked into bed. Pre wash all the fabric. Gather up lots of fun ribbon scraps.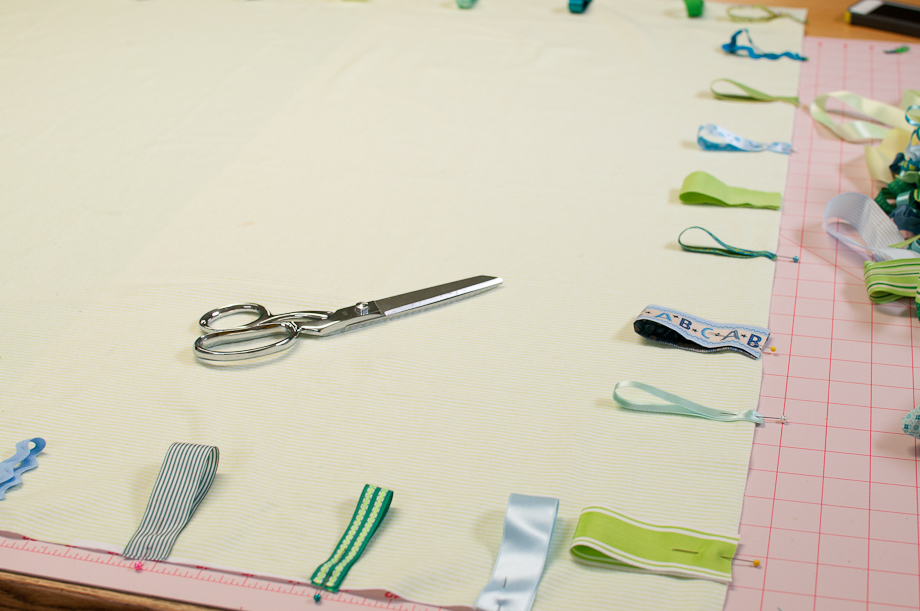 After squaring up the fabric and trimming off the selvedges pin the ribbons with the tabs facing IN towards the center of the blanket. I leave a larger than average gap between two ribbons for flipping inside out later, it's hardly noticeable and makes the job of closing up that seam much easier. Stitch all the way around the blanket with a 1/4″ seam allowance.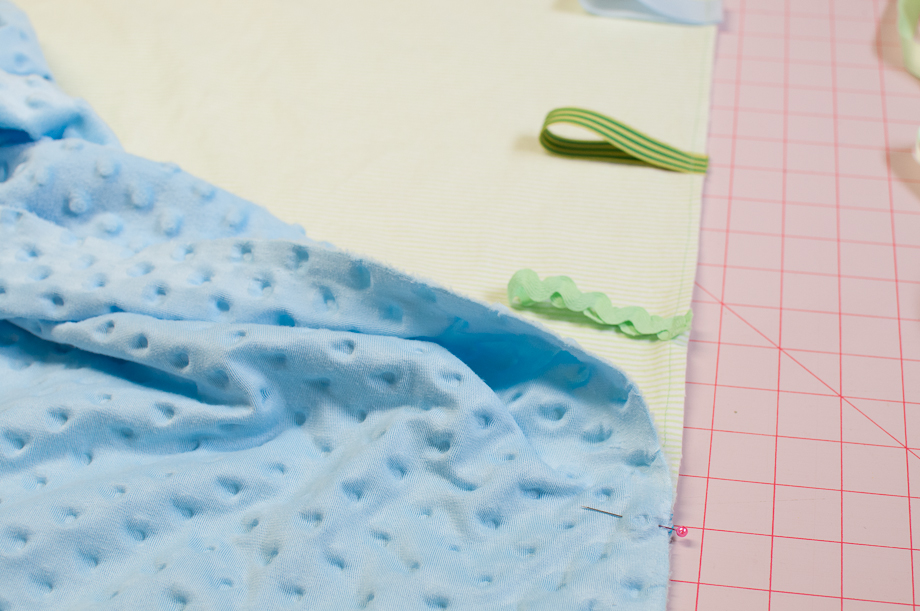 Once the ribbons are sewn down lay the minky on top, right sides together. When you pin the minky be sure not to stretch or pull it, as it can be quite slippery and stretchy. Pin along the edge catching each ribbon tab as you go. This step is important because if the tabs are not pinned they can shift around between the fabrics while you sew.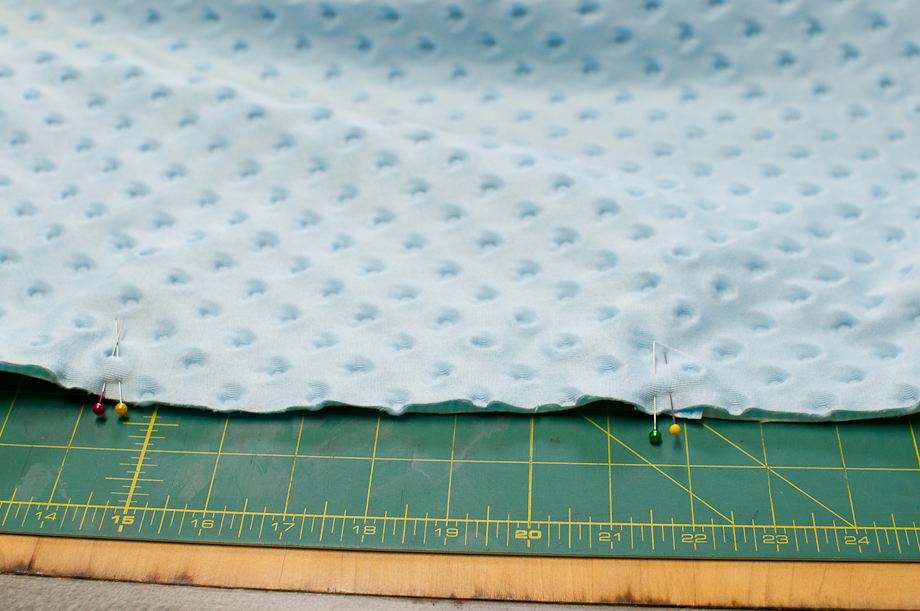 A gap in sewing needs to be left to turn the blanket inside out (remember the extra large space left between two ribbons?). To remind myself I double pin this opening, in the hopes I won't close it. Sew around the whole thing with a 5/8″ seam allowance or larger. This way each ribbon tab is sewn twice into the blanket, ensuring a baby won't pull it out.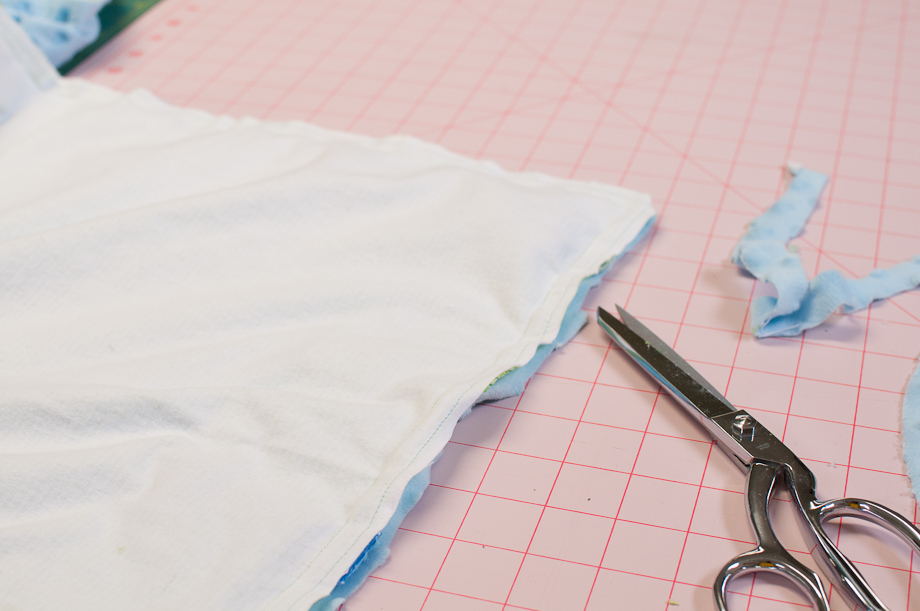 Trim away the excess minky. I always sew with the flannel on top, it's sturdier and gives me more consistent results. I used a walking foot this time (it just happened to be on my machine) and it worked great.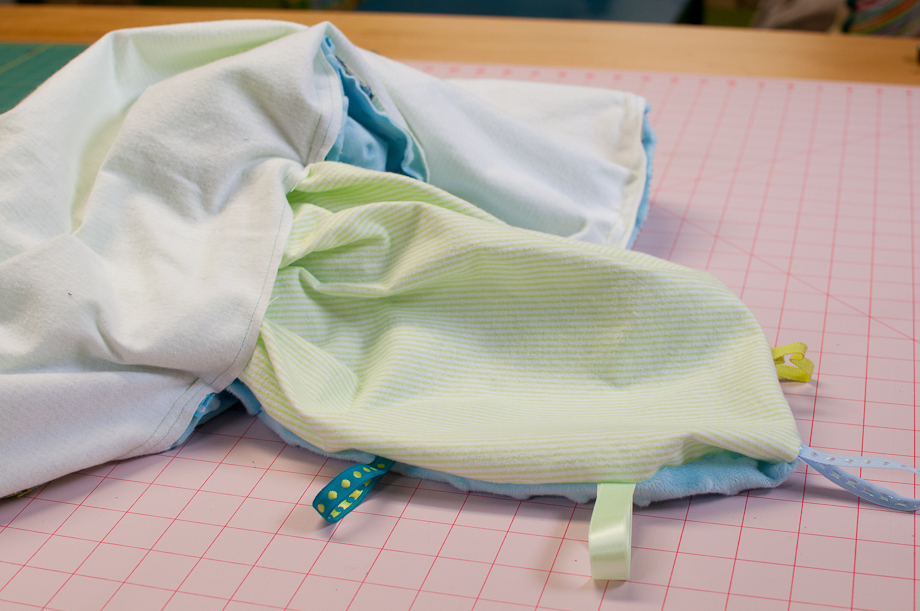 Pull the blanket out from the opening and push out corners.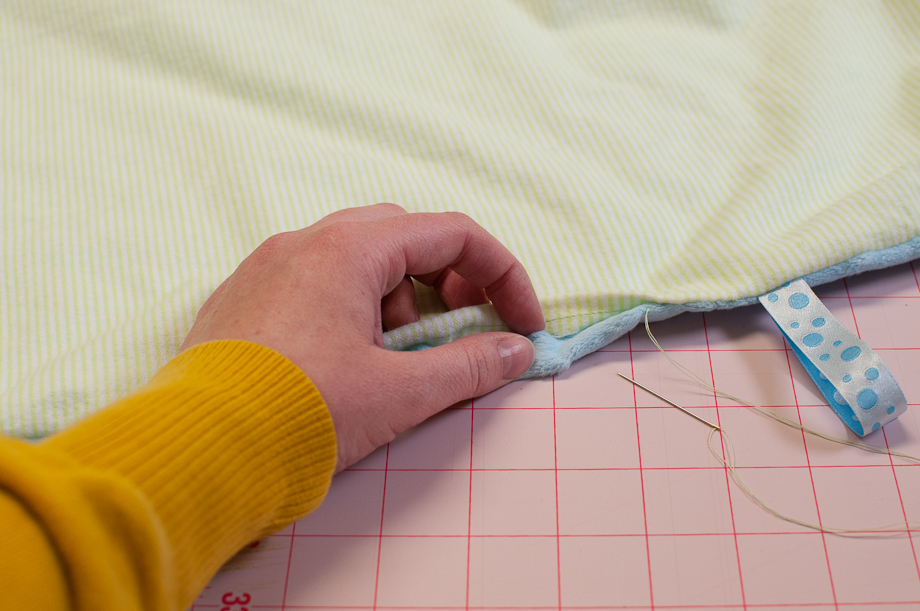 Stitch up the opening by hand. Match the flannel color, worrying less about the minky. Because the material is fuzzy stitches disappear into it easily. You could also top stitch around the whole thing, but with no visible seam this blanket is soft all the way around. I haven't had any issues washing these besides some static cling. A good shake seems to get it into shape no problem.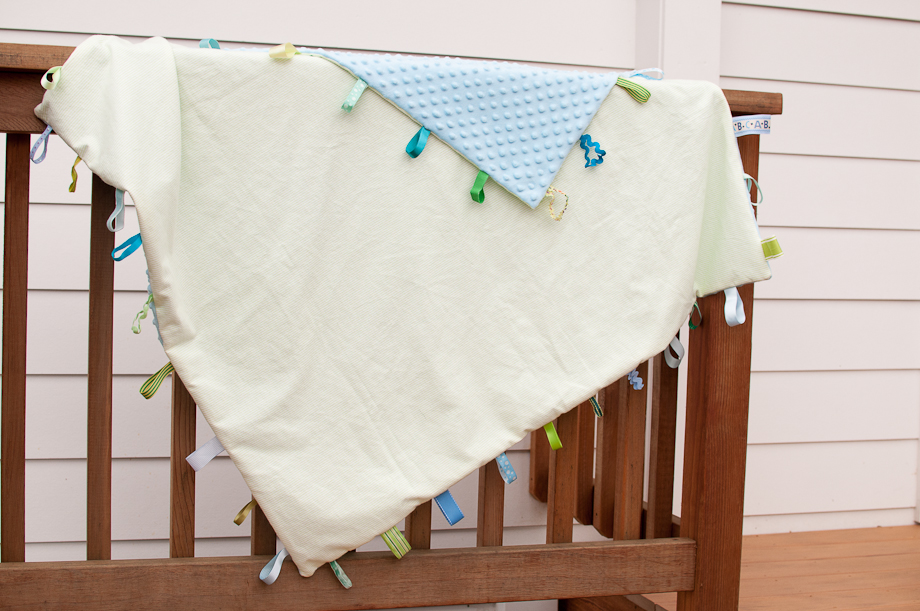 Super easy blanket that babies really do love. It's 100% washable, even if you need to fry it in order to get some nastiness off. I also throw them in the dryer without worry.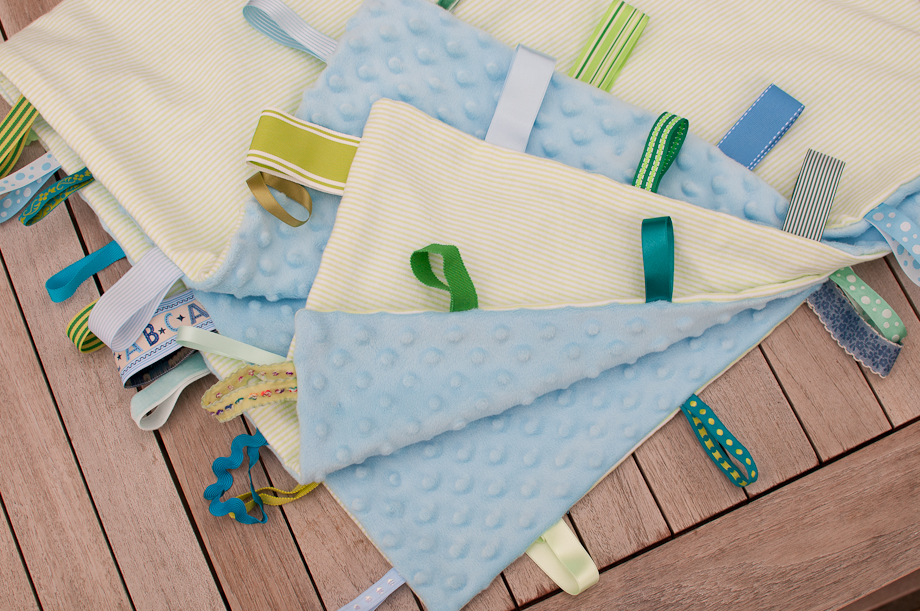 Some of my favorite ribbons for these are ric-racs (my mom even has rayon ric-rac that has to be felt to be believed) , velvets, satins, and at least a few jacquards (the woven designs hold up well and add a lot of interest).
Since I'm packing up orders this week if you want me to pick out a few scrap pieces to match what you order for a ribbon blanket of your own just mention it in the notes section when you checkout through Friday, April 28th. And don't tell my mom!
Oh I almost forgot.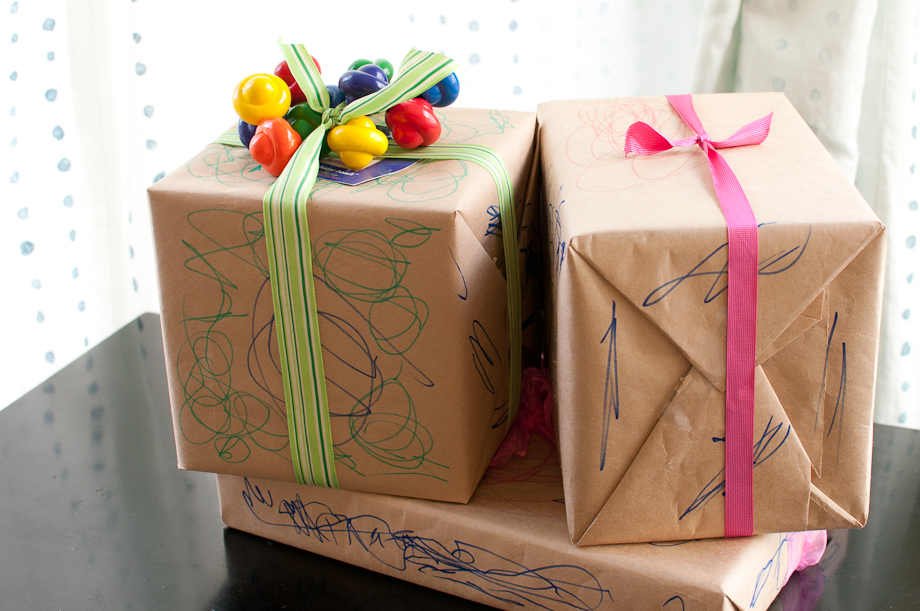 Be sure to wrap it cute….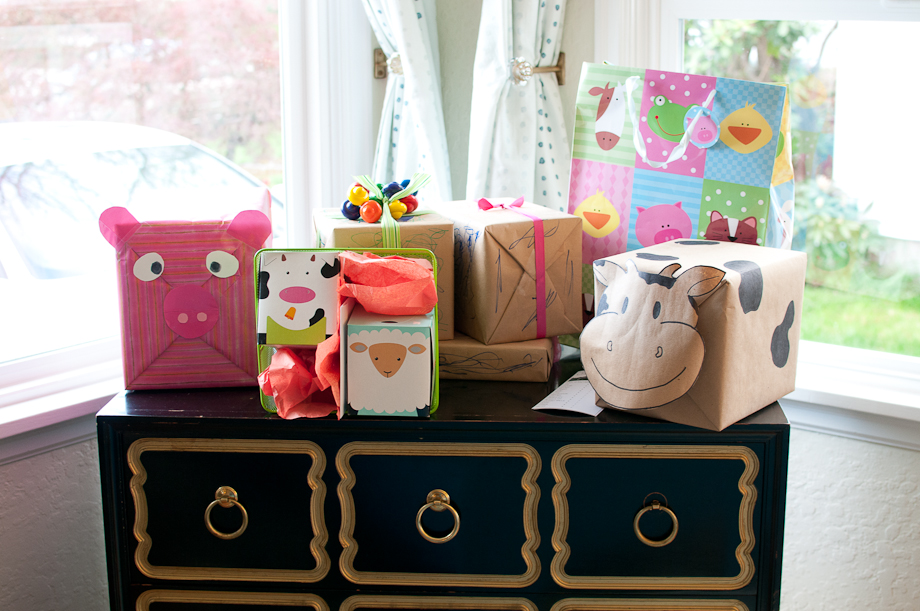 And then just sigh when your friends all out do you!
Karen loved this blanket and was so glad to have something handmade for the third baby. Happy to oblige, I just love making these!