I bought a little wooden dollhouse for Tuesday at Tuesday Morning (fitting, no?) a while ago. Like the end of last summer. Even though Tuesday was over the moon when she saw it I just had to dress it up a bit.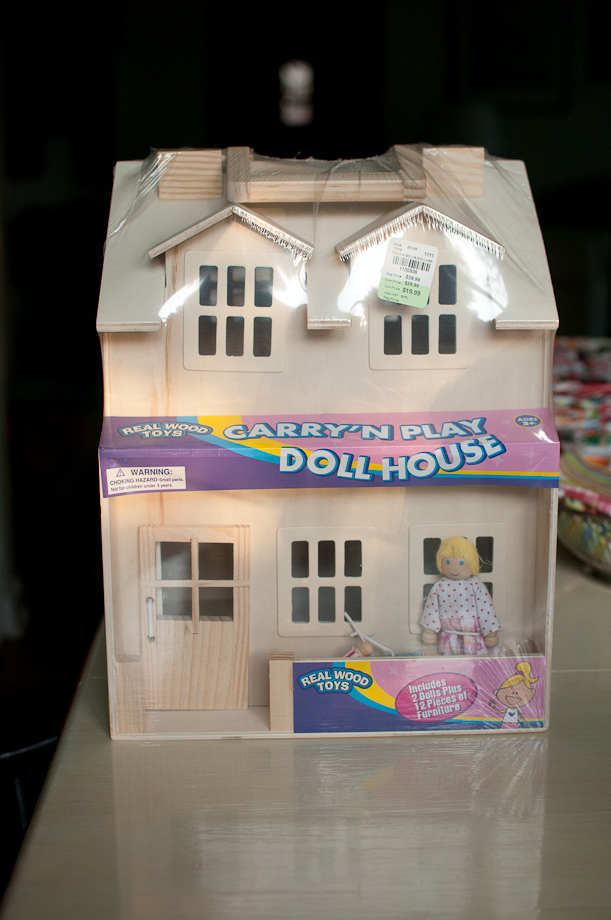 It was a pretty awesome deal for $20.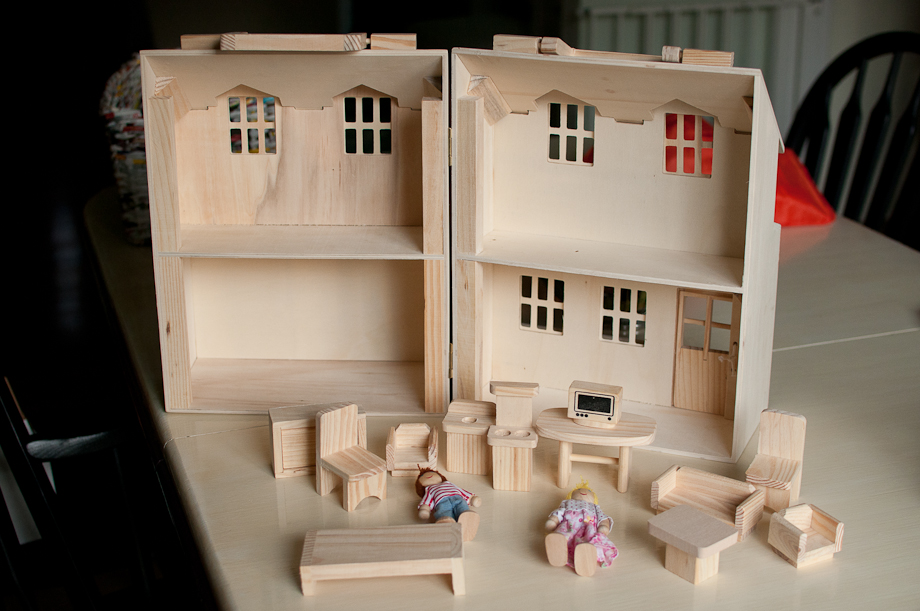 Minus one little thing: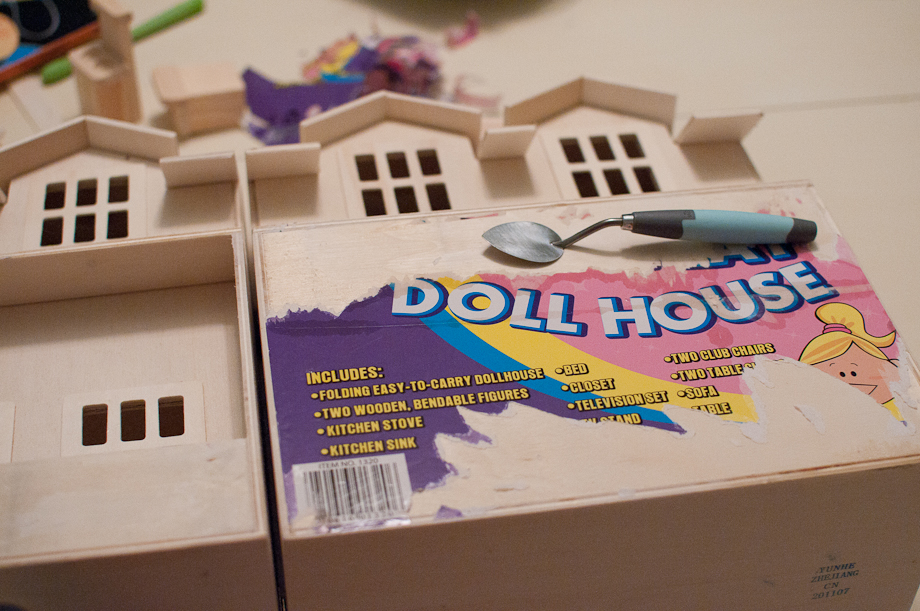 The freaking labels! They took forever to get off. What kind of glue this was, I have no idea but it was a nightmare.
Then I let Tuesday help me paint the dollhouse. She thought it was fun, but I admit to being too crazy anal to let it stand like that so it set for a while (months) while I waited to re-paint it. Finally a combo of her constantly asking me about it and wanting the space back in my sewing area made me just finish it up quick.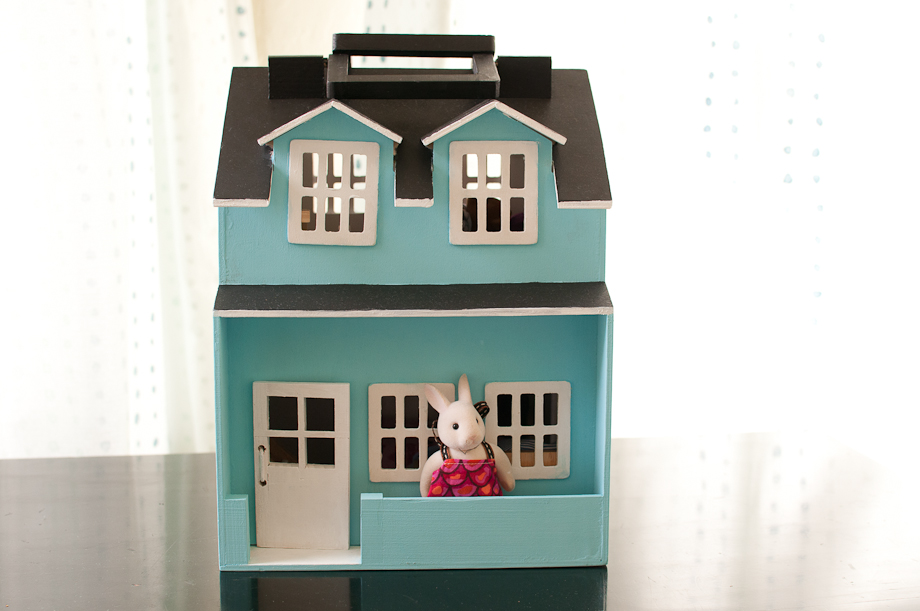 Maybe someday I'll get around to the sandpaper shingles I had planned, or the little frames I started painting for the walls inside, or faux hardwood floors…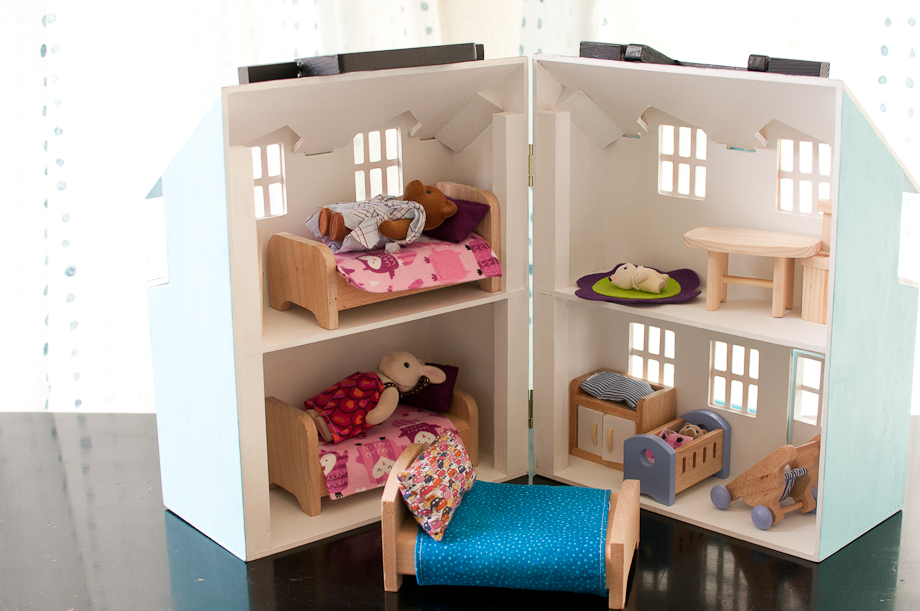 I only got her one little set of furniture, because she is so into the baby thing. And then she decided what she wanted to use from the set the dollhouse came with and this set we gave her for her first birthday. It's all about beds and sleeping and night night so of course I was easily persuaded to whip up the bedding when she brought me over scraps.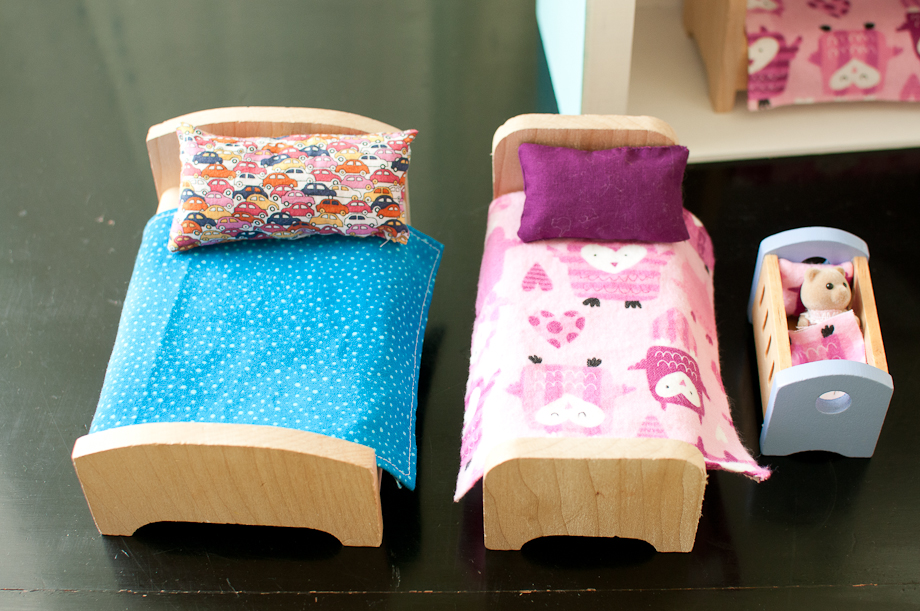 Nothing like having a three year old over your shoulder asking if a project is done the second you start sewing it. I decided she needed a bigger part than just picking material so I taught her to stuff the pillows. She did a pretty good job with it (I just gave her scrap wool roving).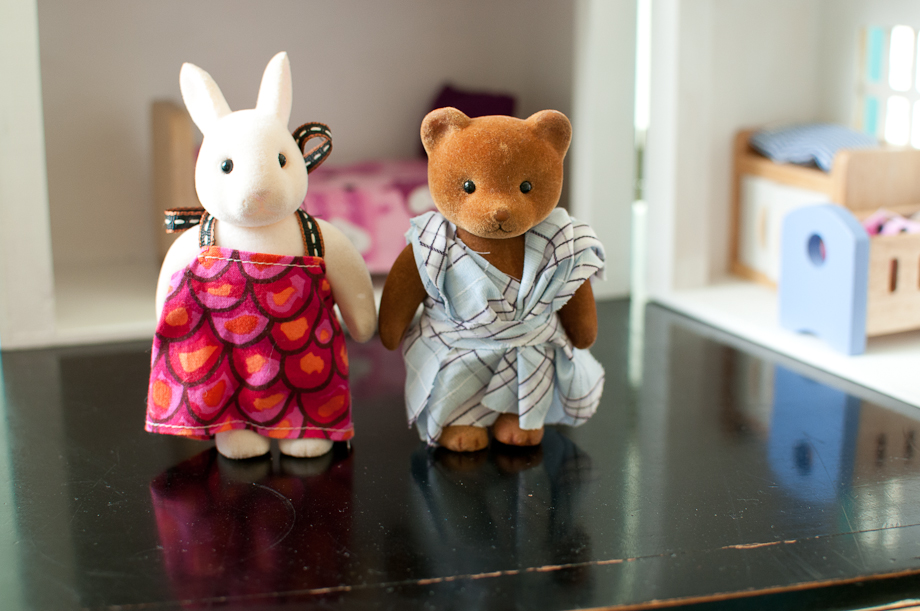 Then she had to design some clothes for her "guys" (we have tons of these calico critters, some were mine, some my brother's fiancee's, and some new). I HATE dressing these animals (oh my god that freaking squirrel with the tail, ah!!!), so I tried to go as simple as possible. After we made the dress and "kimono" Tuesday convinced me to make, "the most perfect kimono ever" to send to Chloe.
I have this feeling that it will not be hard to convince me to make things with and for Tuesday. I love that she has an interest in crafting. I have a feeling this is why my mom put up with requests for dresses with even bigger sleeves and more petticoats when I was little. When I make something for her and she says, "oh mama!" I just feel so happy. And when she wants the plain wooden dollhouse to play with, but I must decorate it? Well that's ok too, after all I'm still a kid at heart.