I made ice cream again! I got a sweet little Cuisenart ice cream maker for my bridal shower and haven't used it a whole lot (it was like this, which it doesn't look like Cuisenart makes, so I'd guess this is the most similar thing they have out now). I've made a couple sorbets and more than a couple frozen cokes, but as far as cooking ice cream and doing it right like that, no. Tuesday was playing with my Ice Cream card deck and I decided to make up some strawberry ice cream with her. We did it at my mom's and she was very focused on her strawberry crushing, so it was a good first ice cream activity. And the results were yummy! As I mentioned I made a bunch of granola and ended up with egg yolks, from Erin's girl's eggs no less, so I couldn't let them go to waste. I decided on a mint chocolate chunk ice cream, but the directions in the card deck were way wrong and I wanted to use ingredients I had, like the fresh mint in my yard, so I made up my own.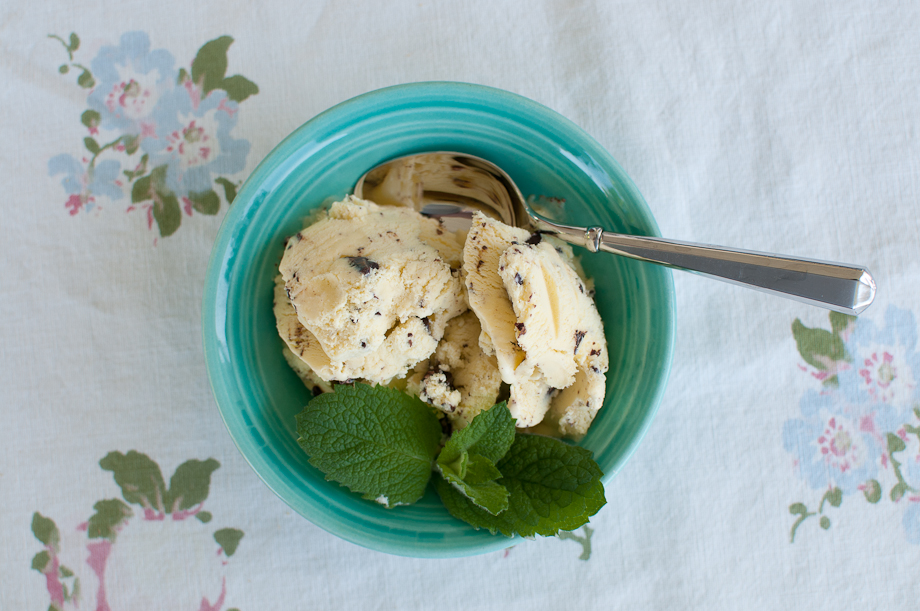 This was almost a double batch for my ice cream maker (it's a 1.5 quart).
1.5 cups half and half
1.5 cups whole milk
1.5 cups heavy whipping cream
2 large handfulls of mint leaves
3/4 cup sugar
6 egg yolks
1 large bar Ghiradelli bittersweet chocolate, chopped
I got a very cute glass double boiler on my thrifting weekend with Sciarrino so I used that to slowly heat up the milk, half and half, and whipping cream, along with the mint leaves. I didn't do anything to the mint leaves, besides rinsing them, just tossed them in with the dairy and slowly kept mixing everything together. The water in the double boiler was just about to a full boil, a little more than simmering. While that was happening (takes forever), I whisked up the eggs and added the sugar. After the dairy was all warm I took a cup out and whisked it into the egg/sugar mixture. Then I pulled out all the leaves with tongs and put them into a mortar and pestle. I added the egg mixture back to the dairy and let that get warm again (stirring occasionally).
With the mortar and pestle I ground up the leaves a bit, and poured the resulting minty goodness back in as well. After all the liquid was poured out I went ahead and squeezed the left over part of the mint right over the double boiler and got a lot more mint flavor in. This all worked well as the ice cream tastes really minty with out having to use any extract.
The mixture is done cooking when it coats the back of a spoon and is custardy. Then you put it into a waiting ice bath (float a stainless steal bowl in a bowl full of ice water) and let it cool down. Put it in the fridge to chill, then add to ice cream maker. I had to do it in two batches, but it worked out well, and I did it without re-freezing the bowl between, I just worked quickly. The last minute of each batch I added some of the chocolate to mix it in.
*Tip! I never let the bowl get all the way unfrozen. I just wash it out with hot soapy water immediately after use and then dry it completely. I stick it back into the freezer and it's ready to go in a lot less time than it would be if you set it out and let it defrost completely.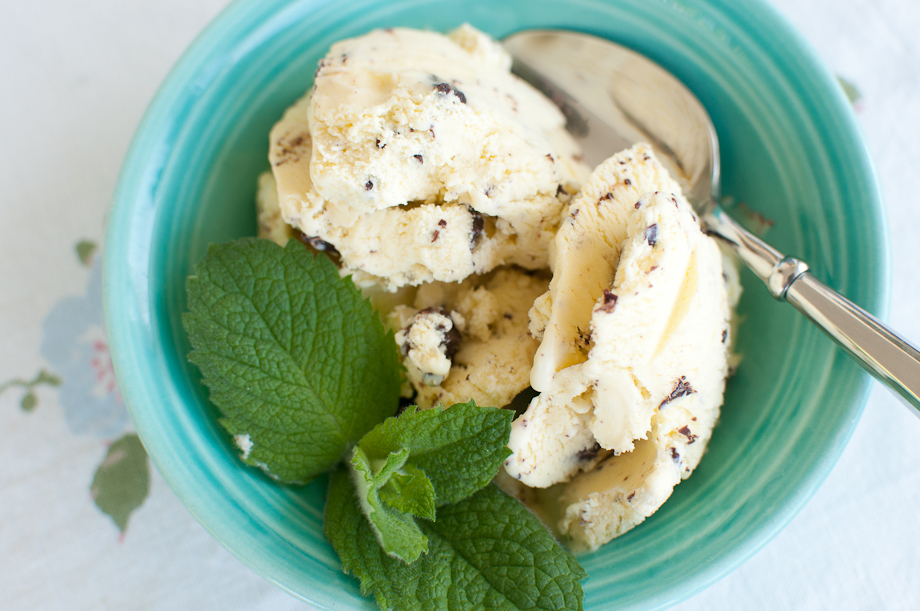 After an overnight in the freezer it was ready to eat (probably would have been done sooner, but this was a late night project). When we got to my mom's for the forth of July Bj said, "I thought you were going to bring that ice cream." Um, no, this is for the food stash!