Oh man, I'm addicted to these sweet skirts! I want to make one for myself, but Sciarrino told me she was a bit unsure about that; maybe with more mellow fabrics. Until then I'll work through every little girl I know, starting with the birthday girls for this month.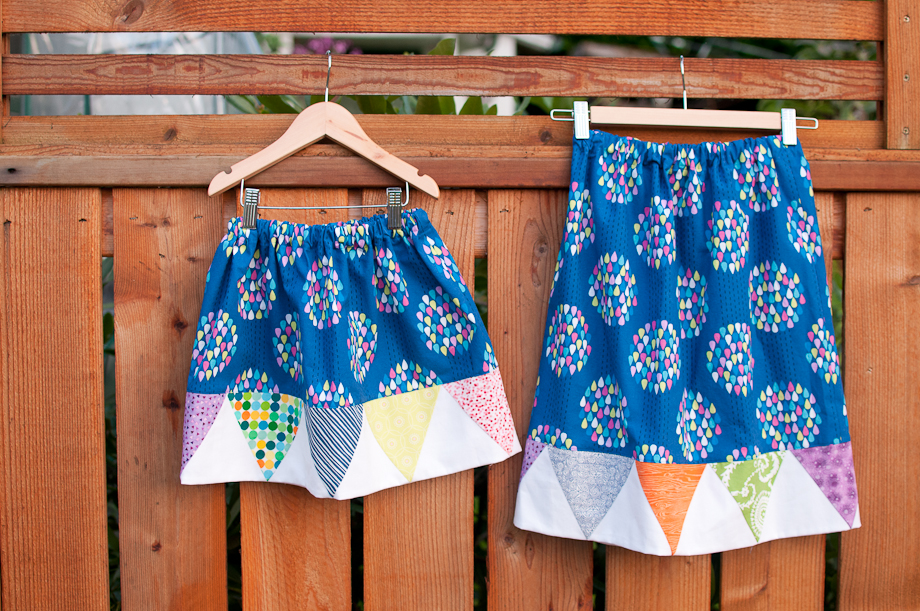 For a two year old and six year old. They don't know each other, so I decided to save time and make up two similar ones. I don't have the girls' exact measurements so I used this great chart. It's actually part of a wonderful charity sewing project going on right now called Skirting the Issue. Click on the link to find out more info. Basically Project Run and Play is working on getting as many people to donate skirts to local foster care agencies as possible. You know foster care is dear to my heart so I love this. I haven't had a chance to make any skirts for this drive, but hopefully I will soon!
Back to my skirts. I made them exactly as before, with Jill's 60 degree template. I made one special triangle on my god-daughter's skirt. It's out of the same fabric from a dress I made her when she was one. Ah time flies. There is also a triangle to match the initials on the shirt I made to coordinate with the skirt.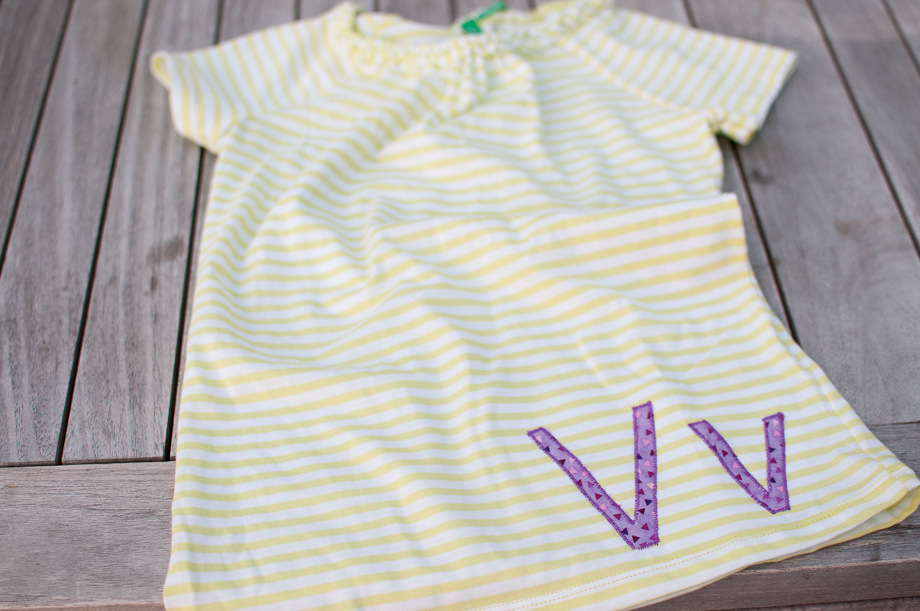 I used my Silhouette to cut the letters out of fabric (after I ironed on lite heat and bond on the back). I haven't done this in a while and I finally remembered to try interfacing behind the letters before I sewed them on. NIGHT AND DAY. Oh my goodness it is so much easier to sew around them like this! I just used a scrap of lightweight interfacing behind the letters, but I think they make special tear off stuff too. I want to make up another shirt for the other little girl, but haven't found a great tee-shirt yet. I scored the striped one above at the Rack for five bucks. Even though it's a 7/8 I almost kept it for Tuesday. It's so soft!
I swear I'll try some other skirt pattern soon…