I thought it would be nice to make something up specifically for this baby. I have lots of wonderful handmade things that the baby will use, but almost all are hand me downs from Tuesday's time as a little one. I don't think there is anything wrong with that at all, and it has made prep much easier, but I figured something special just for this summer baby would be wonderful.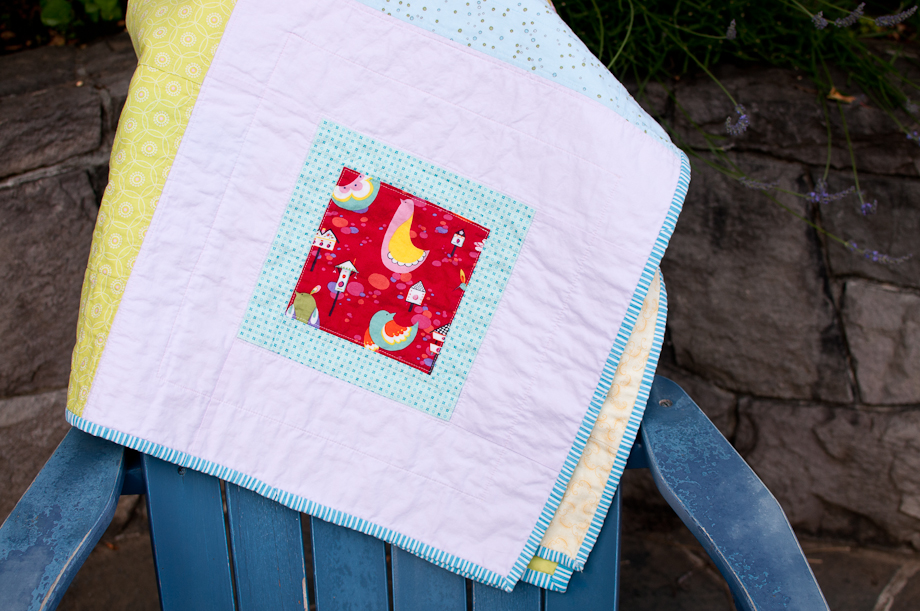 I was VERY inspired by this quilt from Blue Elephant Stitches. In fact she has an Etsy shop and I thought about just ordering one from her, but my stash is seriously too big to justify that (however if you're not a quilter and want an adorable heirloom check out her site!). So I decided on the same type of big log cabin blocks with fabric from my stash.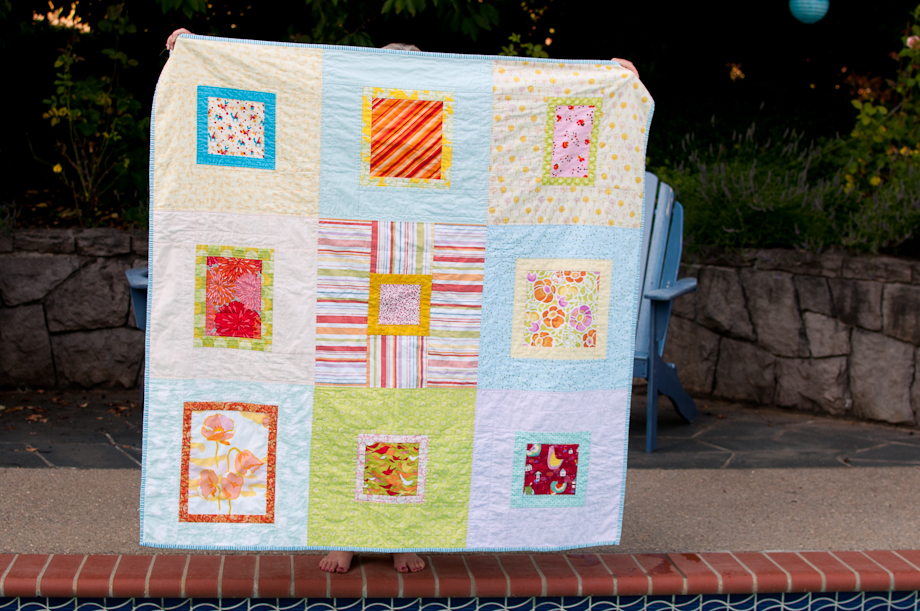 I even used a little bit of old clothing and some vintage sheets. I love how it turned out (it's about 55 inches square). I loved the rainbow of fabrics so much I decided to piece them in color order down the back.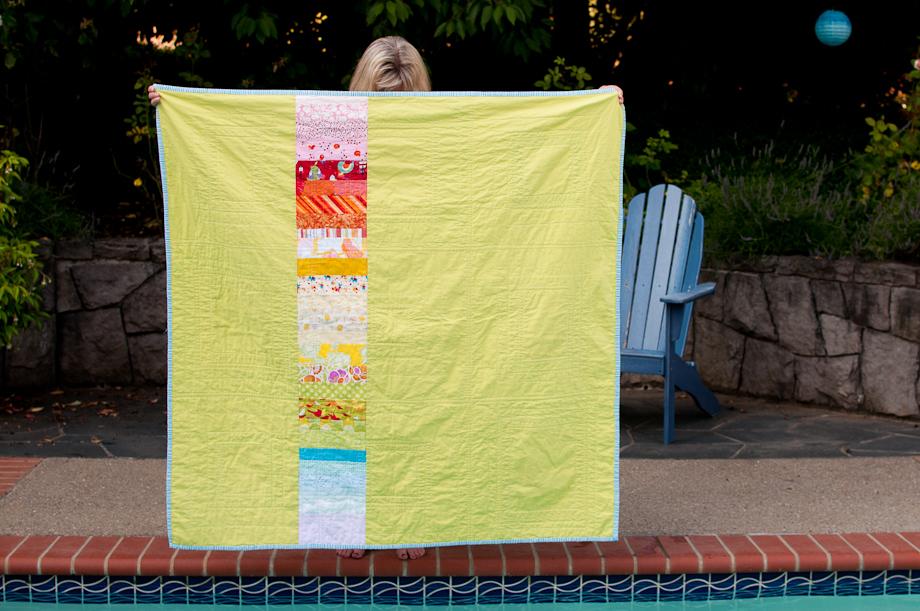 Here is a little better view of them: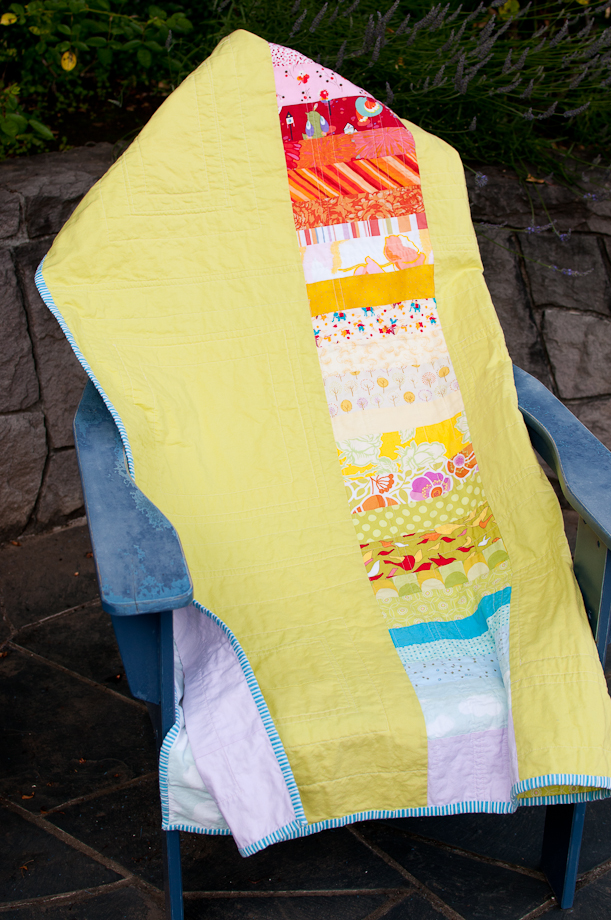 It's a little hard to tell how I quilted it from these pictures, but I just did simple squares of various sizes around each block. I also did a big grid going through the edges of the nine blocks.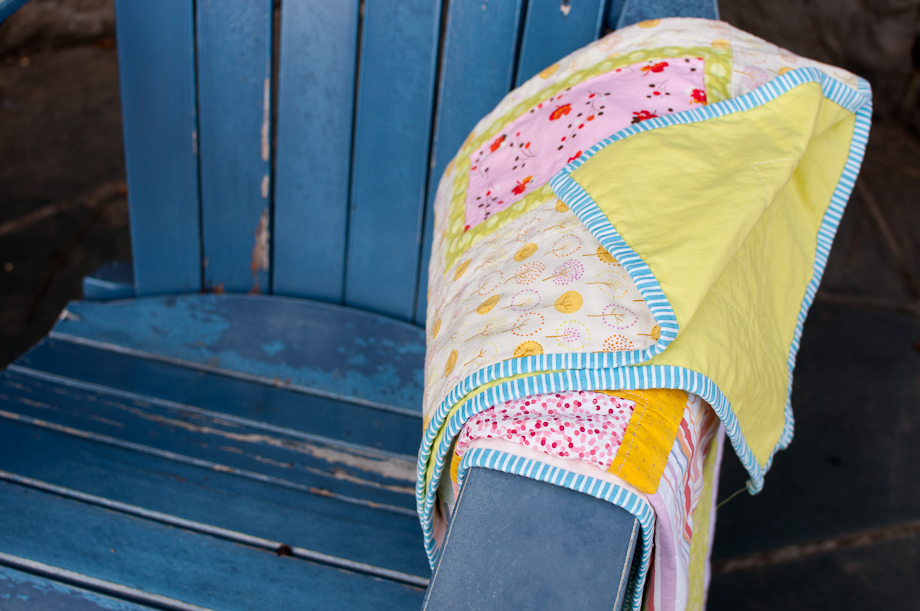 The one thing I did have to buy was binding fabric. I had my heart set on stripes and I just couldn't find anything that was right. I tried ordering a few different multi-colored stripes on line, but nothing worked. Sciarrino picked me up a blue stripe at Fabric Depot, but it wasn't quite right. I finally found this when I went to A Common Thread. I wanted to point that out because I had no idea they had such cool fabric. It's not the biggest place, but a well curated collection I would say.
I want to do a quilt like this again. It came together super quickly and I love using the center of the blocks to show off prints or fussy cut something. Also I used plain white flannel as the batting. Not only is the quilt lightweight, but I didn't even baste it because the flannel is so grippy to the fabric.
Ah and this reminds me, thank you for the sewing machine advice. I have my heart set on a Bernina now. I'm looking for an older used one, at least to have as a back up, and am going to wait to see what they come out with later this summer (and how much sewing time I get in with two kids!) to make a decision on something bigger for quilting specifically. I used my mom's Pfaff to quilt this and it went pretty well.