When I started freezer cooking with my friend Kathy the first thing I suggested was a breakfast pie that my mom makes. It's easy, it's quick and it's always a hit.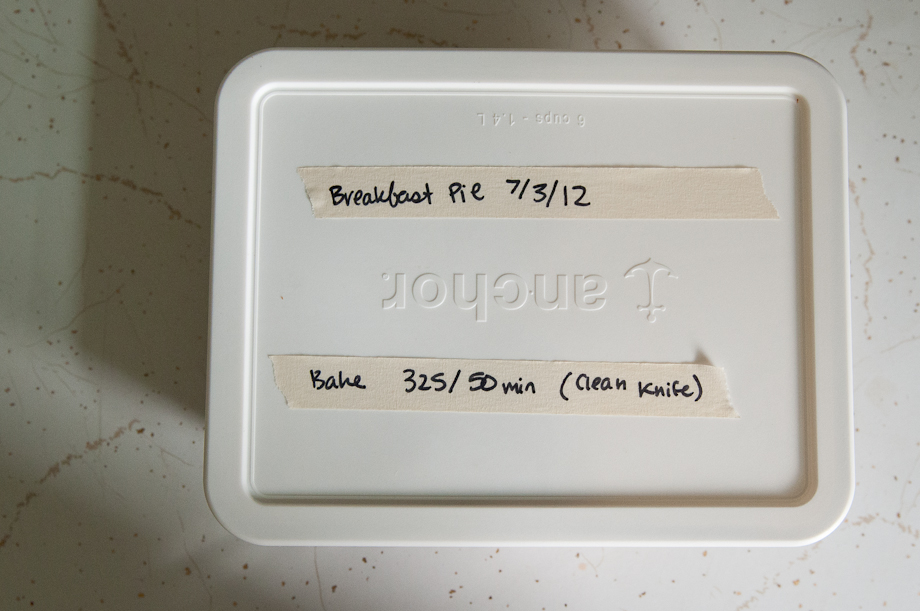 It really does great in the freezer (I used anchor storage/cooking dishes. You can buy individual ones at the Container Store, disposable aluminum trays also work if you don't want to tie these up in the freezer). I just take it out the day before and put it in the fridge. I make up more than one now when I do these, and decided three jumbo sized ones would be great for when the baby came! I am really loving that I had the foresight (by that I mean crazy intense urge to get things done) to do these up ahead of time.
It's one of my mom's recipes so I'll list out what she said, with what I do in parentheses.
Breakfast Pie – serves 6-8
8 slices bacon cooked crisp – reserving 1 tablespoon drippings (I save a bit more…)
1/2 cornflake crumbs (I use a little more)
5 eggs (my mom notes that she uses extra if she's serving a hungry group, and so do I!)
2 1/2 cups frozen hashbrowns (note: yes, they have to be frozen. It's one of those weird freezer cooker rules, otherwise they will blacken up when you cook them)
1 1/2 (4 ounces) shredded cheese (we use Tillamook Medium Cheddar)
1/2 cup cottage cheese (note: I HATE cottage cheese, but I put it in, I never notice it after it's cooked)
1/3 cup milk
1 green onion, thinly sliced (Tuesday is a green onion freak so I use a whole bunch of these)
1 teaspoon salt and 1/8 teaspoon pepper
4 drops tabasco sauce

Crumble cooked bacon and set aside.
Mix cornflakes with drippings and set aside.
Beat eggs until foamy (upon Bj's request I've started doing this part in the Kitchen Aid mixer, since I do big batches it does work better, you're right honey!), then stir in remaining ingredients.
Pour into a greased 9 inch pie pan (um, I totally use the bacon grease for this)
Sprinkle with cornflakes and bacon.
Cover and refrigerate overnight (like I said I freeze this and just move it to the refrigerator the day before).
Preheat over to 325 degrees.
Uncover pie.
Bake 50 minutes or until knife comes out clean (waiting for it to cook this long is the hardest part!).
Serve with toast or other warm pastry!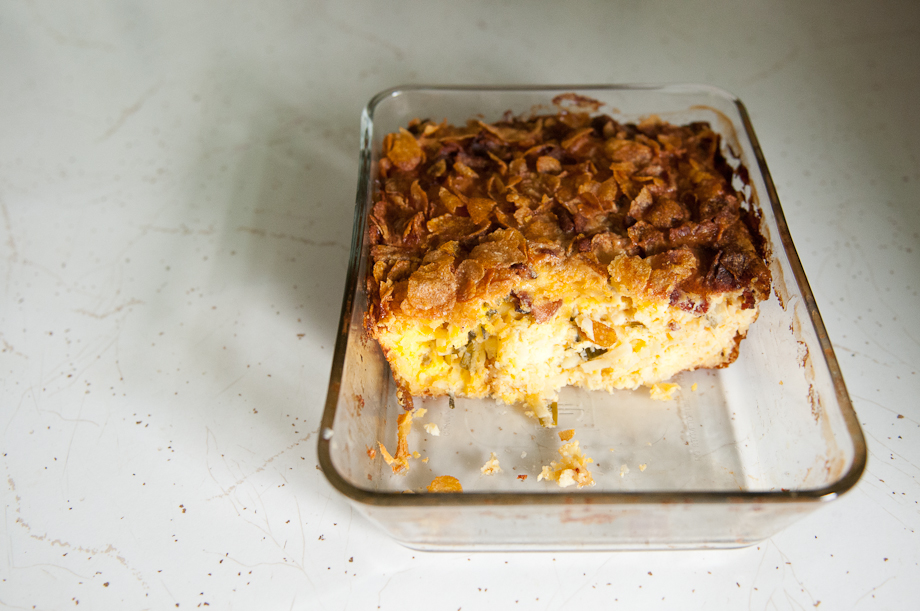 Seriously so good. I hope you try it! I like that it doesn't have a full heavy crust, just a nice sprinkling of some bacon goodness. I don't mind making this just for our little family, I keep pulling cooked pieces out of the fridge for a couple of days and microwave them. Tuesday loves this as well so it's an all around hit! I do think I made them a bit thick this time, they took too long to cook.
I'm not the only one still rocking that gold dust counter top in my kitchen, right?