So before the incident with Bennet I was making baby food and things were going really well in the house. Our kitchen is not that big, and honestly I don't spend much time in it day to day. I like to make things like baby food though, and can, make granola, etc. Cooking meals however, not my favorite. I needed to keep the girls busy so I set up a super easy sensory play (from this most excellent blog) of ice + water.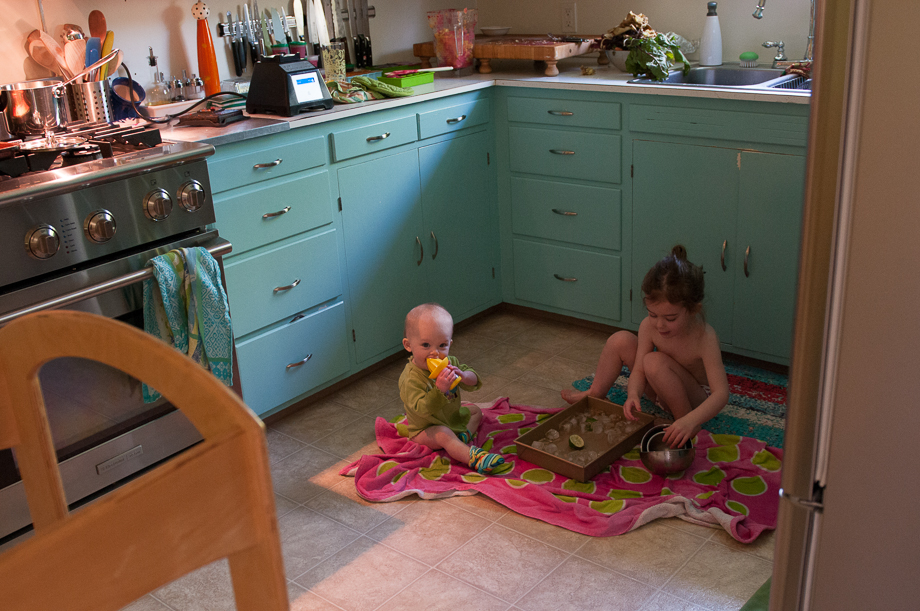 I love the big cube shaped ice that these molds make (ooohhh finding that link I saw that they make even bigger ones!). They take a lot longer to melt. Tuesday requested a couple of limes so she could make some juice. Bennet is chewing on our juicer here, another find I love.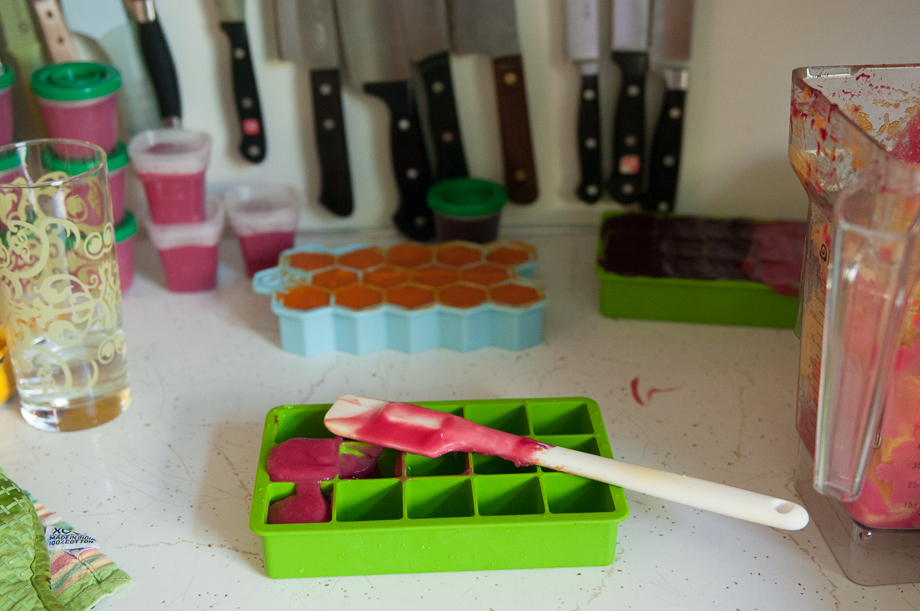 (carrots, beets, sweet potato – red because I didn't clean out the blender in between foods)
So I do make my own baby food for Bennie. I did for Tuesday too, I talked about it here. Like I said in that post, I can really do this easily because I am home all day. So I can let things cook while I'm doing other stuff. Then I pop them in the blender (with a little water if I need it). Before we got our great blender I used a thrifted food mill, like this. I do like using that, it reminds me of fun times making pear butter with my mom, but the blender is just so quick and easy. I use the above mentioned molds since I have a limited supply of the containers made for baby food. I still like those, they are easy to travel with. I bought the honeycomb one you see at TJ Maxx on a whim and didn't need it. But I love it! The cubes are smaller, but they pop out so easily, and besides, it's super cute.
I do love the idea of baby led weaning, where you feed the baby straight from the table. I think I'm just too into everything being tidy for that. I like to spoon feed babies so they don't get stuff everywhere. It's just a sanity thing for me. Also I'd have to eat a little better… but that's a whole other post! I didn't buy baby food for Tuesday until she was three. Ya three; I got talked into a few of those squeezy pouch things. Who ever made them is a genius, because Tuesday was all over them when she went through a brief vegetable strike. I have fun making these things up, and Bennie has only been eating for a month (we delayed solids until she was 8.5 months), so I'll probably be at it for a bit.