"Are you going to post those layouts you made?" Sarah asked me. We had a scrap day a while back and I went nuts doing regular 12×12 layouts. I mean regular because I did Project Life last year, and because of it did few traditional type layouts. Totally fine, but I did miss it. Also I have a few months to complete on my 2012 Project Life, but I didn't want to do it. I just had a few stories I wanted to get down and I wanted to play with paper, so I did!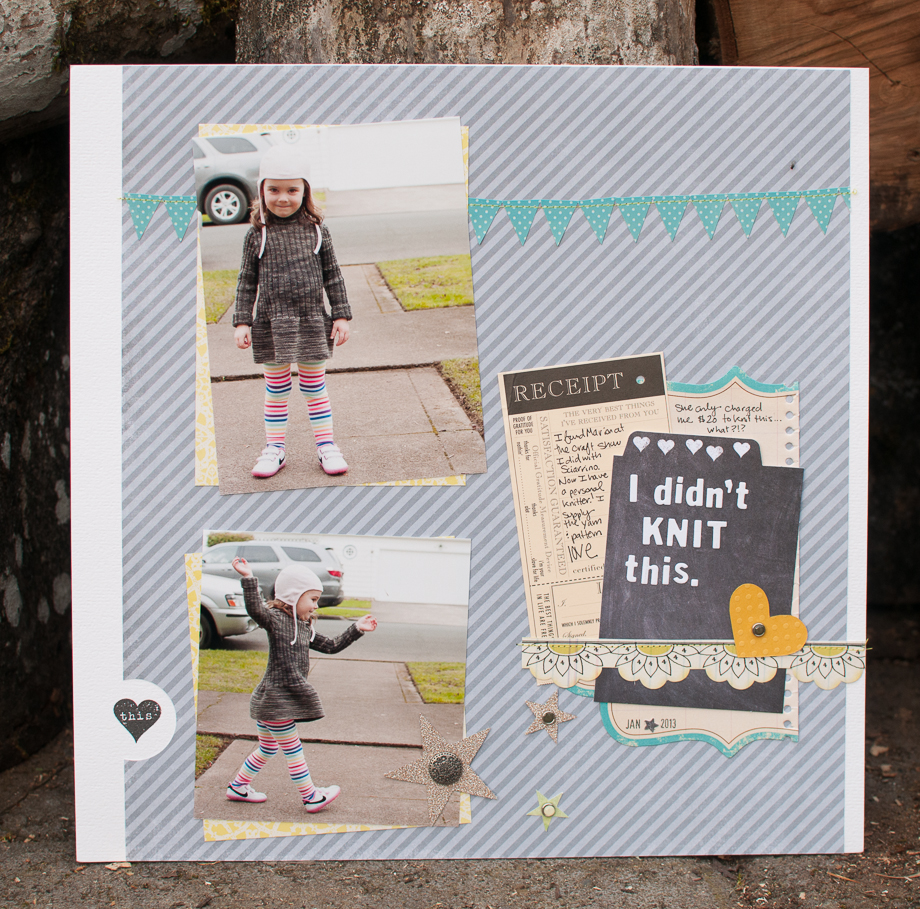 I don't know if I ever shared these pictures of Tuesday or talked about the awesome older woman I found to knit for me. Yes, I am getting help using up my stash. She's awesome, she knits all the things I love but don't have the time/patience for. This turtleneck dress from a vintage pattern is the perfect example.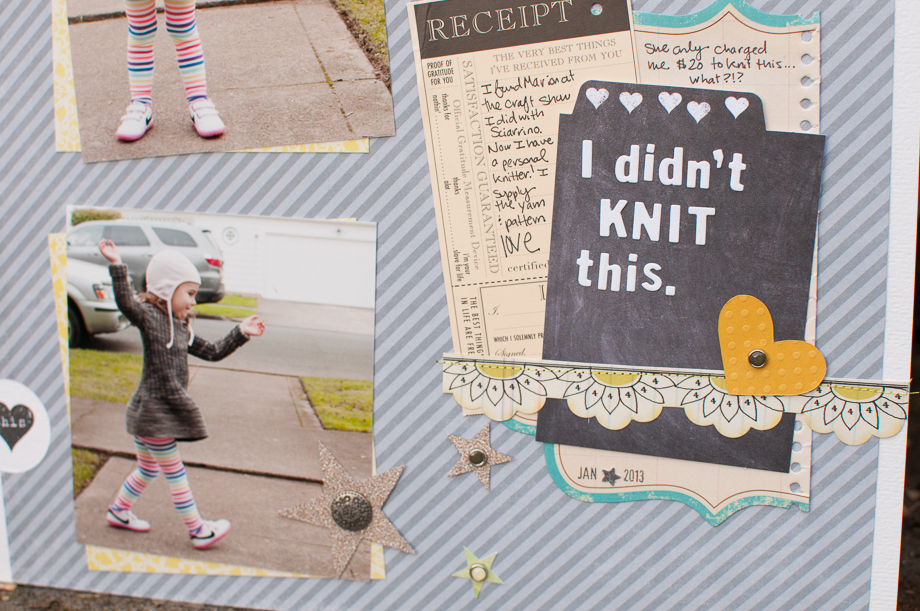 I won Elle's Studio's You and Me Collection when they had a giveaway and oh my I love her stuff. The faux chalkboard is so awesome. I also love the little stamp. I've bought many of her tags; her stuff works great for Project Life too.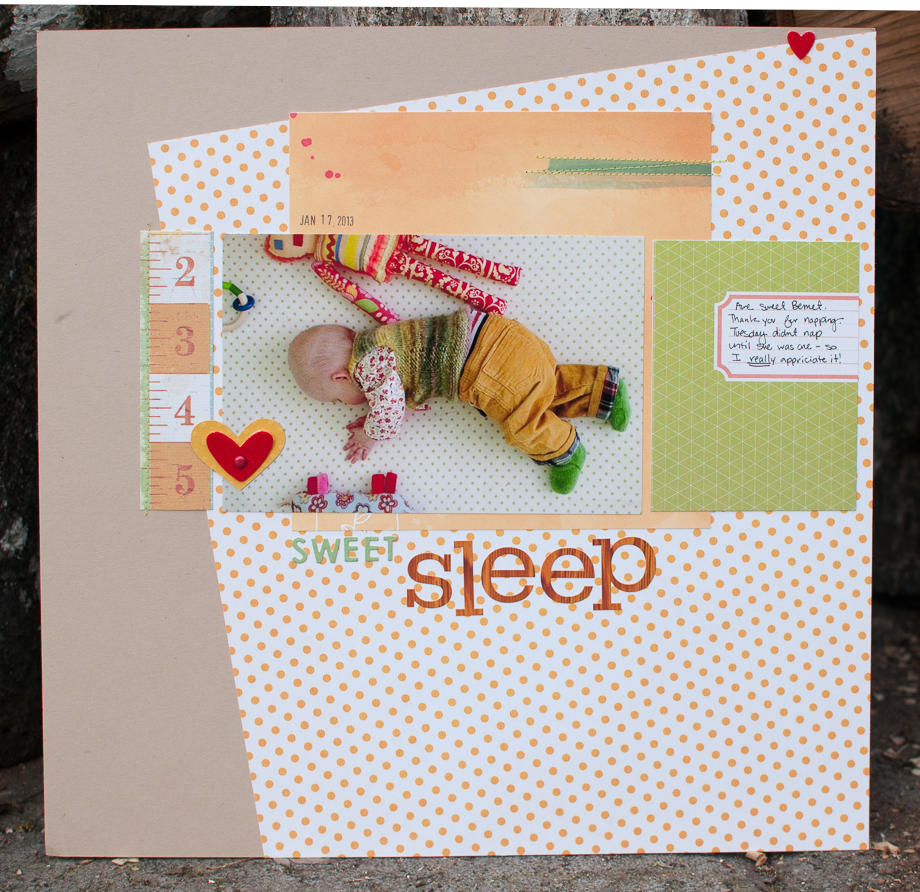 I should mention that I used sketches as a start to all of these. So easy to get back in the scrapbooking game for me when I have a sketch as a jumping off point. I didn't keep track of which sketch I used for which layouts (and some went way off course), but I did start a pin board of my favorite sketches here.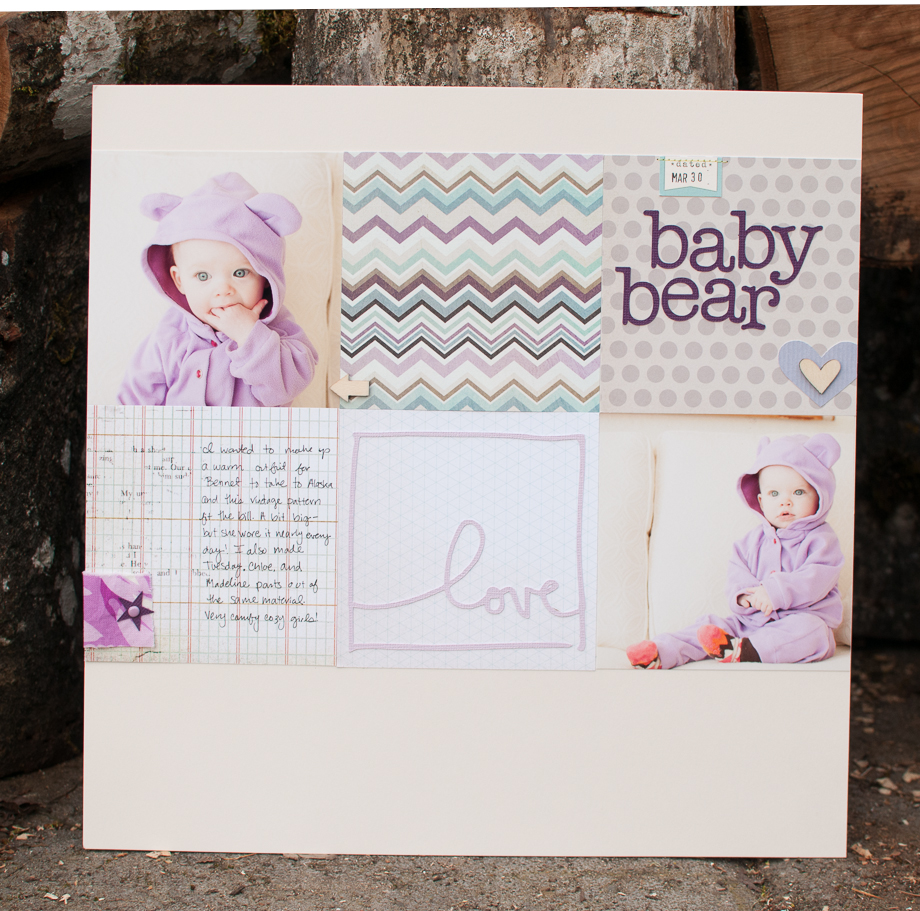 And if I could find the layouts I lifted you'd see this is almost an exact copy. I love the simplicity of it.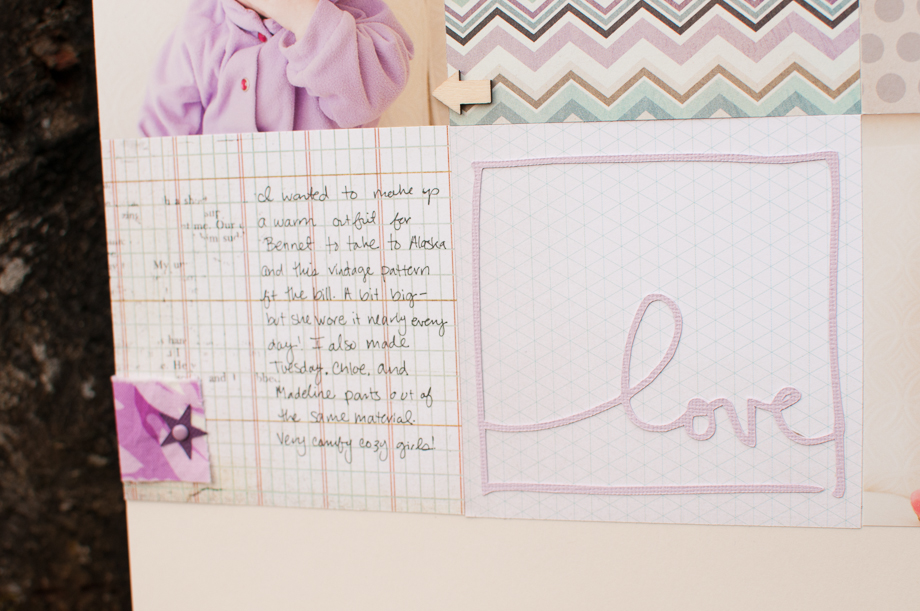 Had to bust out my Silhouette SD to cut the love box. The Silhouette might be my favorite crafting tool of all time.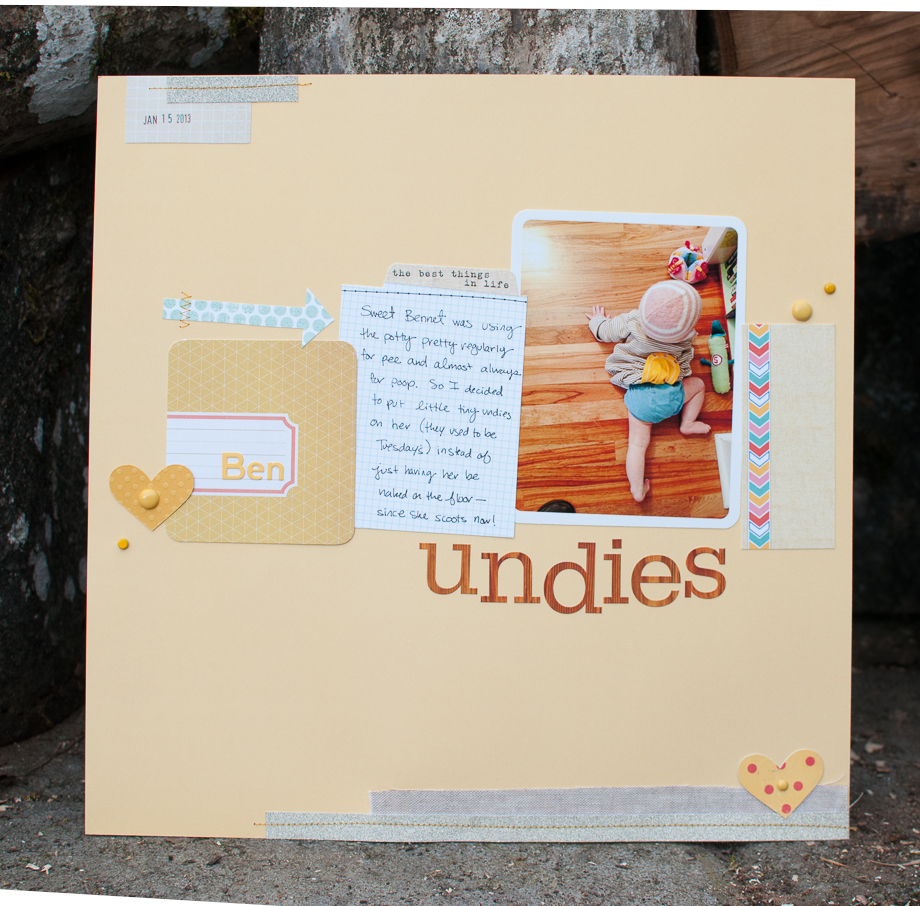 More of Elle's Studio goodness.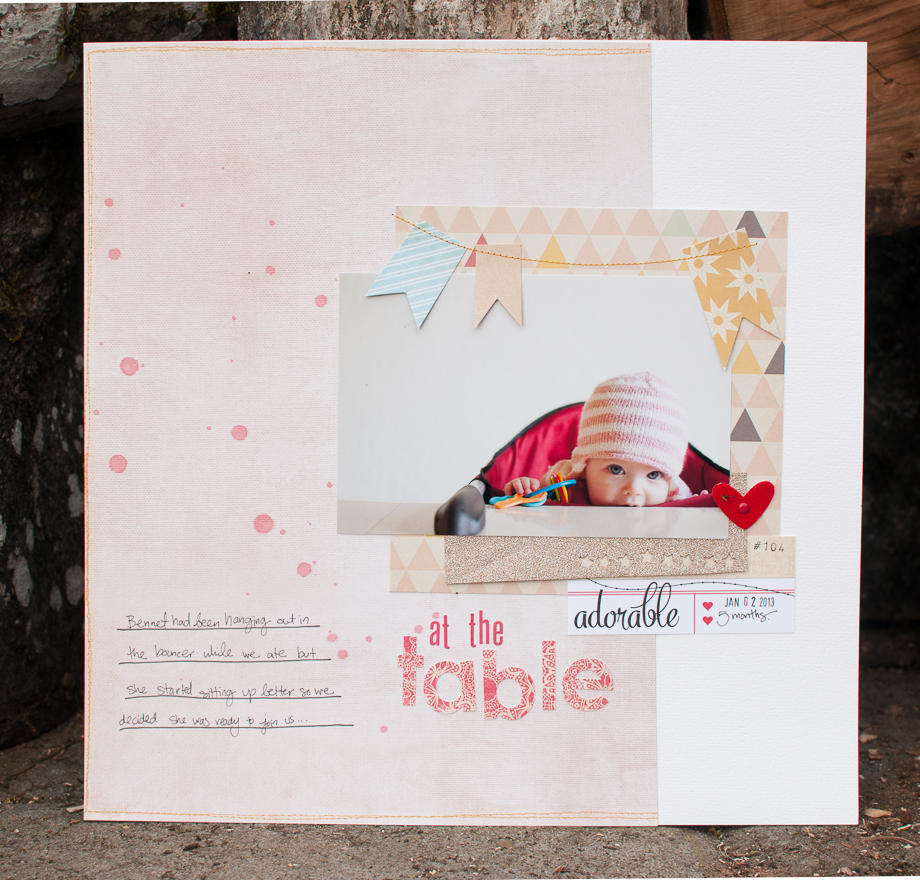 I love that I scrapped this picture. It's suck a great moment, when she joined us at the table.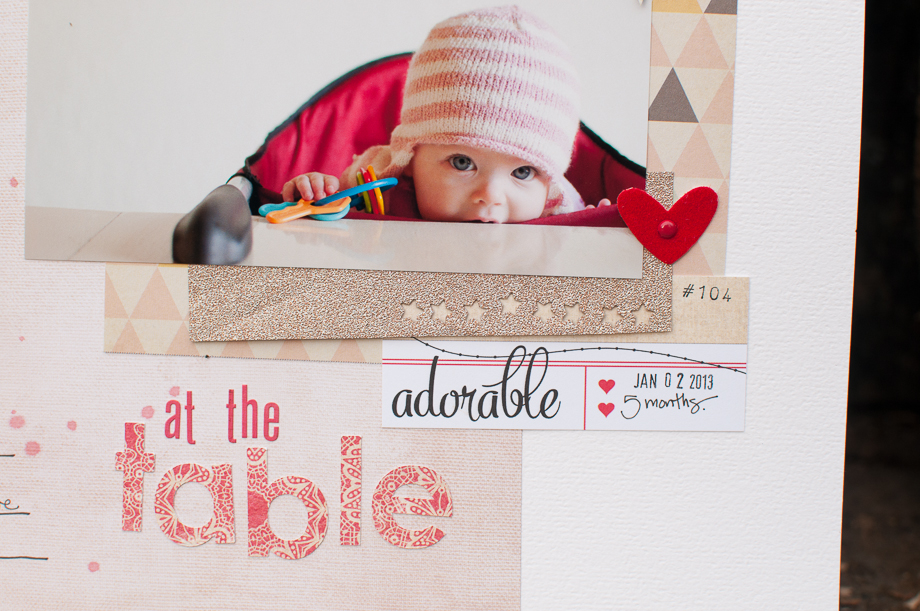 Using little bits of an old gift bag (the sparkle). This is why I can never seem to get rid of anything paper related.
Very, very fun to have a day with Sarah to scrapbook. I love taking over the dining room table and eating candy while we steal from each other's stashes. We were talking about when we first scrapped together at a now defunct local scrapbook store in Albany. I'm so glad she said yes to meeting me there (we had only been friends online up until then). I really doubt I'd scrapbook as much if I didn't have Sarah to share the hobby with. That was six (I think?) years ago. She's my only "real life" (I should say nearby, that sounds nicer) friend that scrapbooks. Long live paper and glue, right Sarah?