I have been given the opportunity to participate in Tombow's "100 Days of Tombow". Tombow sent me some of their amazing products, and in return I got to use them (and tell you what I did) and they donated money to the Council for Arts Education. A pretty amazing deal!
For 100 years Tombow has been creating innovative products that help everyday artists do their best work in art, craft and office supply environments.   Crafters worldwide have coined their experiences using these products as "Tombow Time", and share virally how they create, celebrate and decorate with the help of Tombow's extensive product portfolio.
Saturday, March 9, at the National Art Education Association Conference in Fort Worth, Texas, Tombow kicked off its "100 Days of Tombow" program by committing to provide up to $10,000 of Tombow art products to the Council for Arts Education, a national nonprofit dedicated to promoting and supporting art education and quality art programs nationwide.
Tombow seeks to leverage its centennial year by spearheading new avenues of creative growth for the next 100 years. To that end, it's working with crafters and mommy bloggers to reach younger demographics and introduce Tombow to a fresh, new audience.  "We're parlaying our 100-year platform to educate crafting bloggers in the young singles, newlywed and new mom audiences on ways to use our eco-friendly products to enrich their world with color, texture and design," said Jeff Hinn – president, American Tombow.
For its "100 Days of Tombow" program, the company is working with 100 different bloggers across America to spotlight their creative musings using Tombow's products, and showcasing how "Tombow Time" is enjoyed across the nation.
I have never participated in an event like this, but as soon as I heard about it I emailed the organizer. I have been using and loving Tombow's products for quite some time. It's hard to believe but I bought my first marker from them when I was in high school… 16 years ago! Even more amazing is that almost all the markers I originally bought I still have. They have a wonderful design that keeps them moist and fresh for years. Of course I don't let Tuesday use them, I consider them my "special" markers, so when I was deciding what project to do I hesitated letting Tuesday use them. But she has taken a real interest in drawing and does so with so much intent now, no longer just scribbles. I decided to get out the three products I was sent: Dual Brush Markers, Irojiten Colored Pencils, and a Stamp Runner and work on a collage, with her nearby.


These markers have dual tips, so one side is a brush and the other a fine point. They do not smell! Some markers of this style absolutely reek and I would never let my young daughter use them, but these I feel are safe enough for her to use. You can see here how the marker works when you overlap it, quite beautiful. I also used their color pencils, and I liked them a lot. We've been deep in the Crayola trenches with colored pencils and these are about 100 times nicer, as you would expect. So did Tuesday want to join in?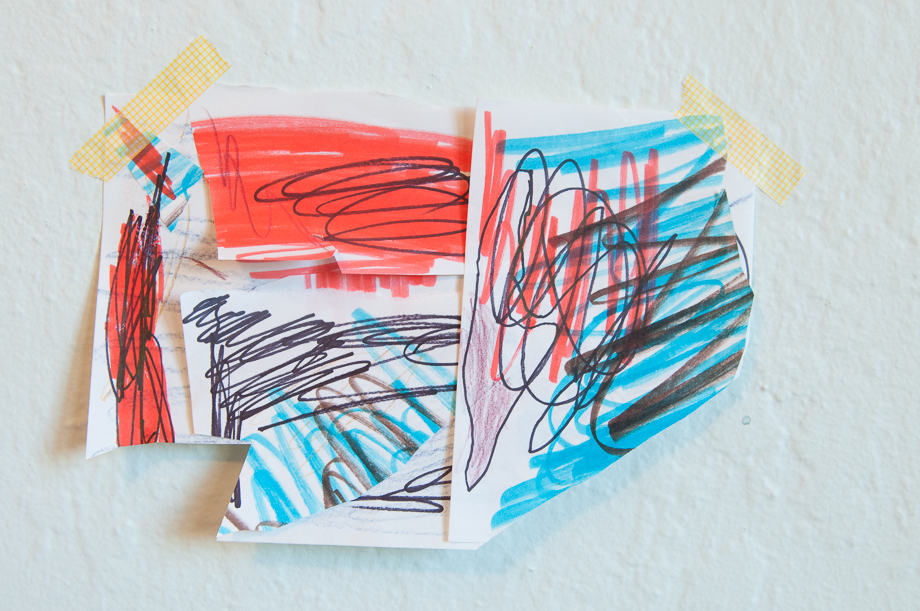 Oh yes she did. I can not tell you how happy this makes me. I have been trying for so long to get her to do some collage work. We've checked out many books from the library with beautiful collage illustrations and she has shown no interested in it. While she did like the markers and pencils the real thing she loved was the stamp runner. And I don't blame her. Glue can be hard to get right where you want it when you're little. And then things shift around until they dry. With the stamp runner little dots of adhesive are applied with a pleasant click exactly where you want them. This proved irresistible to Tuesday. I'm happy to say I see many more collages in our future.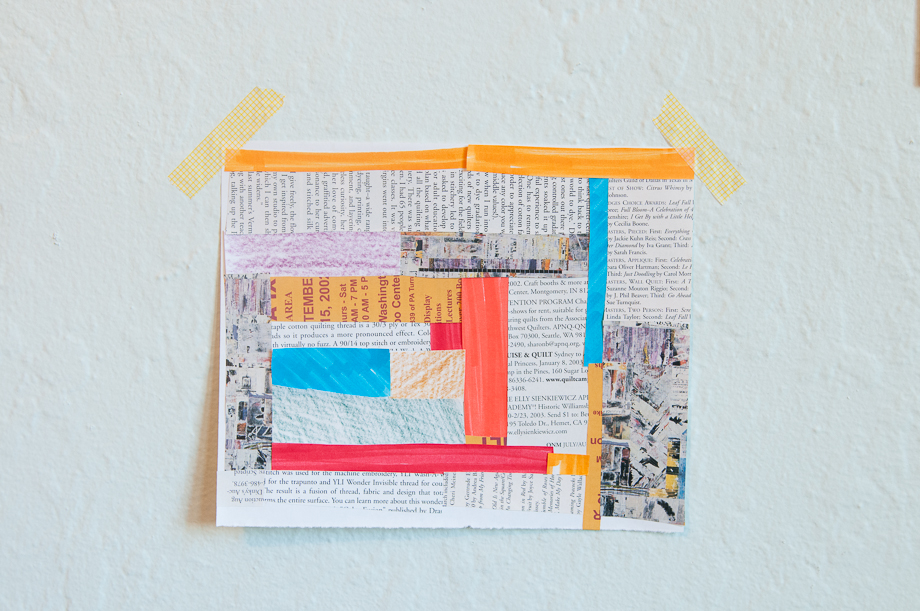 Here's my finished collage. A future quilt block I think. I've taken to using print in lieu of low contrast fabric prints. I find this helps me visualize the play of those fabrics with higher contrast solids much better than just leaving white space.
If you have any interest in drawing I highly recommend these markers. I detest bloggers writing up things for money they clearly have no interest in and I would never do that to my readers. These are truly products I have used and loved for years and I am so thrilled I get to share them with you, and have a donation made to such a wonderful cause. A dream come true. Thanks so much to Tombow for the opportunity.
And seeing as how I'm obsessed with their products I do have one more thing to show you later this week. I just couldn't stop myself!
Supplies Used