I know I've mentioned Salem Harvest before, but I don't think I've gone into great detail about it. And I should because it is amazing! For a variety of reasons farmers (or just people with a fruit tree in their backyard) donate crops to Salem Harvest so food that would otherwise go to waste ends up at the local food bank. I've been to harvests where land was for sale, and not being farmed, but blueberry plants were still producing. I've been to a harvest that gleaned what mechanical harvesters didn't get. I've been to a harvest of green beans that the cannery didn't need. And how does Salem Harvest get people to scramble, drop everything and come pick for them? You, the volunteer get to take half the produce you pick home! Usually I pick more than double what I would need, I think most people do, so the food bank ends up with LOTS of food. This year I've been to two harvests. The first one was one I had been waiting for; corn! I went with my friend and her little girl, Tuesday was having some grandma time.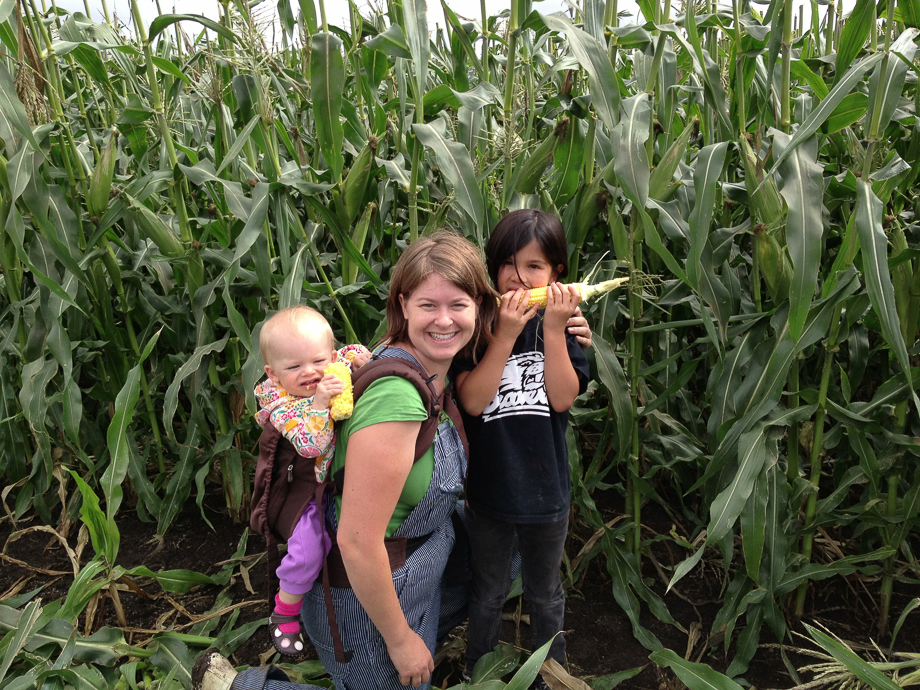 Bennet wasn't a super fan of picking since we had to bend over a lot. We were picking the edges of this field because a windy rainy storm had knocked stocks down. The stocks on the ground and the ones leaning would make it difficult for the picking machine. We would pick the stocks and then trample them down perpendicular to the edge of the field. I've never picked corn before and it was fun! I didn't know it was so so sweet right off of the stock. Once I gave Bennet an ear she was as happy as can be!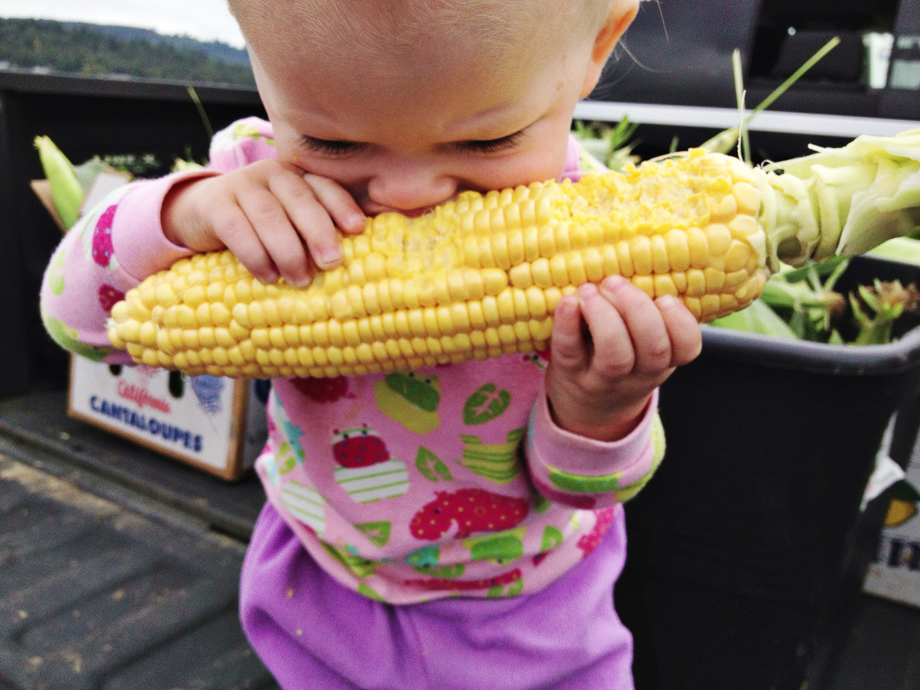 Don't worry about cooking it mom!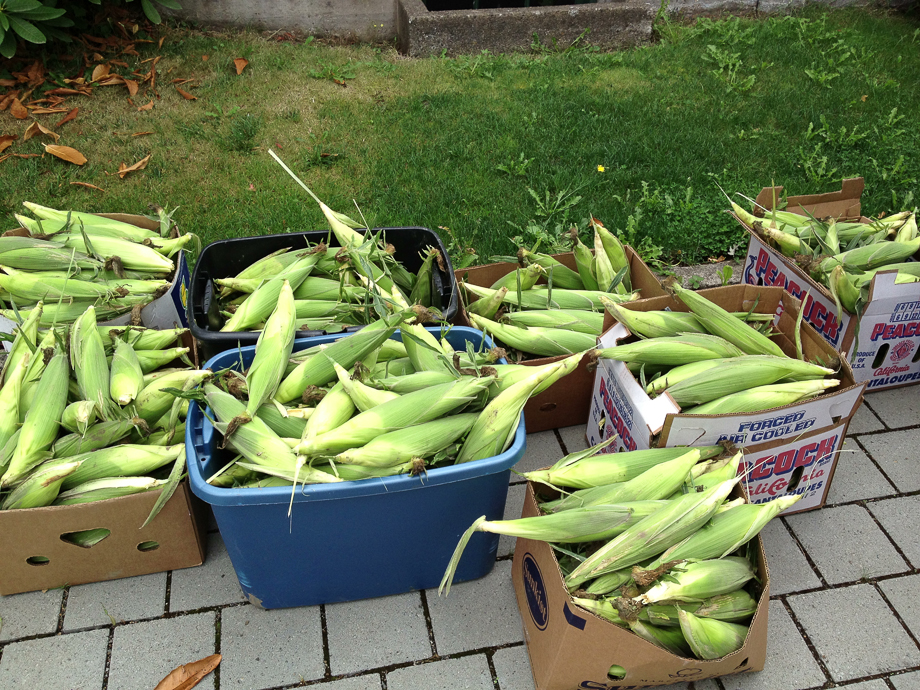 We ended up with a ton of corn! My friend said, "once we shuck it all it won't seem like so much corn." um, it was a lot of corn. Lucky for us Bj is pro with the mandolin. He set it up and got to work filling every large container we own with corn kernels. But being the food hoarder I am apparently turning into that wasn't good enough for me. I stayed up late getting sticky and milking the cobs: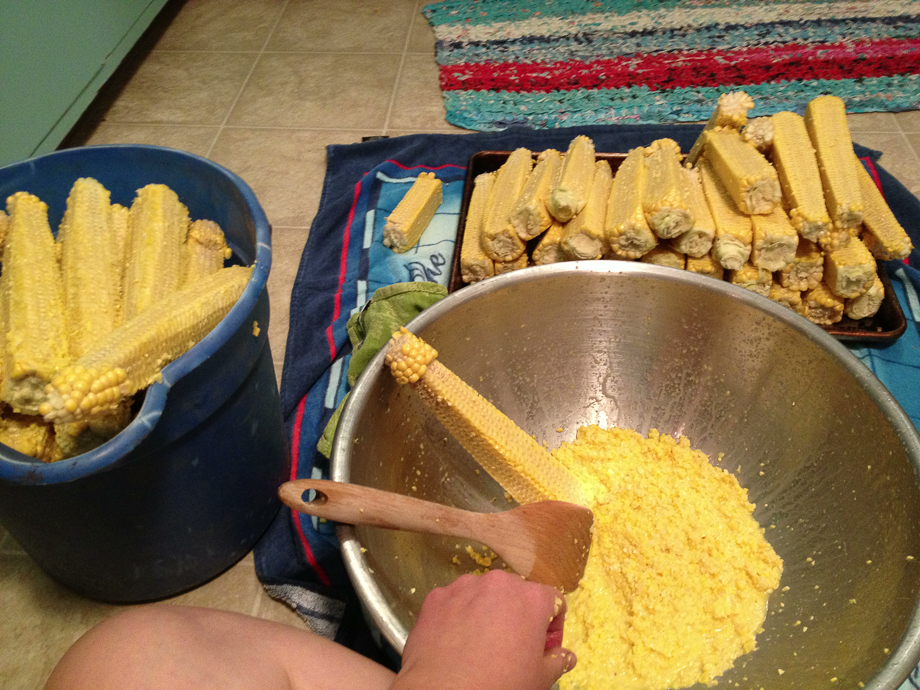 So that I could make cream corn. I was able to can a lot of this with my friend's help. She showed me how to use a pressure canner and made me realize that I was being silly indeed to be scared of it. Used properly and always attended there really is nothing to be scared of.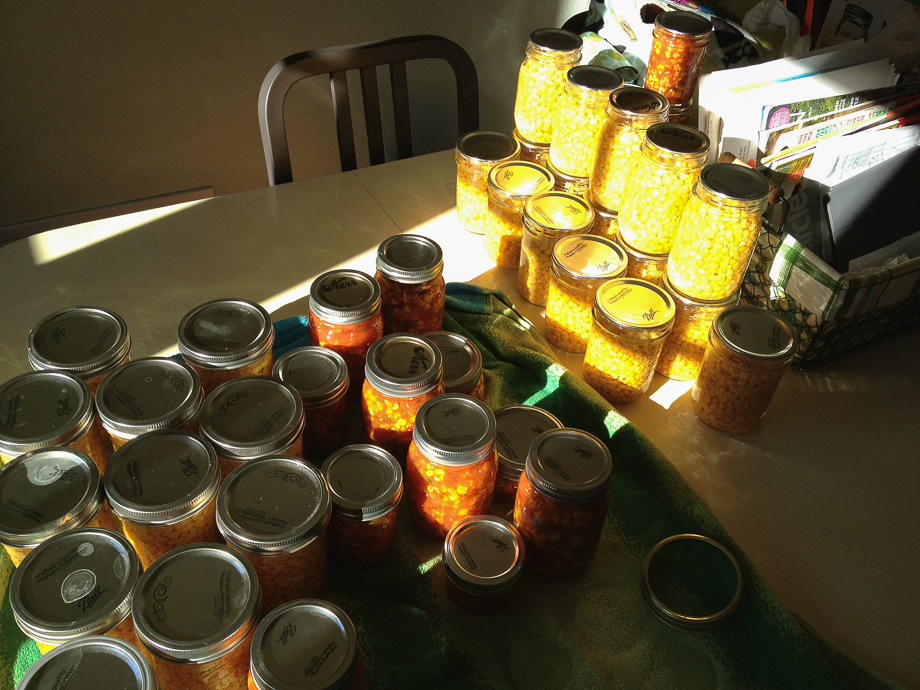 It's a good thing because here is a little bit of what we put up (roasted corn salsa in the foreground, behind that canned whole kernel corn). Despite two MEGA days of canning I still ended up with ten bags of corn in a neighbor's freezer! Good thing we have awesome neighbor's who answer late night text pleas for space in their deep freeze! I've already traded that for some of Erin's eggs, yum, yum!
There is no national registry for this type of volunteer harvest work that I can find. Do some googling in your area and ask around. You might be looking for neighborhood harvest, harvest parties, gleaning, food bank stocking, etc. Who knows maybe there is lots of produce grown in your area and it is going to waste. Perhaps you're the one needed to get something like this off the ground. The volunteers who head up our local organization are amazing and they do lots of hard work, but they always look like they are having tons of fun in the process!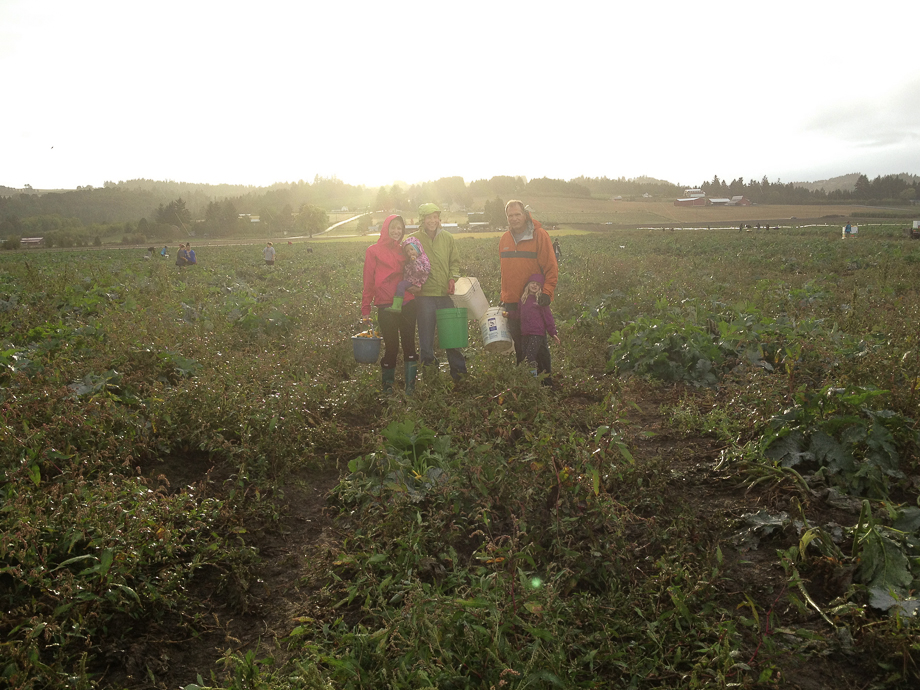 Recently Carmen was in town with her family and I thought this would be fun for her kids. They live in Alaska and don't have the same type of growing climate so big fields of crops aren't as common. I also introduced her parents (who are local) to the idea and this happy rainy Oregon portrait is all of them in a squash field. From what I understand this field was being harvested because the farmer was one of the people who got legislation passed in our state to allow farmers to write off these kinds of donations. She makes sure to always grow a crop for donation now.
Looking forward to the next harvest. Crossing my fingers for grapes!