Tuesday has been sleeping through the night for almost a month—hooray!
Tuesday takes up to 3 hours of back patting, rocking and singing to to fall asleep—boo!
In my songs-I-know-the-words-to repertoire everything is feeling a bit old and I'm really digging deep for some new material. In some cases that material is actually being dug up from some dusty place in my brain from when I was a child. The last week or so it's been non stop coming 'round the mountain. I made the mistake of interjecting a few "choooo choooo"s in between verses while I was dusting off cobwebs and before I realized it was actually "yee haw" I should be saying. So naturally Tuesday is very excited we have another train song and I get to sing it on repeat (kill me). In case you're unfamiliar here is a YouTube link to an old school version (note: I usually leave out the kill the old red rooster verse). The thing I got hung up on was the damn chicken and dumpling verse.
"oh we'll all have chicken and dumplings when she comes"
Tuesday started signing chicken (she does the bird + peck) when she wanted me to sing that one, which was often. People there are only so many times you can sing chicken and dumplings and not want chicken and dumplings more than you have ever wanted anything in your whole life. Seriously I never had a craving like this in pregnancy but man, I WANTED CHICKEN AND DUMPLINGS!!!
I decided I was actually going to make it, like from scratch (side note: I do not cook). I started pulling out cookbooks in order of release date and worked my way back to this gem: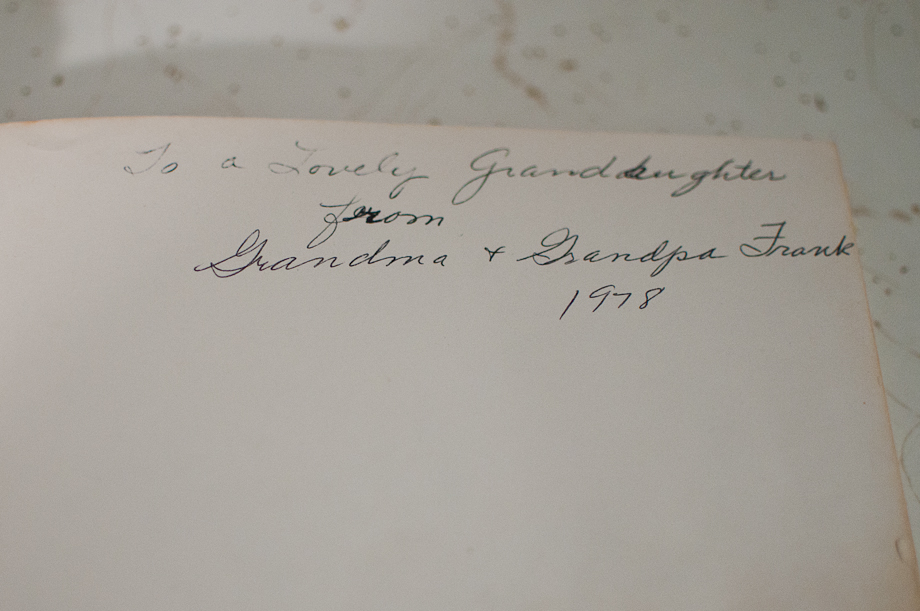 In this case my mom is the "lovely granddaughter" and the cookbook is a Pillsbury Flour one with a nice worn cover.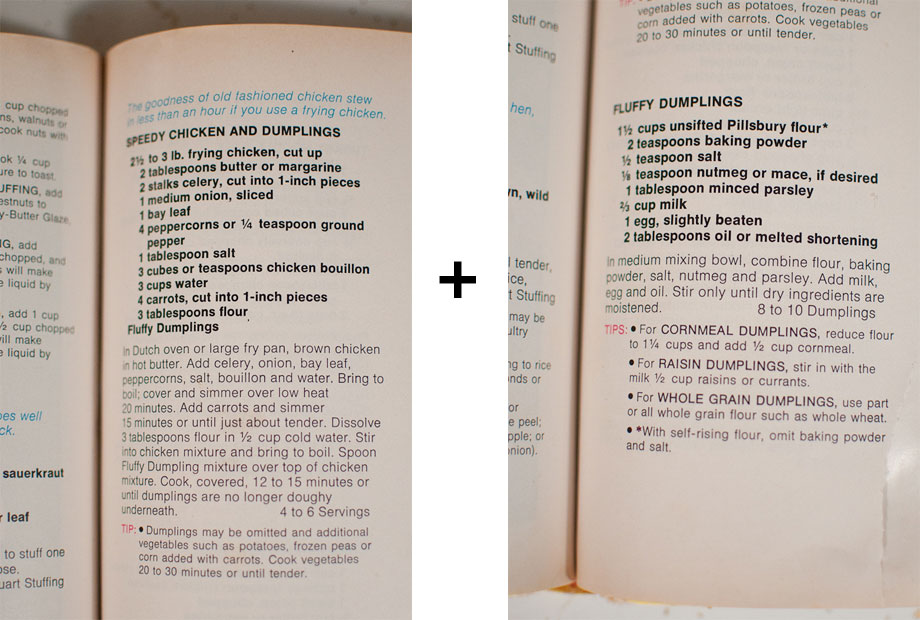 When I walked into Bj's office and asked him to please cut a whole (raw) chicken into littler pieces for me (because I'm too dainty you see) he was like, "um, what?" Then he came into the kitchen where I had fished all the bits out from the inside and washed the chicken all off. It was sitting neatly on a board and I had ingredients piled around the cookbook. I'm pretty sure he thought I was going to tell him I wrecked the car or needed $1,000 to pay off a bookie or something.
But he did gallantly cut the chicken for me (with scissors, which was so freaking funny to me, he did want to ruin one of his precious knives). And get this: I DID THE REST! On my mom's advice (calls made during dinner prep = 3) I rubbed the cut up chicken (it was in six biggish pieces) with olive oil and a little bit of salt and pepper. Then I put it in a roasting pan and stuck it in a hot (450) oven for 30 minutes. The chicken was pretty much cooked then so I could use the speedy recipe shown above (not shown the recipe on the facing page that would have taken me a week). I started in on the recipe at the "add celery" line. I used a vegetarian bouillon because that's what I had.
The best part was using one of the onions Tuesday and I picked this summer with Neighborhood Harvest. Late fall I dried them all and put them up for winter, did I ever show you this?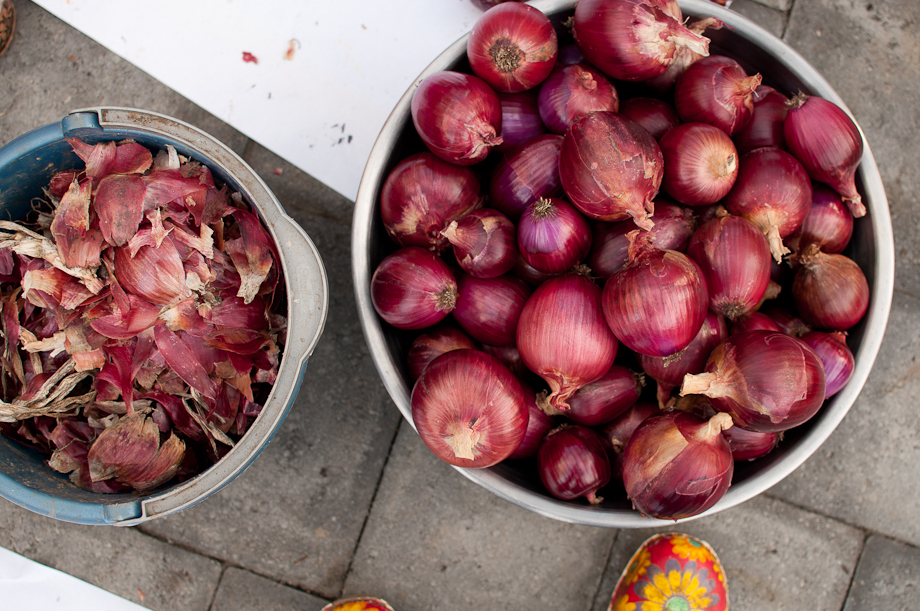 Ah such beautiful onions. A few sprouted on me, but most are doing fine in the cold garage.
I digress. I made a few changes. I put the carrots in at the beginning (quite on accident, but a happy mistake) and halved the salt. I could have quartered the salt, man was it salty! And that's saying something coming from me.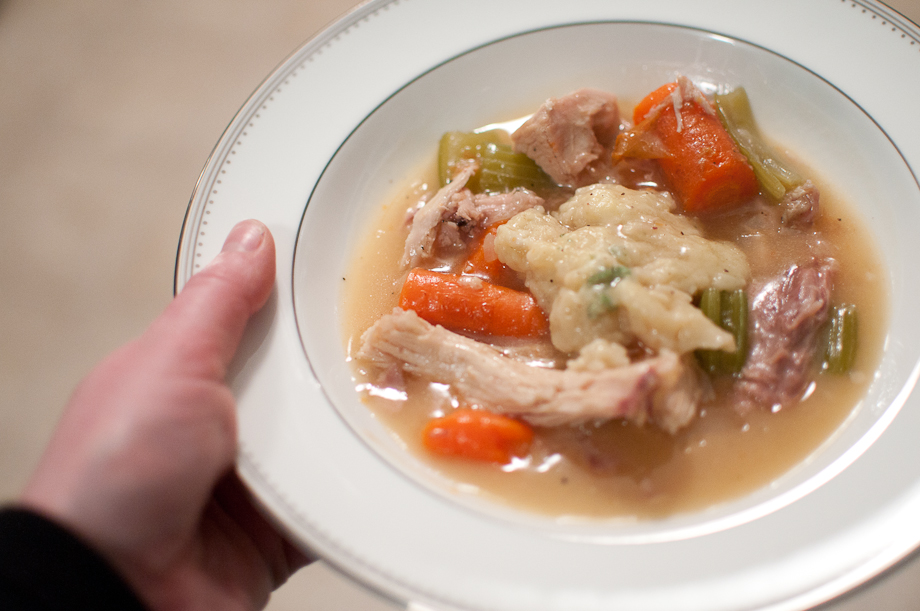 It was pretty much amazing! I wish I would have added three cups more water and a bit more bouillon so that we had more saucy broth. I made notes to do that next time in the cookbook. My mom does this and I love the notes, so helpful. Yes, I used my fine china. When else am I going to use it? An added bonus of my meals is that I plan so poorly the household is starving by the time we get to eat and that only helps things on my end.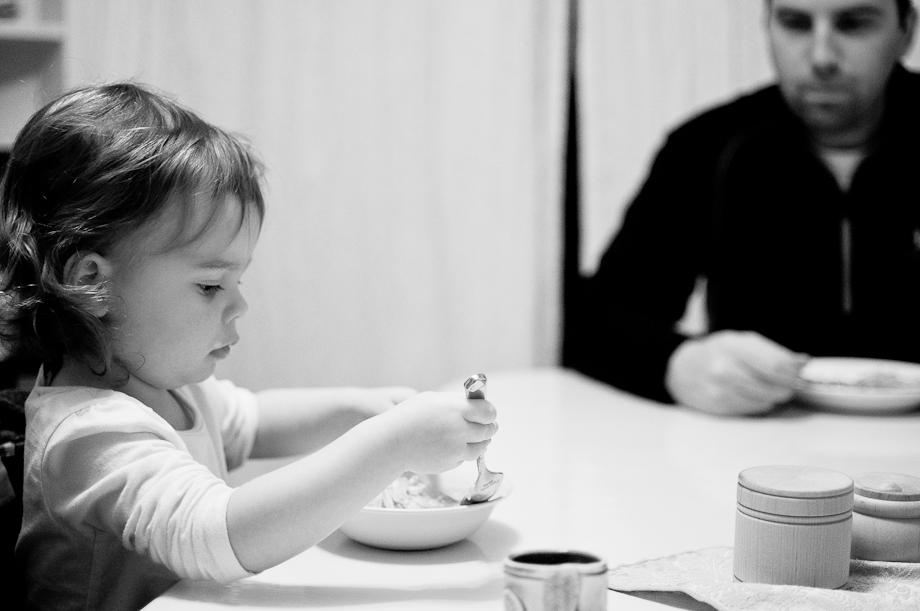 Tuesday set the table with  a little center piece of dishes she explained where full of, "budder". She likes to put this pretend butter on everything with a giant wooden knife.
I love my little family. Man that was a fun night. I guess cooking isn't so terrible after all.