I had some friends over that are dairy and gluten free. I needed to make them something with things I had on hand, since it was during my no spend September month. I asked another gluten free mama for ideas and she suggested this salad. It looked perfect for a last sunny day picnic in the backyard. So I got to work making it, glancing at my iPad for directions. Only somewhere along the line I clicked on something that took me to a completely different recipe, and I started integrating that with the other before I realized what I was doing. And so a new recipe was born.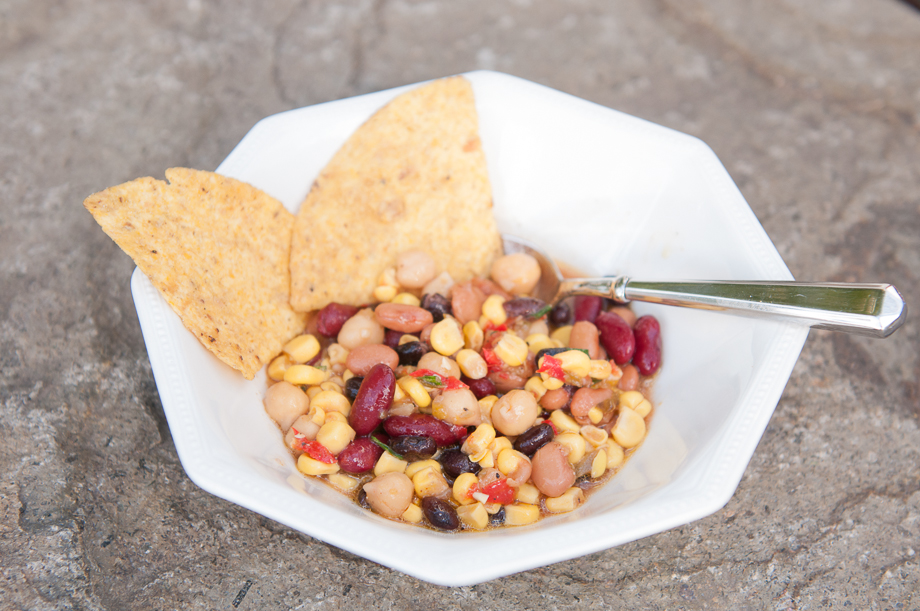 Easy dairy and gluten free bean and corn salad:
1 (15 ounce) can black beans, rinsed and drained
1 (15 ounce) can dark red kidney beans, rinsed and drained
1 (15 ounce) can cannellini beans (or navy beans or great northern), rinsed and drained
1 (15 ounce) can garbanzo beans, rinsed and drained
1 8 ounce jar salsa (I used home canned from a few years ago)
1 bag frozen corn (I used a quart sized ziploc I had frozen myself – since I had so much!, I think a 12 ounce bag from the store would work great instead)
handful of fresh chives
1 cup chopped bell peppers
1 clove crushed garlic
1/2 cup olive oil
1/2 cup white vinegar
3 tablespoons lemon juice (fresh squeezed would be good, but I only had bottled and it worked fine)
2 tablespoons sugar
2 teaspoons salt
1/2 tablespoon ground cumin
1/2 tablespoon ground black pepper
1/2 teaspoon chili powder
1 cup fresh chopped tomatoes (optional, I set this on the side for guests to add to their bowl as they liked)
Mix all the beans, corn (still frozen, or only slightly thawed), salsa, peppers, garlic and chives together. In a separate bowl whisk everything else together. Pour on top and mix to combine. I made this right before my friends came over and it was a huge bowl full of food, easily enough for eight. She brought corn chips to eat with it, but I dipped some bread in it the next day and that was good too. Serve it chilled. You can make it up ahead of time; it was great the next day, so I think it would be easy to make up ahead of time.
Side notes: how annoying are half tablespoons? I bought this handy thing when I was doing freezer cooking and love it. I added a couple other pertinent links below: the tomato knife that I love, love, love and use for all my tomato canning too. The jar is how we decant our olive oil, it makes it so easy for Tuesday to measure out, I always have her do the olive oil now. And freezer quart bags. If you don't can, or even if you do, putting up extra produce (or leftover portions of meat to freeze) in these is quick and easy.
Supplies Used