I have a lot of online gardening crushes. It's fun to see what other people are doing, and I love reading about new techniques and plant varieties. But nothing is as good as seeing how another gardener does things. That's why I'm always bugging gardening friends for tours, no matter how small or big their garden is. If they are growing something I want to know, what is working, what is not? What do you like this year the best, what have you learned?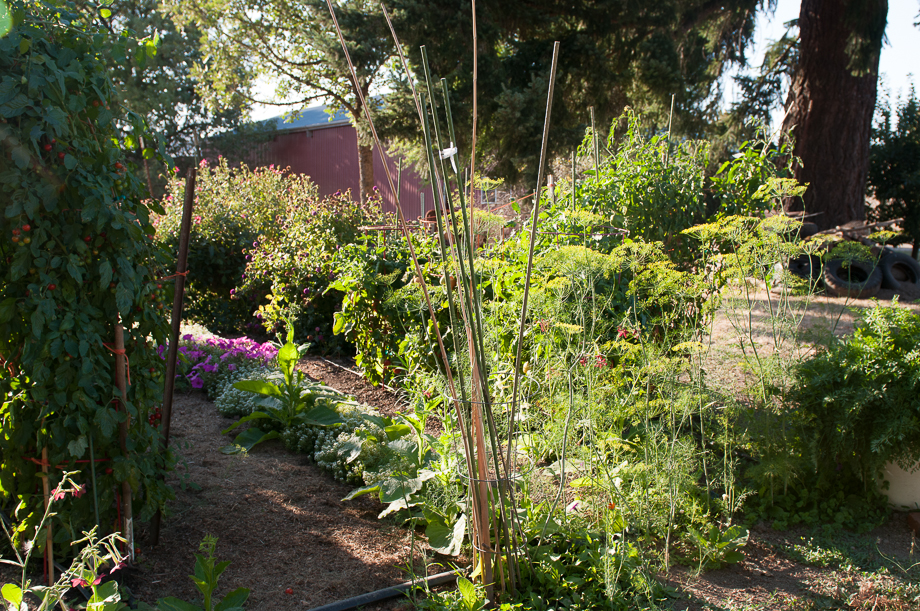 I love the dill on the edge, flowers spilling everywhere – a lot of volunteers I was told, and the half barrel you can see on the far right – that's overflowing with carrots!
One of my good friends, Kathy, is a farmer. She grows lots of stuff, but most of it I won't grow (grass seed, winter wheat). She is one of the most interesting people to talk to, I just love seeing how everything works on her farm, so I still want to talk growing and planting. And she is so generous with her time. When my friends from Alaska visited she gave us a tour of her farm and showed the girls cows up close and personal, took the sides off her combine and explained everything, and even let them try sliding down a big bay of wheat! She is always asking if I want fruit from one of the many trees on her property, and towards the end of the summer, her mom starts bringing over boxes of delicious produce when she knows Kathy has friends over. You can guess how thrilled I was when I was finally able to bring over something Kathy and her family like that they didn't grow (asian pears) to share.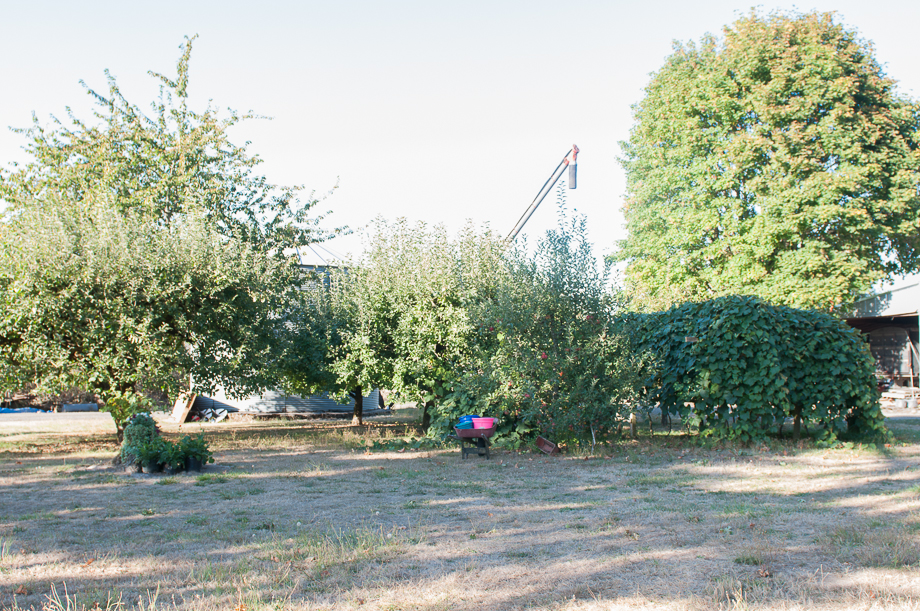 A few fruit trees and grape vines on the property, Kathy has more up at her house "across the street" (3/4 a mile away). 
I've been trying to come up with nice ways to say thanks to Kathy and her mom for years, I mean if you tried the tomatoes I get from her garden you would be too! I finally decided to order them a few new tools: my favorite jar lifter (no slips, ever!), and a funnel I've already gifted twice before, it has a built in headspace ruler. With those two gadgets and the news that you no longer need to heat jar lids that's all they'll need! Oh did I mention that besides working marathon days in the fields Kathy cans with her mom? Yup! They put up things they grow (green beans, grape juice, all manner of fruit goodies, tomatoes, etc.) as well as things from neighboring farmers (like peaches and corn – Kathy was the one who taught me how to milk a cob and make creamed corn, they use it for pancakes!).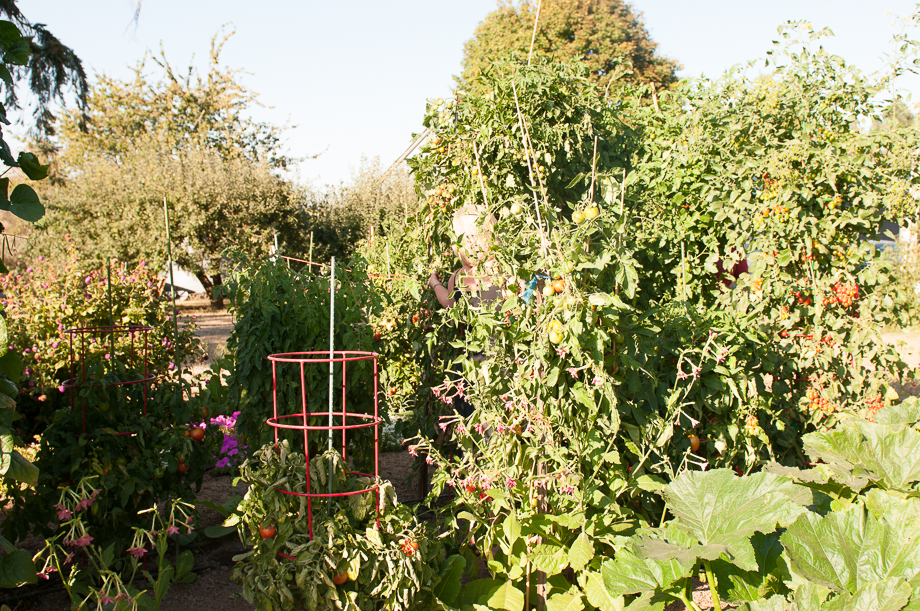 My mom is hidden in those towers of tomatoes! We filled a giant box full of 3 varieties of smaller tomatoes – of course they said, help yourself… but we barely made a dent!
I was so happy to get to spend some one on one time with my mom (so rare!) and drive out to deliver the new goodies (her farm is just 20 minutes outside of town, a pretty drive down the river). And without kids I brought my big old camera and snaps some pictures of the amazingly productive garden that Kathy's mom tends.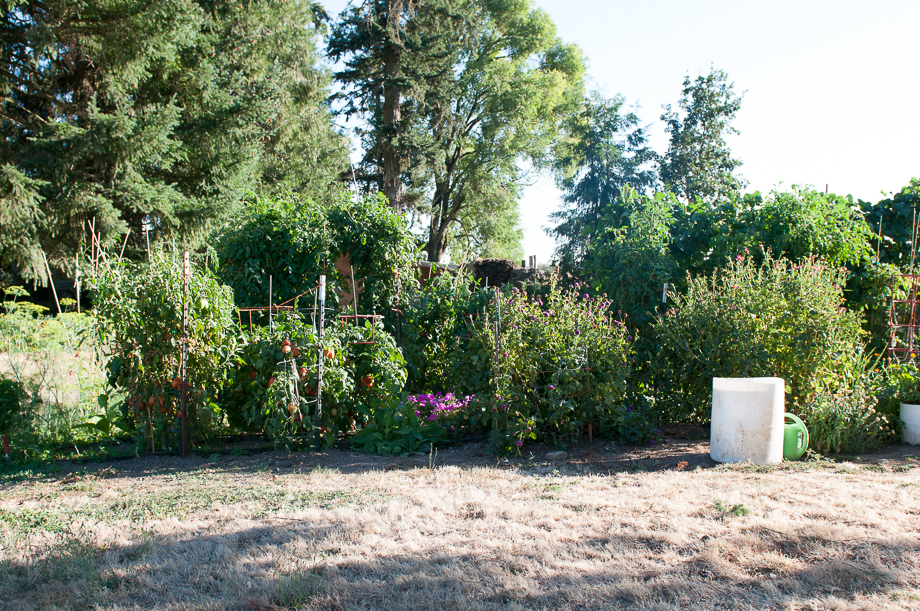 Here is a good overview of about a third of the garden. The giant tomatoes and beans (on the right – the tallest she's ever grown them) block cucumbers, peppers, potatoes and squash, including a large patch of pumpkins for Kathy's kids to carve.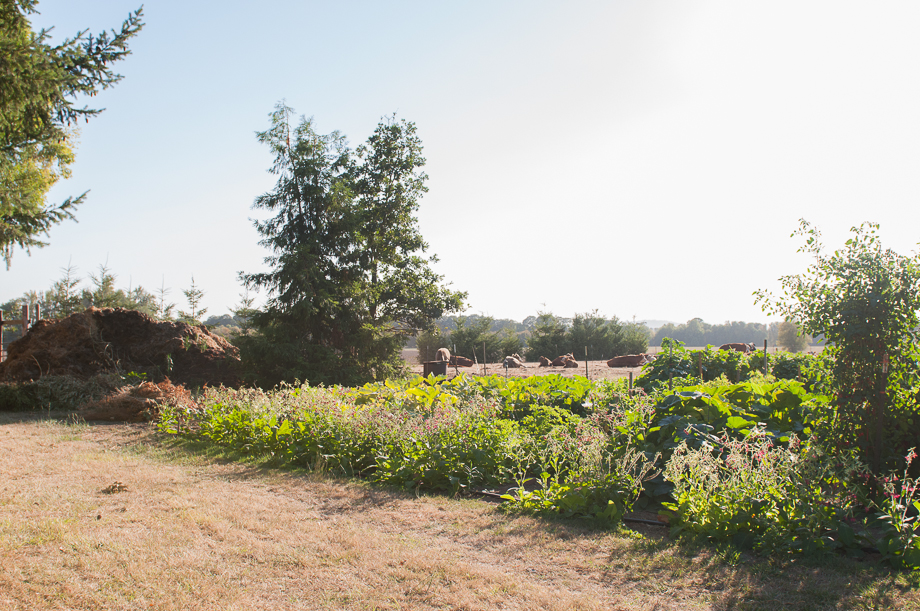 Here you can see some of those things, along with a swoon worthy compost pile (I mean if you're semi addicted to compost like me), and cows… you know, just lounging in the background.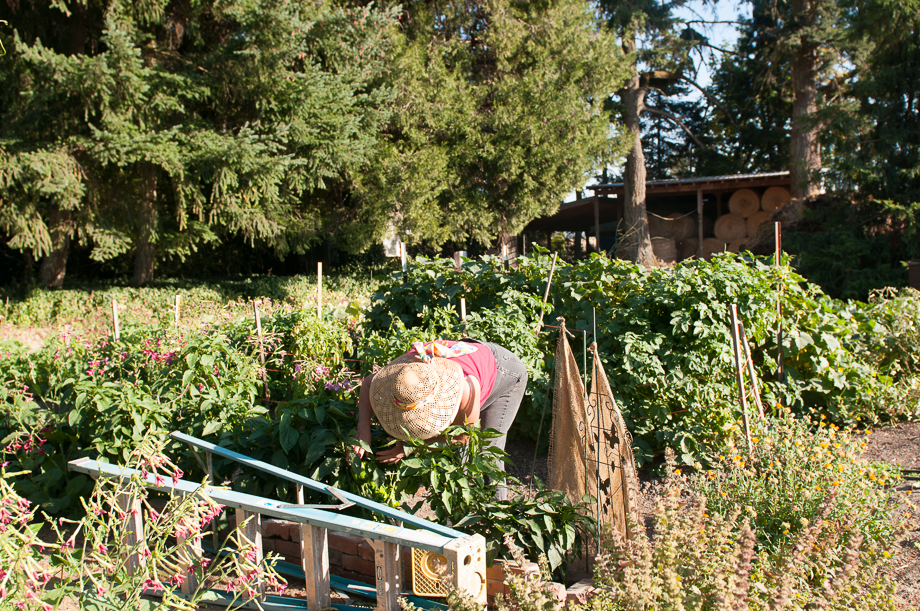 Kathy's mom checks on peppers, which are loaded. You can see the bricks she has around them, to sink heat into and help with ripening. She's done this for years. But don't think that she's set in her ways. I LOVE that she is continuing to try new things. She's completed master gardener training through our extension (a very time intensive program I hope to do when my kids are older) and still will listen to radio shows on gardening and try new things. She said that this year her husband spread compost around, but didn't have time to till it in. Also she has noticed a big difference since she started throwing grass clippings mixed with leaves over her garden come late fall, to protect it from our heavy rains, and the compacting they do on the soil. This falls in line with what I have been reading about top down nutrition for soil. Awesome to see it in practice.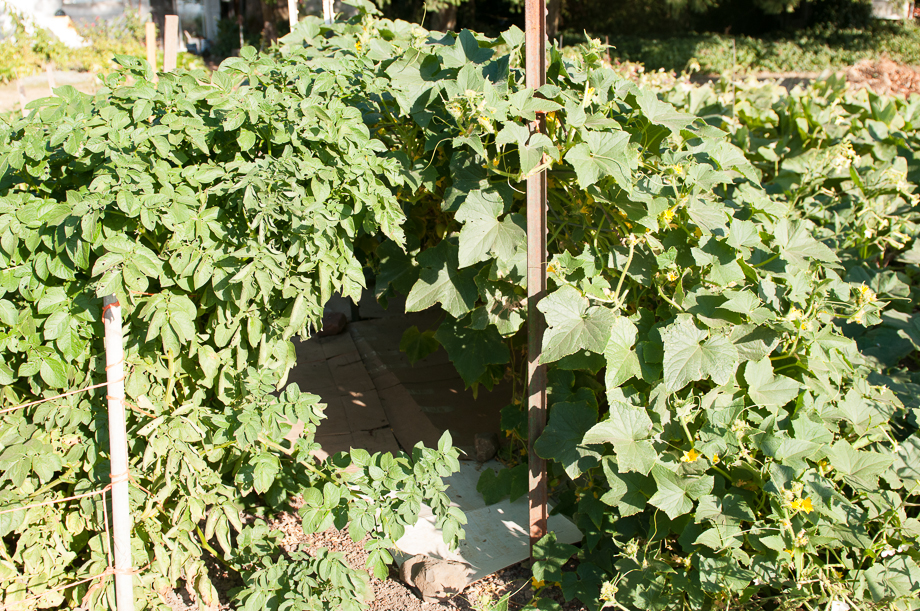 I adopted a mini version of this cucumber growing set up after seeing this here a few years ago. She has a tilted trellis and the cucumbers just fall through the back, for easy harvesting, brilliant!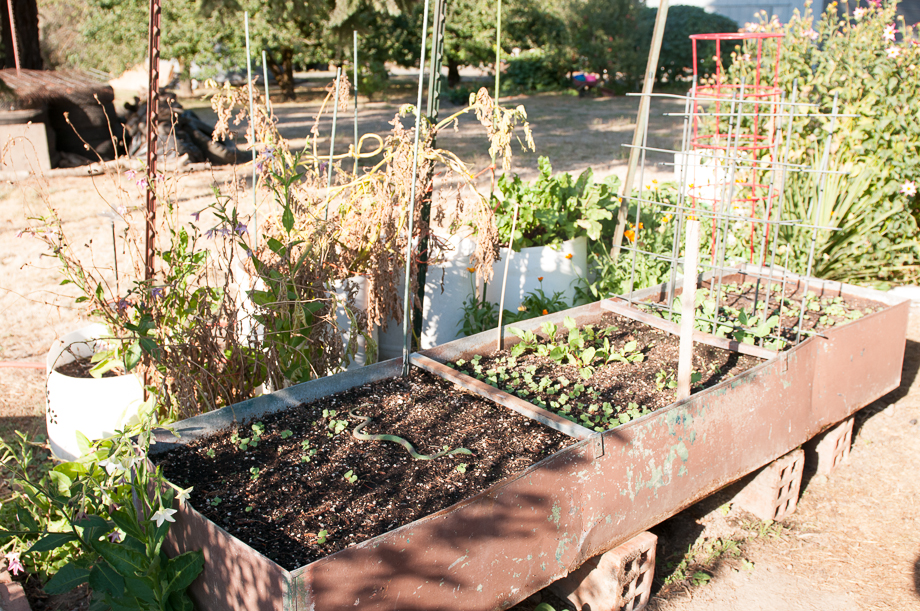 Here she is trying something new to her, a fall/winter bed. Late planted with lettuce (and a fake snake to keep out birds), radishes, chard and peas. She's not sure all will do well, but just wants to try it out. Of course they repurposed this metal bin, because farmers are nothing if not resourceful!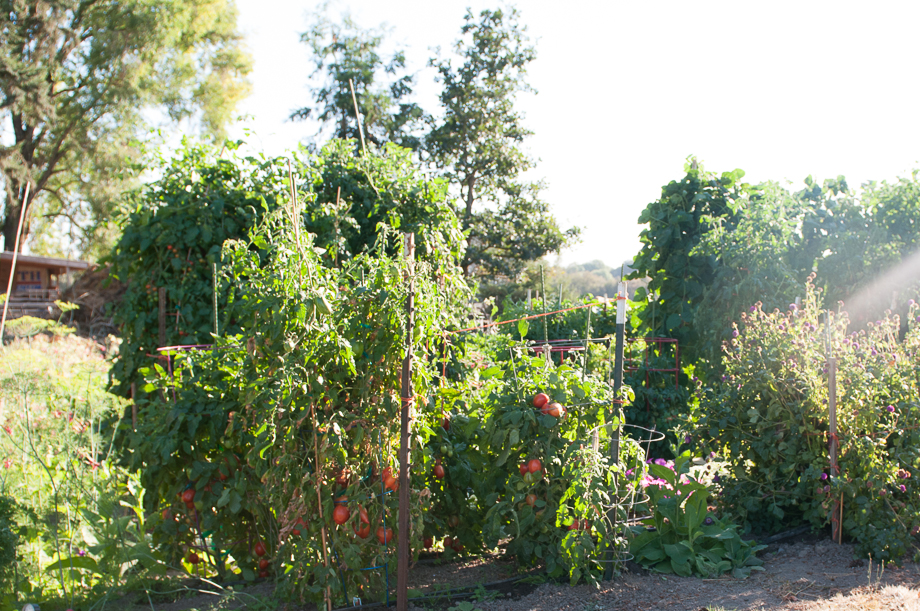 My main goal in taking pictures was to try and capture how she grows her tomatoes. Pictures do NOT do this justice. Those "healthy kick" tomato plants put out so many paste tomatoes (which are lower in water and better for canning) that she's already given me FOUR BOXES and canned all she wants for her family, as well as Kathy's. Um… here's where it gets embarrassing. I have MORE tomatoes plants in my yard and have gotten about a tenth of what she's grown (ok probably less). She doesn't have any better light than me, in fact, her garden gets shaded by the big fir trees you see. I think it's her pruning, which I have quizzed her on repeatedly. She gives the tomatoes lots of room to breath, but diligently cuts off suckers, and foliage too close to the ground, to deter pests. The amazing thing about the tomatoes you see here is that they were garbage plants. Through an accident the master garden's planted seedlings in soil contaminated with weed killer, so these were to toss (the master gardener's put out great sales of starts to raise money, I highly recommend you search one out in your area!). Kathy's mom took the seedlings brushed them off and re-planted them. The middle shoot came out all wilty so she cut it out, and everything you see are shoots that came up around it. Talk about a happy accident!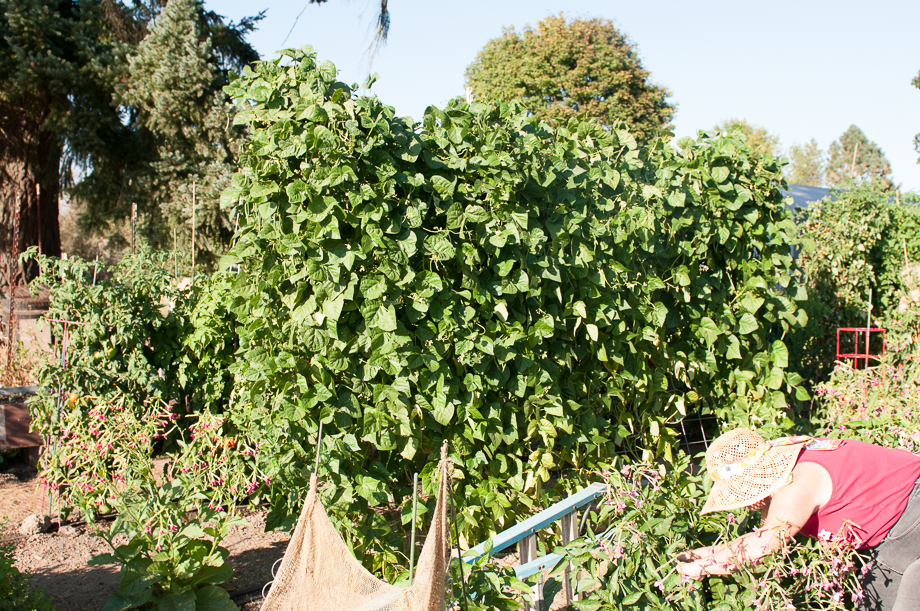 One more shot of the gardener with her massive beans…. which by the way she was pressure canning inside when we pulled up.
I hope you enjoyed this little tour. Of course Kathy's friendship is so special to me (we met rowing crew in college), but I have to say the gardening and the canning is certainly a bonus!