We having been moving towards a very child led/free form style of homeschooling. This summer was all about writing for Tuesday, she is quite the little note maker. I didn't set up many activities, but followed their interest. And of course they participate in the day to day around here, which always brings up more questions that leads to more answer finding. I love that. It is hard to describe what we do since we don't follow any curriculum and don't have a set schedule or day specific goals. The girls love to do art projects and I encourage that with lots of materials for them to experiment with. There is a blog I just love, called An Everyday Story, that does a weekly wrap up of their week in learning. She has a few others participating with her and I love the idea of focusing on what the kids are doing. If nothing else to help me see how their interests change and grow.
So here is our week in learning.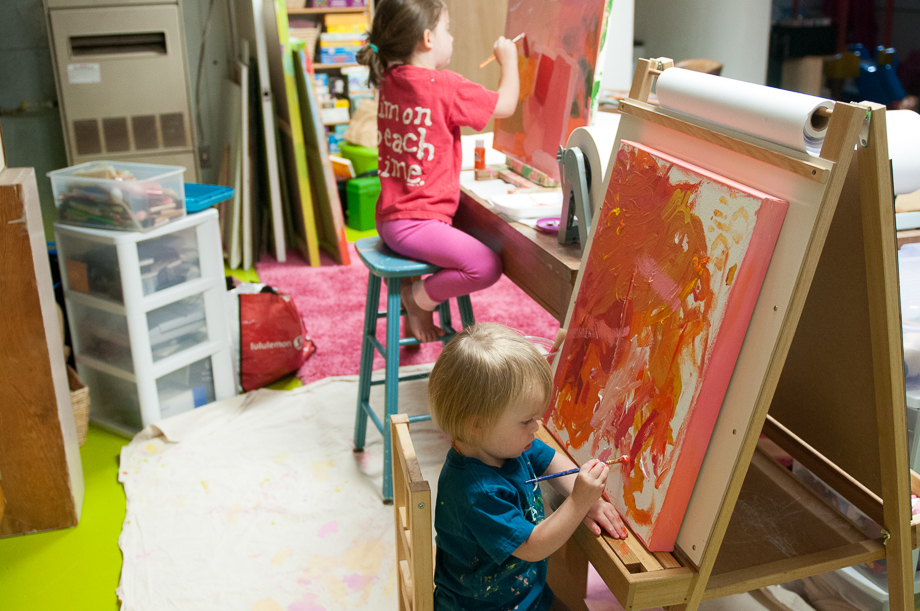 The girls asked to paint. I'm trying to say YES to more activities they want to do, even if they are messy and put a little crimp into what I want to do. I think having blocks of time in the morning where I don't answer the phone and just am more available to them is my goal for this fall.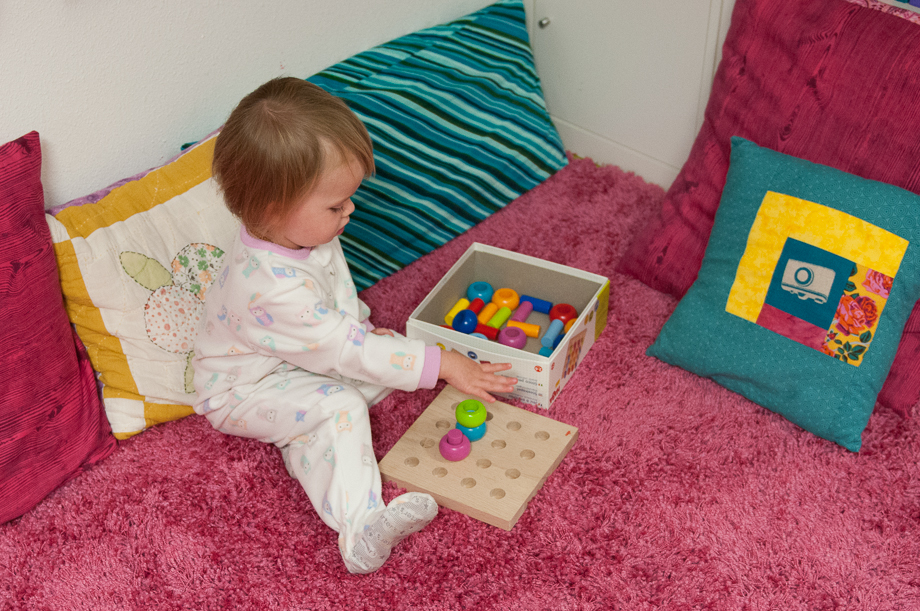 Bennet is two (just, she turned two in July), so she still cycles through activities pretty quickly. At this point Tuesday was still painting, meanwhile Bennet and I did a few other activities.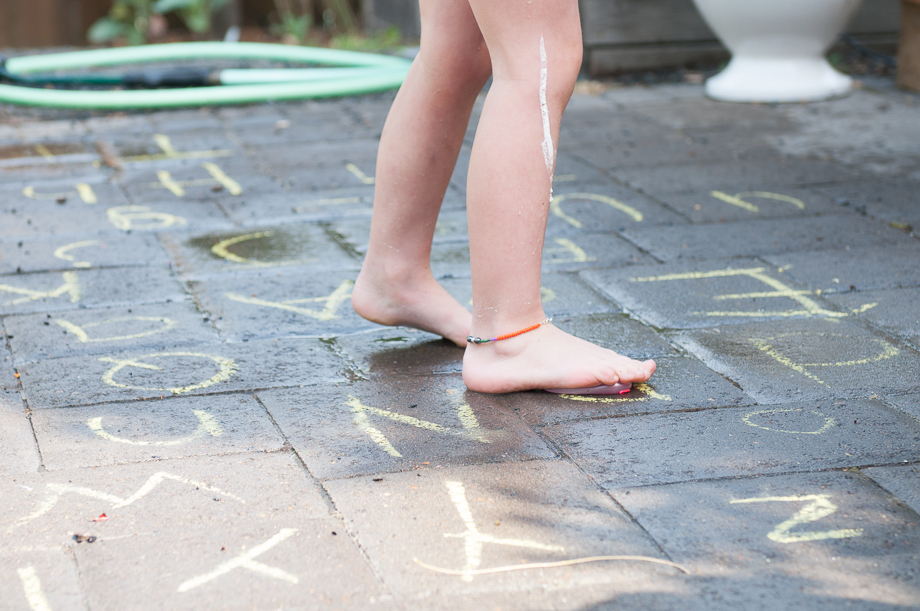 Taking advantage of our amazing weather. I devised this on the fly; wrote out upper and lower case letters in chalk. Then had Tuesday throw a water balloon on a letter I called out. I love how this morphed into her smashing balloons with her feet to get more precise on her popping. I also called out words and had her find the starting letter. Then she wanted to spell whole words this way.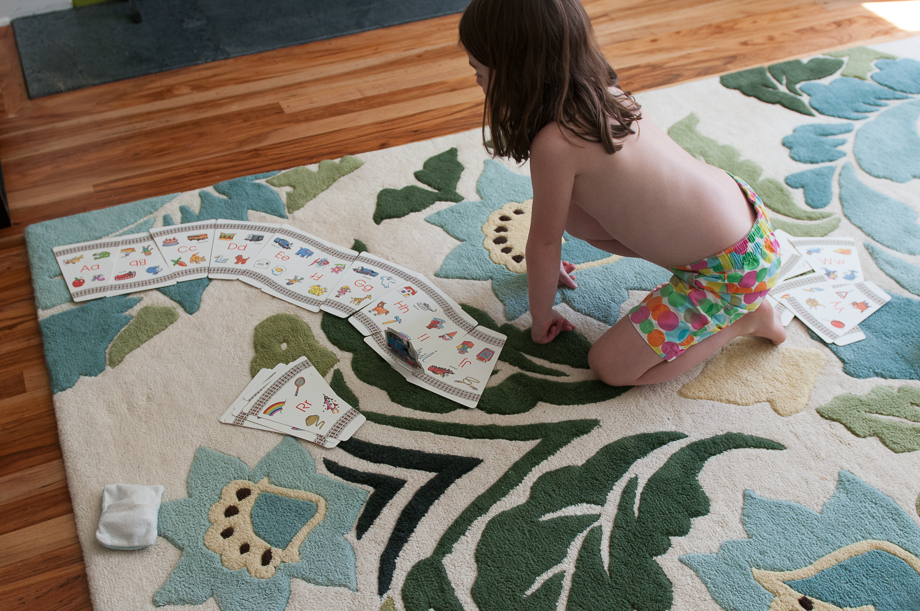 I organized all our games recently and after creating a note with game, age range, and amount of players I realized we had 117! Oh my! So we're pulling them out and using them. This one was great, but I gave it to Goodwill after playing and realizing it was missing a letter. I don't mind using a game once or twice and donating it since most of them I get for a dollar.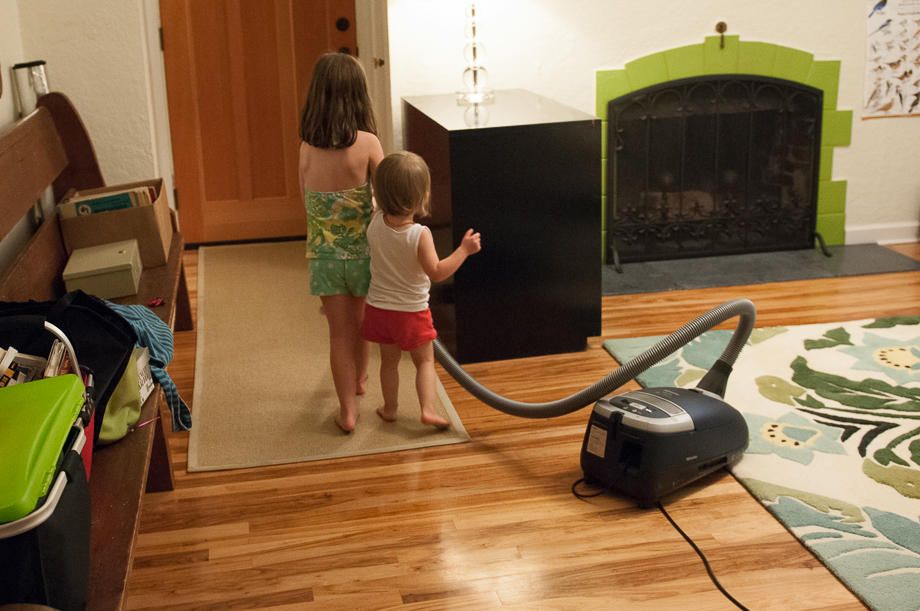 Not only has Tuesday taught Bennie to count to ten, but she is always showing her how to do something new, here it's how to use the vacuum.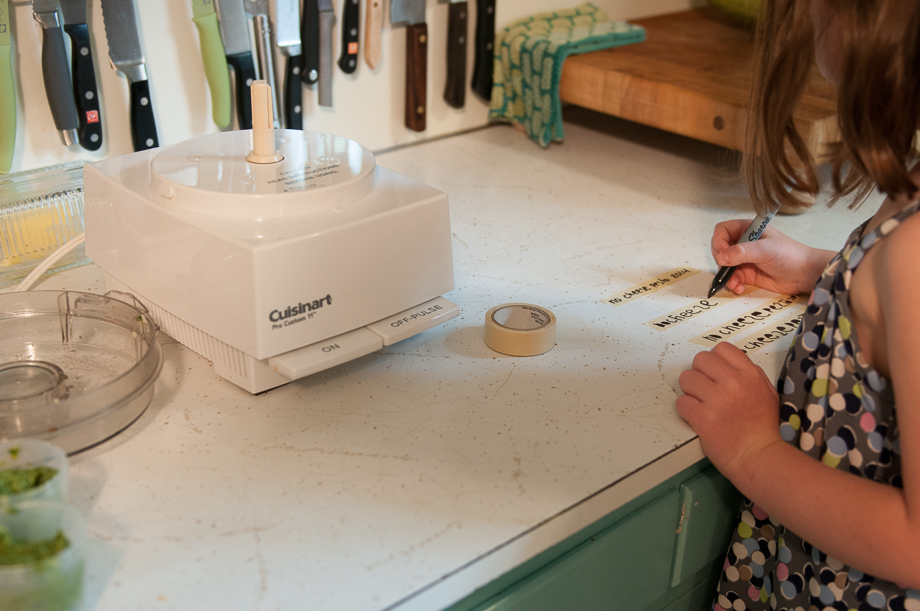 YES you can help me. YES you can use a sharpie.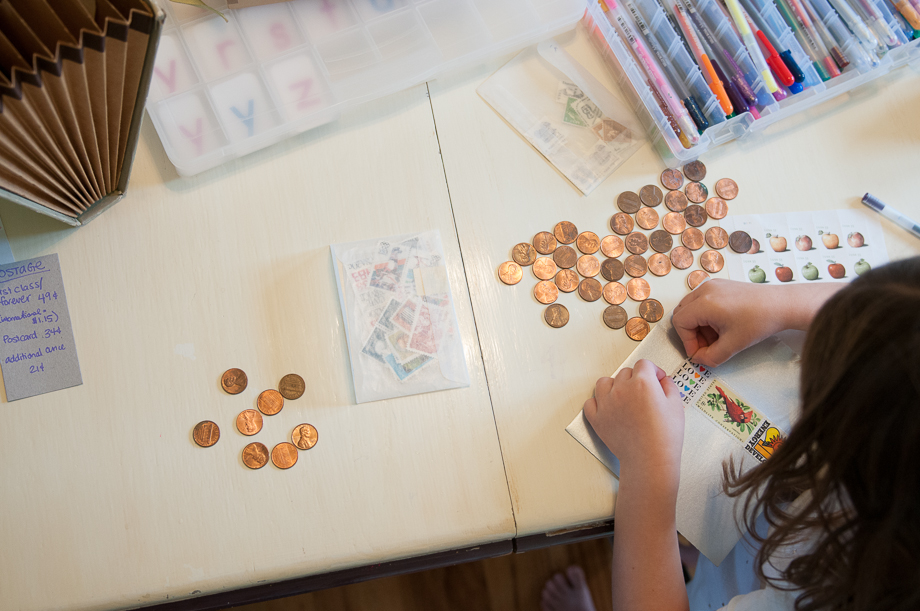 I simply set my box of colored postcards and file of postage on the table. I wrote a note and asked if Tuesday wanted to. That led to us figuring out how much postage we needed. Pennies worked great for this. I gave her 49 and for every stamp she put on she had to "buy" it with the pennies, so she could see how much postage she had left to put on. We find unused postage of various amounts at the coin and stamp shop. They are face value or less, so it doesn't cost us extra to do this. But is MUCH more fun.


Even though it is No Spend September I splurged and bought this 2002 set of encyclopedias for $28!!! I am so thrilled as I have been longing for a set of new-ish encyclopedias ever since I saw this post. I'm glad I spent a year waiting until I found a set that was much more recent than anything else (I was seeing 80s as the only cheap option before this amazing score). For those of you local there is a set of these same type from 1995 at the South Salem Goodwill (at least there was earlier this week) for about $40. WE HAVE BEEN LOVING THESE. I can say for sure these are going to be a great addition for us, though we have lots (no TONS) of books already. Tuesday and I have researched Asia, which led to talking about maps and grids, and then how rice is cultivated. I have been looking online to answer certain questions but this is much more hands on for her and really it's amazing how much we are both learning.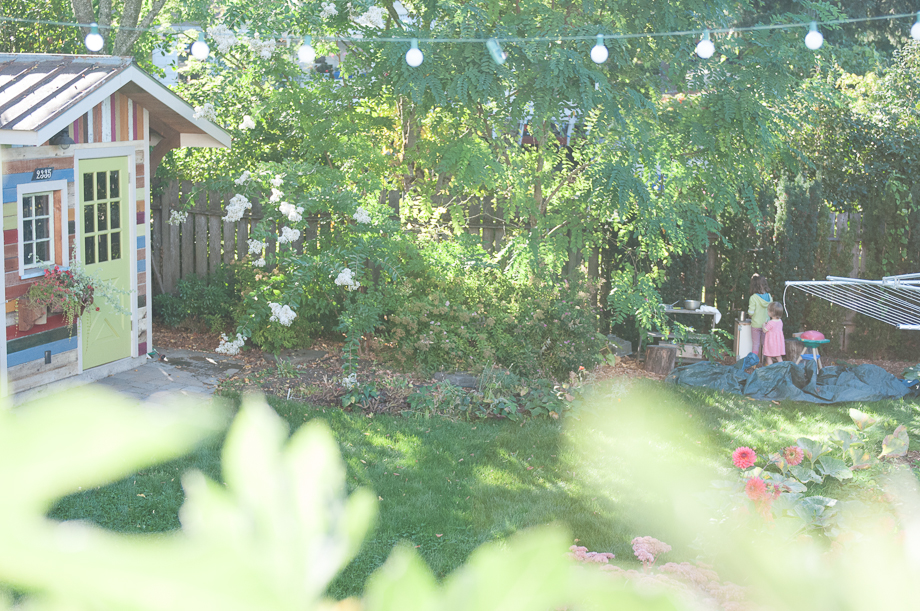 Tuesday and Bennet are finally playing in the outdoor play kitchen again. They were not using it much once I moved it to this corner. Tuesday is "canning" and I didn't realize until later that she was actually feeding Bennet her results (but mom she likes it!). So happy our totally enclosed back yard lets them play outside while I watch from the kitchen window and cook.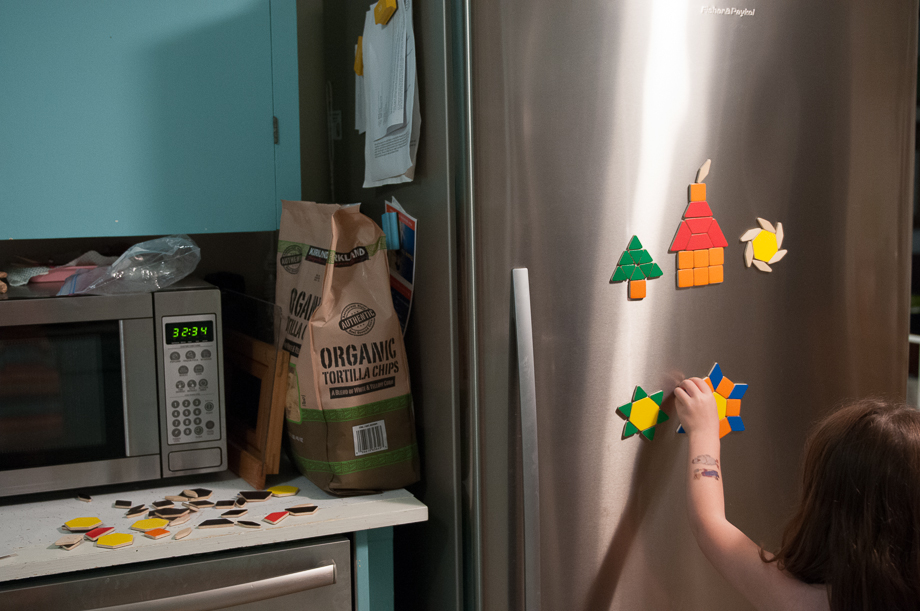 Patterns on the fridge. Started by copying designs that came with the set and then said, "I want to make my own designs mama." YES to that!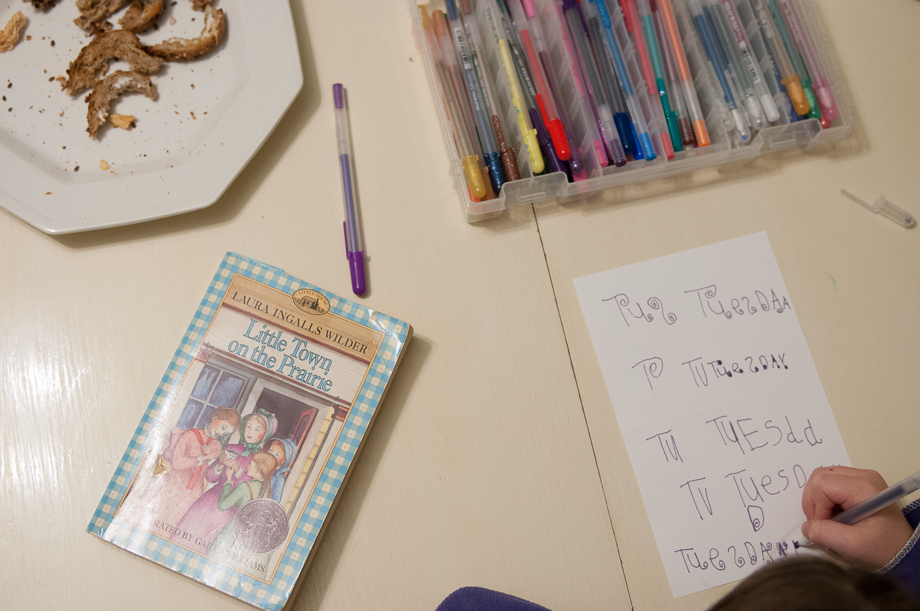 We're reading chapters every night and having great discussions on then vs. now. Tuesday has throughly enjoyed this set of pens. To be honest, so do I! I figured we needed a few not-back to school supplies.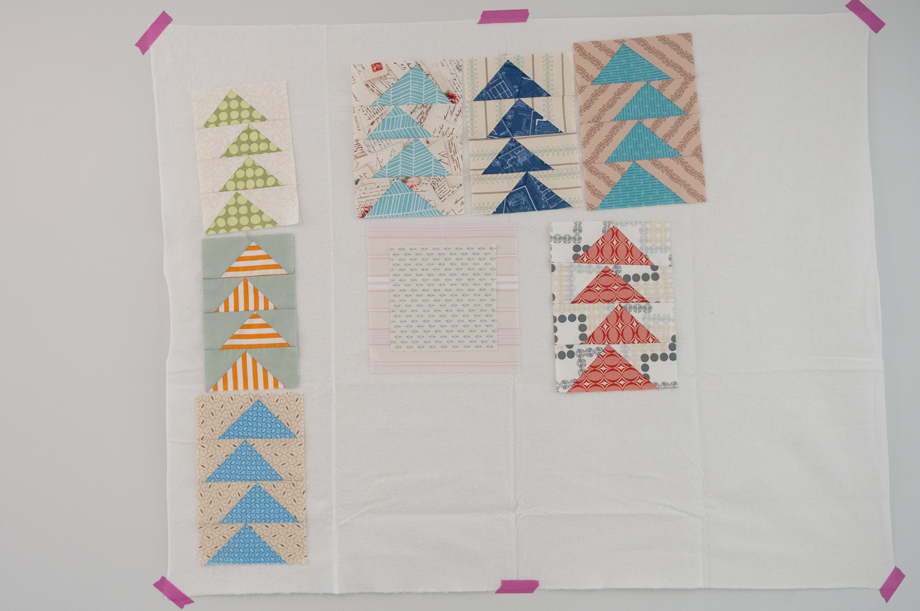 You're never too old to learn! I was lucky enough to take a wonderful quilt class this weekend.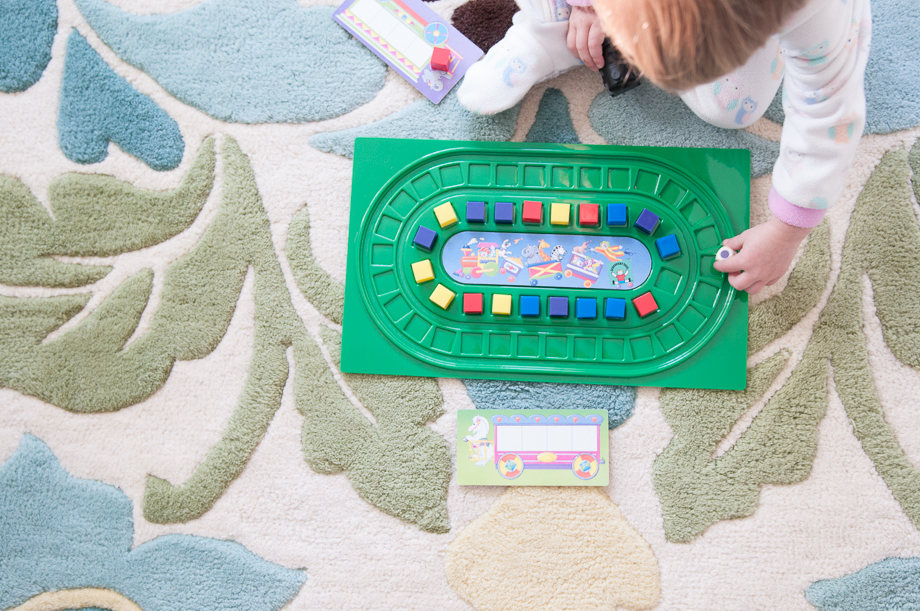 Bennet and I had some alone time Sunday morning. I'm still trying to find the perfect activities for her age. I love this color game, but it's just out of her reach developmentally.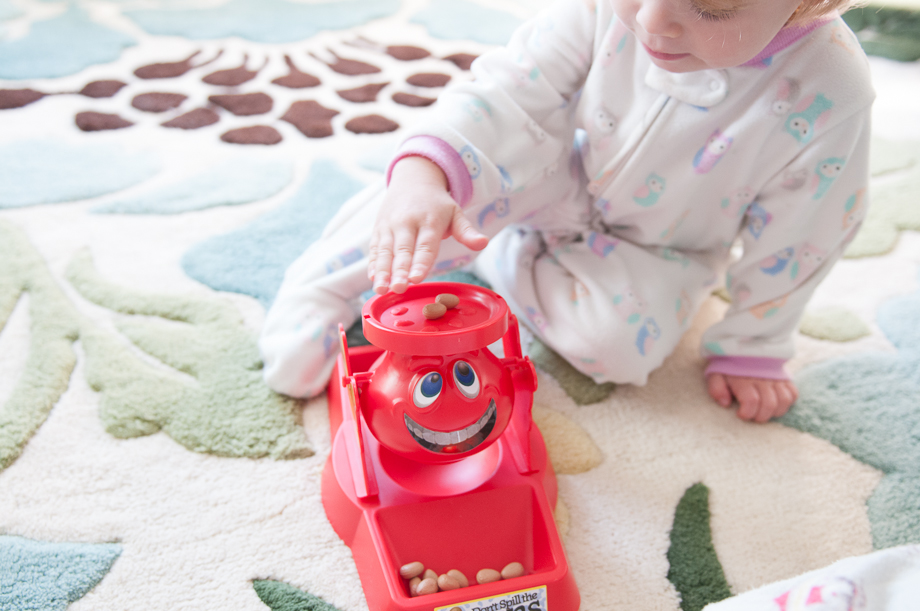 And while she didn't want to take turns, or just put in one bean, this game still thrilled her.
I've realized as I've blogged less that I miss the record of the every day. These are the little things that are hard to remember. I'm hoping doing a weekly round up like this will help me see how and what we're learning and remember all the little and big steps they're taking!