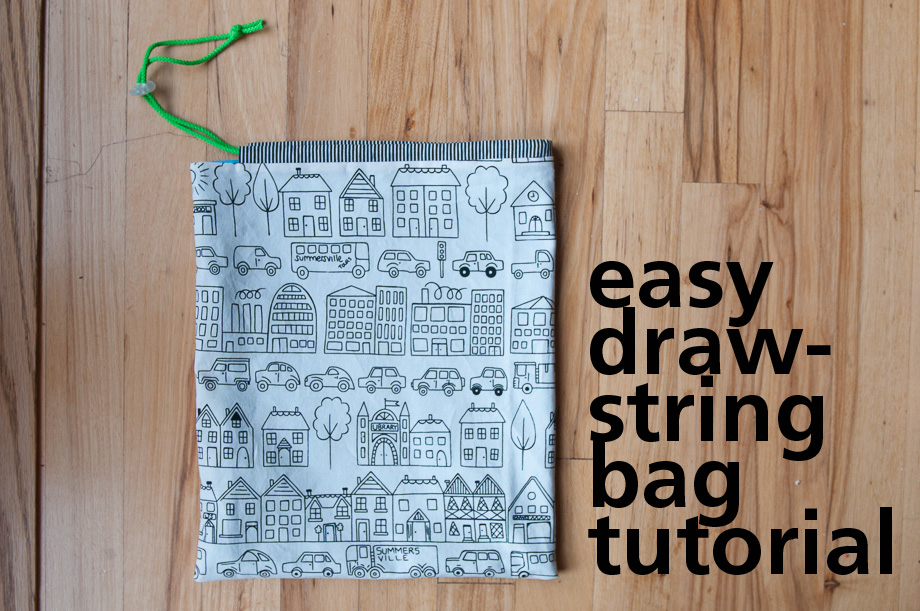 I don't know about anyone else, but the beginning of this year (hello 2015!) has made me want to organize! I have loved this tutorial by my friend from quilt guild, and asked her if I could update it a bit to show off my mom's lovely cord. I made a bunch of these bags a few years ago, so I thought it was time for a fresh set.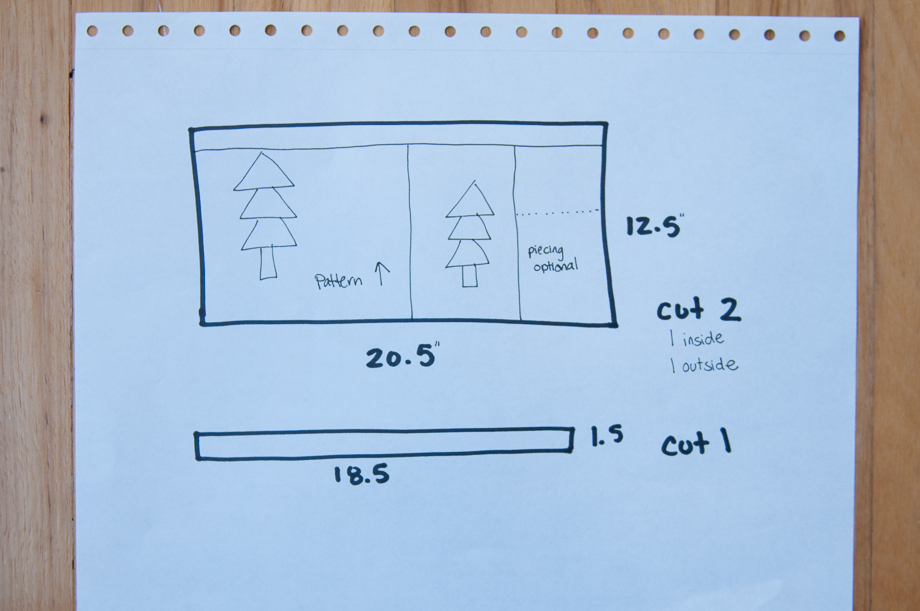 Here is a diagram for cutting on dot matrix paper, because I'm so fancy like that. One of the 12.5 x 20.5 inch pieces can be pieced, if you want to use up scraps, or orphan quilt blocks. Megan's tutorial has more information on making custom sizes, I just chose this one size for ease of the tutorial.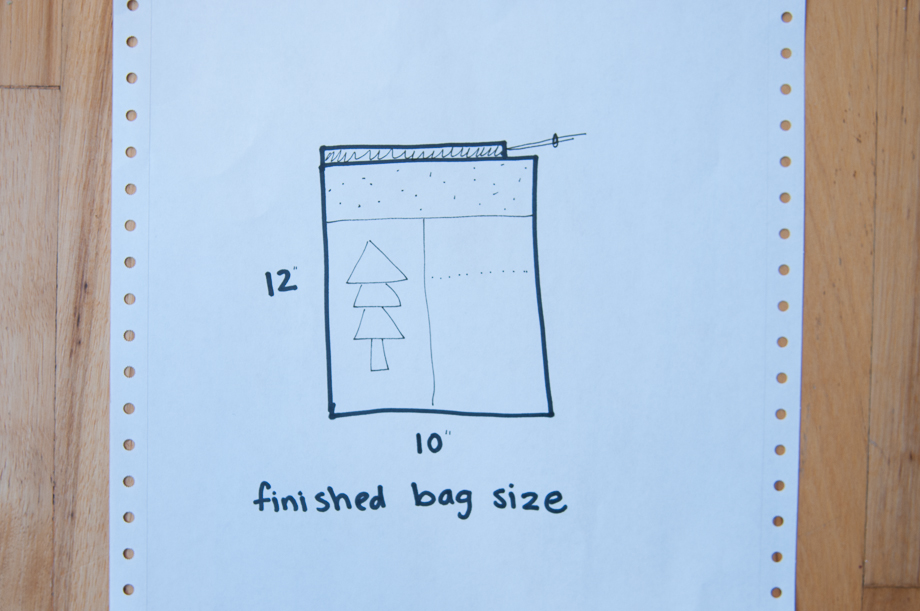 And this is the finished bag size. It can be reversible if you choose to hand stitch the opening closed (see below).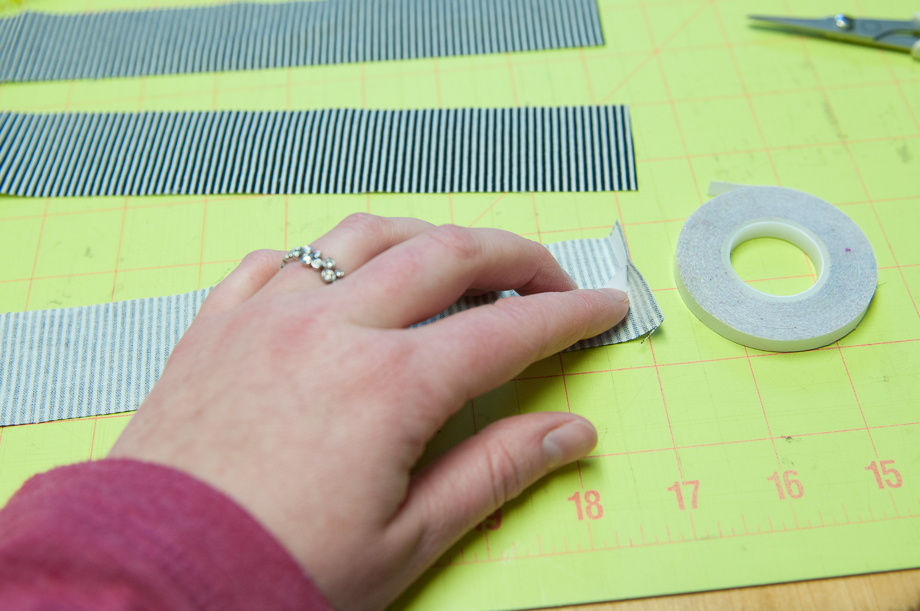 After you cut the pieces take the long skinny strip and use wonder tape to tack down about a quarter inch of the edge. It's basically a sticker so it's super easy to use.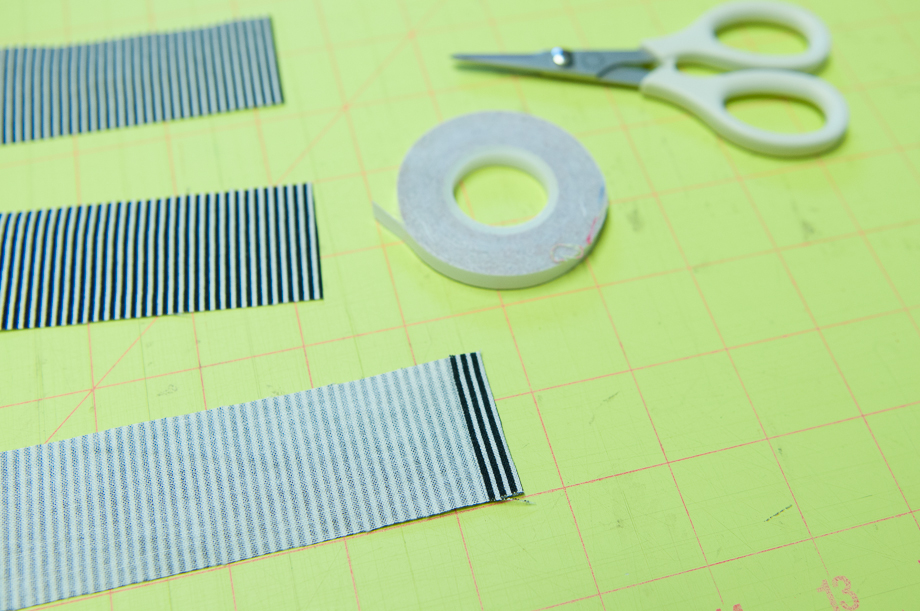 After this fold and iron wrong sides together.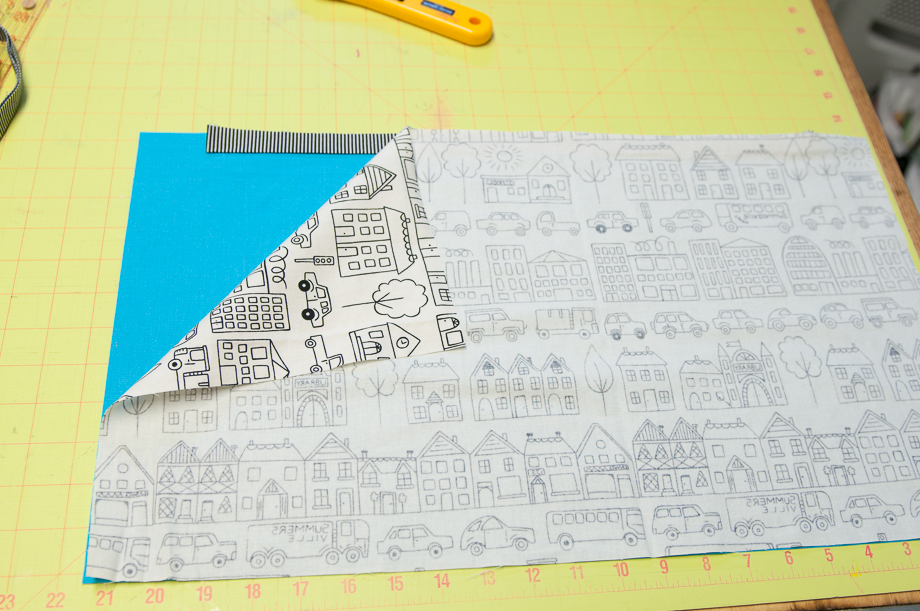 Lay the inside fabric right side up, then center the strip you just iron with raw edges facing the top, and finish the sandwich with the exterior fabric on top, right side down. If you have a directional fabric you need the pattern to face up. I tried to pick a very obvious pattern for the tutorial so you can see what I mean. Pin all along the top and stitch with a quarter inch seam – too wide of a seam and you won't have room to thread the cord through.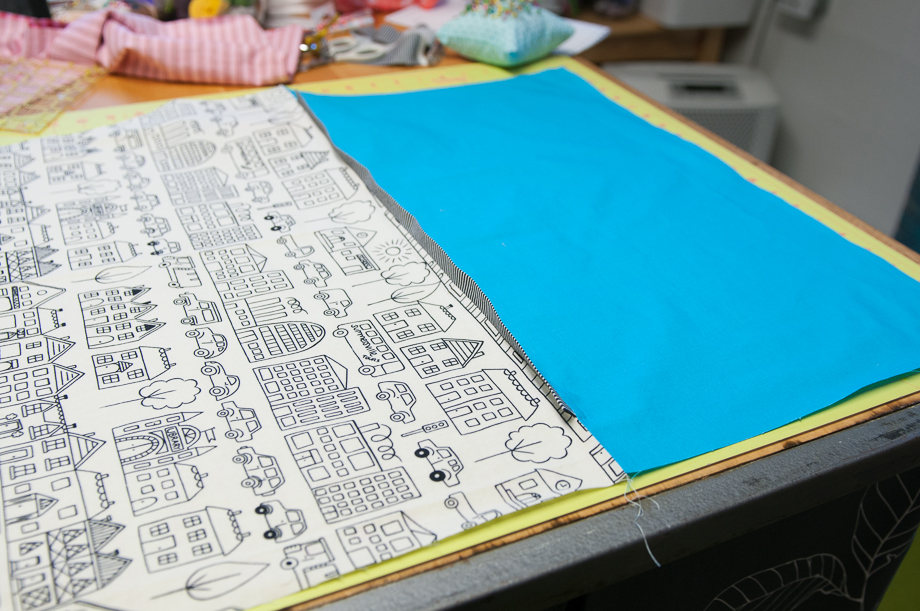 After you stitch that seam your bag will look like this opened up. You can see here I've pressed the seam down, so the little casing we've now made for the cord stands up.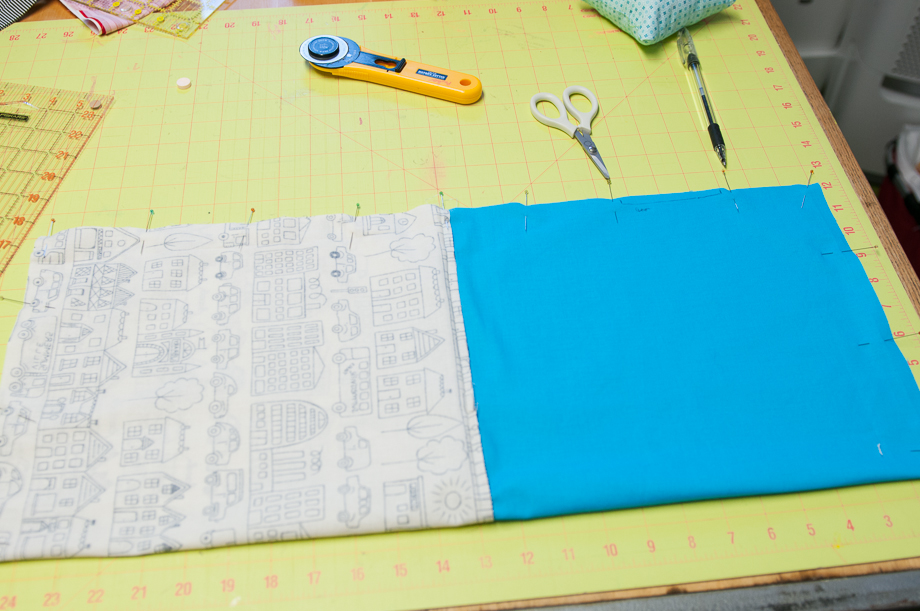 Next fold the bag like so and pin all around the edge. Again you are going to sew with a quarter inch seam allowance, leaving the small gap you see between the scissors and pen open to turn the bag right side out.
After sewing clip corners, to get rid of extra fabric and push out. Then flip the bag through the opening.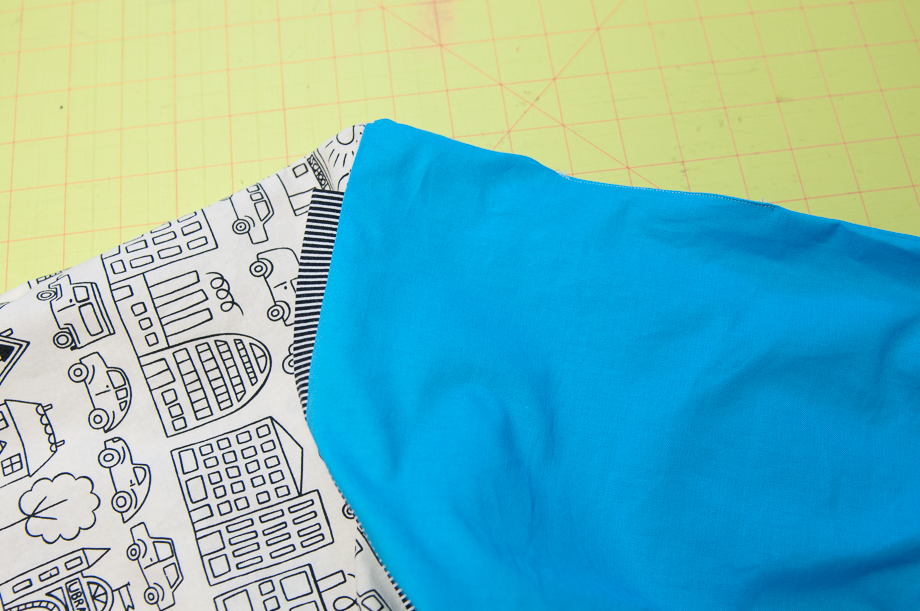 You'll need to sew closed the opening. I decided not to worry about the bag being reversible, so I just did a straight stitch over the opening. Then I tucked the inner lining down into the bag and threaded cord through the casing.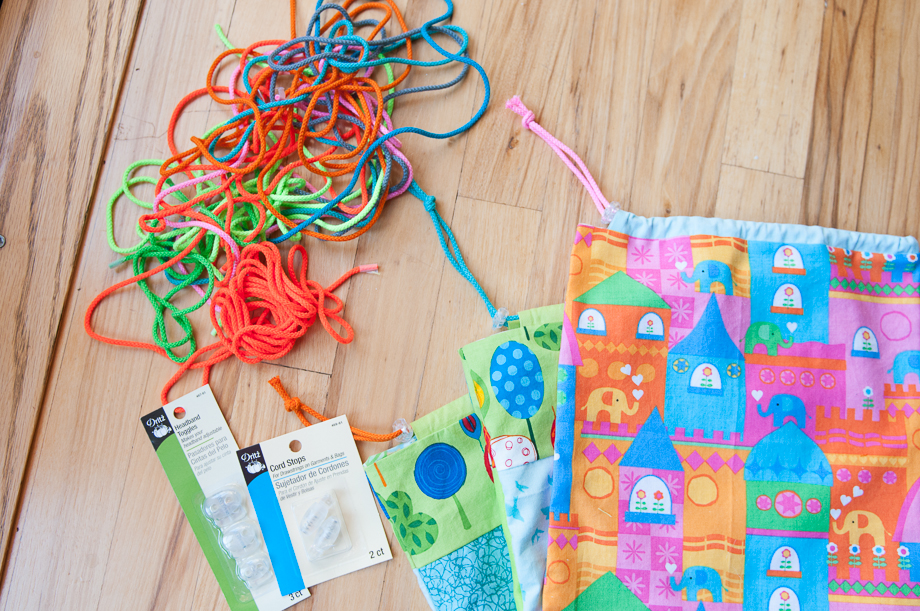 Ribbon Jar has so many awesome cords. I loooooove the neons.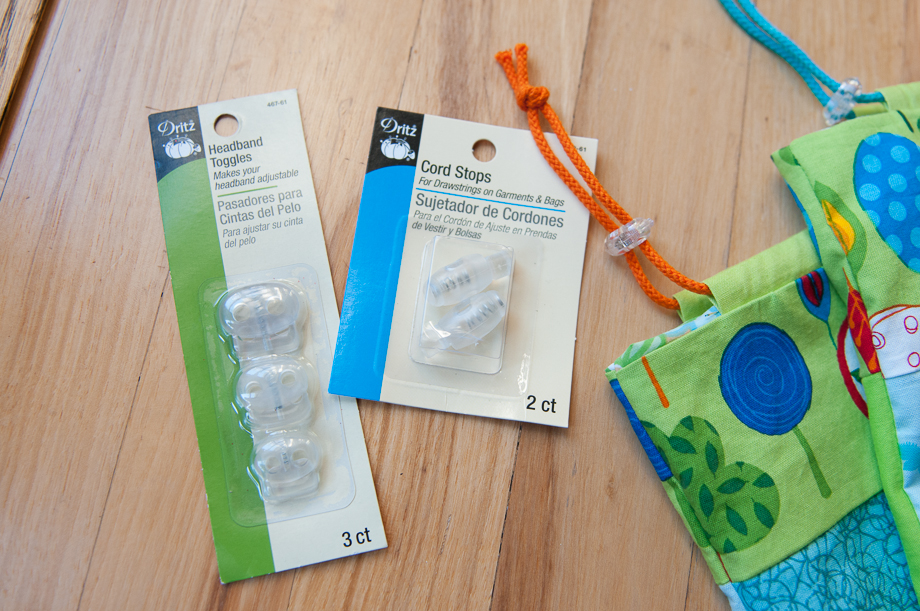 There are a couple types you can use. Either the toggle, which has two openings or stops, which has one. Both are a tight squeeze, which is really what you want anyway. Use a paper piercer, large needle, awl, or tip of very sharp scissors to get the ends through (and be careful!). I like to tie the two sides together so you can hang the bag.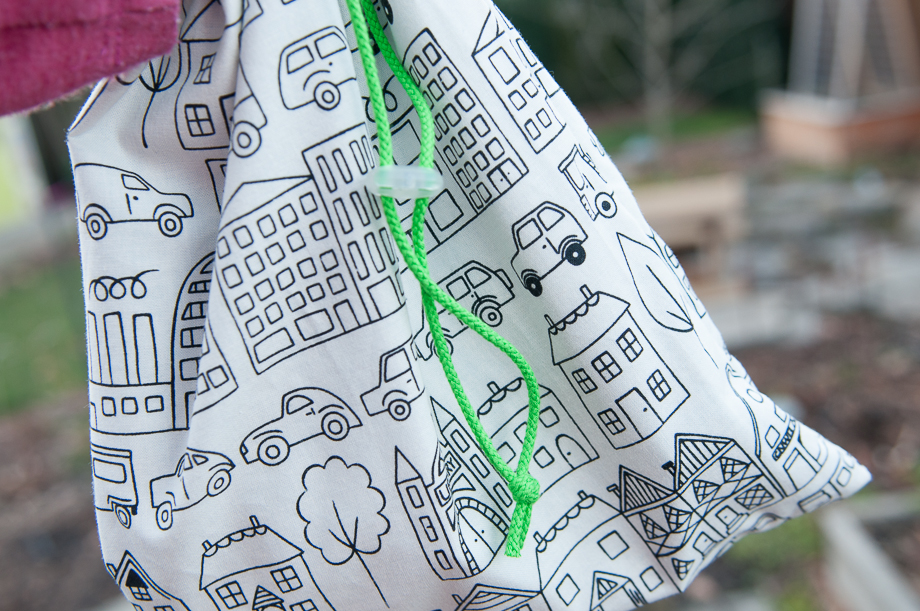 Super fast, awesome project! And like I referenced in my last post about these, they make great reusable gift bags.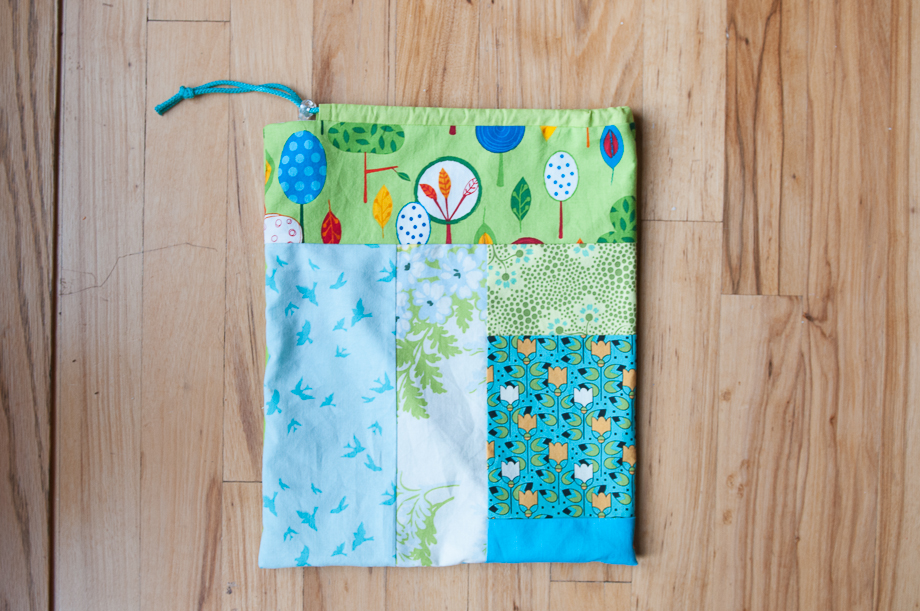 Here is a pieced version of the same bag.
Supplies needed for easy drawstring bag:
Fabric cut list:
(2) 12.5″ x 20.5″ pieces of fabric (piecing optional)
(1) 18.5″ x 1.5″ piece of fabric for casing
Cording: I used about 26″. It's sold by the yard, so if you buy a couple yards of a color, you'll get three bags worth (that would give you 24″ per bag).
Cord Stop: You can get them here at the Ribbon Jar
Wonder Tape: Also at the Ribbon Jar

***********Since the Ribbon Jar has all the awesome supplies you need (minus the fabric, which if you're anything like me you have a stash of!) they have given readers a coupon for 15% off all cord, just use CORD15 when you check out (good until Sunday, January 11th).
My mom also gave me a pack of cord to give away! I'm going to throw in a big bag of scraps so you can do a scrappy version if you like. Just leave a comment by Sunday and I'll announce a winner Monday.
Giveaway closed. Winner is Julia! Thanks for playing!
Happy sewing!