I actually finished most of my Christmas gifts before Christmas, shock of all shocks. I'm going to show you the good stuff first, the parent's gifts. Being married means joint presents! Yeah! So that basically means that Bj pays for supplies and I get to crafting. First up those quilts I gave you a taste of. I only got a finished shot of my dad and Kim's, as the battery on my camera died when I went to visit Bj's parent's (that is the only problem with the Nikon battery, it's so long lasting sometimes you forget you ever need to charge it, oops!).



Kinda of a crap picture, but I made two of these quilts from Last Minuet Patchwork and Quilted Gifts book. I freaking love that book! The things that makes these quilts really nice is a hand bound edge. All I have to say is thank god for the thimble I got back in the day. I still managed to poke myself a few times though. And…



They liked it! So did Bj's parent's, which is similar with different fabrics. I would say these take about 12 hours total, with 4-5 being the hand bound edge, so if you machined it, that would be one quick quilt!
My mom and Bill didn't get a joint gift because I had started spinning her present in the fall, and we decided on Sigg bottles for the boys. I handed this off to my mom yesterday: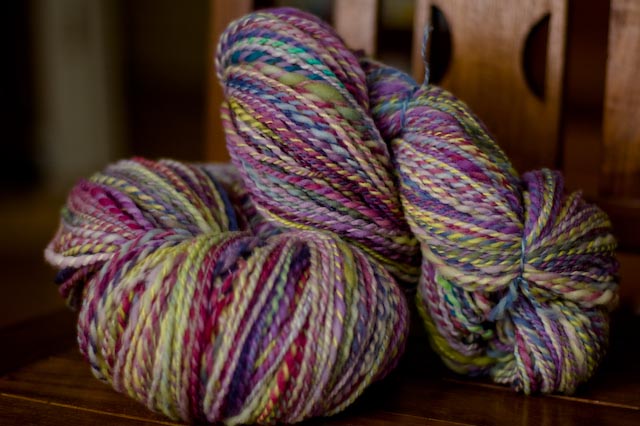 It's actually a lot of yarn, enough to do a baby sweater, or a scarf and hat, or something similar. I can't wait to see what she knits up with it. (Here's a link to it on my Ravelry page if you're on there). Oh and one more easy knitted thing: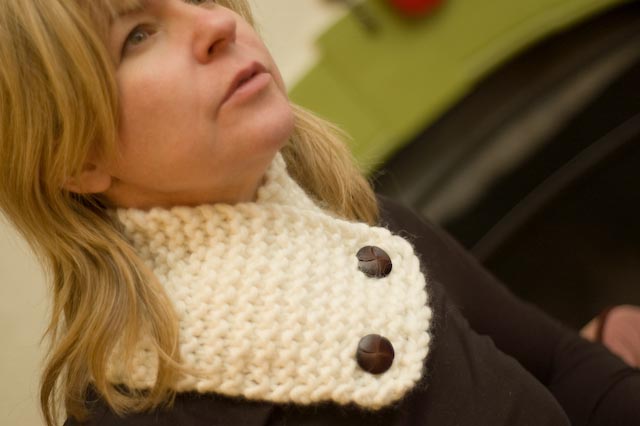 This is actually for Tex, but I bought way more yarn than I thought I would need so I'm going to make a couple. If you have any Rowan Big Wool sitting around it took me about 2/3 a skein on size 17 needles. Details here on Ravelry.
Bj is having some neck issues, so we didn't get to go to the Depot for their awesome New Year's dinner as planned, but we did have yummy homemade dinner from one of his presents (the totally awesome Apples for Jam cookbook), lit a fire, and spun, spun, spun (well I did). Not what we planned, but that's okay. Nothing about this year has been as planned, and I find I'm totally fine with that. Things happen, sad things, happy things, and everything in between. That's life, and I'm looking forward to seeing what this year has to offer. I say, "bring it on!"