Oh how good do I feel today?



Ahhhh so good. The guys still have to come in two more times: to grout (Monday) and then seal the tile (a couple of days later), but I am SO OVER THIS CONSTRUCTION THING. Hehehe. And I really needed to get this paper pulled up to preserve my sanity (and also the floors, it can't be that good for it). I think my love for this pecan is pure and true. Remember when I first had it refinished? Ah those were the days. Take a good look at that post because the front of the house is never going to look the same: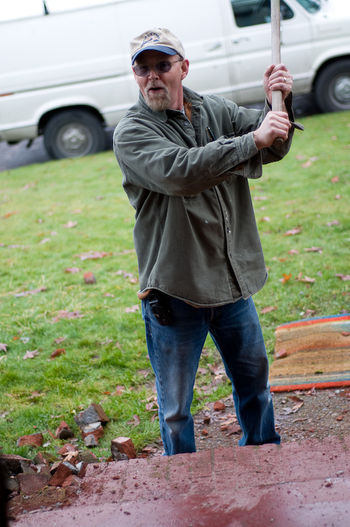 Rick – an action shot. We won't have a front door for a while, but who really needs one anyway, right? Our new porch is going up next week, I can't wait to see how it changes the look of the house. That is all that can really be done in this Oregon winter weather (um wet, wet, wet). We'll have to wait until spring then to re-side the house and get the new windows in downstairs (a Bj project).
I have to say despite all my (pregnancy induced) moaning about the remodel I feel so lucky and just insanely grateful to be living in it. This was mid-October, not that long ago really. Such amazing progress. Bj and I go upstairs to bed, wander around, sit in the baby's room, take long hot bath-tubs (well I do, Bj's more of a shower guy), and say to each other, "We are so lucky! We love the remodel so much!" And we do, and it might be a while before we can squirrel away the $348 or whatever the Baby 411 book says to put aside for college a month, but I think baby will really appreciate having a bedroom (and bathroom lucky baby!). Speaking of baby, okay YES I am past my due date. I'd like to point out that this does NOT make me overdue. You have to be past 42 weeks to be over due, I'm not and baby is perfectly happy in my nice warm uterus. Yesterday I felt its little heal for the first time, it was trying to stretch so I sort of grabbed it and pushed, oh the cuteness, it was playing with me! Despite the fact that I go to appointments every week where everything is deemed to be perfect people who have not once asked about my prenatal care are now freaking out that I'm not being induced. To them I say, chill. And um, mind your own business.
Besides I have plenty to keep me busy, like yesterday I made a sewing machine cover, I have been meaning to do that for freaking ever! Pictures to come though, because I have some embellishment ideas first. Also I went through all my pens this morning and thew out the bad ones. Plus I got these back from the cleaners: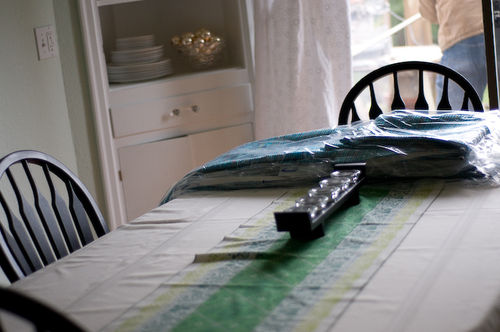 The silk drapes for the lower level. I was thinking they were dusty from construction, but when I got them back and they were fully a shade different than the color I brought them in as I think they might have been more than dusty. I'm going to do some touch up paint around the windows and then get Bj to hang them up. And I'm knitting of course. Oh they just started jack-hammering. I'm going to be the most popular girl in the neighborhood!