Today Tuesday and I had a fabulous day visiting with friends in Corvallis. We had to go down there because little miss sparkle pants has outgrown her size 0 diapers! These were the first we put on her, folded down to be out of the way of her umbilical stub. They have been a bit low rise for a while and we were doing a combination of size 0 and 1, but taking 0 out of the mix meant we needed about six more diapers. Of course I could just order, but what fun would that be? And I would have been much less likely to come home with the cute impulse purchases I got for her…. and the super cute covers. Ah my little tutu. It's not my fault she looks so cute in everything!
First though we met Sarah at New Morning Bakery on 2nd (not third, trust me I drove up it all the way before realizing it was on 2nd – how long did I live in Corvallis?).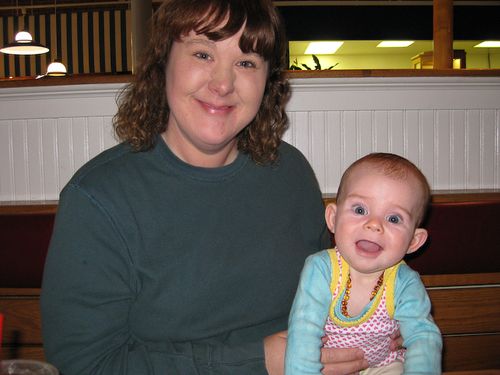 I am getting better at remembering to take pictures of Tuesday with her friends! Partly because I borrowed Bj's little point and shoot. Do you think Tuesday likes Sarah? 🙂 My plan is to make a little book for her so that she can have all her people in it and before we see them, if it's been a while I can say, "Look that's so and so and you're going to see them." The idea is that the person will then be familiar to her and not so scary. She doesn't always do well with people she hasn't seen in a while (yes, dailies are back baby!).
After lunch and checking out Sarah's super cute place we went to Wee Bunz, and then to Erin's. With a quick stop in between to pick up a pack of onsies. The long sleeved shirt she is wearing above is a onsie that Erin dyed a semi solid. She is going to do a rainbow semi solid pack for me I can't wait!  She also did this onsie for Tuesday. If you want any of her cuteness she has an etsy store. At Erin's we got to see her awesome garden. Makes me really jealous. I haven't mentioned that our house is still not done (but it's not) or that our back yard is a serious urban jungle (but it is). Sigh. Instead of a picture with Erin check this out:

That's right Bj, I figured out how to put in a video on my own, whoo hoo! Yes, my voice is a bit high. And I talk to Tuesday loudly. My mom has pointed this out to me ("you're going to make her deaf!"). I am working on having multiple levels of sound when talking to her 🙂 Reminds me of when I had to work on my voice for crew ("it's not CRAP Amber it's crap." Anyone remember that?).