Oh my goodness where does the time go, really? I figured it would be no problem to post every day this week, I feel that I have lots of things to say, but the days keep getting away from me! And the months too I guess as my little sparkly pants has turned 10 months old. Some of her cohorts are walking around already. I don't want her to speed up growing, but I don't want her to slow down either. I just love watching her grow!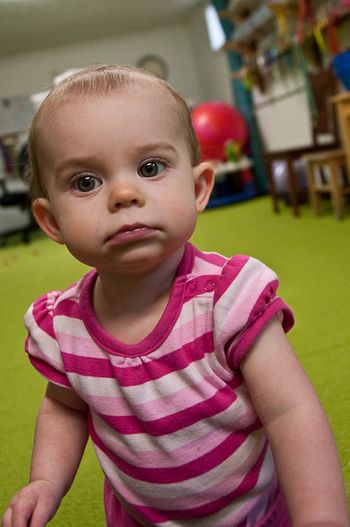 Some things about Miss Tuesday Lee:
-Her hair is starting to grow longer (can you see it in that picture?). This makes it especially cute when she gets done nursing and has sweaty hair that sticks up everywhere. 
-Her eyes are more green and very pretty.
-Loves to talk and will babble non stop for a quite a while, but still gets a little hush hush in public.
-Doesn't have a schedule, we've attempted them, but nothing has stuck. 
-Still loves to nurse, maybe more than any baby in history? Gets her milky at least six times a day (and at least two at night). Has no interest in chewing, but will try anything. I gave her a pickle tonight just for fun and had to take it away from her. I was expecting a funny face but she loved it! 
-Naps only once about every week or so, more if we take a long car ride.
-She can do a lot of damage with those two little teeth, using them to shred, tear, or pull things apart. Not to mention tapping them on her spool, cup, or anything else hard she can find. 
-Has started playing with her tongue, I have to get this on video it is so funny. 
-Laughs many times a day, at all manner of things, but usually her parents. I told her Bones was on tonight and I said it kind of like "b-ones" with a hard B and she thought it was so funny. 
-If she has been away from either papa or mama for any amount of time (even ten minutes) seeing them again will result in squeals of happiness, and lots of leg kicking. 
-Mostly wearing size six months, starting to grow out of 3-6 month size pants, and starting to fit into 6-12 month size clothes: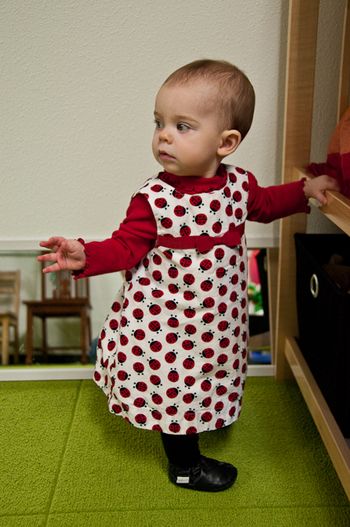 Super cute outfit from my hairdresser (thanks Heather!)
-Can stand on her own, just for a few seconds before she realizes she's not holding onto anything then carefully sits down. 
-So curious, lovable, friendly, outgoing, wonderful… we just love her so so much.
Reflecting on all of this, plus anticipating getting a new studio set up has made me want to start scrapbooking some more. Most of all I just want to remember all the little things. I'm sure my mom would say that time has gone by quickly since she took this picture: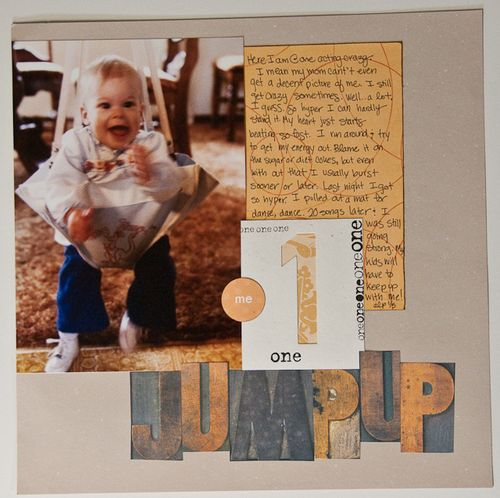 An old layout I did four years ago. Funny how Tuesday loves jumping around so much too! I threw a layout together really quickly of Tutu at four months: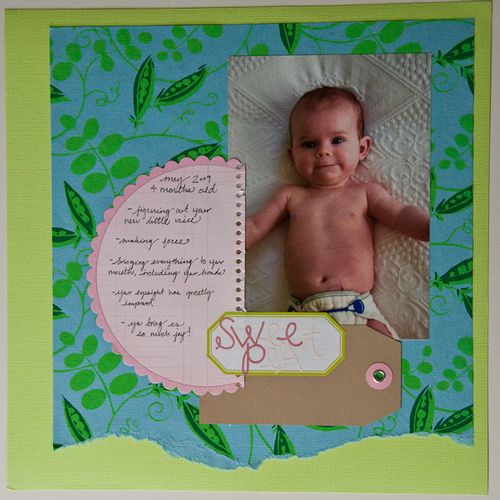 And writing down the things about her then she has changed a lot, but I feel like the changes are coming quicker now and are more and more amazing. That's why I decided to get out my December Daily album from last year and repurpose it. I only got to the forth, so I'm making it for her 12th month, from December 10th-January 9th. I expect this time will be really busy and lots of exciting things will be happening with my little girl – and at the end of it she will be one, now that is crazy.