Oh my goodness my annoying yet awesome basement. I love the size, I love the extra space (I love that it has windows), but every time I work on something down there it turns into A FREAKING DISASTER. Ok maybe not that bad. But the last time I did a little work down there this did happen. And the time before that it was waterproofing the whole basement (where they came and tore up the inside perimeter to put in a drainage system). So I should have known that my simple basement remodel was going to have a few little hiccups.
You probably remember it like this, carpeted and full of ribbon and baby gear. Well when we moved the Ribbon Jar this is what we were left with: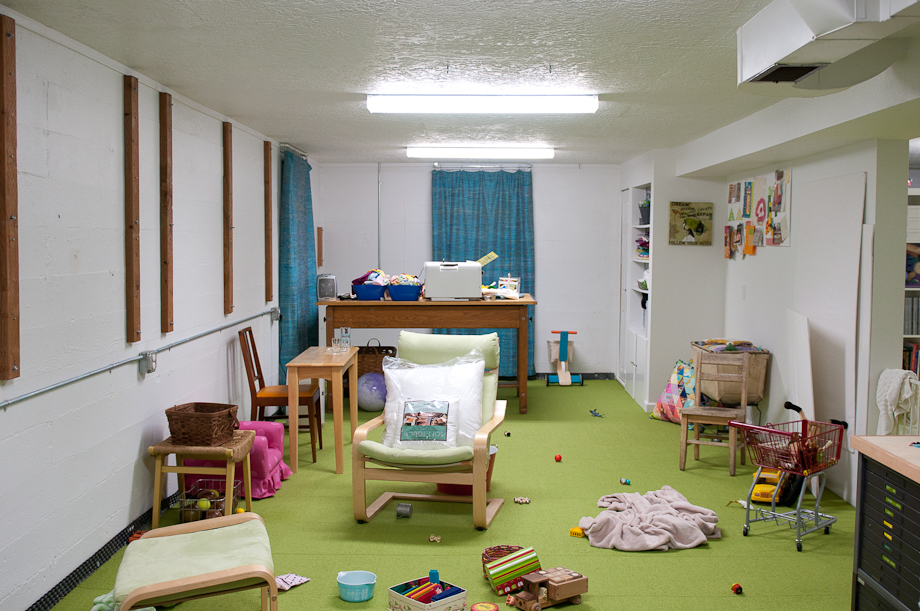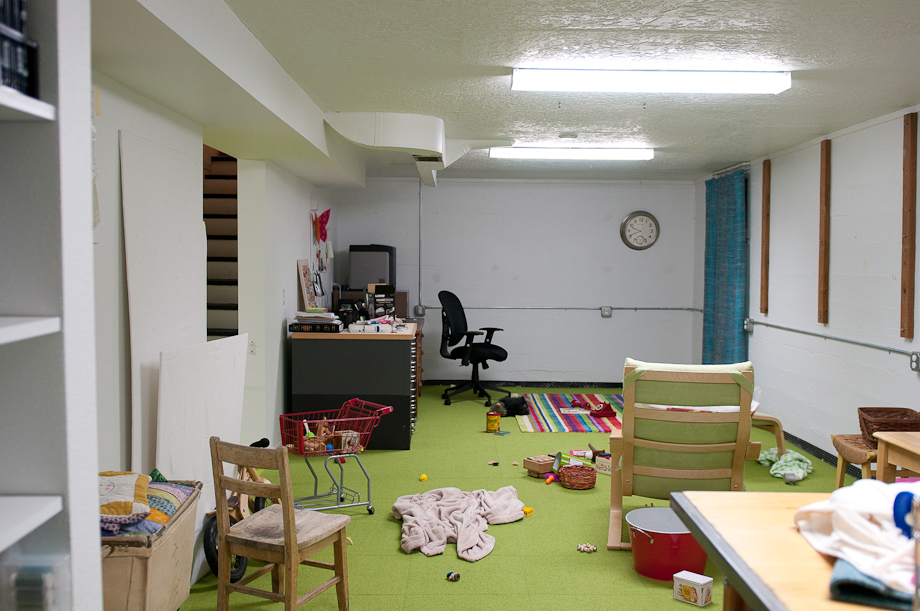 This was right after a play date so it looks extra crazy beans. Those wood pieces on the walls are left over supports from the ribbon racks. My dad and I put them up with these special bolt things that expand into concrete. So we had a couple of choices; cover them up or try to saw through the bolts and take them off. We decided that I would use this area for three main things. 1. a preschool learning area with a Montessori vibe. 2. a sewing corner with the drafting table for projects and 3. a studio to meet with clients and showcase photos. Yes, this is going to looks so cool I will actually bring clients down (right now we meet in my main level craft studio, it works fine, but I'd love more room to showcase some of my work).


So clearing everything out and starting from scratch sounded like the best plan. And since I couldn't talk Bj into framing up this whole side of the basement we decided on a giant box to go over the wood (plus a little one for my sewing area). It will make it easy to hang artwork and add some depth and warmth to the space. Lucky for me my brother agreed to do it (his company mostly does commercial work). He bid the job and then came in under budget and finished ahead of schedule (one day!!!). I should have known it was too good to be true.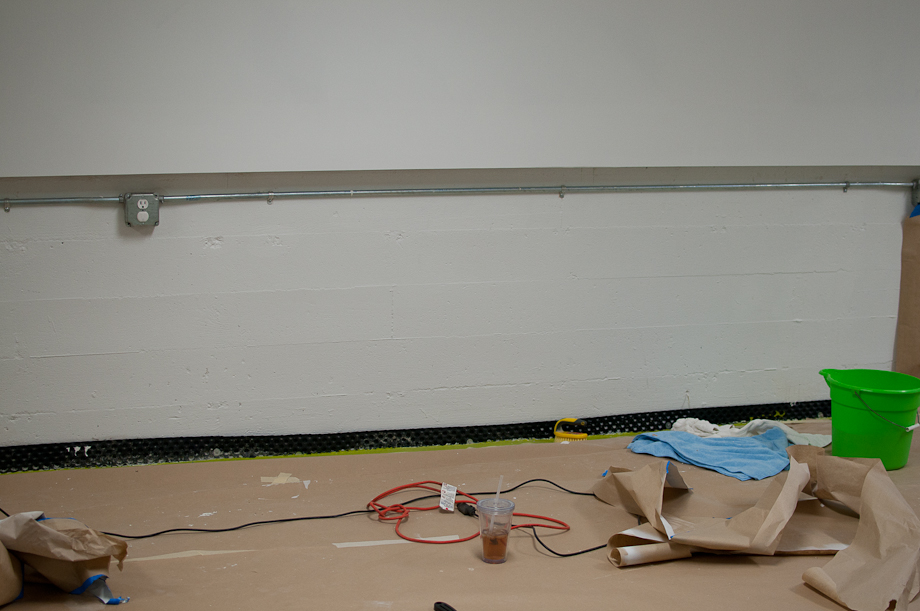 Brent suggested painting the black dimpled plastic (there for waterproofing reasons) with a special for plastic spray paint so the wall was all white. I liked the idea but the prep was a bit of a pain. I pulled back all the Flor tiles from the edge and then had to scrub the plastic (After doing this I'm pretty sure I had not washed it in four years).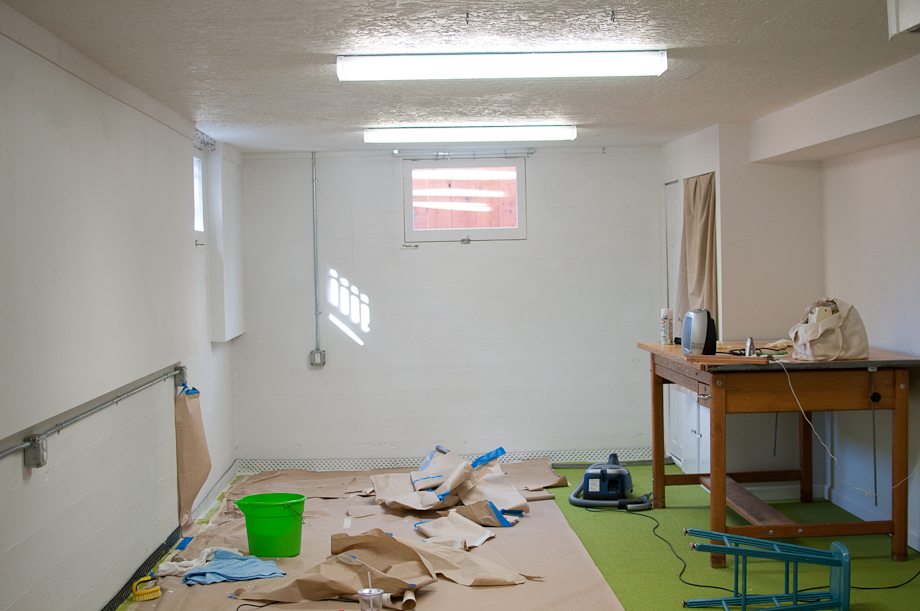 Oh my goodness have you guys used this Krylon Fusion stuff? Talk about a brain cell killer. It takes about 12-20 coats (yes really) and the recommended re-coat time starts at 30 seconds so it's non stop fumes. I did get smart and wear a full on mask and open everything but still so so yucky!
I did it though. And I ordered furniture for the play side. Seriously things we going so perfectly! Now, look back up in the picture of the cleaned out basement. You see those mis-colored tiles and an area with no tiles? A year and a half ago when I put this in I calculated wrong. So I had to order another set of tiles. Well I waited a while to put those in, since most of the floor was covered anyway (and I had a crawling non-napping baby). When I got around to it I realized one box was off colored…. and that I had miscalculated again!! Of course by this time they had discontinued the color (La La Lime in Toy Poodle, anyone have some to spare?). So I said, "forget it!" and left a hole. Of course that doesn't look so nice so this last weekend Bj and I moved all the heavy furniture to hide the mis matched tiles underneath. Simple. Easy. The last step… but then…
MOLD!!!! Barely noticeable (and Bj swore it wasn't even there). But I saw it and I could detect a faint mold oder and I knew I could not put those tiles back down there. I had a little bit of a panic attack when I realized the solution was probably NOT going to be cheap. Well, it's not going to be free, but it's not going to be as much as I thought. After stumbling upon this great blog I knew what to ask for and found someone who had the right supplies for $330 (Superseal for the floor). He asked me if I put in the carpet myself. I said yes, and he told me I could do the under mat myself too (80 cents a square foot vs. $2 installed). It's basically the same thing as that bumpy plastic against the walls, but for floors. It allows the concrete to breath and air to move around so no moisture is trapped.
Now I get to pull up all of the tiles. Scrap as much paint off the floor as I can. Scrub and bleach the floor. Scrub each floor tile. Lay down the under mat. Re-lay all of the Flor tiles.
Oh, and that furniture I ordered that was supposed to take three weeks or more? Two weeks early. And I have no where to put it.
And GO!