Last time I blogged about our painting area I didn't really show any pictures of Tuesday in on the action… that's because it is so hard to get photos of my little artist and not have paint end up everywhere. I did get a lot of questions about it though, so I thought I would share a few more tips and tricks, along with our action shots 🙂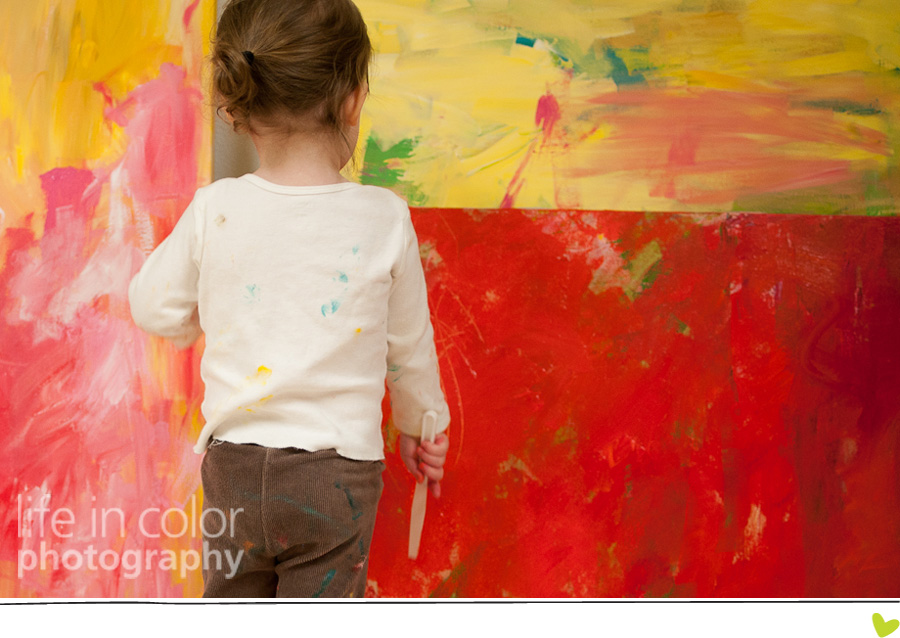 One thing I always do is paint with Tuesday. Our paintings are collaborations right now. I love working this way because Tuesday cares more about the process and I'd like something we can use and enjoy. In order for her painting to work with my aesthetic I've decided that not leaving any white spots is important. Over time this happens naturally, but when faced with a white canvas I do work to cover any little empty spaces in the first session (including the edges). We always have out 3-5 canvases so she can put a mark here or there, and see what the same paint looks like on different backgrounds. Tuesday has never objected to me painting on the same canvases as her, as soon as she does I think we'll start having our own to work on individually.  As I mentioned in the previous post I got the idea for having Tuesday work with one color family at a time from the Little Blue Boo blog. It really is great because picking out and organizing her paint is one of Tuesday's favorite parts of the process.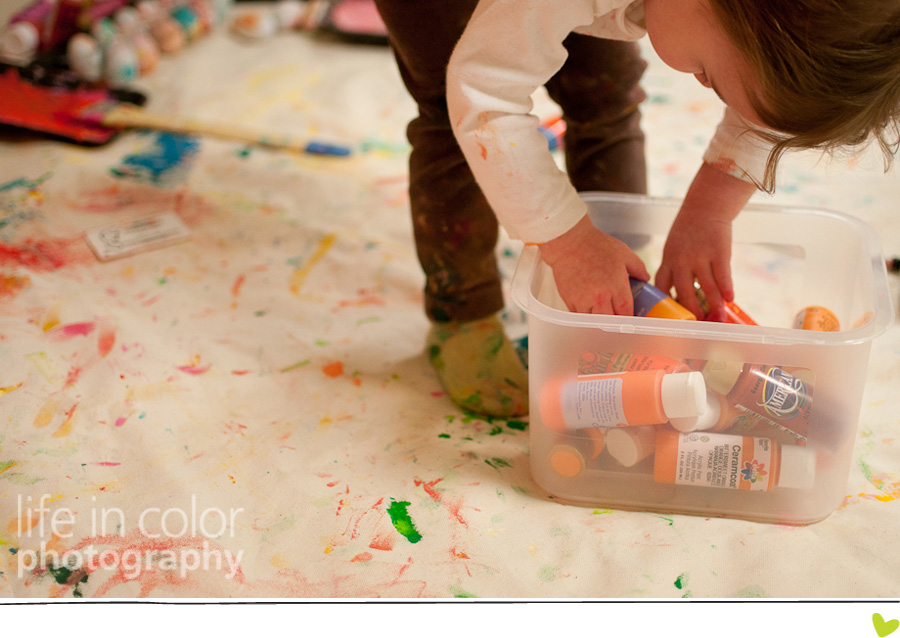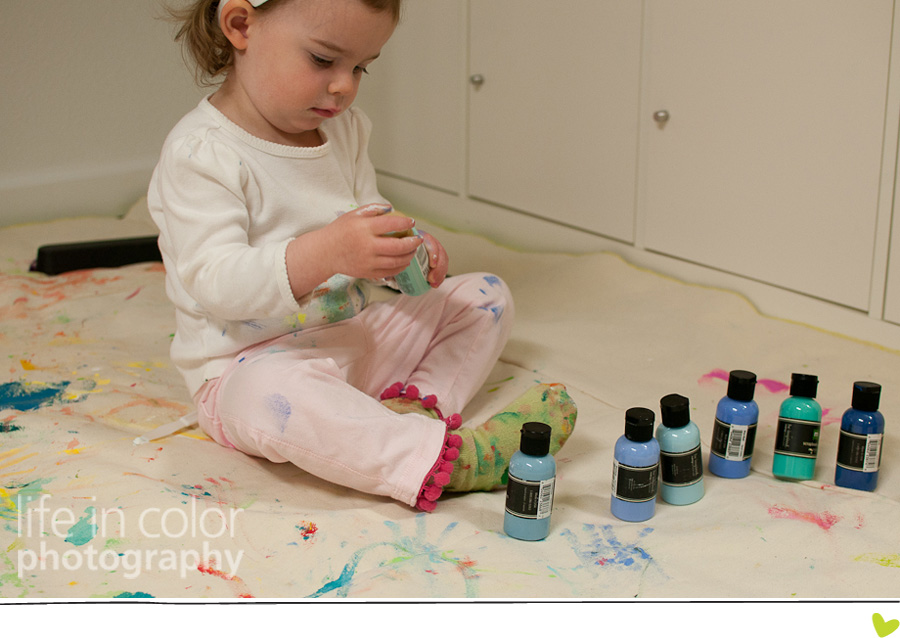 Since Tuesday is only two (right now almost 28 months) she doesn't like to sit and do one single thing for long. So for her just simply putting paint on a canvas is not enough of an activity. Picking out the paint and sorting it is a big part of the fun and learning. We talk about the colors and shades, what is lighter and darker, and she can see what happens when she mixes them.  She almost always wants to get out white to see what that will do with a color, but I don't always let her get it out since she doesn't seem to want to paint with the color it makes.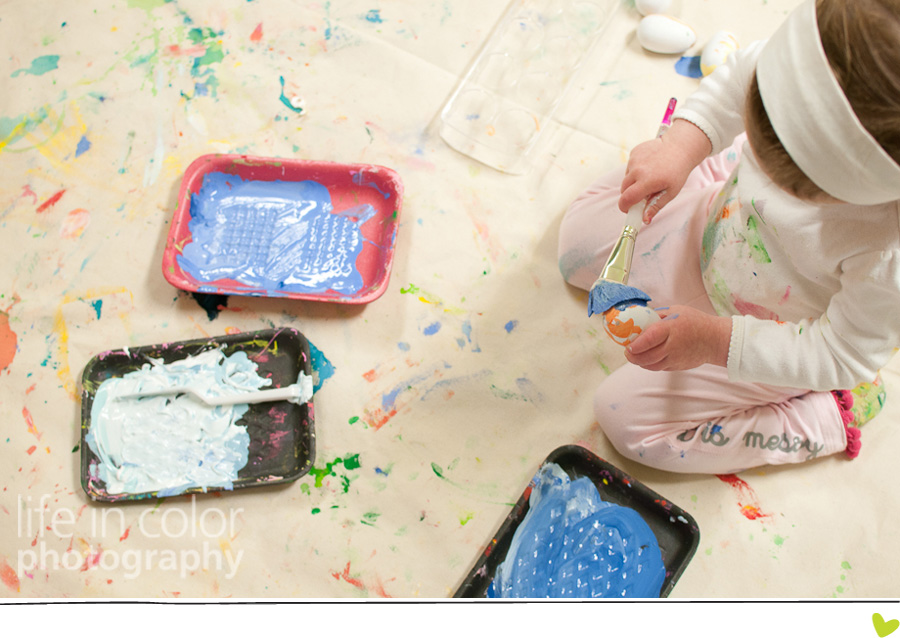 I don't like to have extra paint in our up-cycled meat trays when we are done. This can be tricky because, as with any project these days, when she is done she is DONE. I've found that introducing other elements can help extend painting time (usually our whole session only lasts 30 minutes, often times much less). At least I can get my brush full of paint while she's exploring and try to use it up. This is important because you don't want to put a lot of acrylic paint down the drain. I do rinse what is left on these trays and re-use them.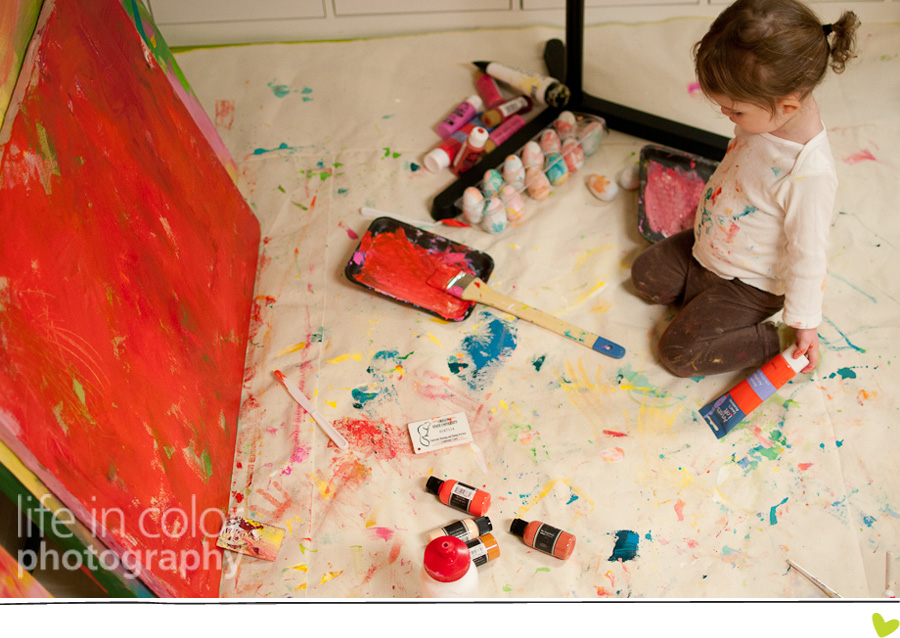 In addition to other things to paint (like the wooden eggs—see this post) I give her other things to manipulate the paint with. Plastic pallet knifes and old gift cards are fun because you can carve back into wet paint. Great for pre-writters, and I'd bet learning to write kids as well.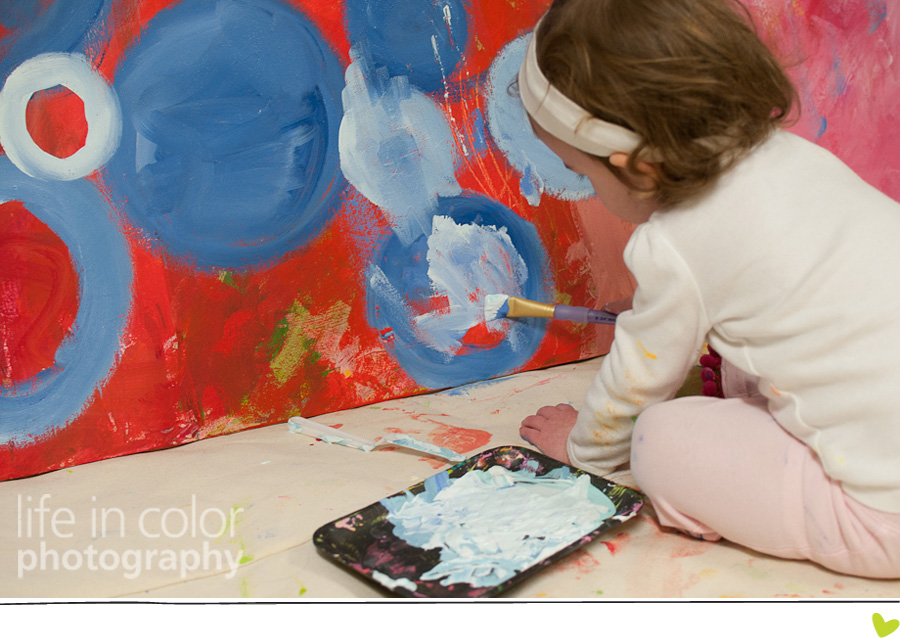 I've come up with a few other things to make putting paint on the canvas enticing. Shown above I added big circles that Tuesday can fill in. She is really into me drawing shapes or lines so that she can color in and around them. I'm not sure if it's a developmental thing but I find it really interesting. She almost always prefers to color on something that has lines on it already versus a blank piece of paper, a complete 180 from a few months ago where she would make one mark and then need a fresh page. Another thing I've done is add texture. So far I just put a little gel medium in with the paint and really glob it on so it will be bumpy when it dries. I also found a stucco paint on clearance that I'm going to mix in and try.
Remember: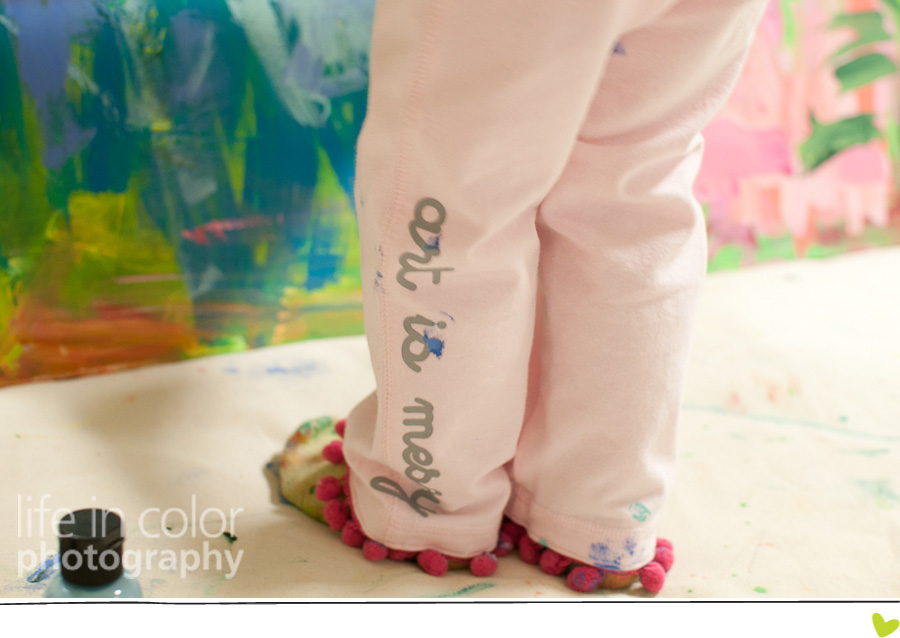 art is messy (pants I made Tuesday with the Silhouette and pom-pom trim). It's supposed to be messy. So just have a full change of clothes (you and your kid!), including socks, and you should be good to go.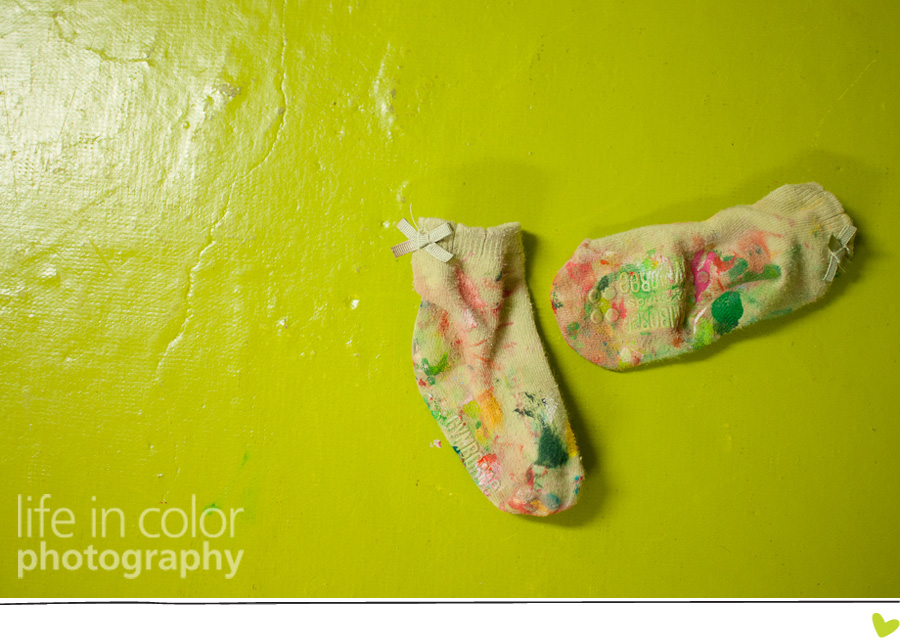 Next up: how to photograph your kids' art and have the coolest desktop wallpaper around.