Before I had Tuesday if I wanted to pack up and go somewhere it was no big deal to give Bj a kiss, throw my stuff in the car and road trip. Since I've had Tuesday that has happened, um, never. Not without lots of planning and packing and list checking. Well last week we had a play date cancel, Bj was going to be busy so I figured what the heck, road trip! We drove a little over four hours to get to my in-laws. The best part of the surprise was their weather, it was sunny! The worst part was my mom calling about 190 miles in telling me that hey, "did I know there was a suitcase sitting on the bottom of my steps?" UGH! Yes, I left all our clothes, toiletries, and the fan Tuesday sleeps with at home. I wish I could say I'd never done this before but Ceara and I were all the way into northern California, stoping at an In-n-Out Burger when I realized I'd done the same thing (maybe 2000?) hours into our Madonna concert trip. On the way to the pay phone I decided to get a sweatshirt to go over my cute road tripping outfit. No bag. Bill had come home asking my mom why there was a suitcase in the drive way. I guess they got a pretty good laugh about it.
Well after a Target run we had a few clothes and toothbrushes. I tried to give my mother in law as little notice as possible since she always goes over the top making us delicious food and planning fun stuff for us to do. I just wanted her to be able to relax. She still picked up our favorite stuff at the store, I think it's impossible for her not to make her guests super comfortable. Luckily she also had a toddler swimsuit from when she used to baby sit a friend's girl. So Tuesday got to check out the neighborhood pool (I had my jeans rolled up to my knees and was sweating in the shade).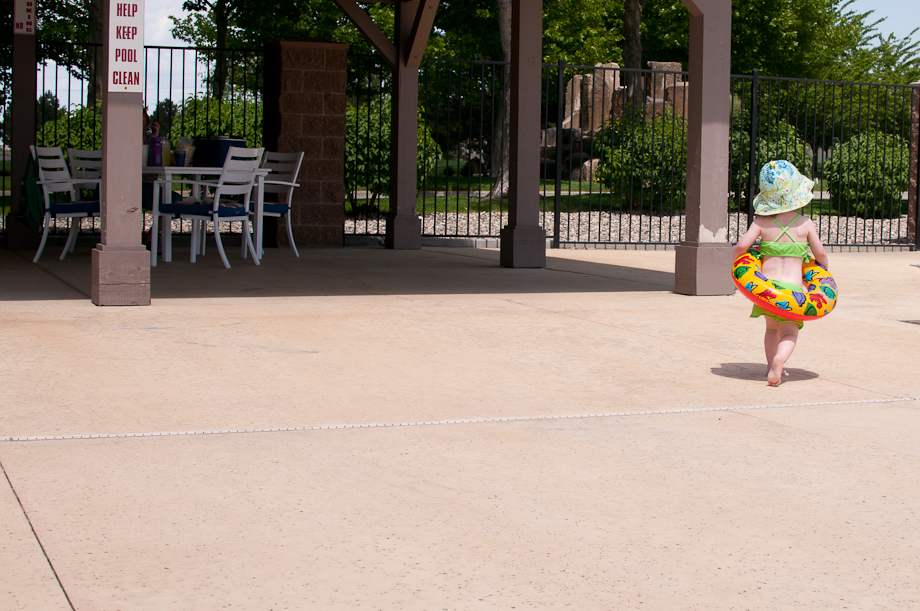 Even though I didn't get to swim because I wasn't going to skinny dip in a public pool I am still cherishing this moment of  sun. It is currently raining and I want summer (and so do my plants!).
After 24 hours in Washington we went back to Oregon and stopped at Erin's. This was perfect because it cut the return trip into two much more manageable parts. Tuesday loves Erin (and her soon to be husband Aarron). When I told Tutu that we were going to visit Erin she said, "no, TWO Erin's" hehehe. The night we rolled in they cooked for us, including a yummy dessert that Tuesday was all too happy to help with.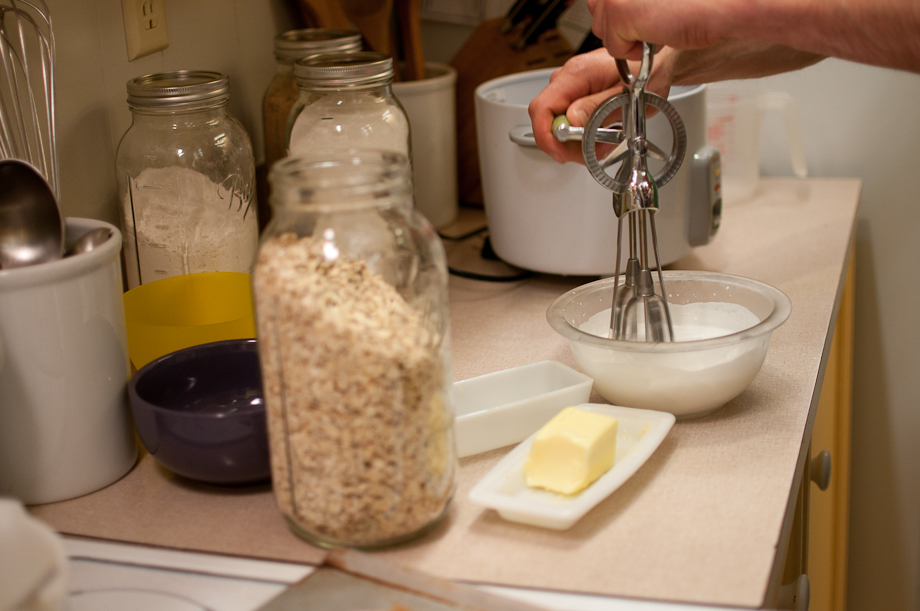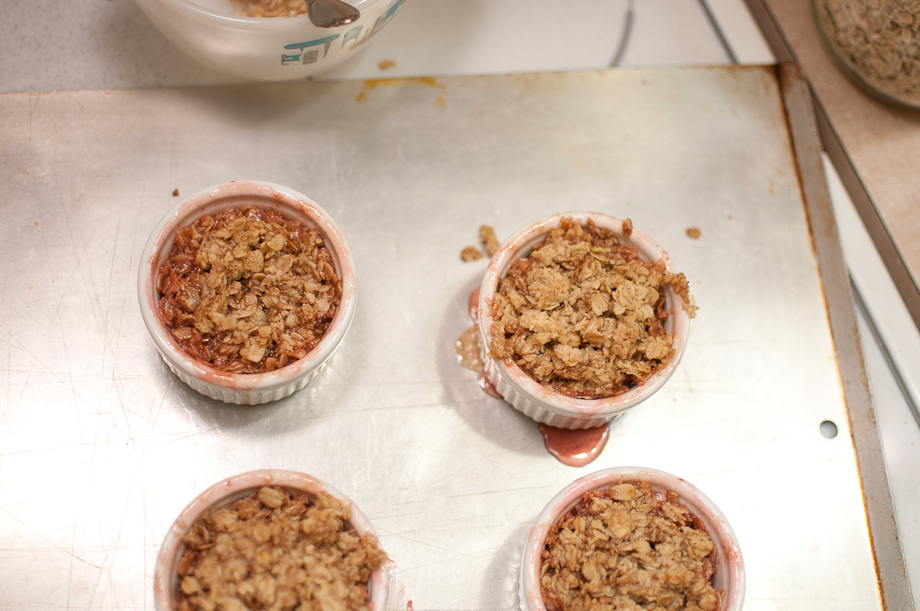 Why exactly do I not make cobble more often? So yummy.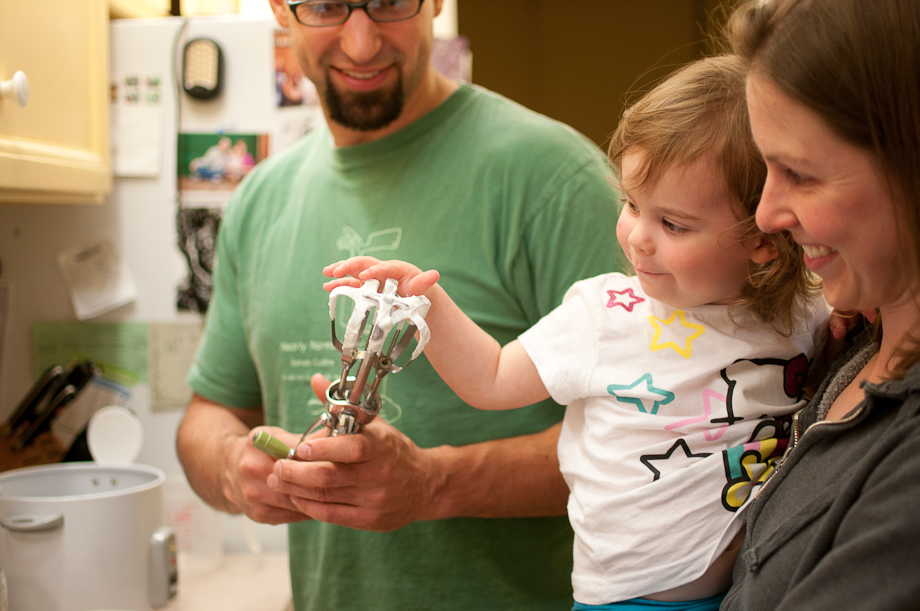 Tuesday just says yes to whipped toppings.
Tuesday also says yes to gardening. And while the weather wasn't quite as nice as the tri-cities, we still had fun.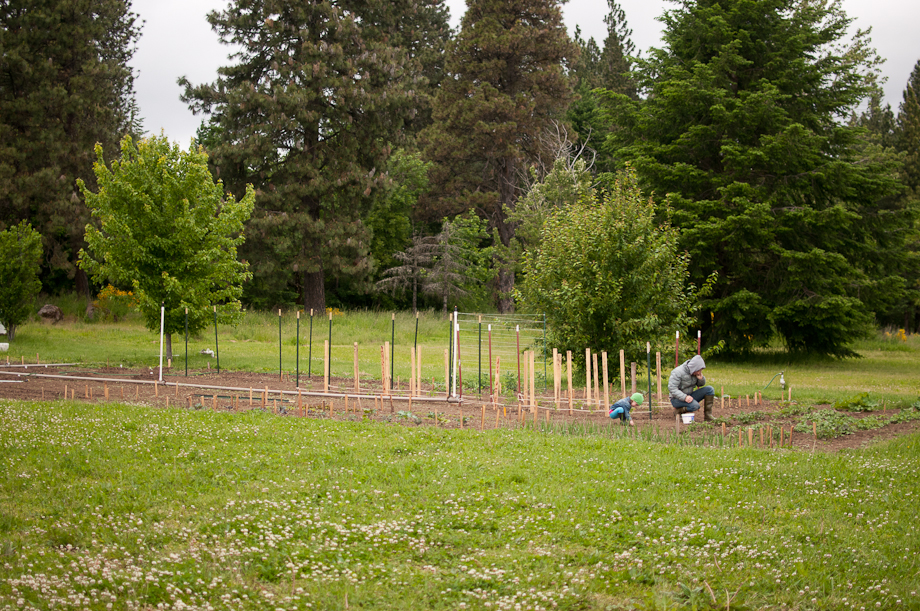 And when I say it wasn't quite as nice in Hood River. I mean it was windy and freaking cold! I do not know how anyone stands that gorge wind I think it would drive me insane. But Erin braves it to garden. Check out her plot. She chronicles her gardening on her blog if you want details. Oh while I'm thinking of it, anyone know what that tree is right behind them, the deciduous one? Here is an up close of some berries on it right now: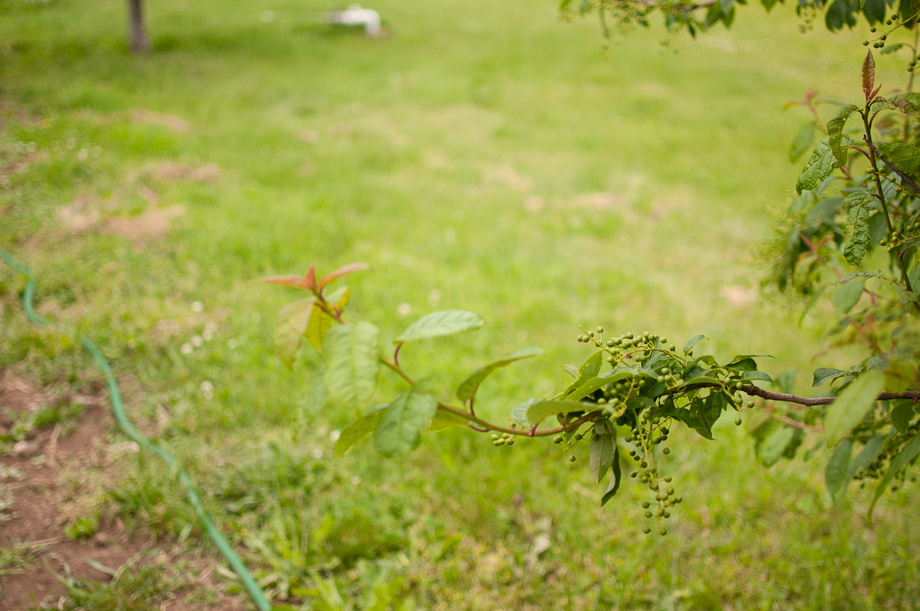 Erin would like to know what it is, and if those things are (or are going to be) edible.


I know I've mentioned this before but Tuesday really likes to week, like a lot. Like screams for more weeds when she can't find any in our yard. So this was bliss for her. And when she did get sick of weeding she found something else she could do: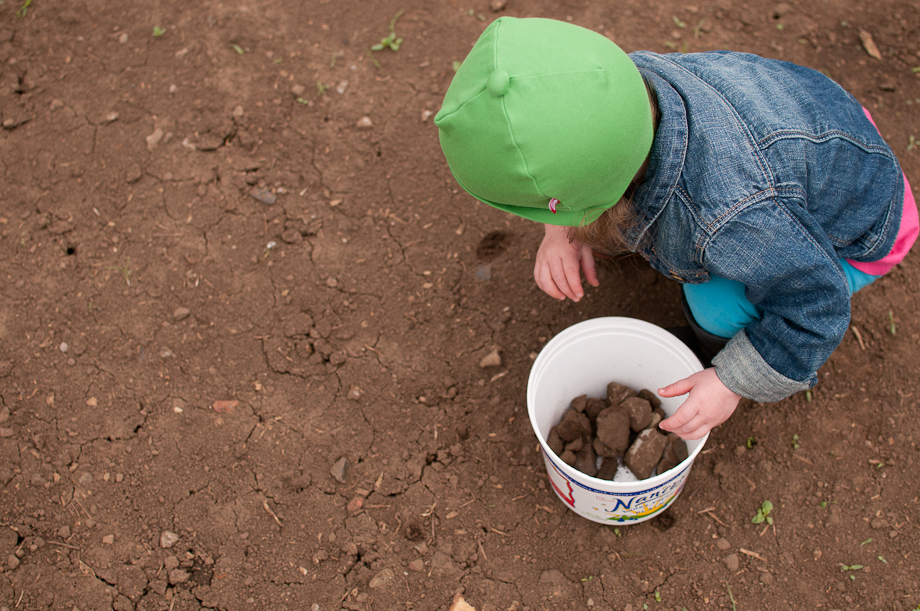 Rock collecting! A toddler's dream world really. Then she was done with her work and decided she needed a little snack from the garden.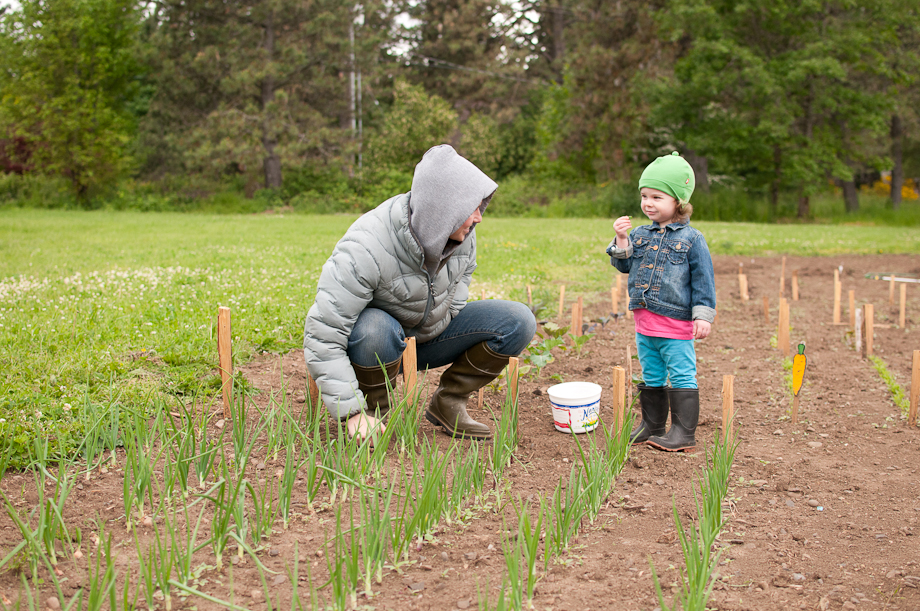 I'm hoping the fact that she chose to eat onion top after onion top doesn't mean she has some kind of deficiency, but it certainly was weird. And she smelled like onions for days!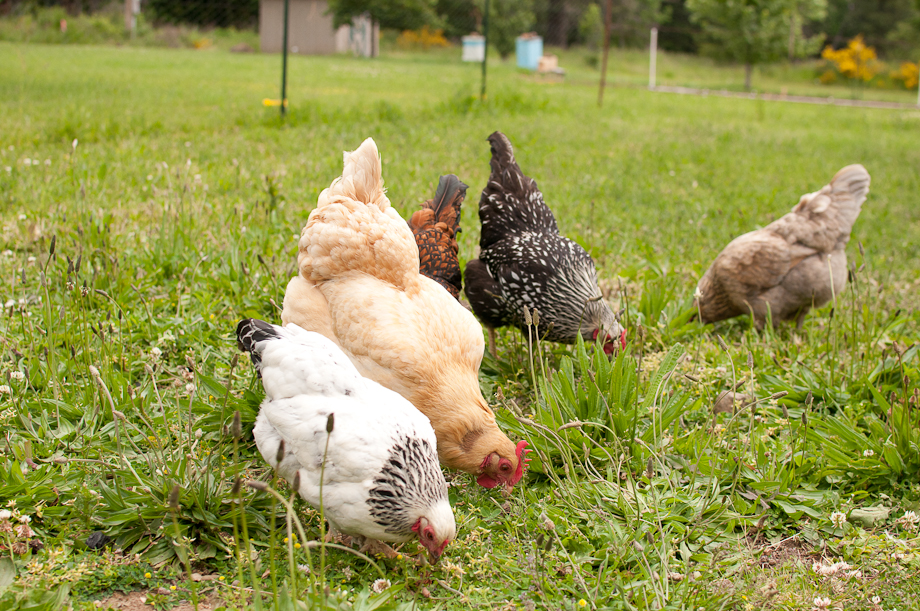 You already saw a picture of Tuesday feeding the chickens. She loved going to visit the girls, Erin has five sweet chicken and each one lays a slightly different color/size of egg.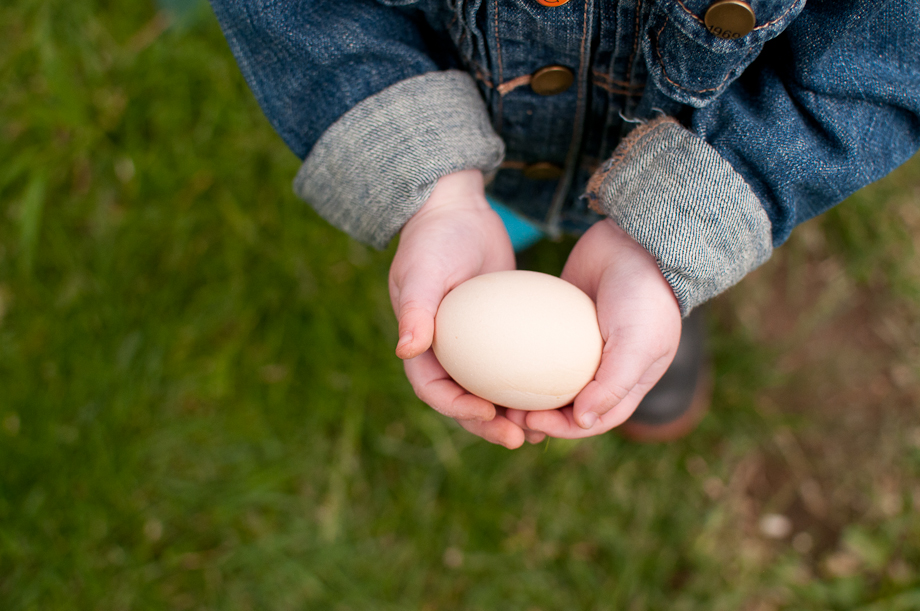 Tuesday found this one in the nest box. I no longer have a problem getting her to eat eggs. Erin made one for Tuesday after we explained they were from her girls. She made it with the yoke runny (sunny side up?) in the middle of the white. Tuesday gobbled it up and has had two more since we've been home. When I run out of Erin's eggs I might have to start telling a few white lies to get this behavior to continue.
The drive home was fairly traffic free. I only had to pump my own gas once, I remembered to tell the Target cashier that I was an Oregon resident so I didn't have to pay sales tax, I managed the car in all the wind. I think I did a pretty good job. You know, minus forgetting the clothes part. Still I think we'll try a girls trip again, though we do love having papa along… and I'm not just saying that so I don't have to pump gas in Washington!