So what the heck have I been up to? Well not sleeping, which cuts into the time I can write greatly; seeing as how I'm so tired I wouldn't make sense! Bennet is all better, but things continue to be rough in the sleep department… and it seems she's given up that second nap so no fun there. I can't even believe now that Tuesday didn't nap AT ALL her first year. How did I even survive?!?! Anyway we have been trying to find a new rhythm around here.
One of the things taking up most of my time is homeschooling. I swing wildly from we should do nothing, and unschool completely to we should be structured and have a curriculum. I think I first stumbled upon Montessori via someone recommending the book How to Raise an Amazing Child the Montessori Way, which I love. There are so many things about Montessori that I love, mostly I love the self directed nature of the activities, and the fact that kids can choose what they want to do. Of course that is in a perfect world and Tuesday was not wanting to spend much time at all in the nice school type environment I set up for her in March in our basement.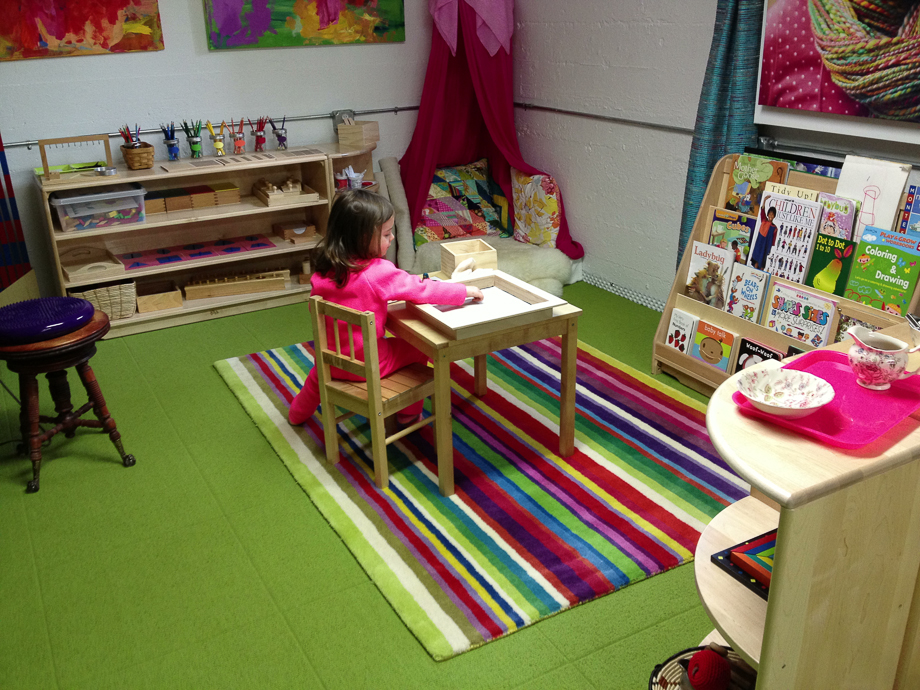 Even after removing the play kitchen to her room (the basement used to look like this) the basement was just too distracting for Tuesday. I mean there are way too many things to do, and it was hard to focus on school time. Plus it wasn't a place she would want to just pop in and work because it is so separate from the front of the house. So we took over a small section of Bj's home office and have been trying that set up for a week.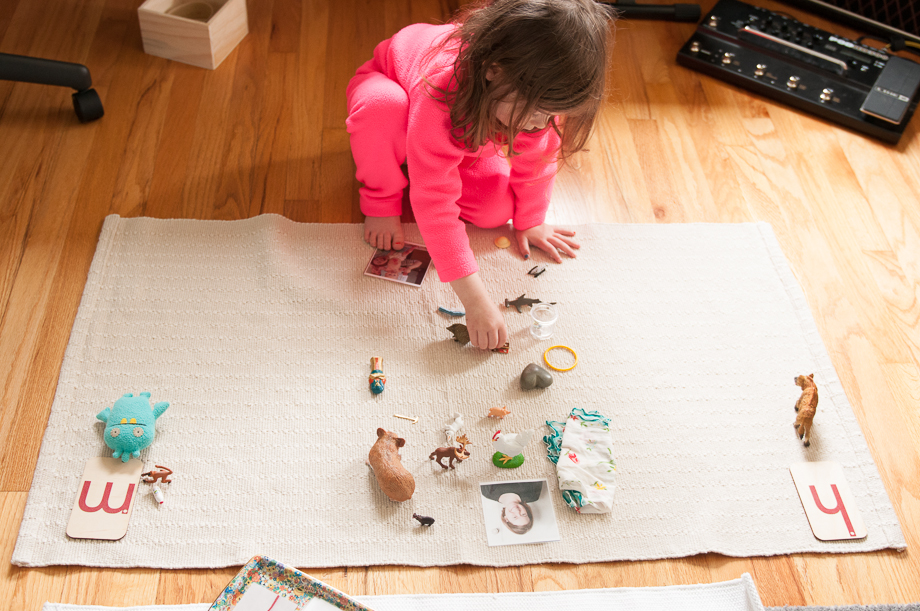 (Sorting sounds). It's working pretty well, but I'm limited by what I can have up there, as we just had room for one shelf under his window. It is more visible and I think will be more a part of everyday this way.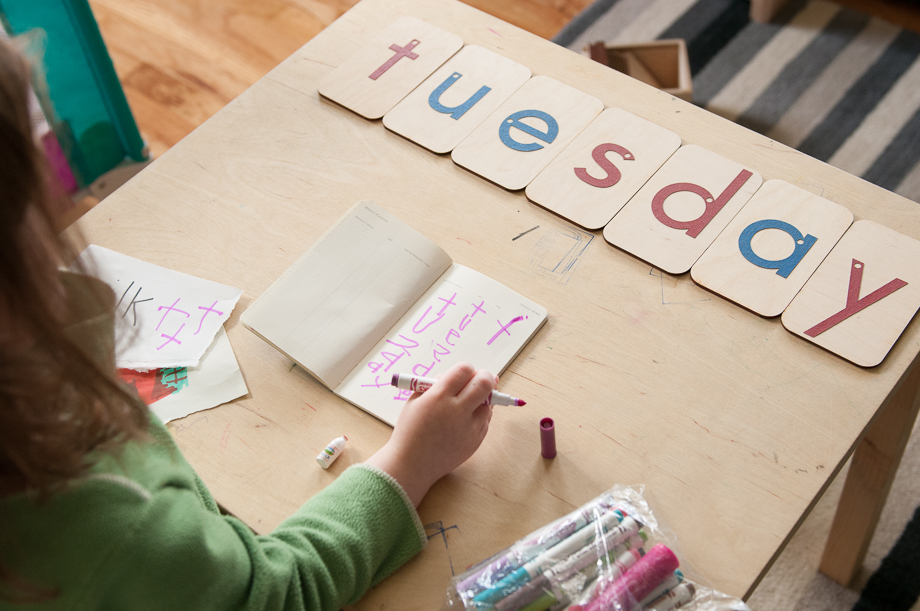 (I put out the sandpaper letters – from this awesome shop – and she re-arranged them to spell her name).
So why haven't I been blogging about this, when I'm usually all about every detail of everything? Well besides the above and being so tired… I'm still not sure if I'm any good at being a homeschooling parent. I certainly don't feel like I have it all figured out. I wish I could go back in time and take Montessori training before I had kids. I am taking an online class right now, but it's difficult to study, prepare activities and of course corral Bennet. I feel like I don't know enough to even write about it, like I'm for sure getting it all wrong. And the above little learning session happened after a meltdown because I would not let her go get her scissors to make notes because OH MY GOD THE NOTES. Could we please have something in the house we do not turn into a note? I know, I'll probably be nostalgic for it in a few years…
Parenting is so freaking hard. And how hard is two kids?!?! Like, everyone knows it's hard right? I feel like it's kicking my ass. I don't believe I was told how difficult this would be so I thought I'd put that out there in case you were wondering. I need sleep! I need more time! I want to spend more time with each girl alone! Ahh!! Apparently I need a mental health day :).
I'll leave you with something Montessori and adorable. Bennet with her Object Permanence box (this was last month):